Tour Overview
As you gently sail along the Dubai Creek, you will be treated to spectacles of vibrant city skylines and delicious Arabian and international buffet options.
Set sail on a traditional Arabic Dhow as the moonlight fills the sky and the vibrant city lights glow a rainbow of colours that reflect magically on the creek. As the Dhow swiftly makes it way through Dubai Creek, you will be treated to a lavish buffet dinner, which will include continental and oriental dishes, soft drinks, mineral water and desserts.
The 2-hour evening Dhow dinner cruise on Dubai Creek allows you to kick back and take in the beautiful moonlight views of Dubai while enjoying a 3-course buffet meal. Just some of the sights you will see include Dubai Creek golf and Yacht Club, the Chamber of Commerce building and the Sheikh Saeed House.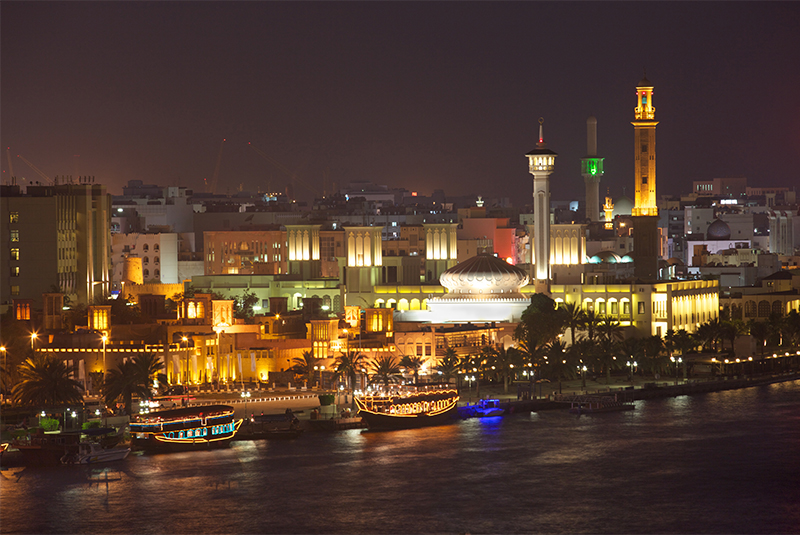 The evening Dhow dinner cruise on Dubai creek includes a 3-course meal and below is a sample meal, which can be subject to change.
Welcoming drink – Assorted chilled juices / fresh dates / arabic coffee
Salad bar
Hummus, Jarjier, Tabouleh, Fattoush, Babaghanouj, mixed pickles,
Rocca, Shanklish and Zataar salad
Chicken Tikka salad
Salad Nicoise
Greek salad
Cajun roasted prawns, coleslaw with fresh mint and coriander
Mixed green leaves , tomato, cucumber, red onion with condiments and dressings 
Assorted arabic and continental breads
Lentil soup with croutons and condiments
Main course
Hammour with bell pepper and tomato coulis
Asian stir fried vegetarian noodles
Braised lamb with garlic and lemon gremolata
Rosemary roasted boneless chicken with mushroom glaze
Wok tossed vegetables
Grilled beef rump with green peppercorn glaze
Traditional meat lasagna
Batata harra
Steamed rice
Shish tawouk/lamb kofta
Dessert
Whole fruit and cut fruit
Assorted French pastries
Apple delight
Black forest cake
Um ali (hot) Mini mousses
Further Information
This amazing evening Dhow dinner cruise on Dubai Creek departs at 8.30 pm and is available all year round except for Valentine's, Christmas and New Years Eve. The dress code is smart casual; it is recommended you wear light clothing during summer and a jumper or light jacket in winter.
Are you interested in adding the Evening Dhow dinner cruise on Dubai Creek into your Dubai honeymoon itinerary? Contact us today to know more.
Back to Dubai