Overview
So you've hand picked your wedding date and your all set for your honeymoon in the month of May. What's the top destination for a time of year like May, as one thing is for sure it's an exceptional month to go long haul.  You may also get a bargain after the school holidays in the Caribbean, even though the weather is perfect and hurricane season is still months away. The Indian Ocean and parts of Asia carry on from April with a fantastic balance between humidity, temperature and low level rainfall.
Call to speak to a honeymoon specialist on 0121 440 6268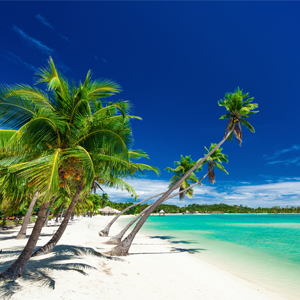 Fiji
A popular wedding and honeymoon destination, there is so much to see and do in Fiji, whether you are interested in having plenty of action and adventure, or just want to kick back and relax on a white-sand beach with a cocktail at your elbow. More outdoorsy holidaymakers may want to check out Adrenalin Fiji's exciting range of activities, such as snorkelling tours of the Mamanuca Islands or surfing at the best spots in the country.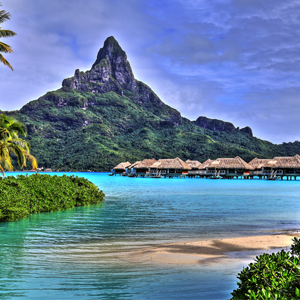 Bora Bora
A tropical paradise in the South Pacific is the perfect honeymoon. The French Polynesia islands are home to 118 islands and atolls; including Bora Bora, Tahiti, Moorea and Papeete. Picture perfect scenery combing rugged mountain peas, untouched coral, white sands and azure blue waters cloud your vision for miles around. A honeymoon to Bora Bora offers sublime luxury, that makes the journey all worth it. This island sparkles within the Pacific Ocean. Contact us about Bora Bora honeymoon packages.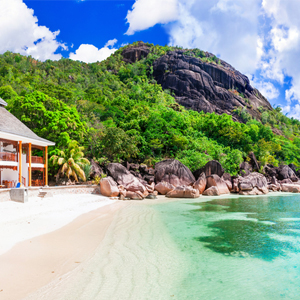 Seychelles
The perfect location for your beach honeymoon, the Seychelles is famous for some of the best beaches in the world, many are framed and outlined by historic granite boulders while others offer sky blue waters and non-stop opportunity for swimming, snorkelling, and simple relaxation during your Seychelles honeymoon. Contact us about Seychelles honeymoon packages.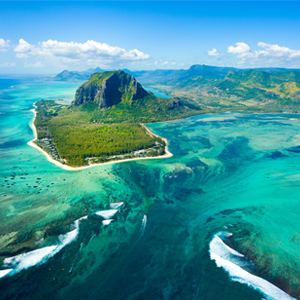 Mauritius
With plenty of watersports, relaxing spas, world class golf courses and all inclusive cuisine, your Mauritius honeymoon will be packed full of fun and relaxation without leaving the resort. For couples looking for a bit more of an adventure on their honeymoon, Mauritius has so much to offer from French colonial houses, animal parks, nature walks, quad biking, horse riding and zip-lining for thrill seekers.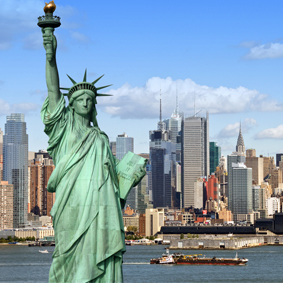 USA & Canada
Visit popular USA cities such as New York, Las Vegas and Los Angeles on your honeymoon, which are great destinations combined with a beach destination. Whatever it is you're looking for in your dream honeymoon, somewhere in this land of glorious golden beaches, verdant forests, mountains, cities and national parks you'll find it. Canada offers an experience for all types of travellers; where you could be exploring all of Canada's natural gems through the sweeping national parks, ski Alps or the renowned Canadian Rockies – and the next you could be enjoying fine dining at Toronto's tallest restaurants or discovering the cultural sights and sounds of Vancouver.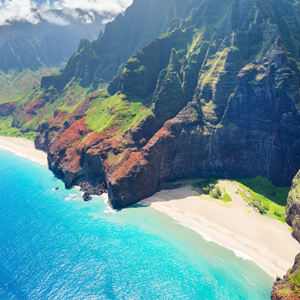 Hawaii
Located in the northeast corner of Polynesia this beautiful archipelago of over nineteen volcanic islands. Whichever island you choose you are assured of a fantastic honeymoon where you'll find superior accommodation coupled with beautiful beaches and a range of activities that cater to everyone. A popular Hawaii honeymoon package includes island hopping around Hawaii, from the high-rise hotels on the Big Island to the spectacular beaches in Kauai. Contact us about Hawaii honeymoon packages and multi centres.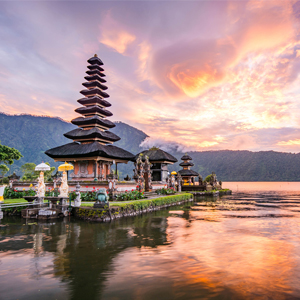 Bali
The lush volcanic island of Bali is adorned with pristine beaches, rivers, emerald rice paddies and exquisite architecture. The beaches are great for both action and relaxation and snorkeling opportunities are rife. With sunshine throughout the year, Bali has a tropical monsoon climate, with pleasant temperatures between 20 to 33 degrees Celsius. Contact us for a Bali honeymoon package.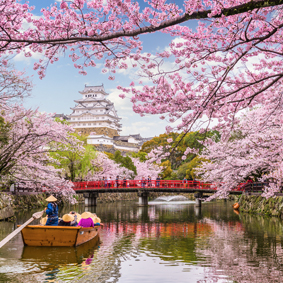 Japan
Japan is a land of beauty where the modern and ancient coincide and some of the world's most breathtaking sights of nature are revealed. From the non-stop city of Tokyo to the calm and conventional city of Kyoto, Japan delights the senses of every type of traveller. At first glance, Japan appears ultra modern, and rightly so, however, dig a little deeper and you will find yourself sent back in time in the Gion District where you'll pass 17th century traditional restaurants, Zen gardens, shrines and geishas. Contact us to find out more about Japan honeymoon packages.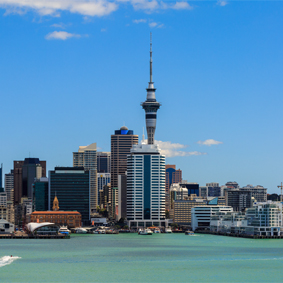 New Zealand
New Zealand is made of two main islands with a wealth of landscapes; New Zealand offers honeymooners a destination for the senses. From cruising epic glaciers and fjords to action-packed adventures surfing the stunning beaches and skiing some of the country's best slopes. Contact us today to learn more about New Zealand honeymoon packages.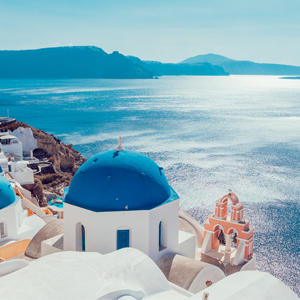 Greece
This stunning destination has a variety of gorgeous places to spend a romantic minimoon, from gorgeous sunset views from your private villa in Santorini to abundance of culture in Athens. We can put together a romantic multi-centre honeymoon to Greece so that you can island hop the idyllic islands or even explore more on a romantic cruise package. Contact us about Greece honeymoon packages.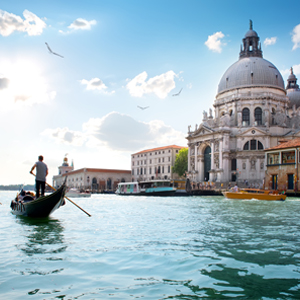 Italy
A great destination for a romantic minimoon, Italy offers a destination for the senses, from sampling delicious Italian cuisine such as gorgeous gelato in Venice, to feeling the warm breeze as you enjoy a private ride for two on the gondolas through the Grand Canal. The picturesque waterfronts in Naples with buildings painted in vibrant colours offer gorgeous backdrops to a romantic Italy minimoon, while in Pompeii you can find yourself hiking mountains for the more adventurous honeymooners. Contact us about Italy minimoon packages.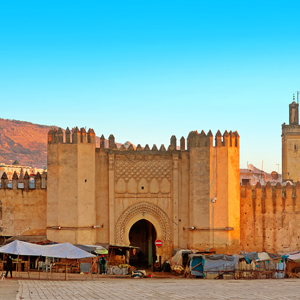 Morocco
Bordering the Atlantic Ocean and Mediterranean Sea, Morocco is a wonderful honeymoon destination for jetting off in the spring, with gorgeous weather to enjoy and if you're looking for a minimoon or a destination close to home; Morcco certainly ticks all the boxes. Enjoy romantic hot air balloon rides over ancient villages and sweeping deserts, bargain your way through the bustling markets and explore this country's vibrant culture. Contact us today about Morocco honeymoon packages.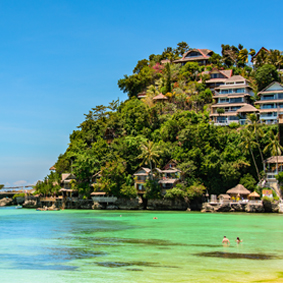 Philippines
With more than 7,600 islands dotted in the western Pacific Ocean, the Philippines is an ideal honeymoon destination if you're planning to go in May. Explore bustling cities, such as Manila while combining a stunning beach island escape like Boracay, which is excellent for snorkelling and water sports. Contact us today about Philippines honeymoon packages.