Overview
Beach honeymoons remain one of the most enduringly popular types of honeymoons around the world, and it's not hard to understand why. They're relaxing, romantic, and exotic; a trip away to a sun-soaked beach or white sandy dunes is the perfect excuse to cuddle up and watch the sunset together for your first evening of marital bliss.
The beauty of a beach honeymoon is that there are a huge number of locations around the world to choose from, and there's bound to be somewhere to suit all budgets. If you're planning a nearby beach honeymoon in Europe, some of the top beach honeymoon destination names closer to home include Cyprus, Spain, and Greece. Each of these countries is home to miles of beautiful beaches, but it won't cost you a small fortune just to get there.
If you're keen to travel further afield, Asia and the Indian Ocean is definitely worth a visit. Some of the most beautiful and romantic beach honeymoons can be found in Asia and in the Indian Ocean, in locations such as the Maldives and Thailand; if you're planning a longer honeymoon of two weeks or more, these trips needn't even be too costly since the accommodation is often a steal. Finally, for something a little different, how about a beach honeymoon in Mexico? Cancun is quickly becoming one of the world's most popular beach holiday destinations.
Beach honeymoons are undoubtedly one of the most romantic honeymoon options out there, and with so many beautiful beaches all around the world, it can be difficult to choose where to honeymoon. Stick to one of the most popular beach resorts at any of the destinations we've mentioned and you can't go far wrong – it will no doubt be a honeymoon to remember forever.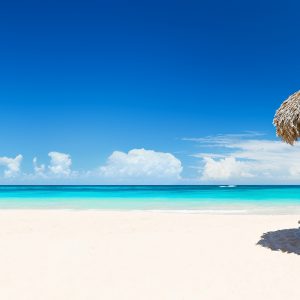 Maldives
Honeymooners looking for the perfect romantic beach holiday should consider the Maldives. As the Maldives is renowned as a couple's paradise with pristine beaches, clear blue waters and luxurious resorts. Whether you choose a beach villa or an overwater villa, you will be spoilt for choice with so many Maldives Islands dotted around the Indian Ocean. There's no shortage of things to see or do on your romantic beach getaway to the Maldives from experiencing world-class diving, surfing, kayaking to a romantic stroll along the beach or enjoying a private romantic dinner under the stars. It's the ideal romantic dream destination for your relaxing all-inclusive beach honeymoon.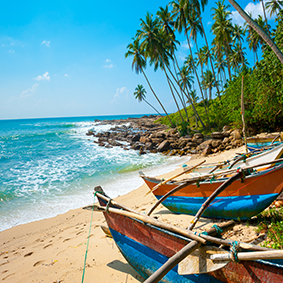 Sri Lanka
Sri Lanka is famous for its enchanting culture, fascinating world heritage sites, rolling green hills and its delicious Sri Lankan cuisine but it is a beautiful country with miles of sun-kissed golden beaches. Whether relaxing on the beach in Negombo or surfing in the Indian Ocean in romantic Bentota, a beach honeymoon in Sri Lanka is perfect for newlyweds. Sri Lanka is also bursting with plenty of cultural and adventurous activities. There is so much to do and see from climbing the Sigiriya rock, getting up close to elephants in Udawalawe national park, visiting a tea plantation factory in Nuwara Eliya, spotting wildlife in Yala National Park or visiting the temples of Colombo. In addition, Sri Lanka is also home to some stylish resorts and boutique hotels set along the beach and overlooking the Indian Ocean. Therefore, this tropical beach paradise is well worth a visit as it will have you falling in love all over again.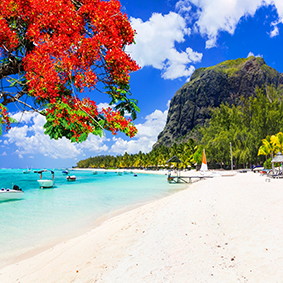 Mauritius
Mauritius is a great choice for a beach honeymoon just off the coast of Africa. It is easy to see why this destination is sought-after by newlyweds as it's a truly magical place with the stunning ocean at the fingertips, soft white sandy beaches and luxurious hotels dotted around the coastline. No matter where you stay on this Island you won't be far from the scenic beaches, culture or any water sports on offer. With it being renowned for its beautiful beaches especially in Flic-en-Flac and Blue bay it provides a plethora of water sports including kayaking, paddle boarding, diving and snorkelling with tropical fishes and manta rays or even take a submarine tour. There is so much to see and do, explore the Black River Gorges National Park and visit the Tamarin Falls, take a romantic drive down Port Louis and capture the stunning views, enjoy impressive golf, Indulge in a spa massage or shop till you drop at the shopping complexes. Therefore, if you are looking for a romantic beach break for two, you will sure be at the right place.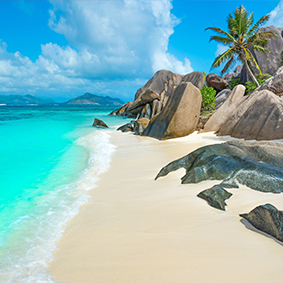 Seychelles
The Seychelles is a popular destination for honeymooners looking for sun, sea and sand. It is a tropical dream come true known to have some of the best secluded beaches around lined with coconut palms and surrounded by glimmering turquoise waters. Most resorts in Seychelles offer direct access to some of the amazing untouched beaches where you can bask in the sun and spend the day sun bathing with your loved one. However, if you're feeling adventurous, Seychelles is great for scuba diving allowing you to swim alongside tropical fish, rays and turtles. In addition, couples can enjoy island hopping on a boat from one island to another to create unforgettable moments. Mahe, Praslin, Silhouette and La Digue have some of the most picturesque beaches with incredible views.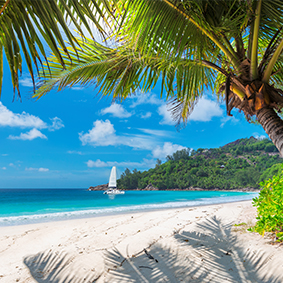 Caribbean
If you're looking for the ultimate beach getaway, then a Caribbean honeymoon certainly fits the bill. With the Caribbean experiencing tropical warm year-round temperatures along with palm-fringed white sand beaches with shimmering turquoise seas and UNESCO listed sights, it's a picture-perfect romantic honeymoon destination. Newlyweds will certainly be blissed and can leave their worries at home as some of the best beach resorts can be found in the many individual beautiful islands scattered around the Caribbean Sea. There are plenty of activities to indulge in from strolling the tranquil beaches and climbing the dramatic Piton Mountains in St Lucia, catching stunning sunsets and snorkelling in Barbados to relaxing spa massages, authentic cooking and hiking the Blue Mountain peaks in Jamaica. If you love water sports or swimming with pigs then Bahamas is the place to be. However, the most popular destination in the Caribbean which exudes romance and beach relaxation is Antigua.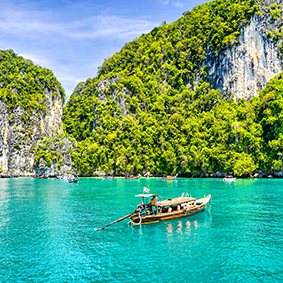 Thailand
Blessed with crystal clear exotic beaches and palm-fringed coastline, Thailand is the ultimate romantic beach destination. With Thailand being famous for its sublime beaches, expect sun-kissed white sands and crystal clear waters all around. This exotic paradise boasts a range of stunning islands and five star beach resorts. Therefore, choosing the right beach island for your Thailand getaway depends on how you want to spend your time together. From quiet romantic strolls on the beach overlooking the limestone caves in secluded Krabi to partying it up on the lively beaches of Phuket. You can even soak up the fun in the waters of the Andaman Sea and the Gulf Of Thailand with many land and water sports activities with scuba diving spots in Koh Samui or Khao Lak, jet skiing in Pattaya, kayaking in Phang Nga Bay as well as Kiteboarding in Hua Hin. Thailand has it all although couples looking for a mix of culture and beaches on their Thailand honeymoon can add another island including Bangkok or Chiang Mai. Check out our most popular Thailand Multi-centre honeymoon package.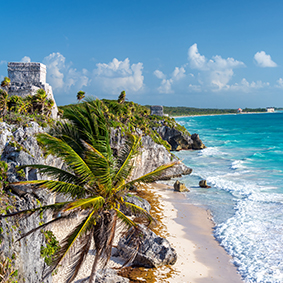 Mexico
The beautiful beaches of Mexico are quickly becoming some of the most popular in the world with honeymooners and couples. It has a reputation for soft white sands and calm crystal blue waters particularly in spots like sunny Cancun and dreamy Tulum. With nearly 500 beaches span across the coastline, Mexico has no shortage of world-class accommodation, bars, restaurants and things to do. Spend your days as newlyweds relaxing on the pristine beaches under the swaying palm trees, explore some of the world-class diving sites, visit the ancient Mayan ruins at Chichen Itza, swim with dolphins then by night indulge in first class pampering or a romantic dinner for two in the surroundings of the idyllic beachfront resorts. There are many accommodations to choose from for a stress free romantic trip of a lifetime including the adults-only Secrets resorts or the very popular all-inclusive Paradisus Playa Del Carmen La Playa.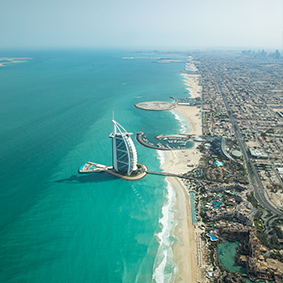 Dubai
A honeymoon in the cosmopolitan city of Dubai combines gorgeous sandy beaches and rippling dunes of the Arabian Desert with award winning Michelin starred restaurants, dazzling nightlife and luxury shopping malls or souks. It is the perfect backdrop for a honeymoon or wedding as it offers everything as well as glorious sunny weather all year round. Dubai is also home to plenty of romantic beachside hotels including the iconic Burj Al Arab and intimate Bedouion camps hidden in the Desert. Whatever time you visit no day will be the same with an array of adventurous activities including surfing, sky diving, jet skiing or camel riding over the dunes. If you are planning on a honeymoon to Dubai it is perfect to combine with another destination such as Maldives, Mauritius, Sri Lanka or Thailand.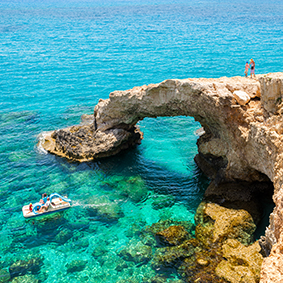 Cyprus
If you're looking for a romantic beach destination to soak up the sun somewhere closer to home in Europe, then Cyprus' the island of love' is the place to be. Cyprus is the third largest island in the Mediterranean Sea and is known for its abundance of blue flag awarded beaches. With Nissi beach in the party town of Ayia Napia and Coral Bay in Paphos being the most popular amongst couples. Although, you can even follow in the footsteps of the goddess of love and relax and view the stunning sunsets on the magical Aphrodite's beach. However, if you're a couple who like to keep busy, you are truly spoilt for choice as Cyprus has plenty of water sports and adventurous activities from scuba diving, water skiing, kitesurfing to spa massages at the beach resorts, hiking, walking, golfing and cycling. So, whatever time of the year and plenty of beaches to choose from couples are bound to find one that's suits both their lifestyle and tastes.