Where To Honeymoon August
An August honeymoon can be a difficult task, with school children on their summer holidays the month is prime time for travelling families. Naturally because of the best weather around Europe, it's a pretty busy time, but here are some further afield popular destinations that have great weather-ish and won't contain flocks of holiday makers. Here are some places to consider that may well spark a romantic August Honeymoon.
A collection of 115 islands resting in the tropical waters of the Indian Ocean. The Seychelles are blessed with all year-round warm weather, sounds too good to be true right? Well it's true, but unfortunately warm doesn't mean dry, with some months featuring heavy rainfall. August, however is one of the driest months and boasts an impressive average temperature of 27c. The month is also a fantastic time for sailing opportunities, with optimal wind speeds being present. August is your chance to see the Indian ocean in all it's beauty and wonder. Seychelles oozes with personality and the sheer selection of resorts allow you to plan an unforgettable honeymoon, with a dreamy balance between adventure and relaxation.
Recommendation – Banyan Tree Seychelles:
Settled on a miraculous tropical hillside, Banyan Tree looks down on the magnificent shores of Intendance Bay in southwestern Mahé. For a breathtaking honeymoon in Seychelles, Banyan Tree is at the height of luxury and will take some beating.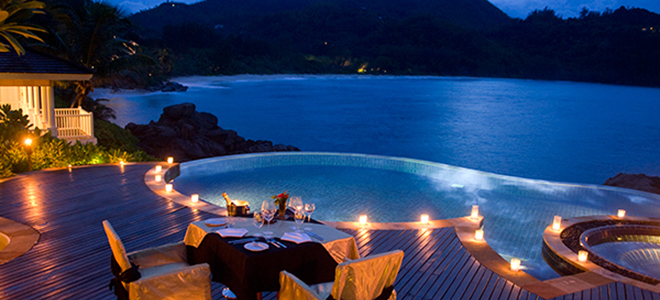 Swap the Indian Ocean for the glistening Pacific, Fiji is similar to Seychelles, but with a mainland as well as being dotted with tiny islands of paradise. A hugely popular destination for all sorts of marital events, Fiji has unreserved depths of beauty and not to forget, stunning weather for August. The amount of possibilities in Fiji is what makes it a firm favourite, with tourist attractions like Monuriki Island, which is where the famous movie Cast Away starring Tom Hanks was filmed. If that's not your scene then you can head to Beqa Lagoon, where if you're brave enough you can go diving and meet the Tiger shark population.
The picturesque Outrigger on the Lagoon mixes the tradition of a Fijian village with warmth and hospitality. The 5 star accommodation, Talai butler service and tantalising international cuisine come together to create pure bliss.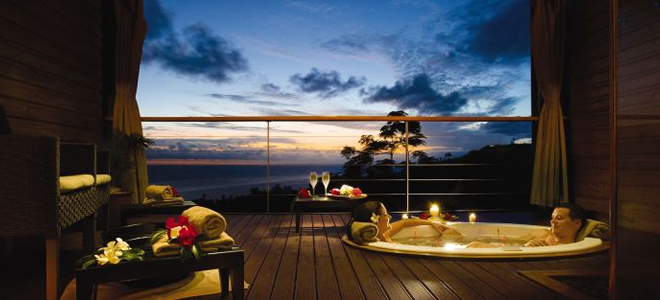 Those willing to risk being caught in a few showers whilst on their honeymoon might consider Phuket. The usual trend for rain is rapidly dispersing, but heavy showers with plenty of sunshine in between. August is usually a lot quieter for haunts visited by tourists, but still,  temperatures hold solidly averaging 20C to 33C. Couples looking for a vibrant nightlife will find excitement in Patong.  A fantastic array of bars and nightclubs line the streets, as well as tons of shops and market stalls. Wherever you go in Phuket, you will find some of the worlds best traditional Thai cuisine. The showers don't last long and the temperature is spot on, which is why Phuket could be an August consideration.
Recommendation – Six Senses Yao Noi :
Situated between the magical Thai islands of Phuket and Krabi, Six Senses Yao Noi is home to some of the most glorious views you'll ever see in this part of the world. Seclusion and privacy is at the forefront of Yao Noi's atmosphere, which makes it a haven for the indulgence of senses.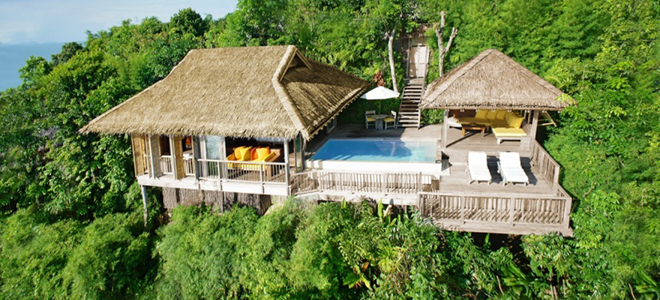 Although August is classed as a winter month, it's one of the best times to go because of the low amount of vegetation growing in the wildlife reserves, meaning less places for the animals to hide from view. This season comes with the least amount of rain, the skies remain mostly clear and there aren't so many bugs about the place. The downfall is that it can get quite cold in the night and in the mornings so it is recommended to take some warm winter clothes when on safari. An August visit to South Africa is certainly a visit for those who have their heart set on animal sight seeing rather than sun seeing!
Recommendation – Ulusaba Safari Lodge: 
A unique and quirky game reserve, within close proximity of the Kruger National Park. Attempt to catch the big 5 roaming the African planes whilst staying at one of the worlds best rated safari lodges.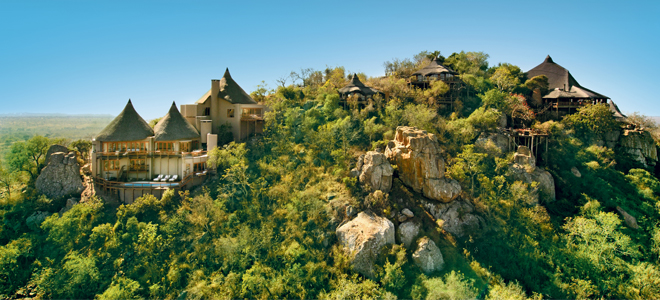 Where to Honeymoon August – To learn more about these fantastic places, please feel free to have a chat with one of our travel experts! Please call Honeymoon Dreams on 0121 440 6268
Where to visit