Overview
If rest and relaxation is on your honeymoon agenda after your big day, why not consider honeymooning at a leisurely pace, whilst exploring different places on one amazing honeymoon at sea? A cruise allows you to delve deeper into a destination that you are looking to explore with a range of shore excursions. Where you'll wake up to a new place each day ready to explore. Set sail on an incredible adventure for a unique honeymoon that will be full of ever-lasting memories and stories to look back on in years to come. Whether you choose a specific area or ven opt for a world cruise, see below for some of our recommended destinations for honeymoon cruises for newleyweds. Contact a Honeymoon Specialist at Honeymoon Dreams for a tailor made quote.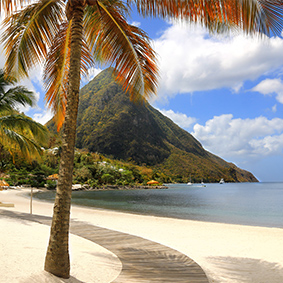 Caribbean Honeymoon Cruises
Discover paradise on your honeymoon with a Caribbean cruise. Step foot on white sandy beaches with swaying palm trees, with a variety of wonderful islands that all offer something different, whether its culture or experiences you're after. Foodies will love the offerings in Jamaica with so many specialty restaurants, while Bahamas is excellent for water sports including the chance to swim with pigs. Beach lovers will adore stopping in Antigua, which is home to 365 beaches and features a beautiful English harbour. Hikers looking to explore mountains can retreat to St Lucia, where you can both explore the stunning Pitons or make your own chocolate at Hotel Chocolat on Rabot Estate. There are many different ways you can do a honeymoon cruise in the Caribbean. For a tailor made quote please contact us.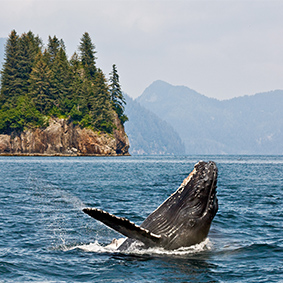 Alaska Honeymoon Cruises
Adventurous couples looking for a honeymoon cruise unlike no other will love everything that an Alaskan cruise offers. From rare wildlife spotting, gorgeous glaciers and majestic mountain peeks – there's just so much to see in this unspoiled destination. Make sure your camera is charged and ready to go when honeymooning on an Alaskan cruise for the ultimate winter wonderland. Get up close to wildlife sightings unlike nowhere else in the world, watch as salmon and humpback whales jump out of the icy waters, and moose and eagles go about their daily lives. It's not just the wildlife spotting that offers a unique experience on an Alaskan cruise, the variety of incredible excursions that await you both are out-of-this-world, which is bound to create the most incredible stories to tell for years and years to come. From nature walks, 4X4 vehicle adventures, glacier explorations, helicopter tours and whale watching.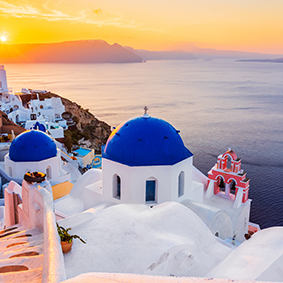 Europe Honeymoon Cruises
For a honeymoon closer to home, consider a Europe cruise. With what seems like endless choice of destinations, from Portugal to Greece, Croatia, Italy, Spain and France from a rannge of luxury cruise lines. Why not consider a more unique European cruise on your honeymoon such as Iceland or Norway where you can try your luck at spotting the Northern Lights from the comforts of your stateroom balcony? Europe is a fantastic honeymoon destination, with utterly romantic places to visit and the benefits of sailing straight from Southampton, making it super easy to do, especially if you're not a keen flyer. For a dreamy island getaway, why not indulge in a Greece cruise, where you can visit the whitewashed walls of Santorini, known for incredible sunsets and mouth-watering food. Visit Europe's romantic capital, Paris, on your honeymoon cruise. See the Eiffel Tower, visit Louvre and excite your inner child at Disneyland Paris. Another fantastic European destination for honeymooners is Croatia and Montenegro with stunning old town charm and gorgeous coastlines to relax in between sightseeing culture and landmarks.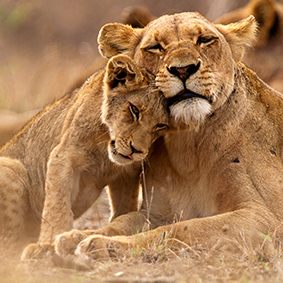 African Safari Cruises
Explore the Big 5 on a unique cruise experience on your honeymoon. Delve into the wilderness on an exciting safari in Africa, where creatures roam free, from white rhinos, majestic elephants and cheetahs to lions, zebras and so much more to explore. Africa is also renowned for its world-class wine in the lush Cape Winelands. Combine big game drives in Africa from Cape Town, then whisk of to pure paradise in Mauritius and the Seychelles by island hopping for the ultimate beach and safari honeymoon.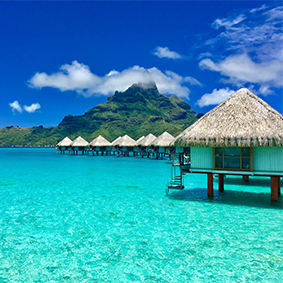 Fiji and Bora Bora Honeymoon Cruises
Sail your way to utter paradise with a Fiji and Bora Bora cruise. Think turquoise waters, mountainous backdrops and rustic overwater huts when dreaming up a Bora Bora honeymoon. With over 300 paradise islands that make up Fiji, with palm fringe white beaches and vibrant coral reefs, your honeymoon will be filled with unforgettable moments of underwater exploration and luxury resorts with romantic experiences, such as private dining on your Fiji honeymoon.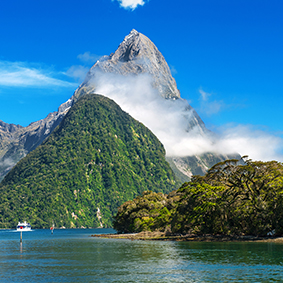 Australia and New Zealand Honeymoon Cruises
Honeymoon to the other side of the world on an Australia and New Zealand cruise, which is guaranteed to offer so much culture, attractions and natural sights. Begin in Sydney, home to iconic sights including the Opera House, Harbour Bridge, Bondi Beach and Darling Harbour. Cruise through New Zealand's Milford Sound with breathtaking, natural scenery, stopping at major hotspots such as Dunedin, home to the world's steepest street - and Wellington, which is New Zealand's capital, known as the windiest city in the world! Another show-stopping highlight on a honeymoon cruise to New Zealand includes sailing through the Bay of Islands, which compromises of over 140 islands flourishing with wildlife, historic sites and gorgeous beaches offering water activities. Cruising to and from Sydney on your honeymoon allows you to explore more of Australia's hotspots such as Brisbane and Melbourne.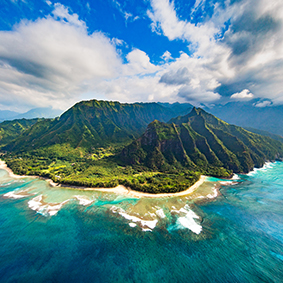 Hawaii Honeymoon Cruises
Hawaii offers honeymooners a fantastic destination to begin married life. From surfing Waikiki beach to exploring dramatic volcanic natural beauty. Hawaii has a total of 137 islands - the main islands to explore are Big Island, Maui, Oahu, Kauai, Molokai, Lanai, Niihau and Kaho'olawe. Begin your honeymoon cruise in Honolulu, home to Waikiki beach with high-rise hotels, designer fashion shops and waterside cocktail bars. Island hop to Maui to explore Haleakala National Park to see the volcano and find a relaxing spot on the island's 30 miles of beach. Cruise over to the Big Island and enjoy time at Kona, which is located where Hualalai volcano meets the ocean. Enjoy gorgeous beaches, golf courses and snorkelling here, as well as Kona coffee tours. There's a lot on offer when planning a honeymoon cruise around Hawaii. Speak to one of our honeymoon specialists today about tailor made Hawaii honeymoons.
Dubai Honeymoon Cruises
Dubai is a popular honeymoon destination as it's so versatile in terms of what this destination can offer you both. If you're a couple that loves to relax, Jumeirah Beach is the best spot for you both and for those seeking a bit of adventure can split time between the busy city and the sprawling desert. Adrenaline seekers will love all the fun offerings in Dubai such as sky diving, skiing, dune bashing and hot air balloon rides. Cruise through the Arabian Gulf where you can dip your toes in other United Emirate destinations such as Abu Dhabi, which is excellent for beaches and F1 racing – or retreat to Muscat in Oman, which surrounds rugged mountains and desert, with contemporary mosques and palaces. A Dubai honeymoon cruise serves as your gateway to explore further afield such as the Indian Ocean, Malaysia, Far East and Australia.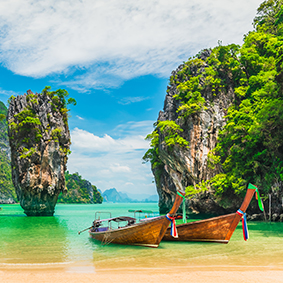 Thailand Honeymoon Cruises
Thailand is very diverse, yet distinctive at the same time. Known for its dreamy emerald waters bobbing with tail boats and with dramatic limestone formations, which you will have seen in many glossy magazines and on Instagram. The bustling center of Bangkok is where modern buildings meets age-old temples and shrines that light up at night, and a great way to see this is on one of many rooftop bars in the city. Be enticed by the Bangkok's aromatic street food scene and the allure of shopping opportunities at your fingertips when dreaming of your honeymoon. A Thailand honeymoon works really well with Vietnam and Singapore, where you can explore the renowned Halong Bay in Vietnam and see the iconic sights of Singapore such as Gardens by the Bay.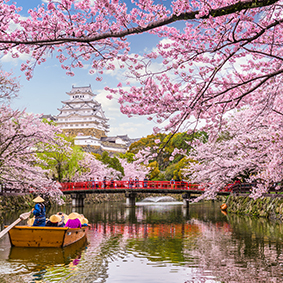 Japan Honeymoon Cruises
A Japan honeymoon cruise offers you a spectrum of experiences, where one day you'll be exploring the futuristic skylines of Tokyo and the next be transported back in time to 1589 in Hiroshima at the Peace Memorial Park, or in Nagasaki, where you can revisit the WW2 at the Atomic Bomb Museum. There's so many itinerary options when it comes to planning your Japan honeymoon cruise, let us help you find the perfect sailing that allows you to do all your bucket list experiences, from seeing the cherry blossoms, hiking Mount Fuji, sipping traditional tea in a Tokyo teahouse, walking through the enchanting Bamboo forest and spotting the snow monkeys in the hot springs of Nagano, which is an area renowned for winter sports.
Adult-only cruises
Cruises don't come in 'one-size fits all'. There are so many ways to cruise around your honeymoon destination of choice, including an adults-only cruise for some much needed rest and relaxation after your big day. There are a range of cruise companies that offer adult-only cruises and at Honeymoon Dreams, we will narrow down your options to bring you the best deals and itineraries for your extra special adventure. The Marella Explorer 2 cruise ship by Marella Cruises features a range of incredible touches on its adults-only ship with a Champneys Spa with infinity pool and 'press for Champagne' Flutes bar. For a smaller cruise ship experience will all the trimmings, opt for Saga cruises' adults only ship with 999 passenger capacity with a generous all inclusive options that includes all meals at any restaurant, gratuities, Wi-Fi and most drinks.