Overview
Over the past 12 month we have seen real growth in the fantastic range of resorts we are able to offer. We have increased our vast array of direct resort and airline contracts and great relationships with operator enabling us to source an unparalleled selection of honeymoons all at a discount price.
In compiling the list of our most popular honeymoon resorts of the past 12 months we've found that the more things change, the more they stay the same. The luxurious Kuramathi Island Resort in the Maldives is again our most popular resort for a third consecutive year – testament to the brilliant facilities and an expert service provided by this impressive island an its staff. A real highlight of this Maldivian resort is its 10 diverse restaurants, such a rarity in this part of the world.
It is also clear how popular Indian Ocean honeymoons have now become, with four resorts placing in our top ten. Dubai has also seen massive growth with two great resorts finding their way into our list of best honeymoon resorts. Unsurprising, this is in large part thanks to our Maldives and Dubai multi-centre honeymoons being so popular.
See below for the full list of our top ten honeymoon resorts.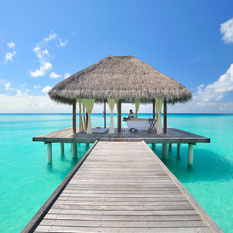 1. Kuramathi Island Resort, Maldives
Our top resort for the third year running, Kuramathi Maldives is a paradise that blends contemporary style with traditional Maldivian culture. This serene resort surrounded by a house reef and endless tropical waters is the perfect antidote to a wedding.


The island's popularity owes, largely, to Kuramathi's great all inclusive and dine around plan with 10 delicious restaurants.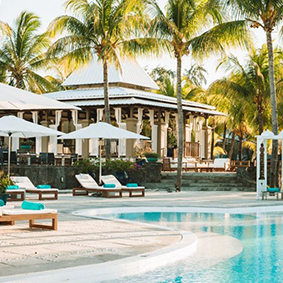 2. Paradise Cove, Mauritius
An adults-only boutique resort nestled in an idyllic location at Anse La Raie on the northern coast of Mauritius, Paradise Cove is the perfect place to spend a tropical honeymoon. Boasting elegant luxury accommodation modelled on the style and décor of the East India Company, and offering abundant fine dining opportunities and unbeatable views over the Indian Ocean, this stylish getaway will provide the perfect starting point for your life as a married couple.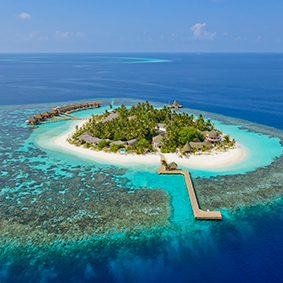 3. Kandolhu Island, Maldives
A secluded retreat unlike any other, Kandolhu Island is the ultimate in tranquil luxury. This exquisite island, situated in the north Ari Atoll of the Maldives, measures just 200m by 150m ensuring a dream honeymoon hideaway.


The exclusive island of Kandolhu houses jut 30 villas in 5 different classes and 4 beautiful restaurants.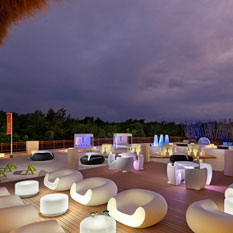 4. Paradisus La Perla Playa Del Carmen, Mexico
Situated on a stunning white beach, Paradisus Playa Del Carmen La Perla is an adult's only resort offers world-class facilities in a spectacular oceanfront setting.

Unique architecture and design make this exclusive resort a romantic paradise for honeymooners. Our most popular property in Mexico.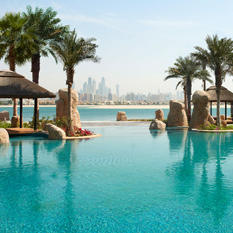 5. Sofitel the Palm, Dubai
Spend your honeymoon in the glittering desert city of Dubai at Sofitel The Palm. This sizzling new luxury resort is situated on the exclusive Palm Jumeirah island, on a lengthy stretch of private beach, and offers extravagant accommodation, a plethora of wining and dining venues and impressive world-class amenities guaranteed to make you feel right at home in this Arabian paradise.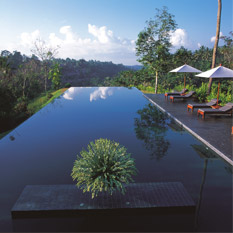 6. Alila Ubud, Bali
This tranquil and secluded hideaway is situated in the Bali hills. Offering spectacular views of the surrounding foothills, this resort sits high on the edge of the rich, green Ayung River Valley. The fascinating town of Ubud is close to the Alila Ubud Resort, making it the perfect base to explore local areas and some of the many cultural sites within this breathtaking destination.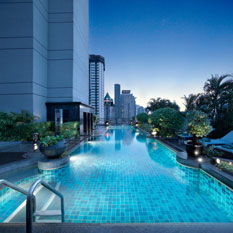 7. Banyan Tree Bangkok, Thailand
The Banyan Tree Bangkok is a stark contrast to the bustling streets of Bangkok. This hotel is a sanctuary for the senses offering a rejuvenating spa retreat.

Enjoy the resorts signature swimming pool on the 21st floor, high above the city or relax above the Bangkok skyline in the resorts Latitude Lounge and Bar. Certainly one of the most impressive honeymoon resorts Thailand has to offer.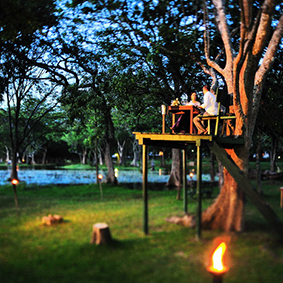 8. Cinnamon Lodge, Sri Lanka
Nestled on re-forested land which used to be a barren wasteland formerly used for slash-and-burn cultivation, Cinnamon Lodge is a sanctuary of ornate luxury, traditional hospitality and world-class facilities. Spend your Sri Lanka honeymoon at this stunning resort and forge remarkable memories you will cherish for the rest of your lives.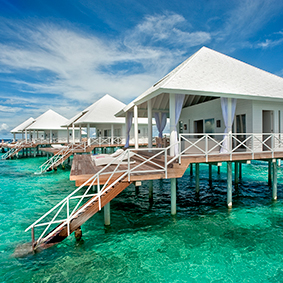 9. Diamonds Thudufushi, Maldives
Diamonds Thudufushi is a world of unspoilt natural beauty and luxurious all-inclusive accommodation, not to mention impressive standards of service. Spend your days swimming and sunbathing, treating yourselves to decadent spa treatments, and taking advantage of the various fun-filled land and water activities available. Don't miss the opportunity to get up close and personal with the colourful local marine life, courtesy of the resort's iDive Diving Centre, with its experienced professional instructors who will help you navigate the spectacular underwater world.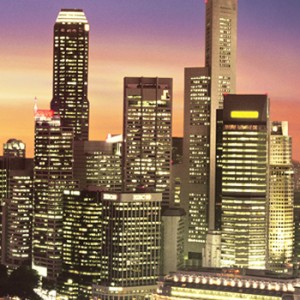 10. Pan Pacific, Singapore
Pan Pacific provides easy access to all of the hottest local sights, retail and entertainment venues. However this 5 star hotel also boasts a host of attractions of its own, ranging from the upmarket St Gregory Spa to its pristine swimming pool and the epicurean delights of its award-winning eateries, which allow you to feast on an exciting array of global cuisines. Pan Pacific Singapore is famed for its world-class facilities and its superlative service, making it the perfect option for a luxurious Singapore honeymoon.