Overview
Are you both dreaming of a fun-filled honeymoon with once-in-a-lifetime experiences? With a world of options, there are so many amazing adventure honeymoon destinations to choose from when seeking adrenaline-filled activities to do together. From thrilling safaris to getting up close to glaciers, bold heights and outback road trips – our list of adventurous honeymoon destinations will tick your boxes for incredible experiences after your big day.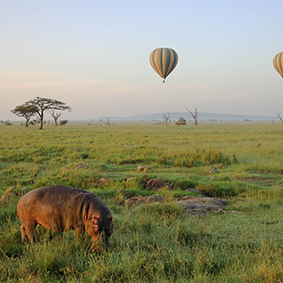 Africa Safari Honeymoons
If the thrill of wildlife encounters excites you, consider a South Africa honeymoon with gorgeous lodges to choose from, which gets you closer to incredible wildlife sightings such as the Pumba Game Reserve, where elephants can be spotted from your plunge pool. Spot the Big 5 in Botswana, Kenya or Tanzania – and if you time it right, see the great migration, which is something truly spectacular to behold and the ultimate bucket list moment on a safari. Maasai Mara, Serengeti and Kruger National Park are among some of the most popular game reserves offering world-class game drives and unforgettable safari experiences such as sunrise champagne cruises, sleeping in a tree house beneath the stars and helicopter tours. After all that adventure, hop over to the Maldives or Mauritius for some relaxation in paradise.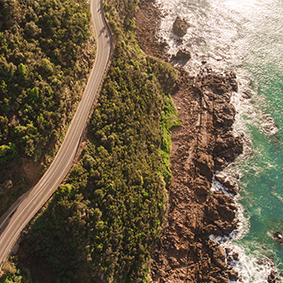 Australia road trips and self-drive honeymoons
Cut through the heart of Australia on an adventurous self-drive honeymoon to experience the country's awe-inspiring open spaces. The best way to do this is by hiring a car or motorhome to really get a sense of adventure – and who knows what you'll both find on the way. A self-drive Australia honeymoon allows you both to really delve deep into Australia's outback and you have the control to spend as little or as long as you'd like at spots along the way. From Oceanside highways, rolling countryside, ancient sites and natural wonders, there's so much to explore on a self-drive honeymoon in Australia. If a stunning coastal road trip is your thing, drive from Melbourne to Adelaide along one of the most famous coastal routes in Australia. Those seeking adventures in nature can drive through Darwin, Kakadu and onto Litchfield – this self-drive route takes you to glistening waterfalls and beautiful landscapes in Litchfield, as well as the wondrous Kakadu National Parks. Wine lovers can indulge in a gourmet road trip to explore some of Australia's famous wine-producing regions such as Mclaren Vale, Adelaide Hills, Barossa Valley and Clare Valley. For an unforgettable wine tasting experience, in less than two hours you can drive from Sydney to Hunter Valley, which is considered as one of the country's best wine regions.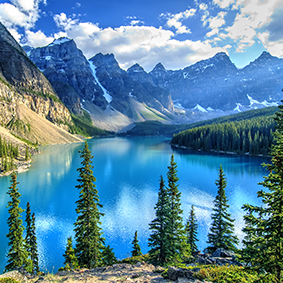 Canada and the Rocky Mountains Honeymoon
Discover the spectacular scenery of the Rocky Mountains on your honeymoon, from turquoise lakes, majestic snow-capped mountains and lush forest trees that grizzly bears call home. Whether you decide to explore the Rockies via the Rocky Mountaineer train or on foot, you have the choice of spending your honeymoon in the summer; where you can kayak in the turquoise lakes, go hiking through the woodlands and valleys and even rock climb. While in the colder months, the Rockies turn into a winter wonderland where the scenery changes dramatically, especially when it snows with fun-filled activities such as skiing, snowmobile and snowshoe activities, moose spotting in the snow and even soak in a hot spring. A honeymoon to Canada offers so much adventure beyond the Rockies – kayak with whales in British Columbia, cycle Icefields Parkway in Alberta or zip line Niagara Falls to name a few!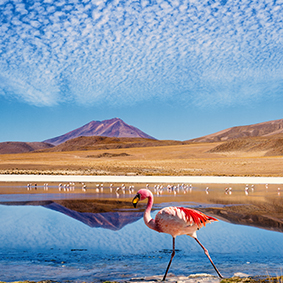 Chile Honeymoons
Stretching along the western edge of South America, Chile is a destination to excite the senses. From the Torres del Paine to the Atacama Desert – there's abundance of spectacular sceneries to behold in this glorious South American country. A trip to Atacama Desert shouldn't be missed. Try your hand at sand boarding down 120-metre dunes, or see them from above in a hot air balloon. Another thrilling experience in the Atacama Desert is spotting the pink flamingos in Laguna, which is just 15 minutes from the Atacama Desert. It's worth a visit to Salar de Tara, a salt flat next to the Piers Rojas, which is at an altitude of around 4,000 meters – but the journey is worth it – be blown away by this geographical spot in the heart of the Andean mountains with absolutely breathtaking scenery, especially at sunset for a romantic experience.

An unforgettable and adventurous honeymoon at Torres del Paine National Park will keep you both busy and inspired. Known for towering mountains, vibrant blue icebergs and golden plains. The most iconic sight to behold is the three striking towers, which sits above a glacier lake. Or, get up close to the Grey Glacier on a boat tour to see all of its 6km wide and 30 metre high natural glory.
Swap glaciers for volcanoes if you're looking for an adrenaline rush, by climbing the enormous Ojos del Salado - an active stratovolcano, which is the highest active volcano in the world! No matter what type of adventure you're after in Chile, we can tailor make your honeymoon for a truly unique experience.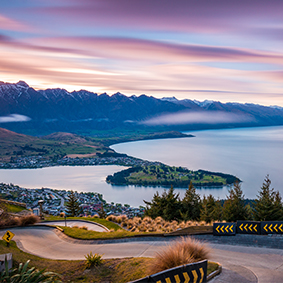 New Zealand Honeymoons
Compromising of 2 volcanic islands, New Zealand is a destination that oozes natural sceneries. Whether it's the incredible, majestic sights found cruising through one of five fjords or exploring national parks and reserves, which make up 32% of the total land area of the country – adventure can be found on every corner of this magnificent country. Home to the world-famous bungee over the Kawarau Bridge, Queenstown is renowned for its adventure sports, from skiing to mountain hiking and cycling the Queenstown Trail, which presents pretty lakes, rivers and vineyards. Explore the enchanting caves systems of Waitomo, which is world-renowned for seeing the fascinating glowworms as you glide on the water on a boat excursion through narrow passageways and limestone formations. In just 40 minutes by ferry from Auckland, you can enjoy gorgeous island adventures on Waiheke, with vineyards, beaches and forests -some of the top thrilling things to do include zip lining and helicopter tours. Back on mainland Auckland, walk the edge of the Sky Tower – 192 metres above ground, or drop a staggering 16,500 ft above ground on a skydive experience over the city and surrounding islands.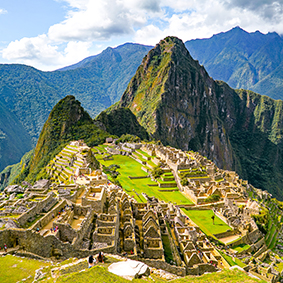 Peru Honeymoons
Your gateway to limitless adventures; from Machu Picchu, to the Sacred Valley and the Amazon Forest – Peru has it all for breathtaking nature and sights that take you back to ancient times. The iconic Machu Picchu, set high up in the Andes Mountains. It is the country's most hiked place with structures and terraces from the 15th century. Situated in Cusco, you can either get a train near the entrance of Machu Picchu or stay at the Belmond Sanctuary Lodge – the only hotel located a the entrance to Machu Picchu. The most popular way to trek Machu Picchu is the Inca Trail – follow the same footsteps that the Inca's would have walked from the Sacred Valley to Machu Picchu and along the way you will be treated to breathtaking scenery and Inca sites. From Peru you can explore the Northern or Southern Amazon rainforest. The Northern Amazon is ideal for river cruises, spotting birds, monkeys and if you're lucky – pink and grey river dolphins can be seen too. The Tambopata Reserve is situated in the Southern Amazon, which has an incredible diversity of flora and fauna. Experiences include rainforest walks, climbing up the Canopy Tower and boat safaris. A stay in Cusco, the former Inca Capital and Lima, Peru's bustling capital with Spanish colonial architecture, are fantastic places to split your stay between hiking Machu Picchu and exploring the enchanting Amazon rainforest. Combine a Peru honeymoon with another South American country such as Brazil, Argentina or Ecuador and the Galapagos Islands for an adventurous honeymoon.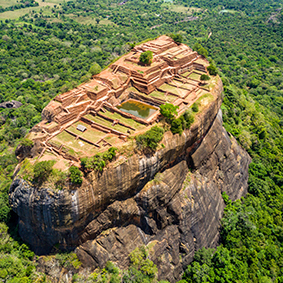 Sri Lanka Honeymoons
Sri Lanka is one of our top destinations for honeymooners, it has everything for those looking to explore. From incredible wildlife encounters such as elephant safaris in Udawalawe to climbing the towering Sigiriya Rock and picking tea in Nuwara Eliya. Our Sri Lanka honeymoon packages are tailor made to your liking and include a car and driver to take you around this beautiful country in style. If climbing the 1,200 steps up the Sigiriya Rock hasn't got your heart racing, why not discover new highs on a hot air balloon ride? Float with the clouds as you fly past elephants, water buffaloes and lush jungles below. Thrilling safari adventures can be found at Yala National Park, which allows you to get close to untamed wildlife across expansive forest, grasslands and lagoons. Spot dear, peacocks, crocodiles, leopards, elephants and sloth bears as you embark on an adventurous safari. A Sri Lanka honeymoon is a once-in-a-lifetime getaway that oozes with history and culture, be sure to add the Golden Temple, Temple of the Sacred Tooth Relic and Gangaramaya Temple onto your list of places to visit.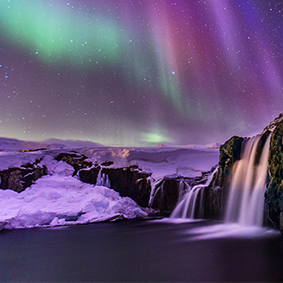 Northern Lights Honeymoon
Explore Iceland's geological wonders, from the breathtaking waterfalls to majestic volcanoes on an adventurous honeymoon. Of course, a visit to Iceland isn't complete without chasing the renowned Northern Lights – also known as the aurora borealis. Stay in a glass bubble lodge to get front row seats to the world's most spectacular sky show and toast to newly married life together. When you're not chasing the Northern Lights, you can both enjoy the amazing activities and attractions on offer in Iceland, such as visiting one of the world's most incredible waterfalls; Gullfoss Waterfall, snow will surround it during the winter months – or visit in the summer in hopes to see a lucky rainbow. Glaciers cover a staggering 11% of Iceland's land area and if you're looking for a thrilling hike, why not include a glacier hike and ice caving tour to your honeymoon experience in Iceland? After all the adventure, dip your toes in the warm waters of the Blue Lagoon and enjoy a natural facemask.