Overview
Winter is coming and the roads are icy, but November is not just frozen toes and stinging ears elsewhere! It's not the easiest of months now because most of the places with favourably weather are now long haul flights. Keep calm though because over the Pacific awaits beautiful weather and unforgettable memories.
Call to speak to a honeymoon specialist on 0121 440 6268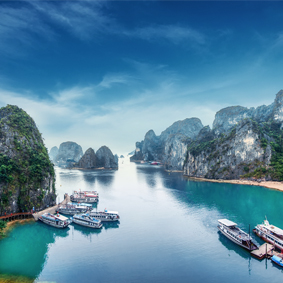 Vietnam
If you both love to explore rich culture and, why not consider Vietnam? This South East Asian country, bordered by China, Laos and Cambodia, and famed for its breath-taking natural beauty, its mouth-watering cuisine and long turbulent history. Despite having been engulfed by war, rebellion and strife periodically over the course of many centuries, the country remains one of the region's most compelling destinations and draws visitors from far and wide to experience the richness of its culture and the wonder of its landscapes. Contact us today about Vietnam honeymoon packages.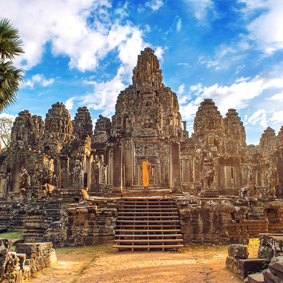 Cambodia
Cambodia is an extraordinary destination with an empire of temples, which can be found at the renowned Angkor Wat, which is Cambodia's most iconic site. Its jaw-dropping grand scale of 500 acres makes it the largest religious monument in the world! Initially built as a Hindu Temple to honour Vishnu, Angkor Wat compromises of temples, reservoirs, terraces, pools and palaces, which will take your breath away. Split your stay in Cambodia in the country's capital city, Phnom Penh, a bustling city with aromatic markets and a thriving café culture with world-class food scene.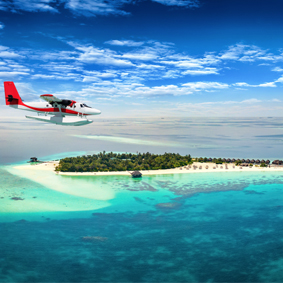 Maldives
This part of the world is simply paradise. The Maldives is a desert-island dream where tiny islands are scattered like jewels across the ocean, each surrounded by a turquoise lagoon and diamond white sands. The perfect honeymoon and diving location, you'll find resorts that exude romance and have a choice of luxurious villas, from retreats with a private stretch of beach to over-water hideaways with their own private infinity pool. Contact us today about our top selling Maldives resorts and multi centre packages.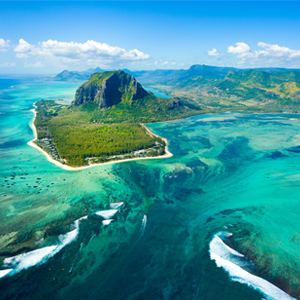 Mauritius
With plenty of watersports, relaxing spas, world class golf courses and all inclusive cuisine, your Mauritius honeymoon will be packed full of fun and relaxation without leaving the resort. For couples looking for a bit more of an adventure on their honeymoon, Mauritius has so much to offer from French colonial houses, animal parks, nature walks, quad biking, horse riding and zip-lining for thrill seekers.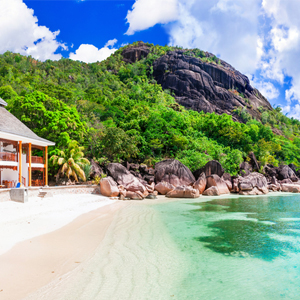 Seychelles
The perfect location for your beach honeymoon, the Seychelles is famous for some of the best beaches in the world, many are framed and outlined by historic granite boulders while others offer sky blue waters and non-stop opportunity for swimming, snorkelling, and simple relaxation during your Seychelles honeymoon. Contact us about Seychelles honeymoon packages.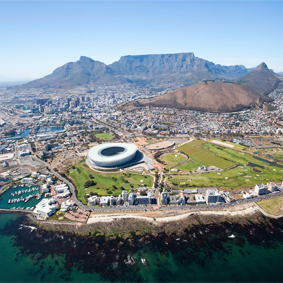 South Africa
South Africa is an incredible honeymoon destination, due to its cultural diversity, its wildlife and its staggeringly beautiful landscapes. Whether you are keen to experience the wild majesty of the bush and try to spot the Big 5, want to try out adventurous activities such as hiking, sailing and horse riding, or would just like to soak up the culture and history of the country at its museums and heritage sites, there is so much to see and do in this fascinating African nation. Contact us today about South Africa and safari honeymoon packages.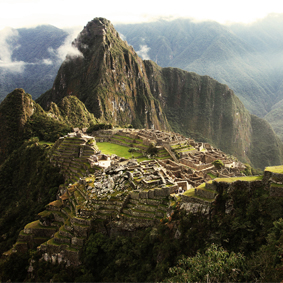 South America
A destination for the adventurous duo, a South America honeymoon presents a collection of awe-inspiring destinations offering diverse spectrum of experiences. From wild encounters on the Galapagos Islands to the stunning beaches in Brazil, breath taking sights of Machu Picchu and the dramatic landscapes of Chile. A trip to South America wouldn't be complete without seeing the spectacular Iguazu Falls. The majestic falls can be viewed from the Argentinian or Brazilian side and is a completely awe-inspiring moment that you and your newlywed with remember for the rest of your lives. Contact us today about South America honeymoon packages.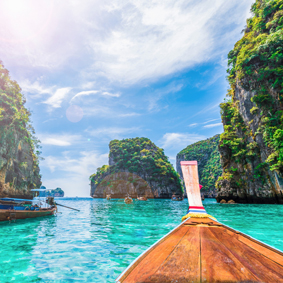 Thailand
From the vibrant non-stop city of Bangkok with its temples, Buddhas, floating markets and colourful nightlife; to the stunning beaches of Phuket, Koh Samui, Krabi and Pattaya. Plus, if you want to escape the beaten track, look out for Thailand's hidden gems and discover beautiful unspoilt areas. Thailand is a fantastic destination to explore on its own or as a multi centre package.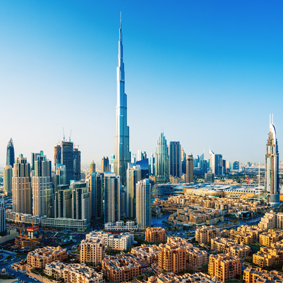 Dubai
If you're searching for a vibrant city break to add to your honeymoon itinerary in February, Dubai is the perfect honeymoon destination for couples that love fast-paced cosmopolitan cities with oodles of glitz, glamour and excitement around every corner. Seeming to effortlessly fuse its native Arabian traditions with all of the luxurious accoutrements of the West. Honeymooners planning to stay in this dynamic city will have a number of luxury hotels and resorts to choose from, including the iconic Burj Al Arab which boasts not just 5 but 7 stars and is steeped in opulence and glamour. Contact us today about Dubai honeymoon packages.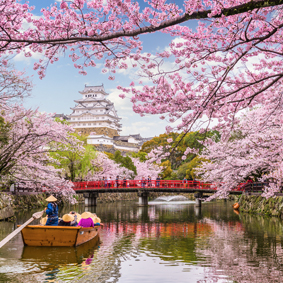 Japan
Japan is a land of beauty where the modern and ancient coincide and some of the world's most breathtaking sights of nature are revealed. From the non-stop city of Tokyo to the calm and conventional city of Kyoto, Japan delights the senses of every type of traveller. At first glance, Japan appears ultra modern, and rightly so, however, dig a little deeper and you will find yourself sent back in time in the Gion District where you'll pass 17th century traditional restaurants, Zen gardens, shrines and geishas. Contact us to find out more about Japan honeymoon packages.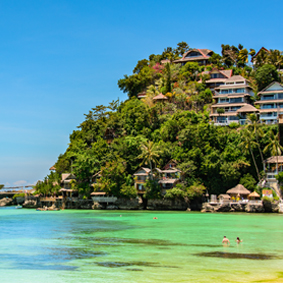 Philippines
With more than 7,600 islands dotted in the western Pacific Ocean, the Philippines is an ideal honeymoon destination if you're planning to go in November. Explore bustling cities, such as Manila while combining a stunning beach island escape like Boracay, which is excellent for snorkelling and water sports. Contact us today about Philippines honeymoon packages.