Overview
After the stress of planning a wedding and deciding on a honeymoon destination, picking the perfect honeymoon location is a must. Naturally, you would prefer a honeymoon to be relaxing on the white sand beaches and sipping cocktails but there is nothing more memorable than escaping to an exciting and vibrant city exploring the rich culture and surroundings and then returning back to your luxury hotel for a well-deserved relaxation – this is the perfect way to enjoy your urban honeymoon. When escaping to the city there are lots of things to discover together as a couple from fabulous restaurants and shopping to interesting museums and adventurous activities.
Perhaps you adore the idea of a shopping trip then a picnic in Central Park in New York or escaping to the city of love and eating a romantic dinner at the Eiffel Tower in Paris or discovering the modern architecture and nightlife in Kuala Lumpar in Malaysia. If it is vast amounts of culture you are looking for then you should consider Florence in Italy. However, if you're looking for something adventurous to do why not indulge in camel riding in Dubai you could relax on the Jumeriah beach afterwards. So to experience the most memorable lifetime journey of your life why not opt for our chic and sophisticated citymoon's. It also gives you both the chance to discover and experience a whole new world together.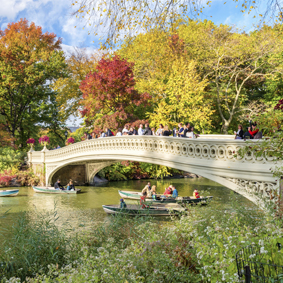 New York
Fancy a honeymoon in a city that never sleeps and packed with culture and sightseeing? Then New York is the ideal place for City-loving honeymooners. New York, known as The Big Apple has no shortage of romantic options from charming old-world hotels to chic downtown boutiques. It's a popular dream destination for lovebirds and home to the Empire State building. There's always something to do whether you go in the winter for a horse-drawn carriage ride through Central Park whilst it's snowing, or a candlelight romantic dinner on top of the Empire State Building in the Blossom Spring or cruising under the starry sky on the Hudson River in the summer. Whilst your there you can also see a Broadway show and go shopping at the iconic Tiffany's store on Fifth Avenue. There are literally many hotels and apartments that you can consider staying at such as the modernistic luxury Plaza Hotel or if you're looking for a boutique hotel you can stay at Library Hotel. You are sure to celebrate your honeymoon in style at the most romantic and vibrant city in the world.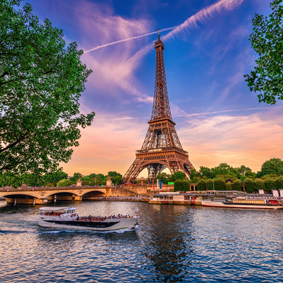 Paris
If as a couple you adore world class fine dining, elegant architecture, high end boutiques, culture and endless romance then Paris – 'the City of love and lights' is the perfect city moon getaway. Stroll together through the fashionable city and explore the famous sites such as the Eiffel Tower, the Arc de Triomphe, a boat ride on the Siene, the Louvre museum and an unforgettable visit to Ponts des Arts (lover's bridge). End the evening sipping café au lait at one of the sidewalk bistros or even visit one of Paris's famous Jazz clubs and then relax with a glass of Champagne or sweet wine at one of the most renowned luxury hotels in Paris such as the Hotel Prince De Gallas known as the Parisian hotspot with classic art deco design or even the Hotel Plaza Athenee. Nothing beats Paris for soaking up the romantic ambience any time of the year, chances are it will make you want to come back again and again.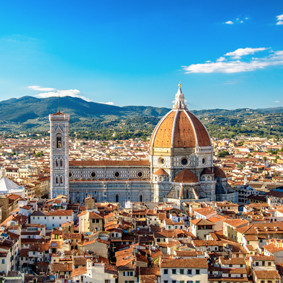 Florence
Florence is established as the cultural capital of Italy and is the ideal honeymoon hotpot. It is overflowing with art galleries and breath-taking architecture. There is a variety of places to visit and spend your day together such as admiring the Michelangelo's David sculpture at the Accademia Gallery or the stunning Renaissance artwork at the Uffizi Gallery. Then shop and eat your way through the Italian city from fresh pasta to delicious gelato and then in the evening enjoy the opera at the Teatro della Pergola. For a magical end to an evening enjoy a candle lit dinner and Tuscan wine overlooking the illuminated waters of Arno River. The glamourous Grand Hotel Baglioni or the chic boutique hotel, JK Place Roma are the perfect places to spend your honeymoon night in. It sure is well worth the visit if you're looking for the ideal citymoon break.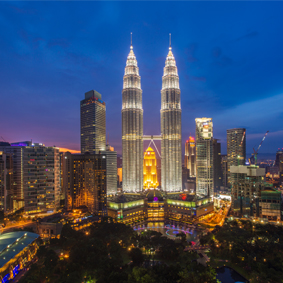 Kuala Lampur
Kuala Lumpur is the capital and the largest city of Malaysia. It is the fastest growing metropolitan region in the country. With plenty of fascinating attractions such as the iconic tall building in the world, the Petronas Twin Towers offering fantastic views of the city, explore the majestic temples and enjoy the scenic romantic strolls and incredible street food at Kuala Lumpur's Central market of Chinatown. If its shopping and nightlife you're after then the Golden Triangle is the ideal place. After all the hustle and bustle of the city enjoy some leisurely time together with a luxury spa for two and a romantic dinner at the atmospheric Villa Danieli restaurant to end the day. There are many accommodations available for honeymoon couples such as the Traders Kuala Lumpur Hotel and the Grand Hyatt Hotel offering panoramic views of the city or Shangri La hotel located next to the Golden Sand. So, if you're looking to choose somewhere different for your honeymoon pay a visit to this modern and rich heritage city destination.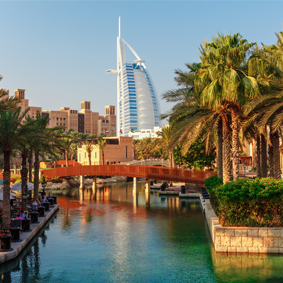 Dubai
For an unforgettable honeymoon opt for the most glamorous city in the world, Dubai. From luxurious hotels and restaurants to stylish nightclubs and the barren beauty of the desert, you will be spoilt for choice in this fast paced cosmopolitan city fused with Arabian traditions. To indulge in the honeymoon experience shop till you drop in the huge Dubai Mall, stroll along the Jumeriah Beach or take on water sports together to make it more adventurous even dune bashing or camel riding in the desert. After Sunset head to the city's gourmet restaurants for a romantic dinner or dance away at a night club such as the Sky View bar.

With the best time to escape to this city is between November and March, there definitely won't be no day the same. There are number of luxury hotels and resorts to choose from including the iconic Burj Al Arab or the Atlanis Dubai The Palm which includes the biggest waterpark in the world.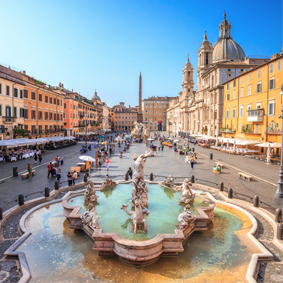 Rome
Italy's romantic capital is the ultimate city break for honeymooners looking for culture and excellent food at every turn. A minimoon to Rome will have you both making unforgettable memories to celebrate the beginning of your marriage. Visit the Colosseum, take a selfie at St. Peter's Basilica and throw a coin for luck in Trevi Fountain. Why not combine a romantic city break honeymoon to Rome with picturesque Amalfi Coast, Florence, Sicily, Sorrento or Tuscany to explore more of Italy's beautiful destinations in one honeymoon.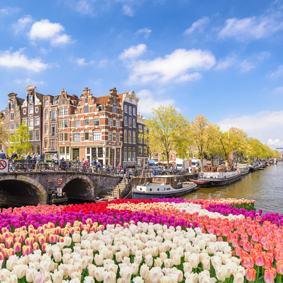 Amsterdam
Pretty townhouses, canals and coffee shops can be found in Amsterdam. A place for bicycle rides through cobbled streets and popping in and out of museums, Amsterdam is a lovely minimoon destination where you can enjoy a long weekend break while ticking off major bucket list experiences such as the visiting the Van Gosh Museum and Anne Frank House, treating your loved one to a bouquet at the world's only floating flower market, Bloemenmarkt. Amsterdam is an appealing minimoon destination for being budget-friendly and just over an hour away by plane.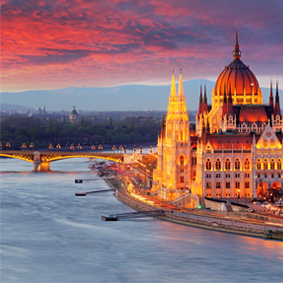 Budapest
Whisk off to beautiful Budapest on a romantic city break honeymoon, with stunning architecture that exudes with romance, rich history and a foodie heaven for indulgence. Blessed with hot springs, with a bounty of bathhouses, honeymooners can bask in open-air pampering, which has been an experience in the city since the time of the Romans. A honeymoon in Budapest will leave you feeling inspired, whether it's a long weekend minimoon or a multi-centre honeymoon combined with Rome, Vienna or Prague.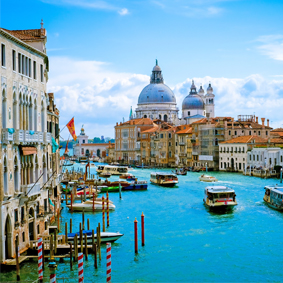 Venice
Be romanced by the waterways of Venice's canals on your city break honeymoon. Venice is built on over 100 small islands, with no roads and the only way to get around is by foot or gondola. This charming Italian city will leave you speechless and intrigued by its beautiful Gothic architecture and charming bridges. An ideal stop over for a honeymoon cruise or European multi-centre break, Venice is a truly charming and romantic city to begin married life together.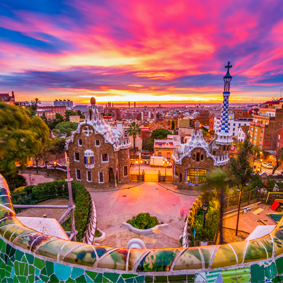 Barcelona
If there's one city in Europe to toast to the beginning of married life together, then Barcelona is it. With countless bars that famous DJs come to play at year round and a collection of rooftop bars offering beautiful city views, there's no wonder why Barcelona is on our city break honeymoon recommended list. During the day, spend your honeymoon in Barcelona exploring Gaudi's architectural excellence including La Sagrada Familia, Park Guell, Casa Mila and Casa Batllo. Couples that love the beach will love to stay at W Barcelona, which is located along the famed Barceloneta Boardwalk.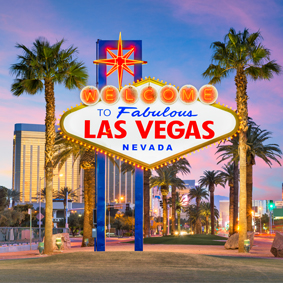 Las Vegas
For a glamorous honeymoon filled with glitz, non-stop entertainment and world-class experiences, head to Las Vegas for a whirlwind honeymoon. There's plenty of romance on offer in Las Vegas, from the beautiful gardens of Bellagio as well as its world-renowned Bellagio Fountains, that will impress at night, to gondola rides in the Venetian and Broadway-worthy shows such as Cirque du Soleil for the perfect date night. Stroll along the Strip, which will transport you to every corner of the globe with themed hotels and exceptional dining experiences such as the world-class Wynn Buffet and Gordon Ramsay's Hell's Kitchen experience. Your gateway to the Grand Canyon and a great destination to combine with California, Las Vegas is the perfect city break for couples seeking a fun-filled honeymoon.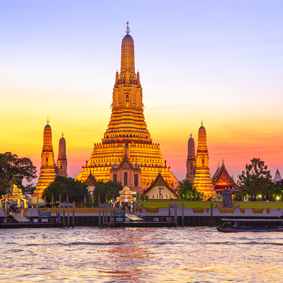 Bangkok
Bangkok is Thailand's bustling capital, known for its skyscraper buildings with rooftop bars boasting of breathtaking city views, floating food markets and sensational street food. A city where shrines and skyscrapers sit side-by-side, Bangkok is a city worth exploring by foot, Sky Train, tuk tuk and boat along the charming Chao Phraya River. Rich in culture and history, among some of the most visited sights is the Grand Palace and Wat Arun. In between sightseeing, spend your honeymoon hand in hand though green parks, expansive shopping malls and night markets. Spend your evenings celebrating newly married life on the famous Khaosan Road, which is sprawling with bars and eateries.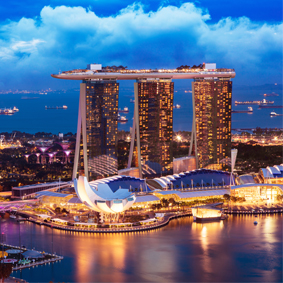 Singapore
Singapore is an island city-state located off southern Malaysia, with an iconic skyline of attractions, from the futuristic Garden by the Bay, to the Singapore flyer and the iconic Marina Bay Sands. Singapore is a fusion of cultures that expresses diversity, with many communities having their own festivities, traditions and practices, predominantly Chinese, Malaysian, Indian, Peranakan and Eurasian communities. Singapore is truly a concrete jungle, with the likes of Gardens by the Bay – a huge nature park with waterfront gardens and walkways – and greenery that envelops modern buildings such as the stunning Parkroyal Collection Pickering Hotel. Honeymooners looking for a fun-filled adventure can migrate to Sentosa Island, which is an island resort compromising of a beach and attractions including Universal Studios Singapore. Foodies can delight in the fact that there are 44 Michelin Star restaurants in Singapore, offering a choice of splendid date night options on your city break honeymoon in Singapore.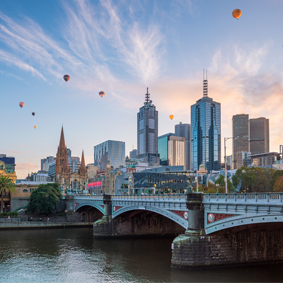 Melbourne
Couples that love food and culture will love everything that Melbourne has to offer on an unforgettable Australia honeymoon. With art-deco high-rise buildings and cobbled streets, Melbourne exudes New York and European city vibes. Unique in its own way, Melbourne makes a name for itself with over 230 laneways to explore, from world-class street art and no shortage of quirky restaurants and bars. Delve into the corners of the globe through Melbourne's neighbourhoods, from the hipster streets of Collingwood, to the suburbs of Carlton, which is known as Melbourne's 'Little Italy'. Include Melbourne in your Australia multi-Centre with destinations such as Sydney, Queensland and Whitsundays.