Overview
A honeymoon is one of the most important aspects of the wedding planning as it is something just the two of you will enjoy after months of planning your dream wedding, but the Stag and Hen do's are just as important as it's the final hoorah with your mates enjoying each other's company with crazy and fun activities all thrown in the mix.
We'll take the hard work and stress out of planning a Stag and Hen and find you the best  flights to ensure you are all sat together. We will find you the right accommodation option for you group size and requirements and work with you to design your own personalised itinerary.
If you're looking to plan an unforgettable stag or hen do, we are here to help. We may be Honeymoon specialists, but our extensive knowledge and experience of booking incredible getaways around the globe stretches further than honeymoons. See below for our list of top destinations for a stag or hen do, which will help you decide on where to go on your unforgettable trip.
Payment Plans Available – Deposits from £60 Per Person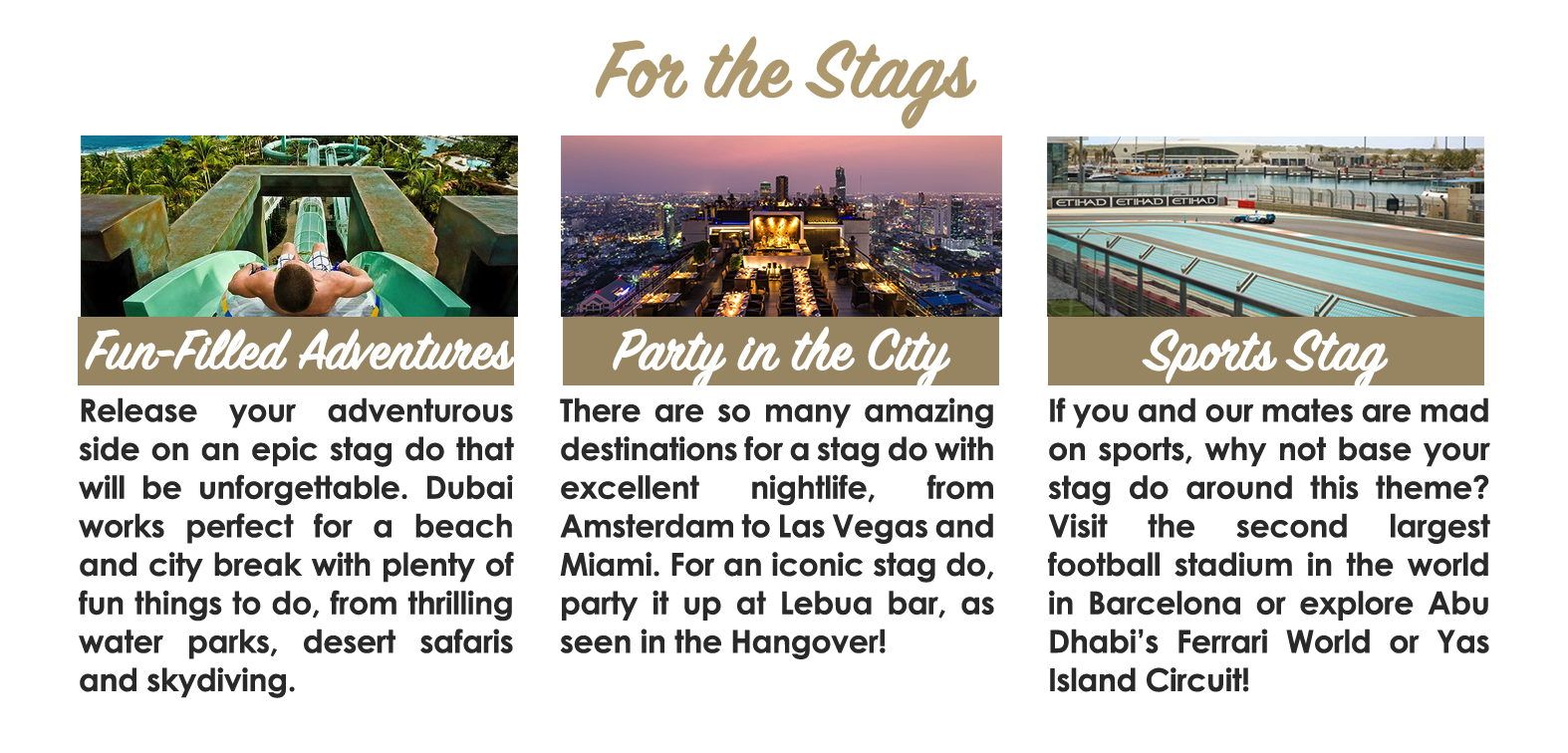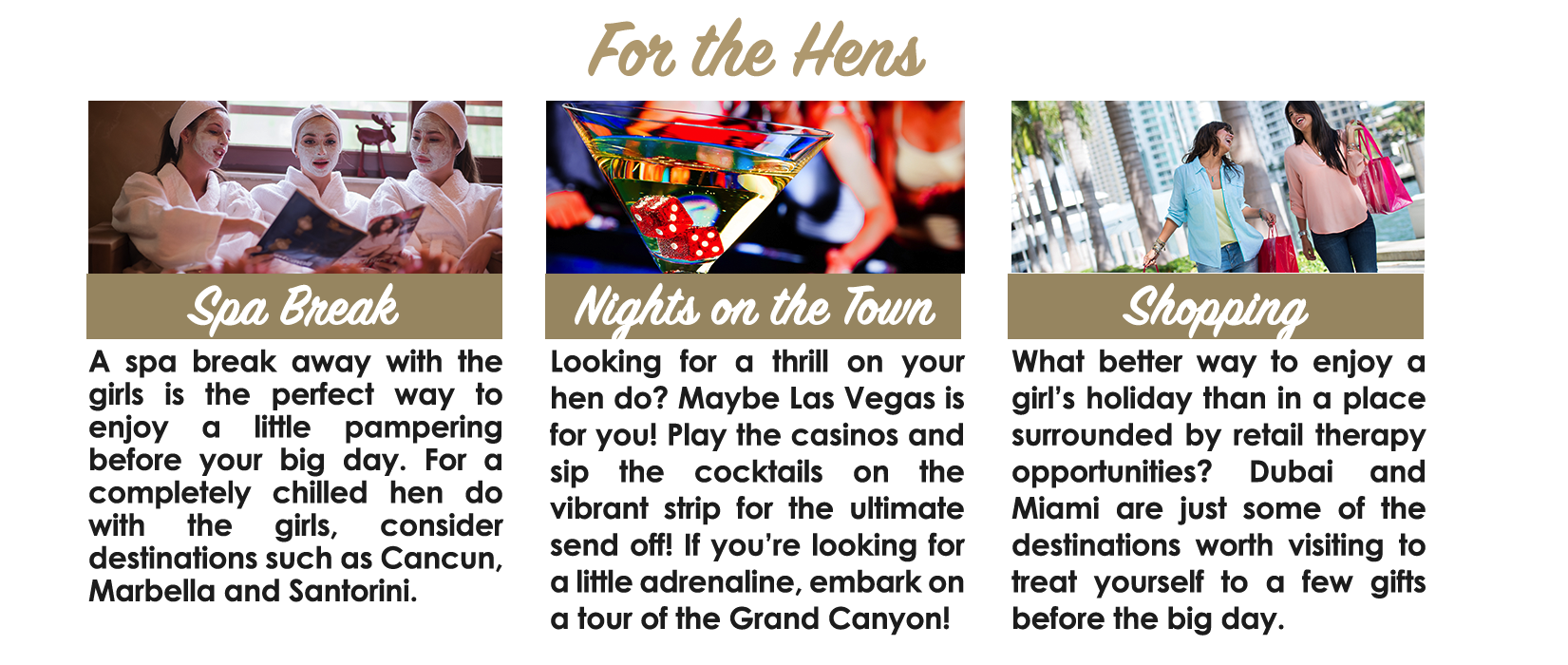 Contact Honeymoon Dreams today to book your stag or hen do. Call us on 0121 440 6268, email quote@honeymoondreams or enquire online here.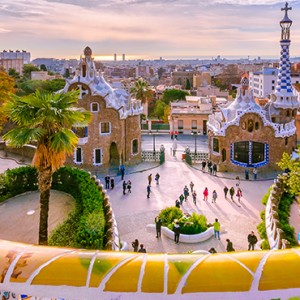 Barcelona
Barcelona is a fantastic destination for stag and hen dos, with so much to do including various cultural attractions from Camp Nou, the Gothic Quarter, Park Guell, La Boqueria and much more. But it's not just Barcelona's impressive sights that appeals to stags and hens, this city is sprawling with classy and chic bars, from cocktail bars to wine bars and vibrant nightclubs to dance the night away.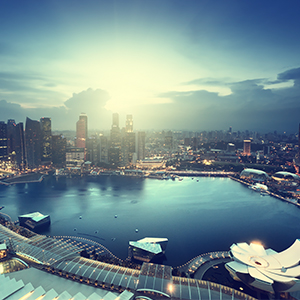 Dubai
Dubai is one of those destinations that gives you the best of both worlds, whether you are looking for a city or beach stag or hen do, Dubai opens up a world of choice. Known for its spectacular heights, Dubai offers a collection of amazing rooftop bars so that you and your party can enjoy awe-inspiring vistas while dancing the night away. The Palm Jumierah is a great choice for stag and hen dos, with golden sandy beaches, excellent shopping, restaurants and bars to choose from. If you're looking for an adrenaline rush, you won't need to go far, attractions such as Skydive Dubai, Burj khalifa's observation deck, Ski Dubai and desert safari's are just among some of the top things to do whilst you're in Dubai.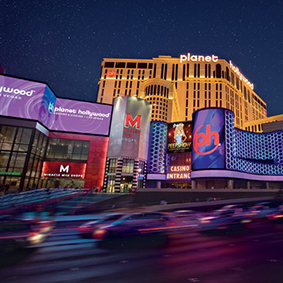 Las Vegas
The first thing that comes to mind when considering Las Vegas as your hen or stag destination of choice is the Las Vegas Strip, and for those looking for the ultimate party destination will have no problem finding a lively nightclub or bar to reside the night away. When you're not hopping in and out of nightclubs and casinos, you can visit a range of exciting attractions such as the Eiffel Tower, Titanic Exhibition, Shark Reef Aquarium and Madame Tussauds.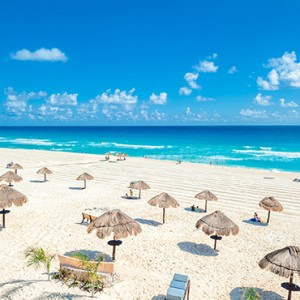 Cancun
Cancun is perfect for two things in particular; sun kissed beaches and a lively nightlife scene. Imagine you and your stag or hen party relaxing in the sunshine on the 14-mile white sand beach with the clear Caribbean waters just moments away and by night you're hitting up the classy nightclubs and enjoying exquisite all-inclusive luxury at the many luxury hotels located along the beachfront.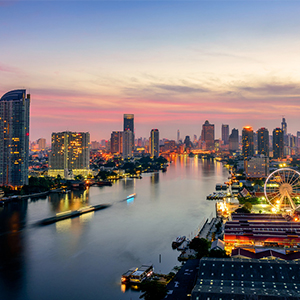 Bangkok
Bangkok is a bustling city, which is why we think this makes for the ideal stag do destination. Whether you're looking for adrenaline-filled activities, from Thai boxing classes to Tuk-Tuk rides through the city and luxurious yacht party cruises, Bangkok has it all for the inner adventure seeker. Of course, it goes without staying that Bangkok has plenty of nightlife for you to discover, we recommend an evening at Lebua rooftop bar, which was featured in The Hangover. At 820 feet above ground and with the city's skyline at a 360-degree view, you'll feel like the world is your oyster.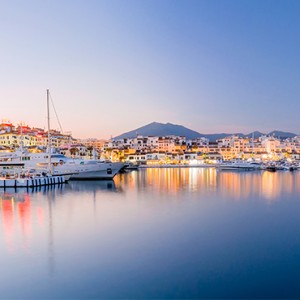 Marbella
If you're looking for somewhere a little closer to home, why not consider Marbella? Loved for many things, including plethora of bars, beach clubs, designer shopping and a charming harbour where you can hire a private yacht and enjoy the high life cruising through the sweeping Mediterranean.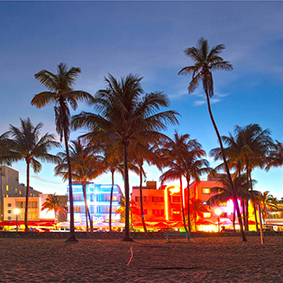 Miami
Beach life and designer shopping go hand in hand in Miami. Blend in with the rich and famous, where pool parties are an everyday occurrence. Miami is perfect for stag and hens where some of the best nightlife neighborhoods can be found. LIV, Basement at the Edition, Delano and E11even Miami are just among some of the top clubs to explore while you're out in Miami.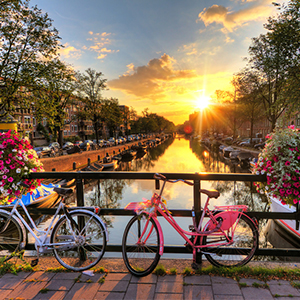 Amsterdam
Amsterdam is an ideal stag or hen do destination that can be reached within an hour by plane from the UK, so if you're looking for somewhere cost effective and in close reach, Amsterdam is your best choice. You'll spend your hen or stag enjoying Amsterdam's lively café scene, which is complimented by its bustling night scene and renowned foodie hub.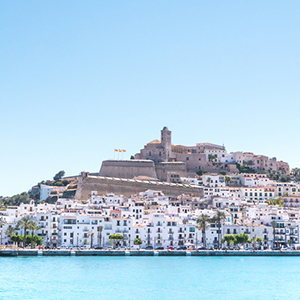 Ibiza
Shopping, spas and buzzing nightlife is the perfect recipe for an incredible hen do, which is why Ibiza is on our list of top hen and stag do destinations. Ibiza is a picturesque destination that will serve as your tropical backdrop with sandy coves, azure blue waters and quaint alleys with white wash buildings.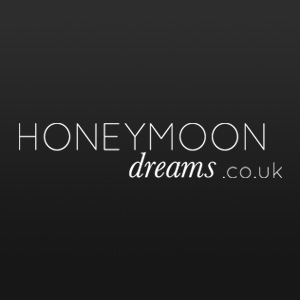 Payment Plans Available - Deposits from £60 Per Person
Contact Honeymoon Dreams today to book your stag or hen do. Call us on 0121 440 6268, email quote@honeymoondreams or enquire online here.