Tour Overview
The incredible landscapes of Dubai conjure up images of famous landmarks such as Burj Khalifa or the Fountain, the awe-inspiring The Palm and the Burj Al Arab. If you are in Dubai for only a short while, a Dubai helicopter ride is the perfect way to capture the beauty of the vibrant and ultra-modern cityscapes of Dubai.
See Dubai in a new perspective with a thrilling helicopter ride through the the coastlines of the man-made Palm, which can be truly appreciated from above. Fly past the world famous Atlantis The Palm, then head off to Dubai's bustling old town where you can see the abras and dhows on the Creek as well as the 21st century skyline. Therefore, if you and your partner love living on the edge than this thrilling experience is perfect as you can enjoy it any time of the year in Dubai.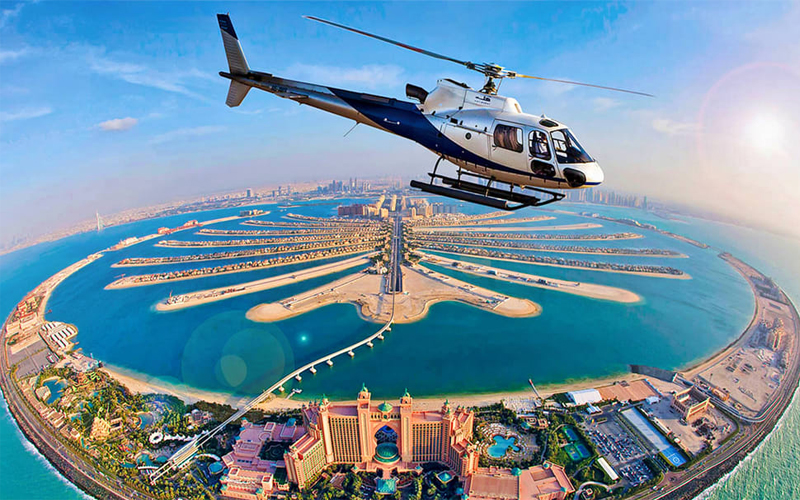 Further Information
How long is the helicopter ride? 
While on a romantic getaway to Dubai why not make the most of your time together with a helicopter ride which will take your breath-away with scenic aerial views from high above. This shared helicopter ride tour can take around 12 minutes or 25 minutes depends on what tour you choose. Whilst in the air, live narration can be listened to by the professional and experienced pilot.
What can we bring with us?
Get ready for take off and take in the awe-inspiring scenery of Dubai, make sure you bring a Camera to capture lasting memories.You'll want to make sure you have your camera at the ready as you'll be guaranteed some serious photo opportunities! There is no need to carry a bag full of things just essentials, all you need to the booking voucher and some form of identity proof liek your passport.
When is the best time for a helicopter ride tour in Dubai?
Guests can travel to Dubai all year round with the sultry weather being warm and with two distinct summer and winter seasons. December to March is generally the best time to visit as temperatures are at its coolest with average temperatures of 20 degrees Celsius and it is less crowded with tourists. Summer months during June to August with average temperatures of 30 degrees celsius tend to be more crowded so best to book way in advance during these times. Therefore, for a helicopter ride all year around is fine, although if you what to fly usually late mornings or early afternoons are the best as you get limited shadows and a better view with the sun being overhead. However, as Dubai has a desert climate they do get little rain or storms during the winter months, so if the weather conditions are bad then helicopter tours will be cancelled.
Wheres the best hotels in Dubai to get picked up from?
Hotel pick-ups can be arranged from any hotels around Dubai.
Are you interested in adding the Dubai Helicopter ride into your itinerary? Contact us to learn more on 0121 440 6268!
Back to Dubai