Overview
Bangkok
See the sights of Bangkok's striking skyline and captivating features such as the stunning canals, which leads to the major Phraya River, fringed by high-rise buildings, which serves as a great way to explore the city by romantic cruise ride during sunset. Navigate your way through street markets, temples, palaces and shopping malls. The best way to move around Bangkok is by hopping on the Skytrain, where you'll pass the sprawling high rises, which can be admired en route to your next destination. From luxurious dinner cruises, relaxing spa treatments and world-class dining, your honeymoon in Bangkok will be filled with amazing new memories.
Koh Samui
Koh Samui is Thailand's second largest island and is known for its dreamy beaches, lush rainforests and beautiful culture. A honeymoon in Koh Samui can be as relaxed or as adventurous as you want to be. Angthong National Marine Park is a must do whilst on the island, compromising of 42 islands and with 100 square km of breathtaking land and sea to explore. You'll find a plethora of wildlife encounters such as tortoises, sea turtles, lizards, pythons, sea turtles, bats and much more. Other must-see sights of Koh Samui include the Big Buddha, Wat Plai Laem and the Secret Buddha Garden.
Dubai
After your amazing Thailand adventure head to the bustling cosmopolitan of Dubai, which has so much to offer on your honeymoon. From golden sandy beaches, glamorous shopping malls, breathtaking high rises, thrilling theme parks and an ever-growing abundance of restaurants, bars and entertainment, variety is the spice of life when it comes to your honeymoon. Dubai offers a taste for adventure, from gliding the slopes at Ski Dubai, sky diving over the man made palm, tucking into high tea in the Burj Al Arab and swimming with dolphins in Aquaventure – just to name a few.
Save REF: B44257
Multi-Centre Honeymoon
Multi Centre Honeymoon Dubai
One of the world's most exciting destinations, the glittering city of Dubai guarantees you a fun-packed, unforgettable holiday.
From innovative development projects to super-deluxe hotels that grace the beaches, city and desert; thrilling sports and activities to massive malls of tax-free boutiques, this city of gold constantly buzzes with new and exciting ideas.
Multi-Centre Honeymoon Thailand
If you're looking for a taste of culture then Thailand is the honeymoon destination that you have been searching for. With mountains, jungles and beaches on offer you will be spoiled for choice with where to explore first.
Why Combine?
This combination is nothing less than god grafted perfection, which is why here at Honeymoon dreams we really like this multi-centre honeymoon choice.
As a couple you will be able to witness a fascinating rich culture that lies within Thailand, which will expand both of your minds, and open your eyes up to a new world. Followed by this you will both be taken back by the astonishing architecture and sights that lie within Dubai. Dubai is truly a place for kings and queens.
FROM £1910PP
Price per person based on 2 adults sharing. Please contact us for alternative hotels and combinations. Deposit from £150 Per Person
STOP 1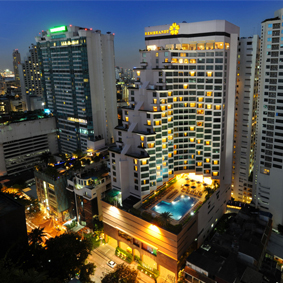 Occupying a prime location in Sukhumvit, the Rembrandt Hotel offers guests easy access to the nearest MRT and BTS stations as well as excellent shopping, entertainment and nightlife venues. The hotel itself provides you with comfortable 4 star accommodation guaranteed to make you feel right at home, augmented by top-notch international dining options, traditional Thai hospitality and world-class facilities. Enjoy an unforgettable Bangkok honeymoon when you choose to spend it at the Rembrandt Hotel. There are 7 superlative wining and dining venues at the Rembrandt, offering a diverse range of flavours from around the world. Hotel facilities include a swimming pool. Sanctuary Wellness and Spa and a state-of-the-art fitness centre.

Price based in August 2017
STOP 2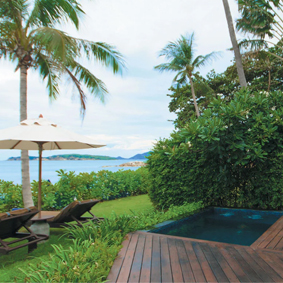 Breakfast, Garden Pool Suite
Perfectly placed by a 300-metres long, immaculate white sandy beach, the Outrigger Koh Samui Beach Resort is an escape like no other. Chic and stylish with an aura of luxury, Outrigger is sure to capture your imagination as you walk along the shores of Koh Samui's Hanuman Bay in Thailand. Astonishing views and swaying palms help create a honeymoon atmosphere, which can all be taken in during the height of relaxation. You can expect nothing else but top rated facilities at Outrigger Koh Samui Beach Resort, with a mouthwatering variety of restaurants. Pizzas from wood-fired ovens, a delicious steakhouse and the Legend Thai restaurant are just a few of your authentic dining choices. Be pampered at the spa centre which prides itself on the provision of comfort and with no compromise in luxury enjoy a swim up bar, indulging yourself with a freshly prepared cocktail.

Price based in August 2017
STOP 3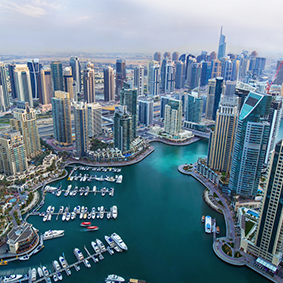 Breakfast, Deluxe Room Skyline View
Nested in the middle of Dubai's bustling financial and shopping district, Conrad Dubai is a dream hotel that reaches towards the city's expansive skyline. Panoramic views, premium entertainment and rich food all add to the hotels allure. Conrad's lush accommodation allows romance to thrive and its prime location is an ideal starting point for a once of a lifetime adventure in Dubai. Why not take advantage of the unique "Mood Concierge" package, which includes a specially prepared romantic experience for honeymooners. Swim with dolphins in the Gulf of Oman or take a tour of Musandam in a Lamborgini spider, the choice is yours. Conrad Dubai has a plethora of facilities for an amazing honeymoon, with the choice of 3 dining restaurants, a 6th floor wine bar, tranquil gardens and a large pool.

Price based in August 2017