Overview
A honeymoon is a special event in ones life, which is why it is so important to make sure it's the right one for you and your partner. We believe Dubai and Mauritius to be a great match for each other as it'll provide a balance between a lively and secluded atmosphere. Enjoy a day around the shopping malls of Dubai and enjoy a huge range of designer shops, before heading to Mauritius, escaping from the buzz of city life to an island surrounded by seclusion. With heavenly beaches and exquisite food in both places, you know it can't go wrong!
Dubai
Escape to the middle east and soak up all the spectacular sights of Dubai, where you'll find unforgettable architecture and luxury hospitality. Mesmerising golden beaches, wondrous nightlife and astonishing desert terrain. Dubai is a special city that quite simply cannot be overlooked, because it's a city packed with adventure to facilitate all varieties of honeymoon. Retreat into an oasis of bliss and let your romance flourish in one of the Middle East's most iconic cities.
Mauritius
The exotic island nation of Mauritius offers a honeymoon in paradise and boasts a proud blend of Indian, French, Chinese and Creole culture. The character of the island is elucidated by a superb variety of resorts that use the stunning beauty of their natural surroundings to create an environment like no other. Tranquility, relaxation and adventure can all be found in Mauritius, where you'll be amazed by the white sand, turquoise oceans and volcanic scenery.
'Spend' REF: REFQ32380
Below is an example itinerary. For a tailor made Dubai and Mauritius honeymoon multi-centre call 0121 440 6268.
Multi-Centre Honeymoon
FROM £4740PP
Price per person based on 2 adults sharing. Please contact us for alternative hotels and combinations. Deposit from £150 Per Person
STOP 1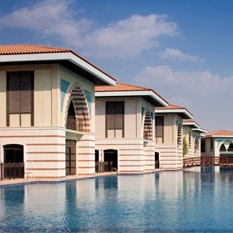 Half Board, Deluxe King Arabian Sea View
The Zabeel Saray helps Dubai live up to it's reputation of elegance with its stunning architecture and styled design based on the Ottoman era. With one of the worlds largest spa's, infinity edge pools and private beach you can be sure that your stay in Dubai is met with no compromise. Fine cuisine is of course served throughout the day, alongside exceptional hospitality to go with it. The Zabeel Saray is based on the tranquil part of the palm and is in the perfect position for you to shape the honeymoon of your dreams.

Price based on September
STOP 2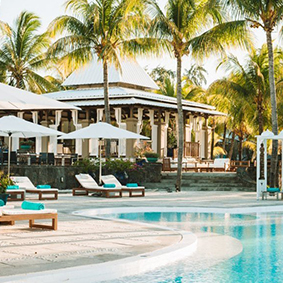 All Inclusive, Deluxe Premium Room
An adults-only boutique resort nestled in an idyllic location at Anse La Raie on the northern coast of Mauritius, Paradise Cove is the perfect place to spend a tropical honeymoon. Boasting elegant luxury accommodation modelled on the style and décor of the East India Company, and offering abundant fine dining opportunities and unbeatable views over the Indian Ocean, this stylish getaway will provide the perfect starting point for your life as a married couple.

Price based on September