Overview
A honeymoon is a special event in ones life, which is why it is so important to make sure it's the right one for you and your partner. We believe Dubai and Mauritius to be a great match for each other as it'll provide a balance between a lively and secluded atmosphere. Enjoy a day around the shopping malls of Dubai and enjoy a huge range of designer shops, before heading to Mauritius, escaping from the buzz of city life to an island surrounded by seclusion. With heavenly beaches and exquisite food in both places, you know it can't go wrong!
Dubai
Escape to the middle east and soak up all the spectacular sights of Dubai, where you'll find unforgettable architecture and luxury hospitality. Mesmerising golden beaches, wondrous nightlife and astonishing desert terrain. Dubai is a special city that quite simply cannot be overlooked, because it's a city packed with adventure to facilitate all varieties of honeymoon. Retreat into an oasis of bliss and let your romance flourish in one of the Middle East's most iconic cities.
Mauritius
The exotic island nation of Mauritius offers a honeymoon in paradise and boasts a proud blend of Indian, French, Chinese and Creole culture. The character of the island is elucidated by a superb variety of resorts that use the stunning beauty of their natural surroundings to create an environment like no other. Tranquility, relaxation and adventure can all be found in Mauritius, where you'll be amazed by the white sand, turquoise oceans and volcanic scenery.
'Save' REF: B59283 
'Spend' REF: Q74741
'Splurge' REF: Q32380
Below are example itineraries. For a tailor made Dubai and Mauritius honeymoon multi-centre call 0121 440 6268.
Multi-Centre Honeymoon
FROM £1800PP
Price per person based on 2 adults sharing. Please contact us for alternative hotels and combinations. Deposit from £150 Per Person
STOP 1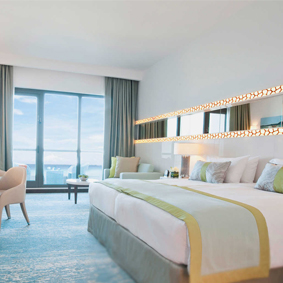 Breakfast, Superior Room (SeaView)
Courtesy of its prime location on JBR Walk, Ocean View Hotel is an elegant contemporary getaway which offers all of the must-have creature comforts and provides you with easy access to the nearby public beach and the various shopping, dining and nightlife venues on the promenade. The hotel itself is home to 6 excellent eateries and bars, not to mention a temperature-controlled swimming pool, an upmarket spa and health club. Savour the Dubai honeymoon of your dreams in luxury and comfort when you choose JA Ocean View Hotel as your accommodation of choice.
STOP 2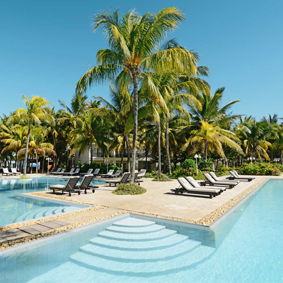 All Inclusive, Couple Suite
The 4* Ravenala Attitude is one of several hotels in a beautiful complex situated in Balaclava on the northwest coast. Tucked away in an exotic garden between the Indian Ocean and the Citron River. Perfect for newly weds or couples who want to enjoy their very own privacy and some great water sports, Ravenala Attitude is strikingly different as it is a complete blend of colonial and contemporary styles and certainly is a little piece of paradise!