Overview
Tanzania
Tanzania is a fascinating destination for your Safari honeymoon, home to Serengeti National Park, which homes the Big Five and is renowned for its annual migration. Game drives in this National Park will create unforgettable memories that you both will cherish in many years to come – including a sensational hot air balloon flight to really see the incredible scale of this stunning land with a bird's eye view! You will also visit Lake Manyara National Park in which its lake covers a third of the land, however, in dry season this is heavily decreased in size, but when the rain falls the lake attracts millions of flamingos and bird life. Another unforgettable highlight of your Tanzania safari honeymoon includes a visit to Olduvai Gorge, an incredible discovery site and Ngorongoro Crater to discover its captivating surroundings and wildlife encounters.
Zanzibar
Zanzibar is an archipelago of islands off the coast of Tanzania, lapped by the crystalline waters of the Indian Ocean; this is the perfect destination to kick back after exciting game drives in Tanzania. There are two bigger islands and several smaller ones; the largest island, Zanzibar, is roughly 90km in length and 30km wide. Zanzibar is known for its traditional way of life, its stunning beauty, its beaches and its spice farms.  Be sure to take a tour of one of the local spice farms so you can see how their products are grown and taste some delicious exotic fruit. To get another glimpse into the island's traditions it is also well worth taking a village tour, to meet the local inhabitants and get a fascinating glimpse of their daily life and customs.
'Save' REF: Q56844 – Price based on travel in July 
Multi-Centre Honeymoon
FROM £4450PP
Price per person based on 2 adults sharing. Please contact us for alternative hotels and combinations. Deposit from £150 Per Person
STOP 1
STOP 2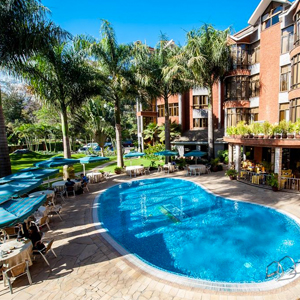 Kibo Palace Hotel (or similar)
On arrival to Arusha, transfer to the Kibo Palace hotel (or similar). Arusha is a city in East Africa, which is situated at Mount Meru's base and serves as the gateway to Safari game reserves and to Africa's highest peak, Mount Kilimanjaro.
STOP 3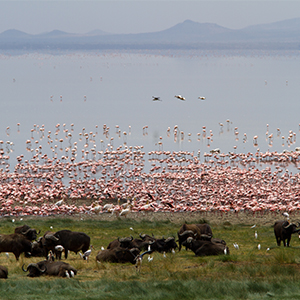 Lake Manyara Kilimamoja Lodge (or similar)
On day 3, set off on a safari on a 4x4 vehicle for an exciting game drive to Lake Manyara where you will get to know the area on the way from its villages to the plantations which grows maize, bananas and coffee. Arriving in Lake Manyara Killamamoja Lodge, which is situated on the rim of the Great African Rift Valley, you'll enjoy lunch then take in the breathtaking views of Lake Manyara. Your stay here will be utterly romantic, with stunning views of the lake, lush tropical surroundings and elegant suites with stonewalls, fireplace, bathtub and indoor and outdoor showers as well as a private balcony with gorgeous views. After lunch, enjoy an afternoon game drive in Lake Manyara National Park where you'll encounter an array of wildlife such as hippos, elephants, flamingos, tree-climbing lions and much more!
STOP 4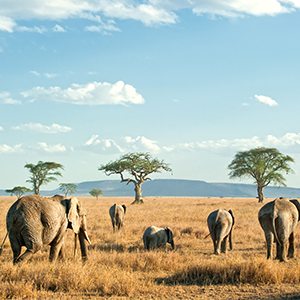 Breakfast, Lunch & Dinner
Serengeti Sopa Lodge (or similar)
Starting off your morning with a beautiful and scenic drive through the highlands to the world-renowned Serengeti National Park, which is known for its annual migration of wildebeest and zebra! With 1.5 hectares of savannah, Serengeti National Park is an incredible park for your Safari honeymoon, home to black rhinos, elephants, wild dogs, cheetahs and so much more. During the afternoon, enjoy an exciting safari on a 4x4 vehicle where you will explore the open plains to spot Serengeti's incredible wildlife. Stay at the Serengeti Spa Lodge, which, unlike other traditional lodges, it doesn't have a thatched roof and instead has a flat roof in which sundowner cocktails and private parties can be enjoyed with beautiful surroundings.
STOP 5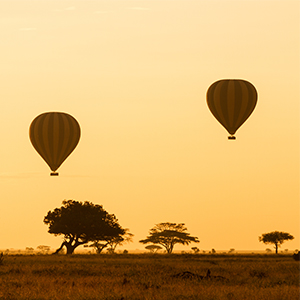 Breakfast, Lunch & Dinner
Serengeti Sopa Lodge (or similar)
For an unforgettable honeymoon experience, take up the chance to embark on a hot air balloon flight over Serengeti's breathtaking plains to see this stunning National Park in a new perspective, whilst being taken aback away by its incredible scale of wilderness that goes on for miles – be sure to catch glimpses of the wildlife below going about their morning. Morning and afternoon game drives in Serengeti can be enjoyed, keep your eyes peeled for big cats, rhinos, buffalos and giraffes!
STOP 6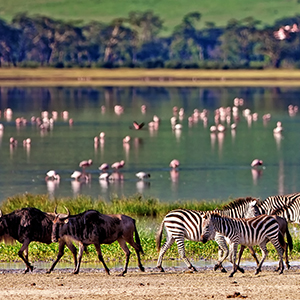 Breakfast, Lunch & Dinner
Oldeani Mountain Lodge (or similar)
After breakfast, depart for Ngorongoro, viewing game across Serengeti plains where you'll also have the option to visit Olduvai Gorge, which is an important discovery site that further understands early human evolution. En route to Ngorongoro enjoy a picnic then continue for an afternoon game drive in the world's largest inactive and unfilled volcanic caldera, which exploded and collapsed on its self between 2-3 million years ago! Ngorongoro Crater attracts a huge amount of wildlife in which you'll encounter on this incredible game drive. An overnight stay at Oldeani Mountain Lodge is reached by a bridge over the pond and is situated within 40 acres of lush gardens and is home to 130 species of bird! The Lodge has 50 traditionally furnished suites with indoor and outdoor showers, the main stone house lounge is a great place to relax and mingle - and to soothe those aching muscles in between game drives, the spa offers an array of treatments. Outside there's plenty of spots to relax including the pool and cosy fire pit area. On the evening, enjoy a gentle walk to a secluded bush ravine site for a traditional boma-style barbecue dinner with Maasai dancing and bonfire for an unforgettable dining experience on your safari honeymoon.
STOP 7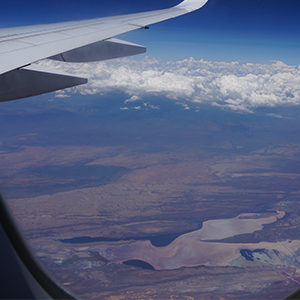 In the morning return to Arusha (with a journey time of 3 hours) for your onward flight to Zanzibar.
STOP 8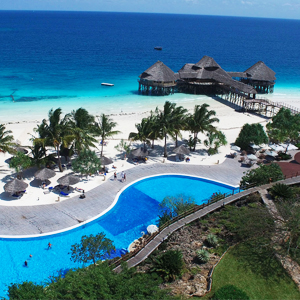 All Inclusive, Deluxe Room
After your whirlwind safari honeymoon in Tanzania, take a relaxing break with the pristine beachfront of Zanzibar just 3 minutes away at the 5-star Diamonds La Gemma Dell'Est. Ideal for relaxation on your honeymoon, Diamonds La Gemma Dell'Est features a large lagoon- style swimming pool where you can enjoy delicious cocktails. The wonderful dining choices of 4 restaurants and 5 bars include a buffet restaurant offering themed nights, which is included in your all-inclusive. For additional dining experiences at extra cost dine at the overwater a la Carte seafood restaurant, Pizzeria, a Café and Beach Grill. In between meals and relaxing on the beach, Diamonds Dell'Est offers a range of facilities such as a spa, and a range of watersports and land sports to enjoy on your 7-night Zanzibar beach honeymoon.