Overview
Honeymooners looking for a real buzz after saying "I Do" will love the adventures that wait in Sri Lanka. From whitewater rafting in boulder-strewn rivers to cycling through rice fields, villages and past ancient temples on dedicated trails. A Sri Lanka Honeymoon is a truly unique experience and our Sri Lanka tour includes so many amazing experiences for you both to create unforgettable memories, from selected sightseeing including climbing the famous Sigiriya Rock, a jeep safari to see an abundance of elephants at Minneriya National Park and a ride on Sri Lanka's most scenic train journey. A private car and driver is included in our Sri Lanka honeymoon package.
Enjoy honeymoon inclusions:
Flower garlands / Seashells garlands + flower bouquet for the bride on arrival.
Rooms will be decorated with special honeymoon amenities.
Specially curated goodie basket with aeriated drinks right-throughout the journey.
Special sundowner cocktail exclusively for the couple at an exclusive venue. 
Unlimited Mineral water bottles, which are SSL certified, throughout the journey.
Fresh cold towels on after each excursion.
A dedicated 24-hour customer service hotline is provided.
Wi-Fi in the vehicle for the entire round tour.
Local fruit tasting activity, and many surprises enroot.
Brand new pair of socks to be utilized when conduct hiking's to religious monuments
A gift including a bottle of wine/a cake/Flowers
A candle lit dinner with a bottle of wine
Ayurveda full body massage for the couple
'Save' REF: B83511
Below is an example itinerary. For a tailor made Sri Lanka Tour honeymoon multi-centre call 0121 440 6268.
Multi-Centre Honeymoon
FROM £1950PP
Price per person based on 2 adults sharing. Please contact us for alternative hotels and combinations. Deposit from £150 Per Person
STOP 1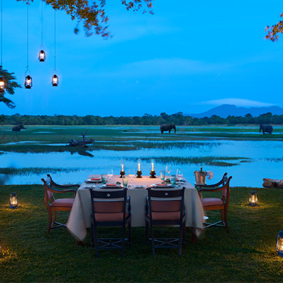 Half Board, Superior Room
Upon arrival in Sri Lanka, you will be met by the company delegates at the airport lobby and will be welcome with a Flower Garlands/ flower bouquet and you will be then directed to your hotel in Sigiriya to begin your romantic Sri Lanka honeymoon.
STOP 2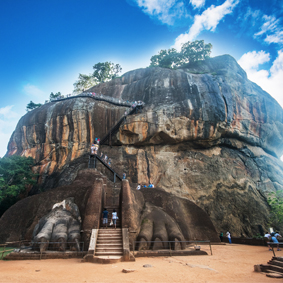 Half Board, Superior Room
After enjoying breakfast at Cinnamon Lodge Habarana, walk to Hiriwaduna to enjoy village trekking and to know all about Sri Lankan village life.

Hiriwadunna is a rural village with chirps of birds, fishermen carrying nets, as well as an occasional crocodile basking on a shore of the lake and ample birdlife and butterflies. Roam around with a local farmer before you hand-pick vegetables and join the experts in preparing them. Or hop into a bullock cart for an insightful sightseeing tour that will remain memories of a lifetime on your Sri Lanka honeymoon. During the trek you will visit a rural temple to attend to a Pirith session (Buddhist blessing session) for a wholesome spiritual experience. Afterwards, enjoy a specially prepared authentic Sri Lanka lunch at the local village house.

In the evening take a transfer to climb Sigiriya rock fortress, a 5th century rock citadel of King Kasyapa and World Heritage Site. Step through the gigantic 'Lion Paws' - then once you reach the top take in the breathtaking gardens and scenery around you. Enjoy an amazing dining experience on the tree house with a bottle of wine.
STOP 3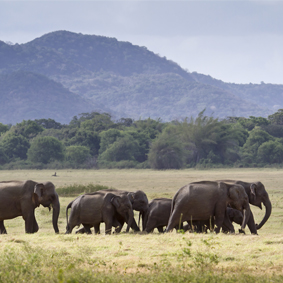 Half Board, Superior Room
After breakfast, take some time for each other besides the pool, or indulge in a couple's spa treatment at a traditional Ayurveda spa to help rejuvenate your mind, body, and soul after the previous days of exploring. During the evening, embark on an exciting jeep safari in Minneriya National Park. If you're up for a serious rumble in the jungle, then Minneriya is your Colosseum! With over 8800 hectares and a sanctuary for elephants, get your camera at the ready! Minneriya is also home to herds of deer and birdlife. Park your jeep on the bank of the reservoir and carefully seek out the herds of elephants as they feed on tender shoots. Minneriya National Parks attracts wildlife lovers for its largest elephant gathering in the world with over 700 at a time - which has garnished the park to become a magnet for wildlife enthusiasts across the globe. End another perfect day with a specially curated sundowner Cocktail by the lake banks exclusively for you both before returning back to your hotel.
STOP 4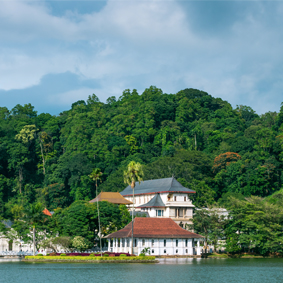 After having breakfast at your hotel, head towards the sacred city of Kandy. On the way enjoy a stop in Matale to visit the herbal garden and witness a spice demonstration and herbal medicine manufacturing.
STOP 5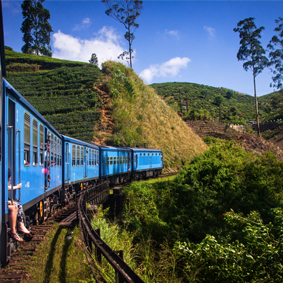 Half Board, Premium Deluxe
98 Acres Resort Spa Sri Lanka
After an early breakfast head to Nuwara Eliya, where you will drive pass splendid views of tea plantations before continuing the journey to Nuwara Eliya. After you will be transferred to Nanu Oya station to catch your train to Ella. (Recommended train time 11.10 AM train from Nanu Oya Station (Nuwara Eliya). Known as the most scenic train route in Sri Lanka, which was laid down by the early British Colonisers as trade routes for transporting tea take in the stunning vistas of tea plantations and Sri Lanka's countryside. On the evening check in to the hotel & enjoy time at your leisure.
STOP 6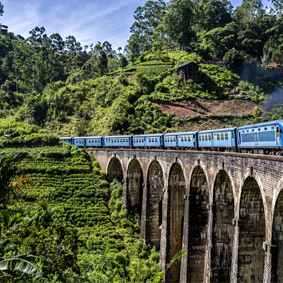 Half Board, Premium Deluxe
98 Acres Resort Spa Sri Lanka
After Breakfast enjoy sightseeing of Ella including 9 Arch Bridge, Ella Rock and Little Adams peak. The Nine Arch Bridge also called the Bridge in the Sky, is one of the best examples of colonial-era railway construction in the country.

Ella Rock is a trekkers paradise with sweeping greenery. Once you get to the summit, enjoy the panoramic views with mist and cloud covering the area, especially in the early mornings and the late evenings.

Ravana Falls is another must visit in Ella, this Hill country of Sri Lanka is popular for beautiful waterfalls and Ravana Falls is right at the top. The falls are quite impressive, and you can climb over some of the rocks to get a closer look, alternatively spend some time swimming in one of the widest falls in the country. During the wet season, the waterfall transforms into an area of flowers with withering petals.

Little Adams peak is a must do in Ella with full ratings; you would absolutely love the experience. Mini Adams peak is the closest and easiest hike in Ella. Return back to your hotel in the late afternoon at your leisure.
STOP 7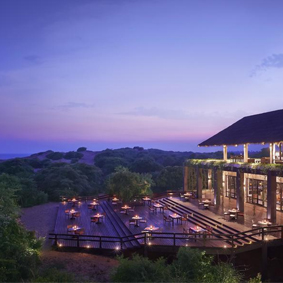 Half Board, Superior Room
Enjoy fresh breakfast at 98 Acres Resort, before proceeding to Yala and check in at the hotel. Jetwing Yala is the perfect retreat located near Yala National Park, which is considered as one of the best wildlife destinations in Asia. This beachfront resort offers a tranquil wellness center enveloped by natural sceneries, relaxing ambiences and unbelievable dining ventures for the ultimate romance experience on your Sri Lanka honeymoon.
STOP 8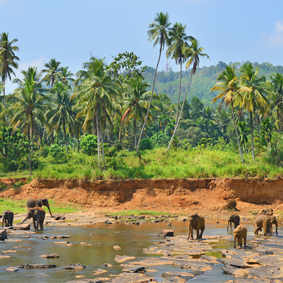 Half Board, Superior Room
Enjoy an early morning visit Yala National park for a thirlling jeep Safari. Yala National Park is the most visited and second largest national park in Sri Lanka and was designated as a wildlife sanctuary in 1900 and as a National Park in 1938, along with Wilpattu, it was one of the first two national parks in Sri Lanka. The park is best known for its variety of wild animals from Leopards and Elephants to Peacocks. After your unforgettable safari, return to Jetwing Yala to enjoy breakfast and a whole day at your leisure.
STOP 9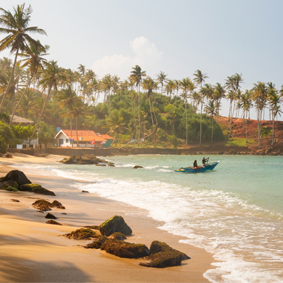 Half Board, Superior room with Plunge Pool
After breakfast proceed to Mirissa and check in at Mandara Mirissa. Mirissa is a small town on the south coast of Sri Lanka, located in the Matara District of the Southern Province. It is approximately 150 kilometers (93 mi) south of Colombo and is situated at an elevation of 4 metres (13 ft.) above sea level. Mirissa's beach and nightlife make it a popular tourist destination.
STOP 10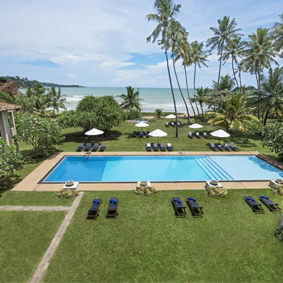 Half Board, Superior room with Plunge Pool
Enjoy a delicious breakfast at Mandara Mirissa, before enjoying a relaxing day at your leisure for a perfect way to end your Sri Lanka honeymoon.