Overview
Our multi-destination itinerary encompassing New York, Hawaii and Las Vegas is a fantastic combination for anyone with a desire to experience the American Dream. Marvel at some of the US's legendary sights and indulge in a shopping spree in New York, uncover the utopian beauty of Hawaii with much-needed relaxation on its exotic beaches, before spending the last few days of your dream journey playing in the neon jungle of Las Vegas.
New York
In this city that never sleeps, where the Hudson river meets the Atlantic, visitors will be swept off their feet in a New York minute at all the iconic attractions, unmissable culture, shopping and dining experiences on offer. Take a daring trip to the observation deck of the Empire State Building, Rockafella Centre to get unique views of Central Park. Delve into the fantastic arts scene, with a trip to the Metropolitan Opera House, or Guggenheim Museum, or simply indulge in a spending spree in this fashion capital. Spend your evenings taking in the lights, and buzz of Times Square or the meat-packing district, both renowned for their exclusive nightlife, and famed restaurants, or experience the theatre of legends past at a show on Broadway. For those looking to take in the sights at a slower pace, take a romantic stroll through central park and its landmark locations made famous by Hollywood romantic comedies, or venture across the Brooklyn Bridge to capture those must have views of the New York skyline. With its extraordinary history, no trip would be complete without a ferry ride to Ellis Island to marvel at the Statue of Liberty, a symbol of American past, present and future.
Hawaii 
Hawaii is a destination that needs no introduction, with its heavenly yet mysterious landscapes, it's a must visit destination for travellers, adventurists and dreamers. Its unique vistas and geology have made it a popular filming location for Hollywood with popular blockbusters such as Jurassic park, Lost, and the upcoming reboot of Jumanji being filmed there. Hawaii is an adventurers' paradise, with its crystal waterfalls, enigmatic volcanos, endless golden sand beaches, and dense tropical jungles, and awesome wildlife. Its cobalt blue waters have become a mecca for surfers chasing waves and water sports enthusiasts. Made up of a series of 8 major islands, only six are open to tourists, however each island has its own distinctive draw, whether its shopping, relaxation, water sports or exploring more about its rich multi-cultural heritage. Embrace the Hawaiian value of 'aloha 'aina' (love and respect for the land), with a Luau, on this once in a lifetime journey through paradise.
Las Vegas
With its hypnotic billboards and lights flashing along a strip filled with grand hotels, seductive casinos, famed restaurants, endless shopping, legendary wedding chapels, glamourous shows and world-famous DJs headlining clubs and parties throughout the day and night, Las Vegas promises excitement, entertainment, fame and fortune. This city is a beacon in the middle of a desert, an oasis of indulgence that will leave you wanting more. Nevertheless, visitors will be equally astounded at the natural beauty surrounding this entertainment capital. Explore the nearby Grand Canyon, one of the worlds natural wonders, discover the history of Death Valley national park, kayak along the Colorado river, hike in the valley of Fire, take in a gentle game of golf at Angel Park or ski and snowboard at the nearby Mount Charleston. This is certainly a destination providing a feast for the senses.
'Save' REF: B47742 – based on travel in July. 
Multi-Centre Honeymoon
FROM £3050PP
Price per person based on 2 adults sharing. Please contact us for alternative hotels and combinations. Deposit from £150 Per Person
STOP 1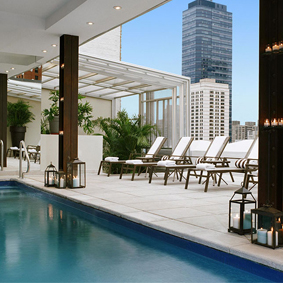 Room Only, Standard Queen Double
Discover all that the Big Apple has to offer spending your first 4 nights of your whirlwind romantic honeymoon, at the iconic Empire Hotel in New York. Overlooking Central Park, the Lincoln Centre and the world famous Metropolitan Opera House, this hotel's enviable location on the Upper West Side of Manhattan puts guests in close proximity to some of New York's top attractions. There is never a dull moment in this city that never sleeps; spend your days shopping in this fashion capital, savour some of the flavours in its timeless American style diners and restaurants, or take in the neon lights of Times Square and theatrical Broadway. Don't forget to keep your eyes peeled for those movie hotspots such as the ghostbusters building or Carrie Bradshaw's apartment building. After a whirlwind day of shopping, dining, and culture, enjoy some relaxation in your standard Queen Double room with its coveted view of the city skyline at night. Spend your evenings sipping cocktails in the lobby bar made famous by hit series 'Gossip Girl' or relax in the newly renovated rooftop indoor/outdoor bar.
STOP 2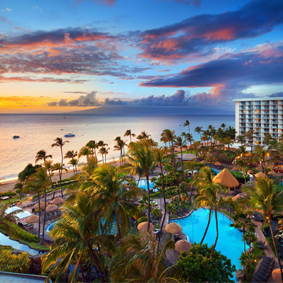 Room Only, VIP Mountain View Room
From the cosmos of New York to the cobalt blue waters of the Pacific Ocean, spend the next 5 days of your amourous adventure relaxing and rejuvenating at the Westin Maui Resort and Spa in Hawaii in a VIP Mountain view Room complete with the luxurious Heavenly Beds. Located on Maui's signature Ka'anapali Beach, take in the fresh, floral, energising air from the this aquatic playground with its five pools, a Jacuzzi, two waterslides, swim-through grotto and secret whirlpool, and tropical gardens. For those looking for a more relaxed poolside experience, the resort also accommodates an adult only pool. Awaken your sense with a couple's massage within the tranquil, oceanfront settings of Heavenly Spa, a first Westin-branded spa. For those looking to prepare for a day on the beach, there is the WestinWORKOUT fitness centre, which offers classes from Pilates and Aquacise to personal training. Marry together your workout regime with a scenic jog in the RunWESTIN program offering 3 and 5 mile jogging routes whilst taking in the vibrant sunsets and sunrises around the resort. Explore Hawaii's Islands further with trips and tours to Haleakala National Park, Hana, Honolua Bay or take in a game of golf at the Ka'anapali Golf Course. Influenced by its distinctive multi-cultural heritage, enjoy fresh ingredients at the resort's restaurants; Relish Oceanside and Relish Burger Bistro, where guests can delight in American favourites with a twist as well as island favourites such as Huli Huli grill. With its waterfalls, flickering tiki torches, and oceanfront sunsets, what better way to round off your time in this Pacific paradise.
STOP 3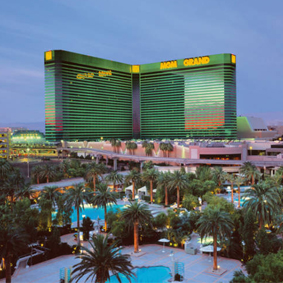 Room Only, Grand King Room
With desirable views of the Las Vegas Strip and electronic billboards dazzling the senses with the vast array of shows and events on offer, this hotel is certainly grand in name and grand in nature. What better way to spend the final days of your honeymoon than in the entertainment capital of the world. Described as almost a city in itself, the MGM grand is home to an extraordinary variety of restaurants, lounges and bars with culinary delights prepared by some of the world's most famous chefs including Wolfgang Puck, and Tom Colicchio as well as In Vegas, a three Michelin star restaurant by Joel Robuchon. It is advised to book your tables well in advance. Delve into the depths of Las Vegas nightlife at the nearby Hakkasan where world famous DJs such as Tiesto and Calvin Harris entertain the crowds, or try your luck within the MGM Grand's casino, considered the largest in Las Vegas with its 130 table games and thousands of machines. Your Vegas trip would not be complete without taking in a show; from the legendary Cirque du Soleil, or a performance by your favourite a-list performer at the Grand Garden Arena to an all American basketball game. Party into the day at Wet Republic Ultra Pool, an adults only daytime pool party with guest and resident DJs. Your itinerary includes 3 nights in a stylishly furnished Grand King Room with all the modern amenities.