Overview
A Mexico and Las Vegas multi centre honeymoons package attracts those looking to have a fun-filled honeymoon with plenty to see and do. Mexico is a wonderful way to slow down the honeymoon, to sit back and enjoy beautiful beaches and scenery, while Las Vegas is fast-pace roller coaster of adventure and entertainment.
Las Vegas 
Step into America's party capital for a honeymoon to remember, why not sip on a different cocktail each night, explore the wonders of Las Vegas' heritage and outstanding scenery, take an exciting tour of the Grand Canyon, or simply sit back and relax in one of our recommended luxury resorts.  Spend your honeymoon on the Las Vegas strip where no day will be alike and adventure awaits at every corner!
Mexico
A Mexican honeymoon is a kaleidoscope of colourful things to do on your romantic adventure. Culture, amazing scenery and soul food all conjure up the perfect romantic ambience for an adventurous and exciting honeymoon. Mexico boasts a playful landscape of blooming greenery, snow capped volcanoes and white sandy beaches with turquoise lagoons. Spend your days swimming with dolphins, laying on the beach or sightseeing, while your nights will be spent enjoying the flavours of Mexican cuisine at its finest.
'Save' REF: REFQ28461
Below is an example itinerary. For a tailor made Las Vegas and Mexico honeymoon multi-centre call 0121 440 6268.
Multi-Centre Honeymoon
FROM £2350PP
Price per person based on 2 adults sharing. Please contact us for alternative hotels and combinations. Deposit from £150 Per Person
STOP 1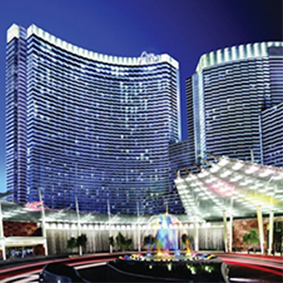 Compliment your Las Vegas honeymoon by staying at Aria resort and Casino; this resort exudes style, with classy interiors for the perfect city break setting. Views across Las Vegas can be seen from each hotel suite, making this a truly wonderful choice to pop those bags on the bedroom floor and head to the bright lights of the Las Vegas strip. Aria resort has plenty of facilities for you to take advantage of, including a spa and salon, hot tubs, world-class restaurants and a fine selection of bars and lounges to celebrate the night away.
STOP 2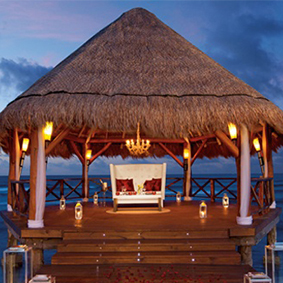 All-inclusive, Junior Suite Tropical View
Tear yourself away from the hustle and bustle of everyday life at this adult-only resort; uninterrupted moments will be had at Secrets Silversands, with its spacious suites to suit every type of honeymooner. Enjoy blissful views from the balcony of the beach and ocean from one of the stylish and elegant suites, the private terrace leads directly onto the pearly white beach, why not take advantage, and go for a peaceful walk at sunrise or sunset for a romantic moment shared together?