Overview
Khao Lak
Situated on the mainland of Thailand and compromising of a collection of charming fishing villages, Khao Lak is just an hour away from north of Phuket, making this a wonderful destination to add onto a Thailand multi-centre package. Loved by honeymooners for its gorgeous white sand beaches and lush jungle backdrop, Khao Lak features a selection of beautiful and luxurious resorts designed for a hideaway Thailand honeymoon.
Elephant Hills 3 Day Jungle Lake Safari 
Day 1: 
Aptly named, your first day of the jungle lake safari entails getting up close and personal to Asia's largest land animals. You experience will include feeding, washing and interacting with the elephants. After tearing yourself away from the friendly elephants you will embark on a canoeing safari down the Sok River where you can take in the marvelous sights of Khao Sok. During the evening you can partake in activities such as movies, dance performances and cooking demonstrations.
Day 2: 
On your second day on the Elephant Hills safari you will visit a local market in Takhurn, where you will experience the rural lifestyle in Thailand. Afterwards you will hop on a traditional long tail boat on Cheow Larn Lake, which homes more than 100 islands in the lake. Watch out for the incredible sights of elephants, tropical birds, monkeys, amphibians and even leopards and tigers! Indulge in a spot of lunch in the rainforest camp, which is perched on the lake offering a sumptuous Thai buffet before heading back to relax in your luxury tent. After some relaxation you will be taken on a guided tour to explore the surrounding jungle by foot, this incredible tour showcases come encounters such as hornbills, gibbons, macaques and much more.
Day 3: 
On your last day of the 3-day safari you can enjoy a final canoe along the Cheow Larn Lake, which you'll be able to spot an abundance of wildlife encounters that you might have missed the first time around. Afterwards enjoy a spot of lunch at the floating Rainforest Camp restaurant before heading back home.
'Save' REF: B46439 – travel based on August 2018 
Multi-Centre Honeymoon
FROM £2950PP
Price per person based on 2 adults sharing. Please contact us for alternative hotels and combinations. Deposit from £150 Per Person
STOP 1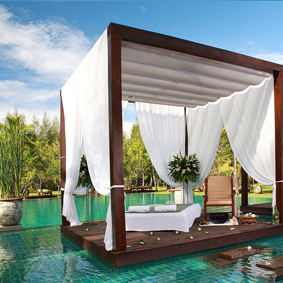 Breakfast, Pool Residence
The Sarojin is a 5 star boutique hotel that first opened its doors to guests nearly 10 months after the Boxing Day tsunami. Honeymooners are sure to relish a stay at this elegant Khao Lak resort, which lies nestled among lush tropical gardens and provides direct access to a breathtaking 11km stretch of private white sand beach. The hotel is home to a lavish spa, luxuriously appointed accommodations, delectable dining and even its own boat so you can enjoy an array of sea-bound adventures. There are also numerous opportunities for romance, with the hotel's Imagineering team on standby to help you craft the bespoke honeymoon of your wildest dreams. Stay in the stunning Pool Residence, an expansive 120sqm residences just waiting to enchant you. As well as a luxurious king size bed and a glittering en-suite bathroom, they also boast a shaded Thai garden pavilion and your very own pristine 5.5m x 3.5m pool.
STOP 2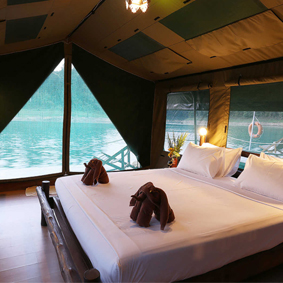 Mixed Meal Plan, Double Room
Situated in Khao Sok National Park in southern Thailand, Elephant Hills Rainforest Camp is placed in the center of the Cheow Larn Lake and compromises of floating tent accommodation where you will surround the gorgeous rainforest of Khao Sok National Park. The unique safari tents include en-suite bathrooms and spectacular vistas of the lake. Enjoy your adventurous honeymoon in Thailand at Elephant Hills, where you can kick back and relax in your tent or take a dip straight in the Lake, which attracts a plethora of wildlife including birds and monkeys. Conveniently placed so you can enjoy the incredible excursions that the National Park has to offer as well as being close to stunning beach destinations in Thailand including Phuket, Khao Lak, Krabi and Koh Samui. During your time at elephant hills you will embark on a 3-day jungle lake safari.