Overview
Dubai
Dubai is a wonderful destination to begin your Maldives multi Centre honeymoon. Staying on the manmade Palm allows you to be close to everything you will need such as great restaurants and bars, and a plethora of attractions including Aquaventure Water Park, Dolphin Bay, Burj Al Arab and the Dubai Marina.
Sri Lanka
Before jetting off to a paradise island, your second stop on this Maldives multi centre will be the captivating cultural island of Sri Lanka, with tropical rainforest, sandy beaches and ancient landmarks that mustn't be missed. Sri Lanka is also known for its wildlife tours, which allows you to see a range of wilderness including elephants, buffalo, leopards, birdlife, bears, sloth and a range of underwater creaters including whales and dolphins.
Maldives
After you've explored Dubai's bustling cosmopolitan and seen aplenty of wilderness in Sri Lanka it's time to slip into a tropical bliss in the Maldives. Lined with pristine white beaches and turquoise lagoon, the Maldives is an island escape that really allows you to forget the time and just simply enjoy the simple things in life. Such as dinners on the beach, peaceful afternoon beach walks, mesmerizing marine life and romantic excursions.
'Save' REF: B71203
Multi-Centre Honeymoon
FROM £3590PP
Price per person based on 2 adults sharing. Please contact us for alternative hotels and combinations. Deposit from £150 Per Person
STOP 1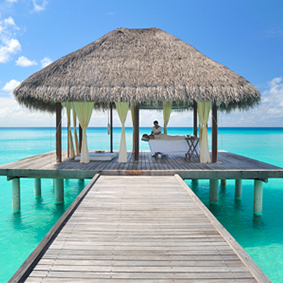 All-Inclusive, Beach Villa
Kuramathi Island Resort has everything you could possibly need from a Maldives island, with 9 spectacular a la carte restaurants, a buffet restaurant and 6 bars. Being one of the bigger resort islands in the Maldives, Kuramathi Island Resort offers plenty of facilities for you to enjoy including a spa, water sports centre, excursions, movies on the beach, destination dining and much more. The beach villa features a king size bed in the spacious bedroom and an expansive bathroom with a semi-open air bathroom with rainfall shower. Enjoy in-room facilities including air conditioning, mini bar, in-room safe, DVD player, bathrobes and an iPod docking system.
STOP 2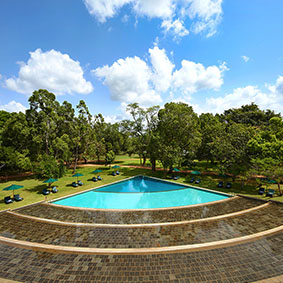 Breakfast and Dinner, Superior Room
Located among lush foliage on the shores of a lake in Sri Lanka's north central province, you will find Habarana Village by Cinnamon. This deluxe but rustic hotel seamlessly combines stunning natural beauty with traditional Sri Lankan influences, world-class accommodation and a range of facilities guaranteed to provide you with abundant entertainment during your stay. Home to some superlative facilities, such as its two-storey Azmaara Spa, which includes a few couples' rooms among its amenities. During your romantic Sri Lankan honeymoon you can also enjoy refreshing dips in the hotel's pristine swimming pool or participate in some land-based fun courtesy of the Sports Centre. Here you can play volleyball, tennis, lawn cricket and badminton, or go for a scenic bike ride or jog.

STOP 3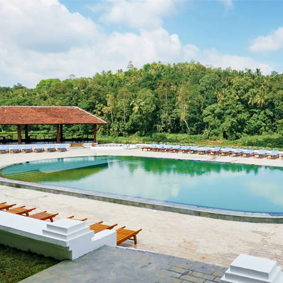 Breakfast and Dinner, Superior Room
Cinammon Citadel is set against a tranquil river that endlessly sprawls into the horizon, which is enveloped by green covered mountains serving as a romantic backdrop to your Sri Lanka honeymoon. Cinnamon citadel is just 15 minutes from the cultural town center of Kandy. No day is the same at Cinnamon Citadel, with many facilities for you to take advantage of. If you love a good pool, Cinnamon Citadel aims to please, with its incredible tranquil pool that is set alongside the river for a truly spectacular view while you sunbathe. The pool is open from 6am until 10pm. When you're not sunbathing at the pool, you can head to the indoor sports Centre with access to fun activities such as badminton, table tennis, darts and chess. Cinnamon Citadel features 2 restaurants and a lounge bar, experience the traditional tastes of Sri Lankan culinary as well as international indulgences.
STOP 4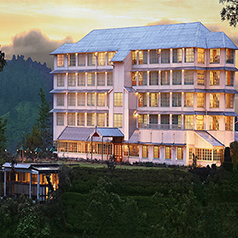 Breakfast and Dinner, Superior Room
Heritance Tea Factory is a stylish hotel housed, as the name suggests, in a former tea factory situated 2km above sea level in the midst of a mountain range renowned across the globe for the quality of its tea leaves. The building is overlooked by mist-shrouded, densely forested hills and verdant plantations where you can harvest your very own tea to take home as a souvenir. There are 3 treatment rooms at the spa, which is also home to a Jacuzzi and steam room and has its own selection of herbal cosmetics and blended massage oils. Heritance Tea Factory offers its guests a selection of enjoyable activities, such as the aforementioned tea plucking, tea tasting sessions and nature treks.

STOP 5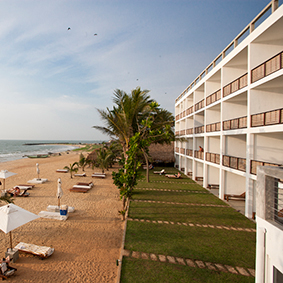 Situated on the picturesque coastline of Negombo, Jetwing Sea is a luxury beach resort that serves as an idyllic base for an unforgettable honeymoon in Sri Lanka. Home to exquisitely furnished guestrooms, world-class dining options, a pool and rooftop spa, there are plenty of ways to enjoy yourself during your sojourn in this little slice of paradise. Best of all, the golden beach is just a stone's throw away, so you will have plenty of opportunities for swimming, sunbathing, and romantic walks hand in hand along the sandy shore at sunset.
STOP 6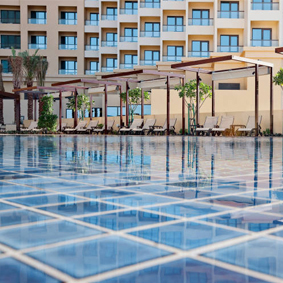 Courtesy of its prime location on JBR Walk, Ocean View Hotel is an elegant contemporary getaway which offers all of the must-have creature comforts and provides you with easy access to the nearby public beach and the various shopping, dining and nightlife venues on the promenade. The hotel itself is home to 6 excellent eateries and bars, not to mention a temperature-controlled swimming pool, an upmarket spa and health club. JA Ocean View Hotel offers superlative dining experiences for the most magical honeymoon, from dining al fresco beneath the stars at Sehr Al Bahar to boarding the famous Bateaux Dubai dinner cruise for an evening of romance.