Verity experiences a Sri Lanka and Maldives honeymoon Multi Centre
Sri Lanka and Maldives has always been on my 'Wish List' to experience one day with it being such a popular multi-centre for our honeymoon clients, so when I got offered to explore these two diverse countries I was ecstatic and couldn't wait for my journey to begin. Read on to discover the top luxurious hotels in Sri Lanka and Maldives that I visited, the must see attractions and my top tips for an unforgettable honeymoon with this popular multi-centre…
Where to stay in Sri Lanka 
'My journey started with a 4-hour drive from Colombo airport up to Habarana. Habarana itself is a great gateway to national parks and temples giving you a wide range of what Sri Lanka has to offer in itself.'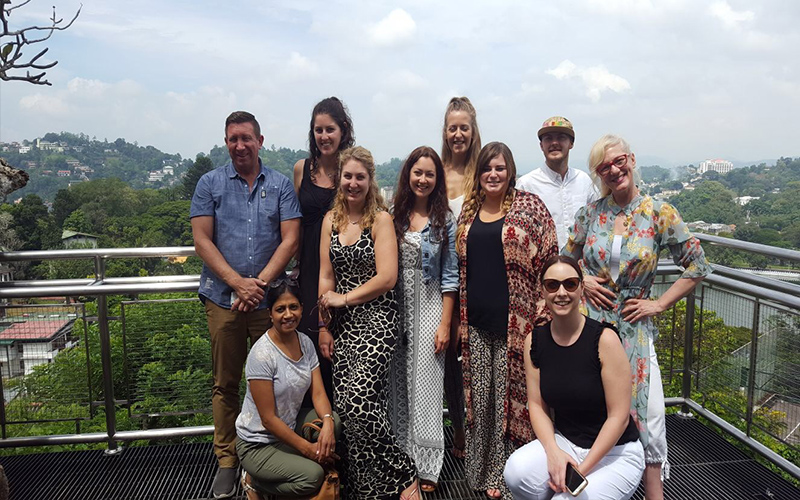 Cinnamon Lodge, Habarana
'We stayed at the Cinnamon Lodge for the night, home to one of many lakes situated around the area. It's a great hotel to be based at to allow you to explore around the area with most of the attractions be situated conveniently on your doorstep. I would certainly recommended heading down to the lake for the sunset where you can get some fabulous photos for the honeymoon album whilst hearing the nature around you come to life. It is in a great location for exploring the sites, such as Minnereya National Park (were you can see elephants, buffalos and monkeys) and the Sigiriya Rocks.'
'Set in a two storey building, I stayed in a deluxe room which is very spacious and comfortable. The design was very traditional yet modern with black, white and orange decor. You can also enjoy having a personal butler service and a private meal on the balcony. If you are planning on staying here on your honeymoon I would recommend upgrading to one of their suites. The food choice is great as well as there is an open air buffet restaurant serving three times daily with a separate room for desserts.'
'This luxurious and tranquil resort is the perfect place to escape from the hustle and bustle of everyday life.'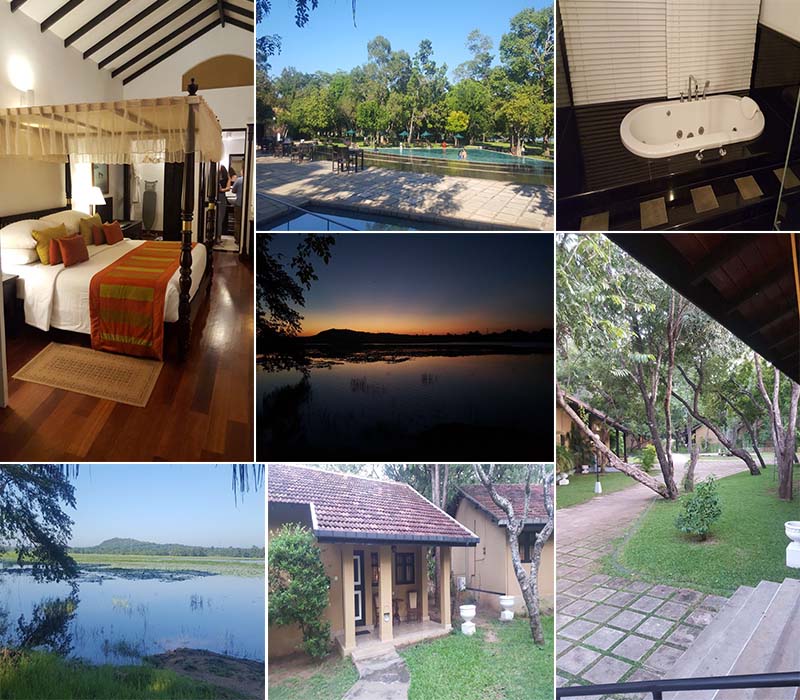 Heritance Kandalama, Dambulla
'The Heritance Kandalama is only a 40-minutes' drive away from the airport. As soon as you arrive at the total you have beautiful view of the beautiful Kandalama Lake. It wasn't long until we checked in and took a dip in their infinity pool overlooking the lake which was very appreciated after climbing the Sigirya Rock. This traditional hotel is in a great position for exploring one of many national parks around the area if you are wanting to see wildlife in their national habit such as Elephants and buffalos.'
'I stayed in a leading spacious yet authentic looking Superior room which faces out over the picturesque Kandalama Lake. The glass-walled bathroom with rain shower and tub also offered delightful views over the lake and Sigiriya, which added to the great atmosphere. The jungle views sure are fab but be sure to close your window as you may get an appearance from a monkey or two, as they sometimes casually just chill around the pool and hotel.'
'The resort has 3 fantastic on-site restaurants all with scenic views and a selection of Sri Lankan, western and eastern dishes. I would recommend booking a 'private dinner in the Cave', if you are planning for a unique romantic dining experience. '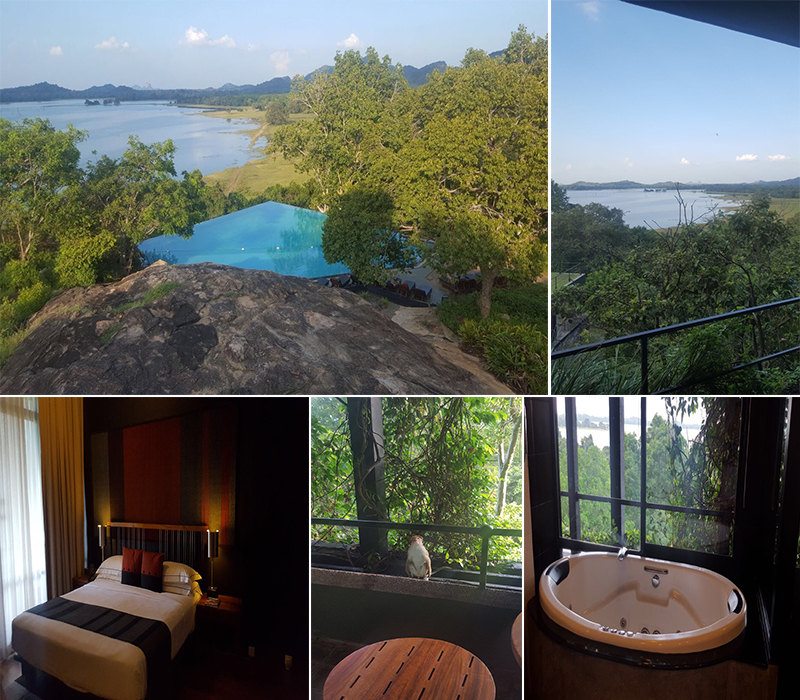 Earls Regency, Kandy
'We headed down to the bustling city of Kandy to see what it had to offer. With the drive only being 2 hours it was a great opportunity to sit back and relax whilst taking in the beautiful scenery that's surrounded the island from tall green palm trees to never ending rice paddy fields.'
'This hotel really allows you to get away from the hustle and bustle of Kandy after a long day exploring, whilst enjoying a romantic setting with nothing but lush tropical palm trees surrounding you. I would recommend upgrading to one of their Suites to allow you to unwind in your very own private jacuzzi on the balcony where you can enjoy a chilled glass of bubbly with nothing but views of the city.'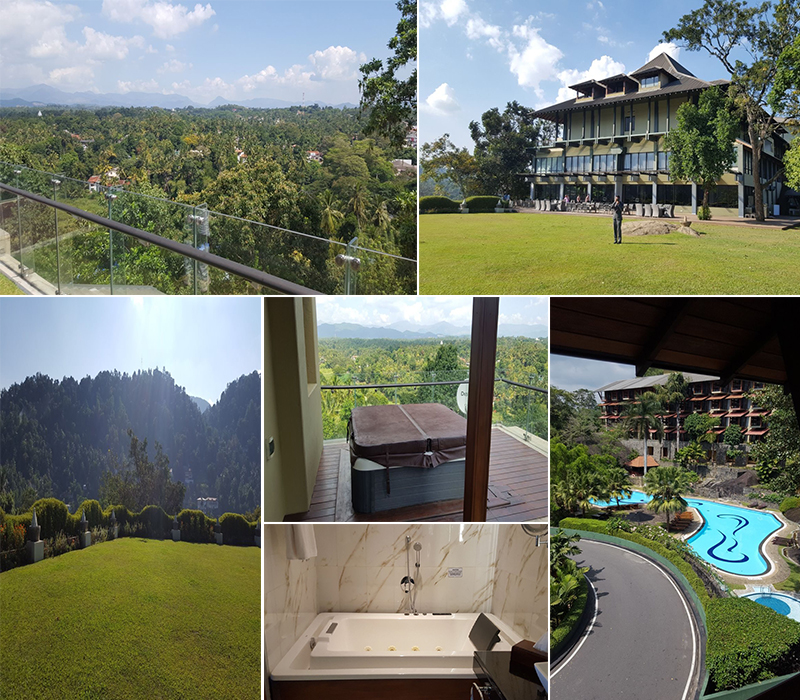 Jetwing Vil Uyana, Sigiriya
This luxury 5* boutique eco-resort is sure to take your breath away with its unspoiled natural beauty. It is a nature lover's paradise set amidst its own pristine nature reserve with acres of wetlands and paddy fields. The staff were amazing and very welcoming too, they made us feel at home. The pavilion style bungalows built over the man-made lake are very traditional looking, it's perfect for honeymooners who love nature and are looking for a peaceful spot. I would advise to go for a room type with a pool as it perfect to unwind and relax after exploring.
Lunch was amazing as we got to enjoy lunch at a la carte fine dining restaurant which had great open air views over the lake.  
You also won't need to travel far to see local wildlife, as you will see the reserve's wildlife pop up by the hotel's lake from time to time including birds, butterfly species and reptiles such as crocodiles. I recommend this if you would like to stay in the centre of Sri Lanka's cultural triangle and near the Sigiriya Lion Rock Fortress.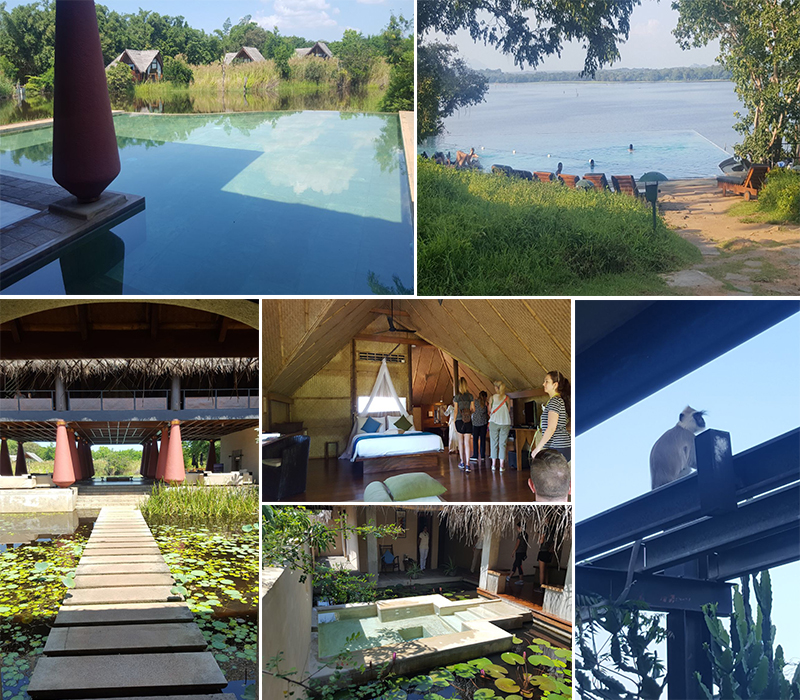 Habarana Village by Cinnamon,Habarana
'I found the Habarana Village by Cinnamon very traditional and rustic looking surrounded by a lake and in a lush garden setting. It is adjacent to the Cinnamon Lodge and on the shore of Lake Habarana. They have small chalets dotted through the lush landscape and the rooms are very simple in style and décor. For honeymooners, I would recommend opting for a deluxe room as it is very intimate and private and features a spacious room with a four poster bed and an open air bathroom.
If the client has got a low budget and wants to stay in close distance to the Minneriya National Park, then this resort is a great choice for them. You also get to experience the beauty of nature and the wildlife at your doorstep.'
Cinnamon Citadel, Kandy
'Cinnamon Citadel in Kandy is a beautiful peaceful resort set against a tranquil river, enveloped by green covered mountains. I stayed in a Superior room which was on the ground floor and it offered magnificent views of the Mahaveli River. The rooms were designed very bright and vibrant looking, with a spacious bed and facilities included. If you sit on the terrace, you can hear the nature in the distance, which is ideal for honeymooners or guests who love nature, culture and romance all in one place. This luxurious intimate resort also offers a spectacular outdoor pool for you to enjoy.
Dining is available at one of the hotel's two top restaurants, which have great views overlooking the river and serves an a la carte buffet.
It is a short drive from the famous Temple of the Sacred Tooth Relic and other cultural heritage sites. I would recommend this for honeymooners or couples who want to unwind and relax especially after sightseeing and get away from the hustle and bustle of everyday life. As no day is the same when you stay here as there is so much to do and see.'
 Jetwing Beach, Negombo
We headed back down to Negombo for a night stay at the Jetwing beach.We would always recommend having a beach stay at the end of exploring Sri Lanka, as it does take 3 hours from most areas to get back to the airport. Staying at the Jetwing Beach is more ideal for honeymooners.
Jetwing Sea, Negombo
'We stayed at the popular beach hotel, Jetwing Sea, which is located only less than an hour away from the airport.'
'It was perfect as it let us relax in the afternoon and experience some local curries in the evening before having a well-deserved good night's sleep in a traditional deluxe suite which has direct beach access, before continuing our adventure onwards to the Maldives the following morning.
Tip: This resort is only 5 minutes away from Jetwing Beach, so if you would like to dine here you can.'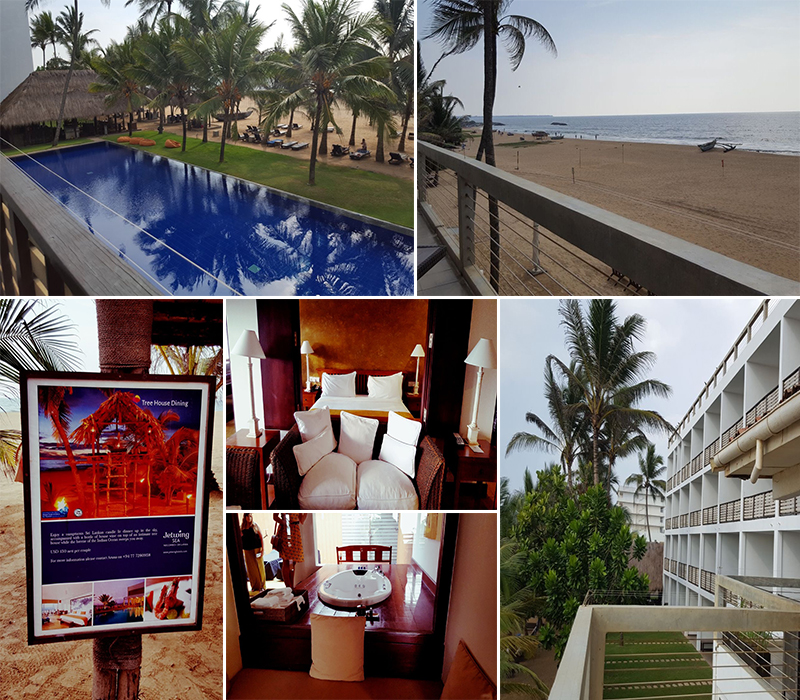 Things to do in Sri Lanka
Climb the famous Sigiriya Rock 
'We climbed the famous Sigiriya Rock early in the morning to avoid the midday sun and would recommend visiting that time of the day as it can get very hot, so lots of water is recommended. This was personally my favourite experience in Sri Lanka, as it is approximately 200 meters high and with 1200 steps to climb, so was such an achievement when I got to the top and the views at the highest point is just incredible'.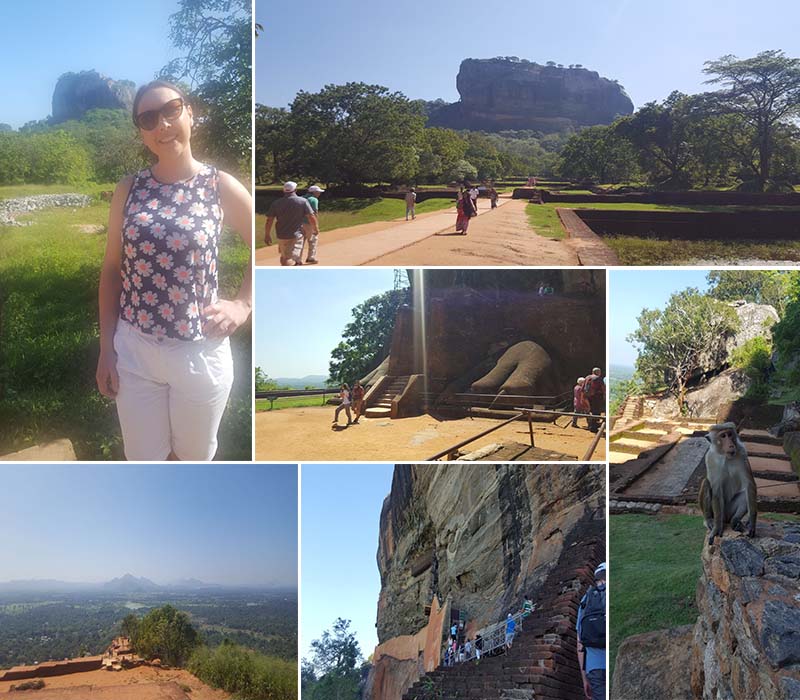 Visit Dambulla Rock Temple
'Visit the Dambulla Rock Temple, which is another must see temple when visiting Sri Lanka. With Dambulla Temple being situated on a small hill it means it's not as hard to reach as Sigiriya Rock and gives you a great insight to their culture with it having 5 different caves to explore giving different perceptions of Buddha. As soon as I arrived I was greeted with the smell of burning incents and monkeys surrounding the temples. You have to be careful of those cheeky monkeys though as they love to try and steal food off you at any opportunity! Some of the paintings within the caves were some of the best I've seen all being hand drawn.'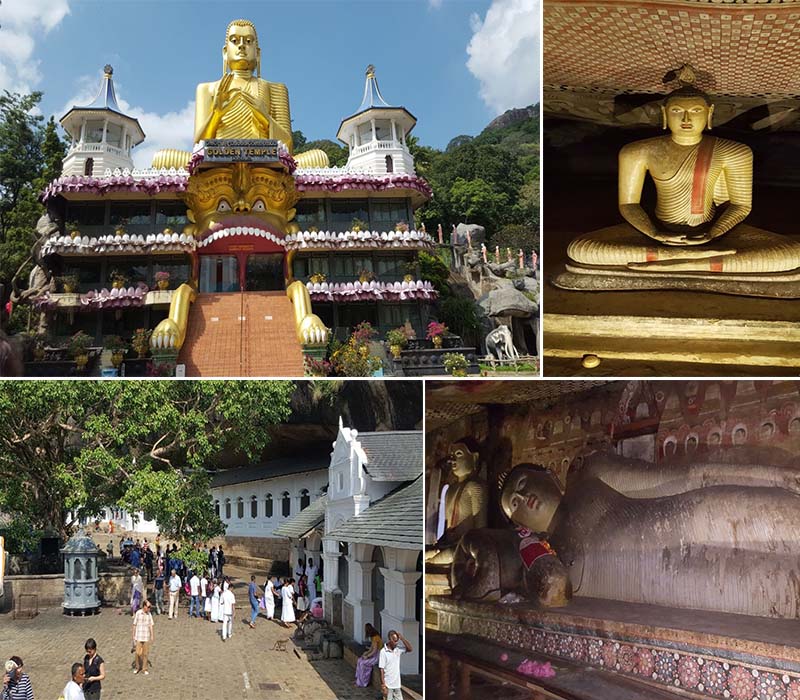 Visiting the famous Temple of the Tooth
'You cannot visit Kandy without visiting the famous Temple of the Tooth, so we decided to finish our time in Kandy by taking a trip to the temple whilst the morning ceremony was taking place. This is a great time to visit the temple as it really gives you a great insight to what the temple is all about. The temple itself is where the tooth of Buddha lies and is a cultural significance for the local population. We were lucky enough to visit on a Sunday morning where we got to experience the local's queuing within the temple to give offering to the monks whilst the drums echo within the temple. Everywhere I looked there were thousands of beautiful flowers placed around the temple and nothing but the smell of incents purifying the air.'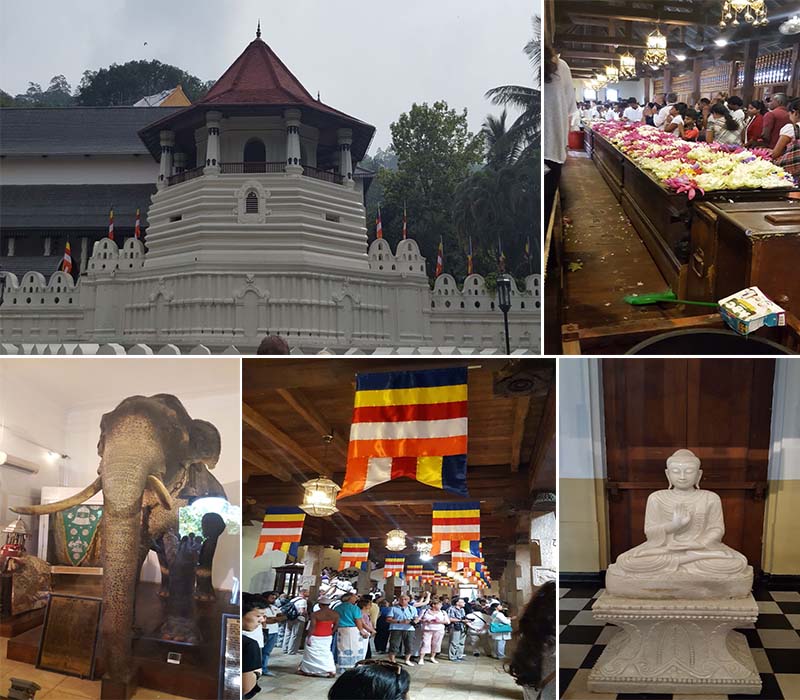 Where to stay in Maldives
'From Sri Lanka to Maldives we flew with Sri Lanka Airlines which we used throughout our trip and was very impressed with the service they offered throughout our journeys. We arrived in the Maldives after a short 1 hour and 15 minutes flight from Sri Lanka which continued by a seaplane onwards to our first island to Maafusivaru.'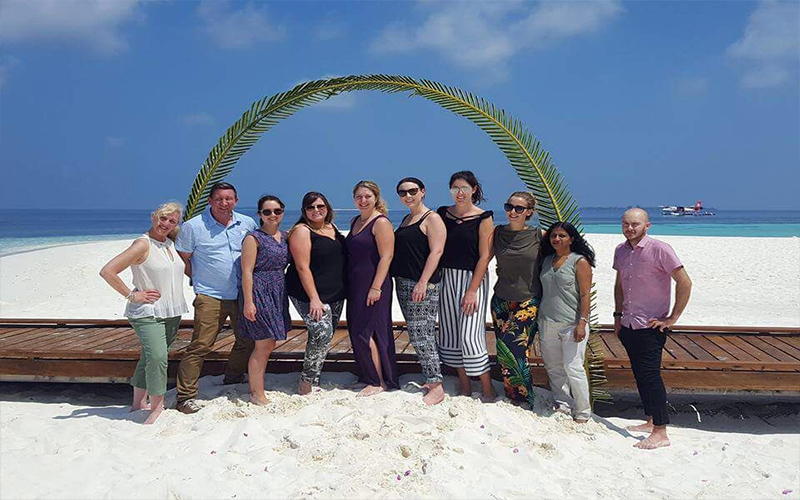 Maafushivaru
'After the 25 minutes seaplane transfer we arrived at Maafushivaru where we were greeted by the friendly staff and a cold glass of fruit juice which was much appreciated by then. The island is just over 500 metres in length and only took us 10 minutes to walk around, so it certainly gave us that small island experience. As soon as we arrived we were told it was 'no-shoes-no news', so no shoes were needed for the duration of our stay with all of the floors being nothing but sands.'
'After snorkeling the house reef and taking a dip in their modern infinity pool it was soon the evening and time to enjoy their cuisine. We were booked into their '135 East' restaurant which is an a la carte contemporary Teppanyaki and sushi restaurant located on its sunset pavilion over the lagoon. Something else which makes this island unique is their private island located a short speedboat transfer away known as 'Lonubo'. This island is exclusively for the use of Maafushivaru guests only and they arrange daily morning and afternoon boat trips for those who wish to have a swim or simply take in more sun. You can even book a private dinner or overnight getaway just the two of you.'
'We stayed in one of their Beach Villas which are located right on the beach where we had a private deck with sun loungers facing the sea, as I'm a beach person it was one of my favourite villas I stayed in the Maldives and with the beds being king-sized it meant I had a very comfortable and spacious sleep that evening. This luxurious hotel is perfect for couples and honeymooners wanting an unforgettable experience.'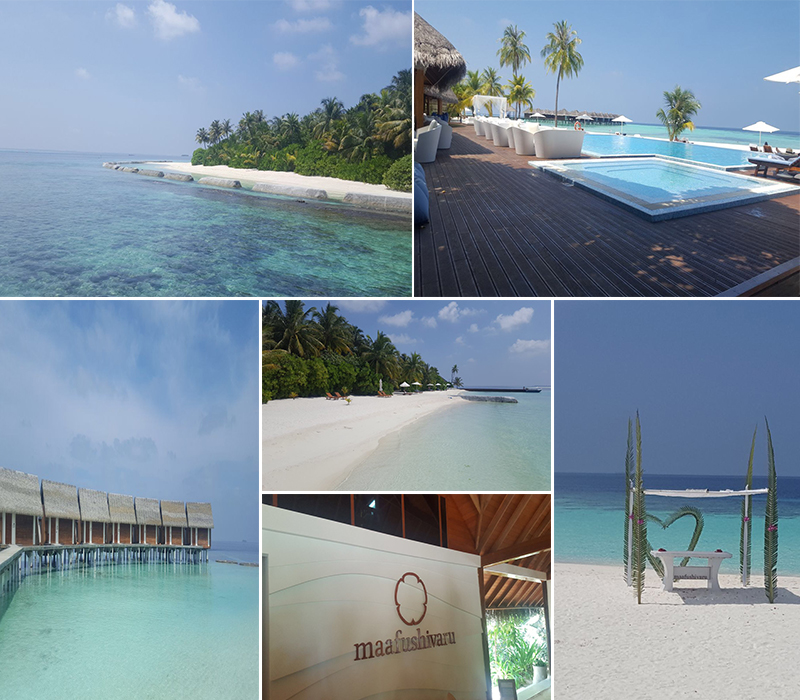 Tips:
#1 Going barefoot on this island is the way forward and will save you that extra space in your luggage.
#2 I have never personally experienced a Tepppanyaki before and must say it's a must do for a fun filled evening, whilst being able to taste some of the freshest seafood within the Maldives.
Kandolhu
'Continuing the boutique, secluded island feeling the following morning we headed to Kandolhu for some lunch. Kandolhu is one of the smallest islands we feature and as soon as we arrived there was that 'Robinson Crusoe island' feel. With there only being 30 villas, it means that each villa is set in prime locations with either direct beach access or clear views of the Indian Ocean. Before lunch we worked up an appetite by having an hour to explore their house reef which was easily accessible from the shore and full of different species of colorful fish and we even got to say hello to a number of resident turtles. After we finished exploring the marine life it was time to enjoy some lunch at their a 'la carte 'Olive' restaurant which is set on a higher level meaning we had nothing but panoramic views of the ocean whilst tasting some delicious Mediterranean dishes.'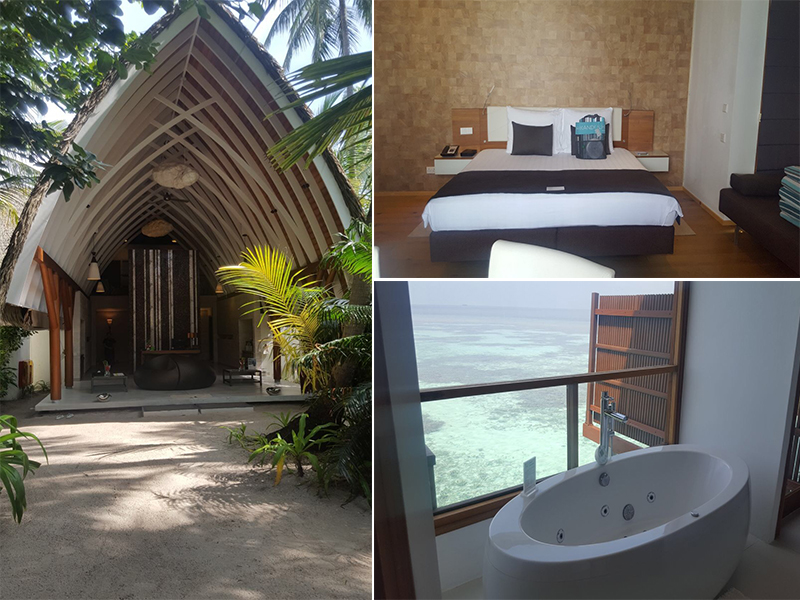 Kuramathi Island
'In the evening we stayed at Kuramathi Island which is our best-selling islands in the Maldives, due to its huge range of activities and entertaianment available from daily boats trips, open air cinema nights on the beach, in-house djs and even karaoke nights. It is one of the largest islands we feature meaning it can take 1 hour and 20 minutes to walk around the whole island, lucky enough for us we used the next available buggy which took us around the island to explore everything it had to offer. Even though it's one of the largest island I still felt like I was in paradise, so it's perfect for couples who want to experience the Maldives but feel they may get bored – i can assure you it will be impossible to get bored there.'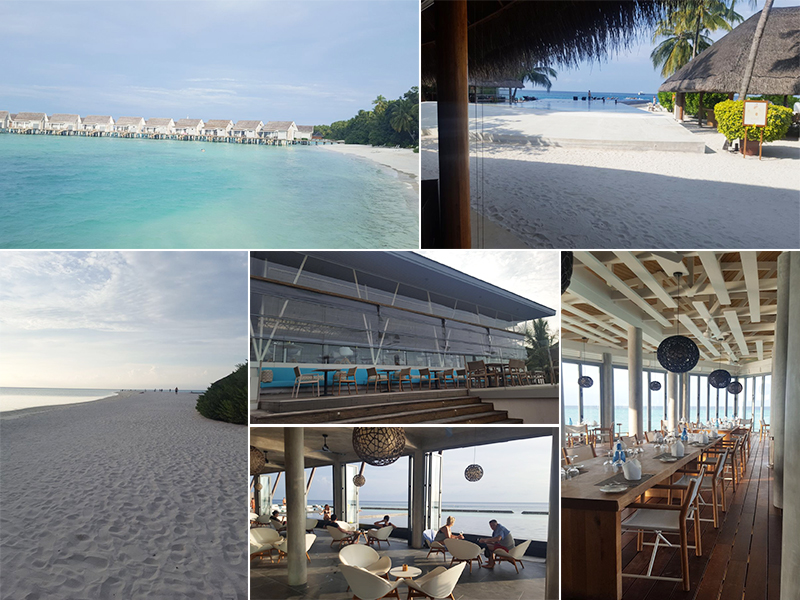 'We were able to have a look at the different room types from the older style Garden/Beach villa to the more modern Water Villas with Pools. The one thing I love about Kuramathi is that there are a range of villas for different types of budgets.'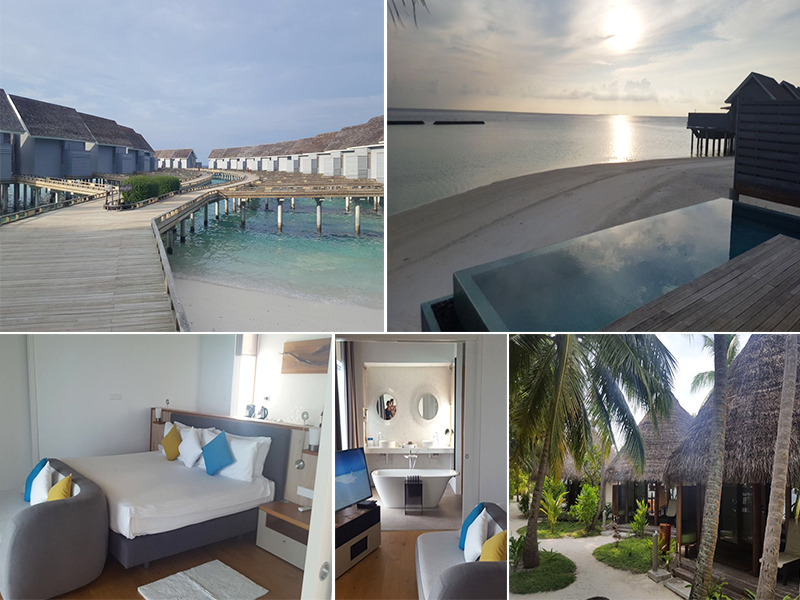 Tip:
1# I would recommend heading to the new Champagne Loft on the island where you can enjoy a chilled glass of bubbly whilst watching the sunset which is a truly breath-taking moment you will treasure forever.
Velassaru Island
'We were lucky enough to have the whole day here being able to experience the whole concept of the island and discover ourselves what it had to offer. When arriving onto the island I was greeted by the glistening bright turquoise lagoon which suddenly created a wow factor when arriving. The island itself has a slightly younger vibe and is ideal for honeymoon couples who are looking for a chilled and modern island whilst having nothing but luxury a la carte all-inclusive included throughout. We were treated to a 60 minutes massage at their spa which was well and truly needed within it being our last day and really it contributed to the relax sensation throughout the whole island. Finally, to finish the day we dined at their 'Sand' a la carte restaurant where we sat by the water edge on the beach sampling some of chef's signature seafood dishes whilst dining under the stars – it was truly a magical moment I will never forget.'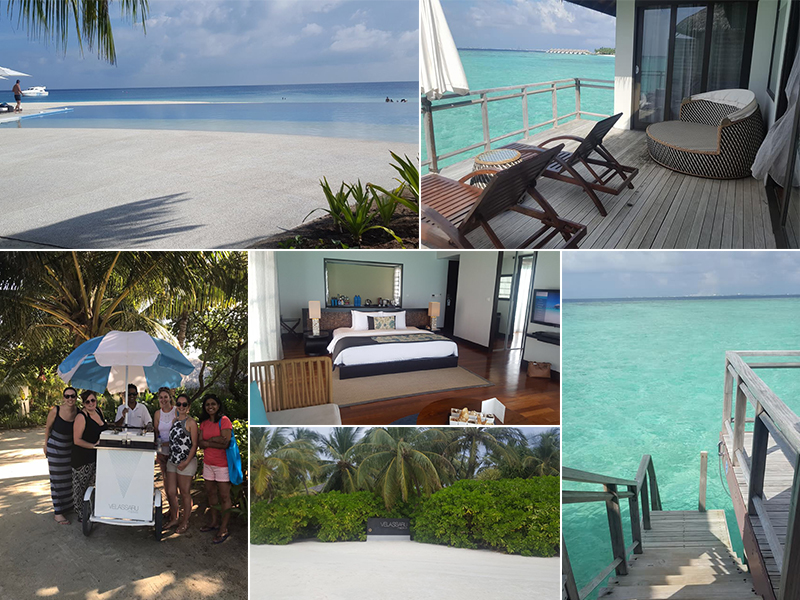 Cinnamon Dhonveli
'Our last stay of the whole trip was the beautiful 4* oasis, Cinnamon Dhonveli. The staff were very welcoming at this exclusive all-inclusive resort. Cinnamon Dhonveli is perfect for couples or honeymooners looking for a low budget, great value for money and affordable clean resort in the Maldives.
I was lucky enough to stay for one night in an overwater suite which features a see through glass table floor, comfortable king size bed and a spacious sun deck with direct access to the beautiful lagoon. These were recently built last summer, so I would recommend staying in one other than the beach bungalow.Even though it was a short stay it was an absolute pleasure stopping here, from the stunning location, amazing personalised staff to the great food and huge array of facilities. I would definitely recommend a stay at this stunning resort, as it ticks all the boxes for anyone looking for an affordable escape.
The resort has a casual, laid back vibe with a great sized pool and buffet style restaurants with a great selection of tasty dishes. As it was our last night in the Maldives we got to enjoy a fantastic dinner at one of the restaurants which had great views of the ocean and sunsets. We had a lovely time, it was the perfect ending to our trip.'
Tips: I would advise to choose a over water villa closer to the shore for better ocean and sunset views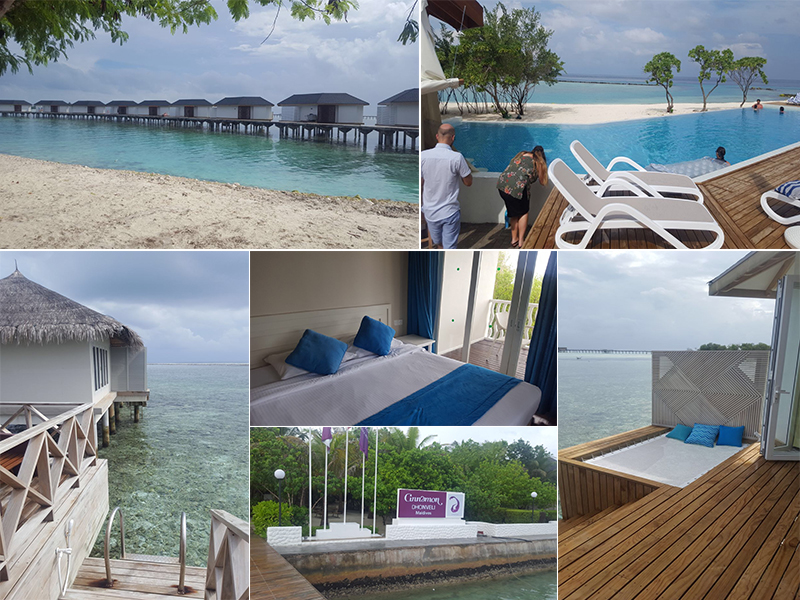 Things to do in Maldives 
Take a Seaplane transfer
'I would recommend choosing a seaplane over a speedboat transfer when arriving into the Maldives, as it certainly gives you that WOW factor. From the moment you take off it truly gives you that heart stooping moment when you suddenly realise you have arrived in paradise. The views from above seeing all of the islands and different colours of the blues in the ocean are just out of this world.'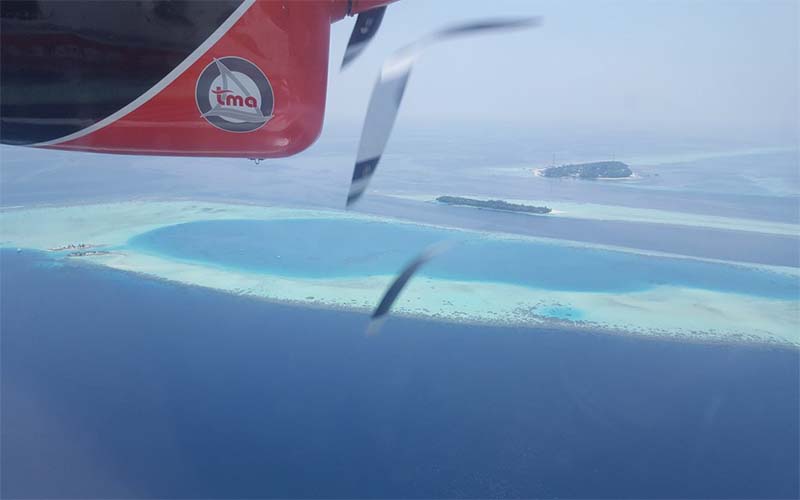 Snorkelling the house reef
'Snorkelling and diving is a must-do when in the Maldives, you can discover the beautiful coral and get close and personal with the variety of colourful fishes even turtles or a small reef shark if your lucky.'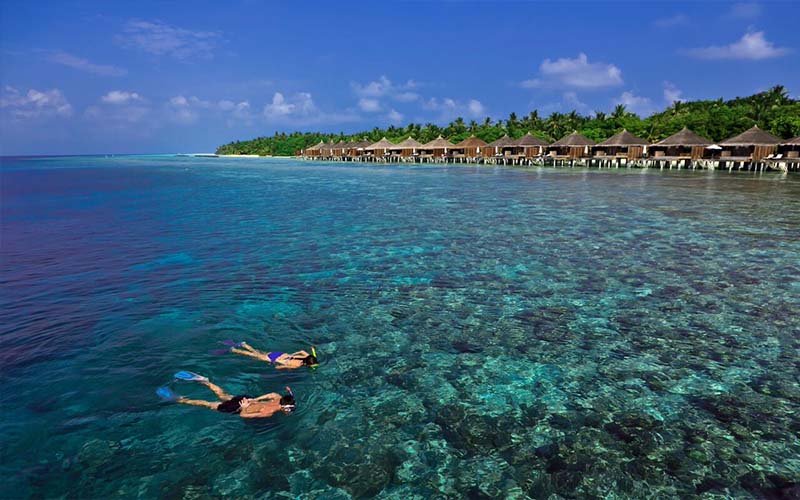 Watch the sunrise
'I decided to make the most of my last morning in the Maldives. Therefore, as I was staying in a water villa at Velassaru Maldives, I set my alarm early in the morning to watch the sunrise from my bed as I only had to open the curtains to get a direct view. I wish all my morning started like that, it was the best way to finish off an amazing trip.'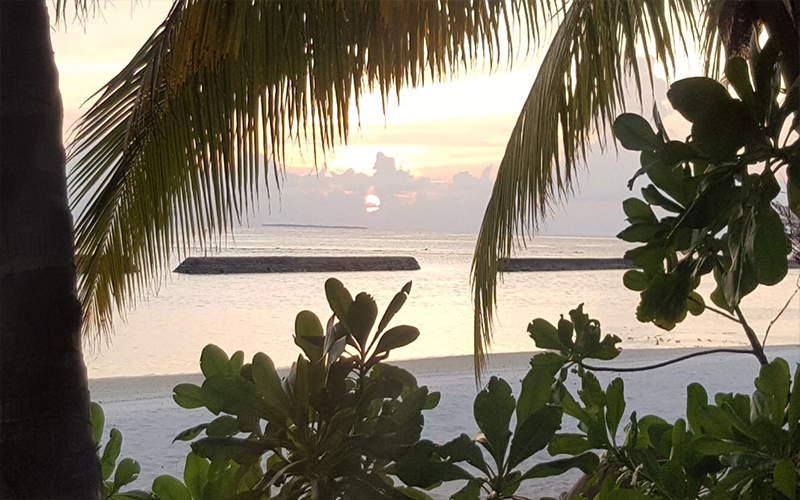 Treat yourself to a Spa Massage 
'I would recommend to treat yourself to a 60 minute massage at the resort spa, perfect for couples. At Velassaru Maldives, we were lucky enough to be treated to one as it was well and truly needed and it really contributed to the relax sensation throughout the whole island.'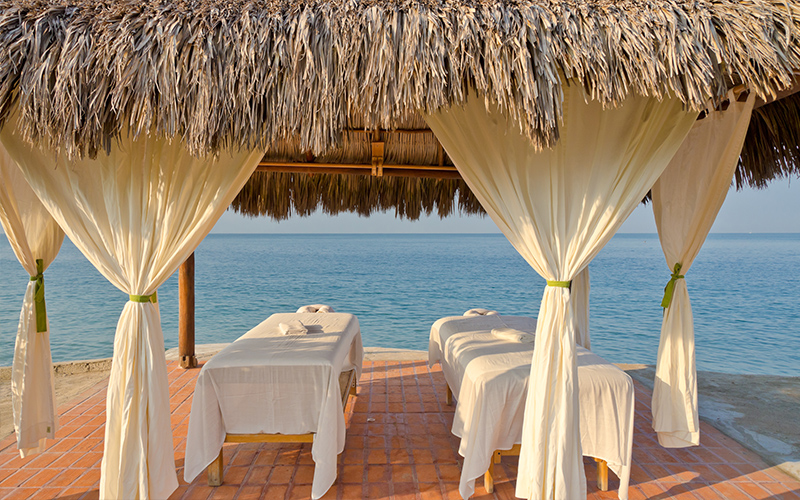 Inspired by Verity's trip to Sri Lanka and Maldives, our most popular multi-centre? Why not contact us today and start planning your amazing honeymoon!