Abbie explores the top luxurious hotels in Bali
Our honeymoon specialist, Abbie, was fortunate enough to join Kuoni Travel on a one week educational trip to Bali (Island of the Gods). Knowing it can be quite overwhelming to choose the perfect hotel when planning your honeymoon to Bali, we caught up with her to give you some inspiration. Read on to discover the top luxurious hotels in Bali, the must see attractions and her top tips for an unforgettable honeymoon to Bali.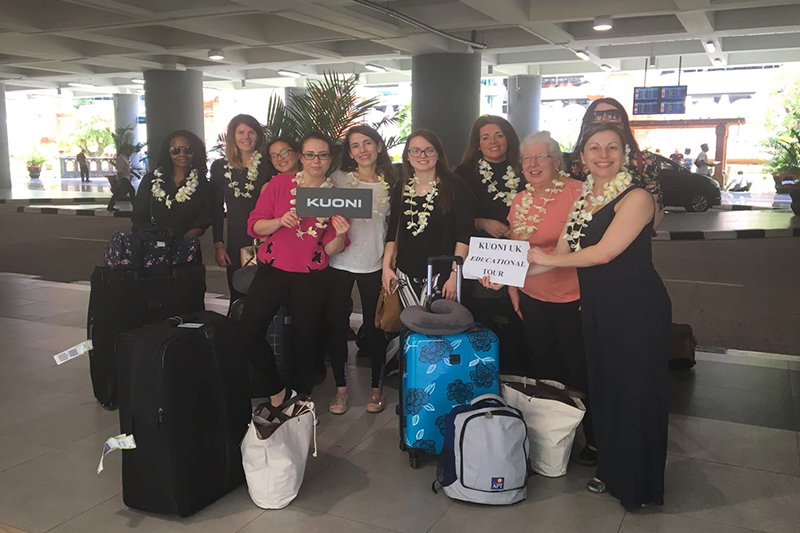 Flying with Singapore Airlines to Bali 
'Our flight to Bali was with Singapore Airlines. Although the flight to Singapore is nearly 12 hours we were well looked after by all the cabin crew so the time literally flew by! The food was great and we were all well supplied with drinks (including free Singapore Slings) and the cabin crew were all very friend and attentive. It was then just a short connection in Singapore airport (which you could easily spend hours shopping in) before the 2 hour flight on to Bali.
Immigration at Bali airport was an easy and smooth process and we were soon on our way to the Puri Santrian where we were spending our first night. The transfer was quick and easy.'
Where to stay in Bali 
Puri Santrian – Sanur
'First impressions of the Puri Santrian were great, there's a big open air lobby and lounge where the staff greet you. We were then shown to our rooms, we stayed in the Santrian Club rooms. These include a large four poster bed, lounge area and a large bathroom/dressing room. These rooms also have access to their own Adults Only pool area and have afternoon tea included'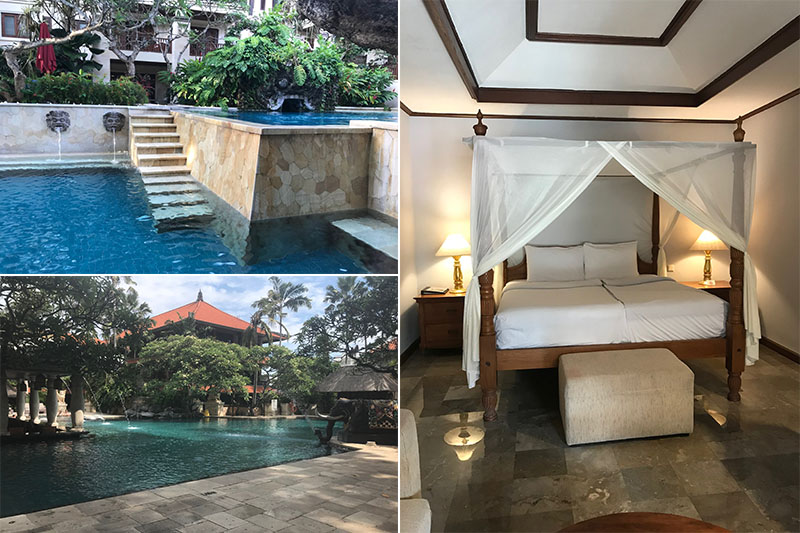 'We then had the afternoon to our leisure, we relaxed by the beach which although lovely, is tidal in Sanur so the sea can go really far out at certain times of the day, this area of Bali may not be the best for couples who want to spend all day at the beach'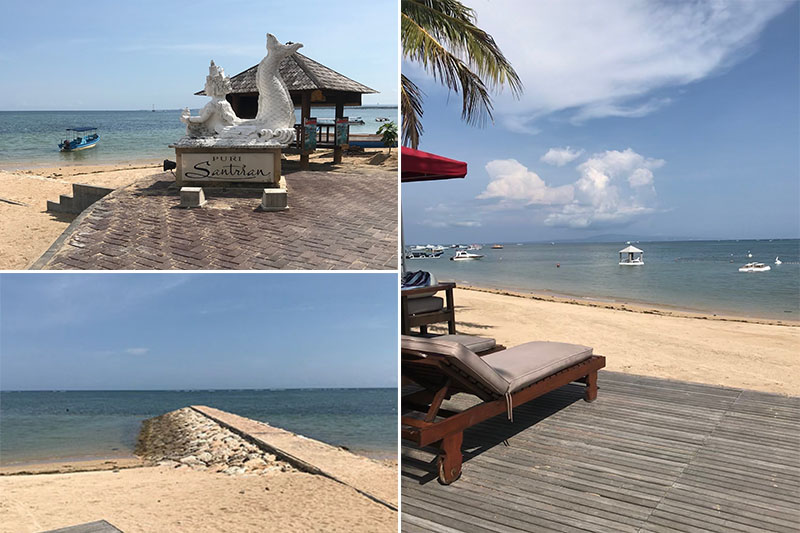 'On the evening we had dinner at The Beach Club which was lovely and had an extensive cocktail menu! Breakfast the next morning was also served here in a buffet style where there were waffle, pancake and omelet live cooking stations.'
Tips: I'd maybe suggest this hotel for a few nights at the end of your honeymoon if you want to be closer to the airport to travel home, however I'm not sure that Sanur would be an area you'd want to spend all your time whilst you're in Bali as other areas have a lot more going on and it doesn't have the WOW factor.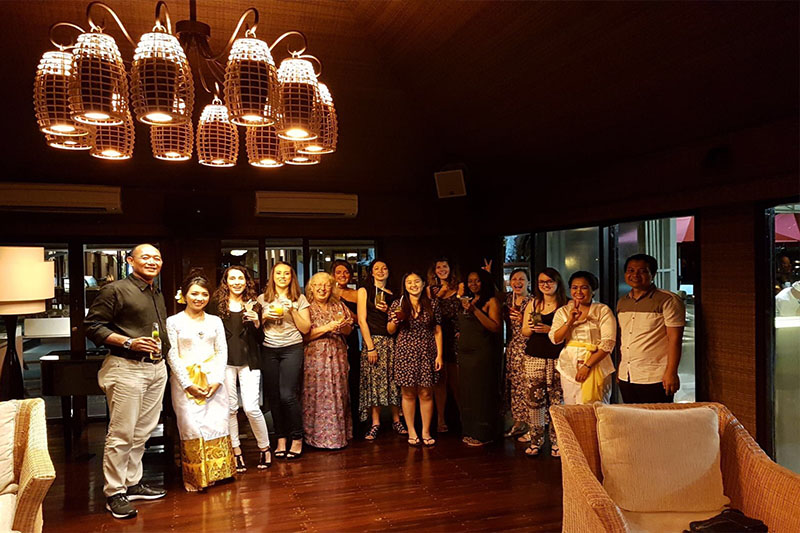 Sudamala Suites – Sanur
'We visited a few hotels today. Firstly we went to the Sudamala Suites which is also located in Sanur. The hotel is very traditional Balinese in style and is set back from the beach. The beach is only a 5 minute walk away and the hotel has it's own sunbathing area there. We saw a few different rooms but my favourite was the Studio Suites with pool access. They're on the ground floor and have a back terrace that leads directly to the pool area. The Suites are very spacious with a partially open air bathroom.'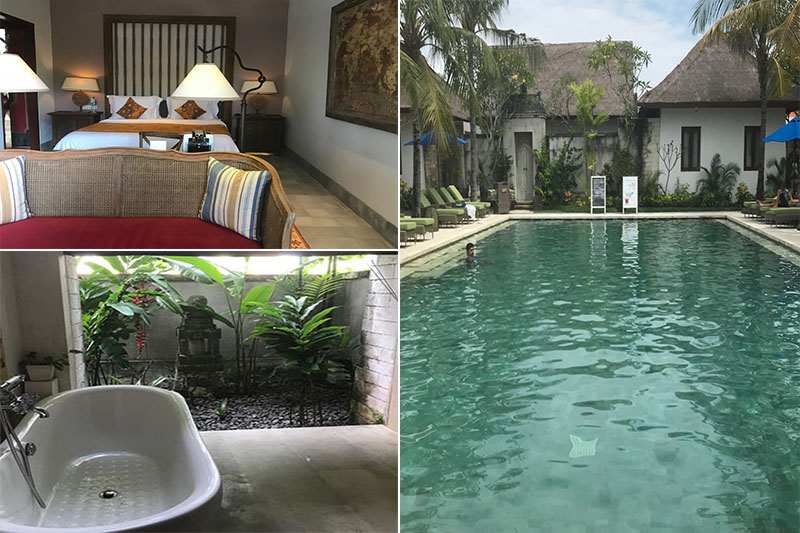 'The hotel is relatively small with only 34 rooms and also only has a small pool area. A unique feature of the hotel is that it has it's own art gallery! Ares Steak and Pasta is the hotels only restaurant which is at the front of the hotel, which serves both Indonesian and Western dishes.'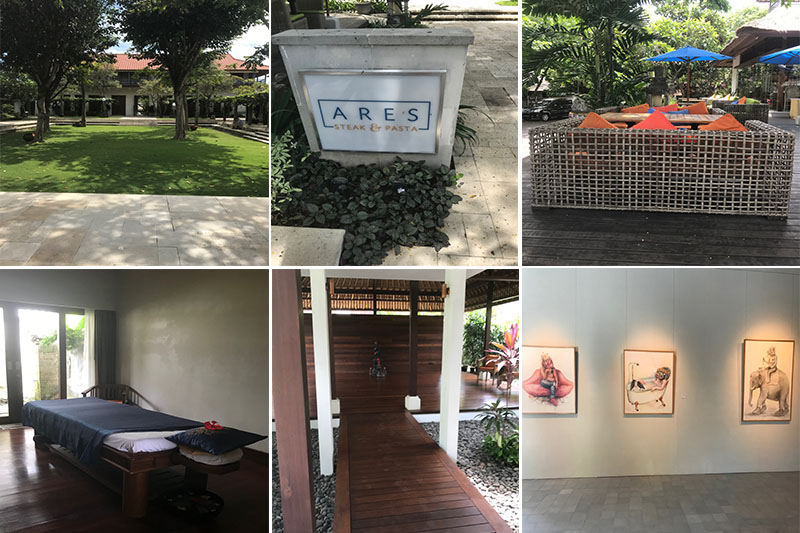 The Laguna Resort and Spa – Nusa Dua
'Next we took a short transfer to Nusa Dua to see the next hotel, The Laguna Resort and Spa. First impressions of Nusa Dua were great. It a huge gated complex with a number of quality 5 star hotels and has high security which is great for first timers to Bali.'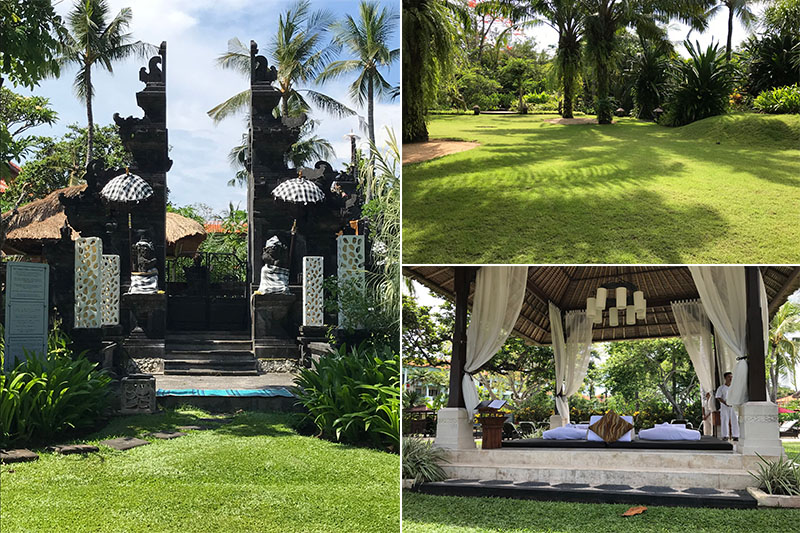 'Many staff greeted us at The Laguna and they were all very friendly and chatty. We were taken on a tour of the resort and the thing that strikes you first is the massive 7 lagoon style pools that wind all around the resort and are very impressive'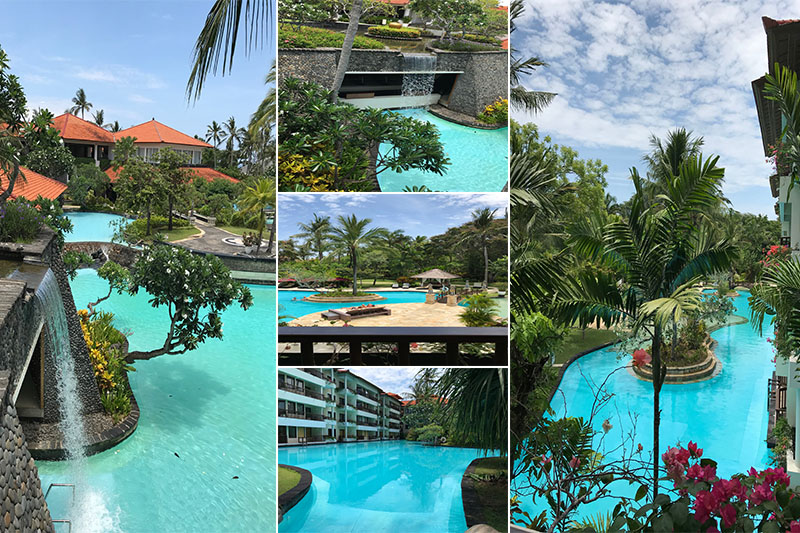 'You have the choice of Deluxe Rooms or Deluxe Studios at the resort, the Studios are slightly larger with a separate sitting area, and both either come with Garden or Lagoon views, or some rooms have Lagoon access. All the rooms also provide a complimentary butler service which includes light clothes pressing, shoe shining and a packing/unpacking service.'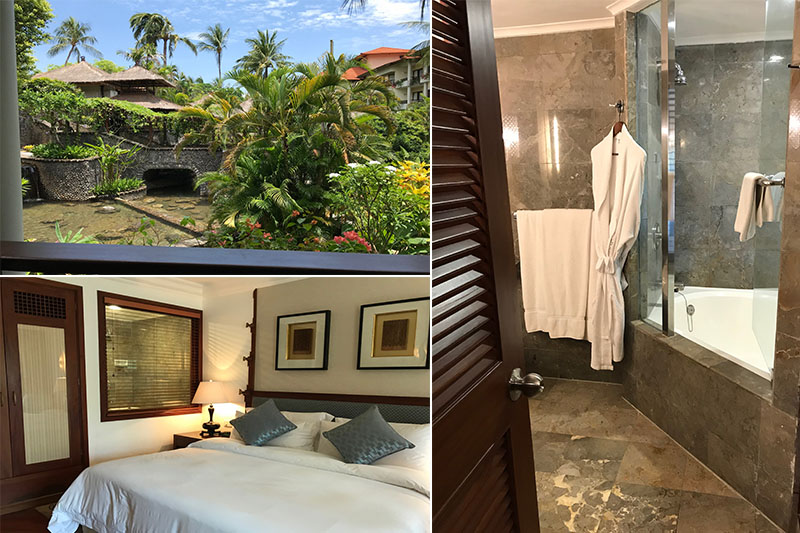 'Separate from the main resort the hotel also offers Villas which are stunning with their own private pools'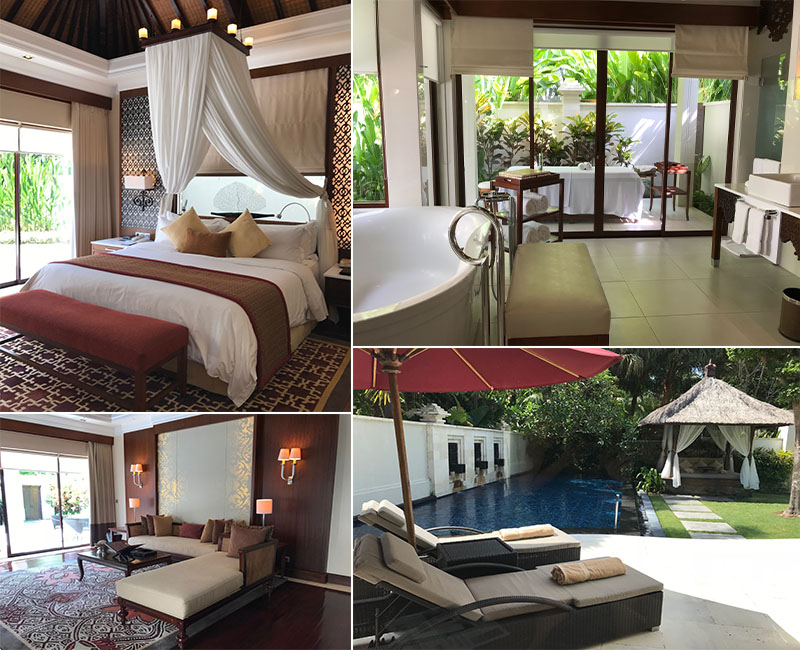 'After the tour we had lunch at the hotels specialist seafood restaurant Arwana. The restaurant has amazing views of the beach and is beautifully decorated with sea shell lamps. The buffet restaurant Banyubiru is used for breakfast, however if you're staying on Half Board of Full Board you can also dine at Arwana on an evening. The hotel also has it's own deli where you can purchase takeaway salads, sushi and homemade ice cream'
This hotel offers a beautiful beach and the hotel grounds are very spread out so it never seems overcrowded. The Laguna is a great choice for couples looking to have a few days of relaxation.
Tips – Once a week for Half Board or Full Board guests the hotel offers a special Balinese dinner and Bali blessing which is included on your board basis (bed and breakfast guests can pay for this experience!)
Tips – You can hire a poolside/beachside cabana for just $26 for the whole day!
Alila Villas Uluwatu – Nusa Dua
'Alila Villas Uluwatu is quite out of the way so is the perfect place to completely unwind and do nothing (although you can go and visit the famous Uluwatu temple and the beach). It sits right on a cliff edge so has beautiful unobstructed views of the ocean wherever you are in the hotel.'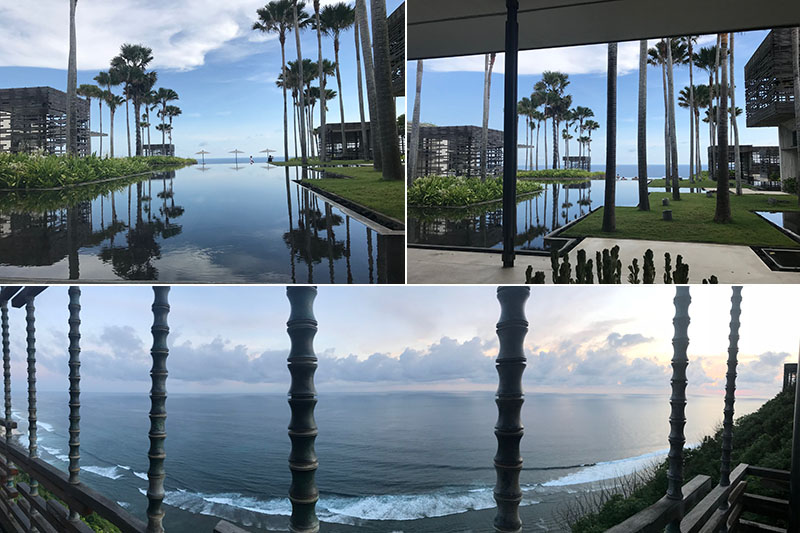 'We were promptly shown to our villas which you reach by buggies from reception. Our villas were at the very back of the resort, but as the villas are tiered you can still see the ocean from the terrace. The villas here are stunning. We were greeted and shown around by our villa host. The huge doors open up into a massive bedroom with a king sized bed, dining table and another large seating area. There's great features for those who love tech too, there's a tablet you can order room service from, and a media station that you can connect up to your phone to play your own music through the villa or onto the TV. The bathroom is also a great size with twin sinks, separate bath and rain shower and an outdoor shower too, you're also provided with His and Her amenities. To top it all off the villas also all have their own private pool and cabana'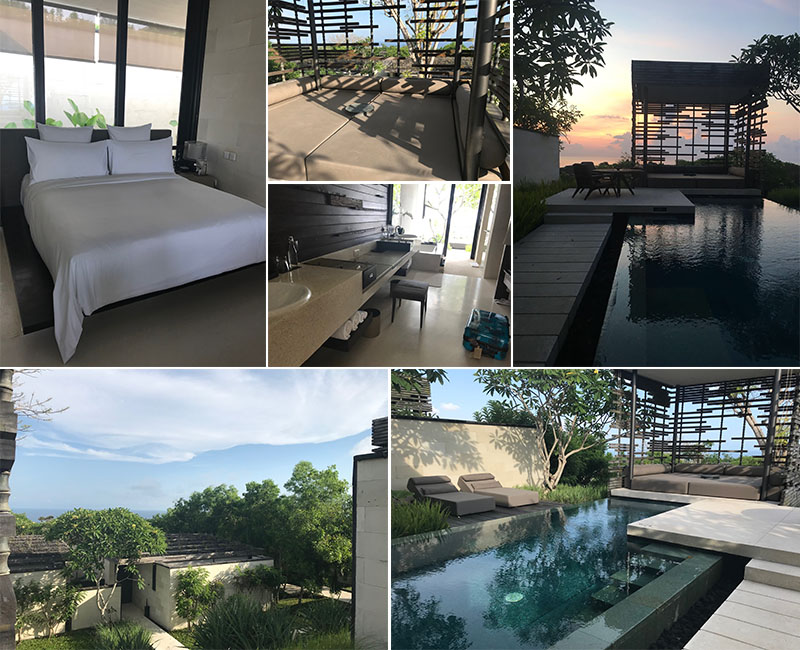 'Once we'd had a free couple of hours to enjoy the villa we headed down to the sunset cabana for cocktails before dinner. The Cabana is a lovely spot for a drink before or after dinner, it hangs right out over the cliff so you have a clear view of the sun going down and see the stunning Bali sunsets.'
'We ate at Warung which serves a variety of Indonesian dishes. We were served taster plates from the main menu and it was all amazing'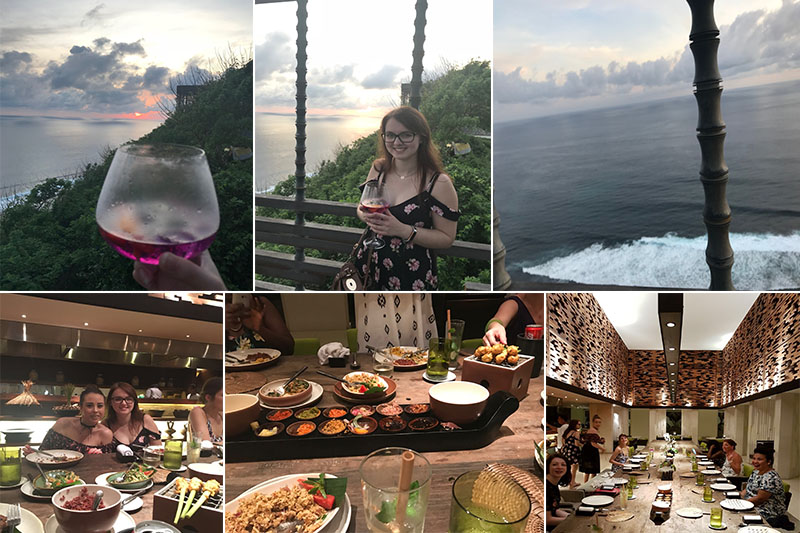 'The next morning we ate at CIRE for breakfast. Everything is served A La Carte, and you are provided with fresh juices and pastries at your table. The hotel has one other restaurant called Quila, however this is limited to 10 guests per night so best to book in advance'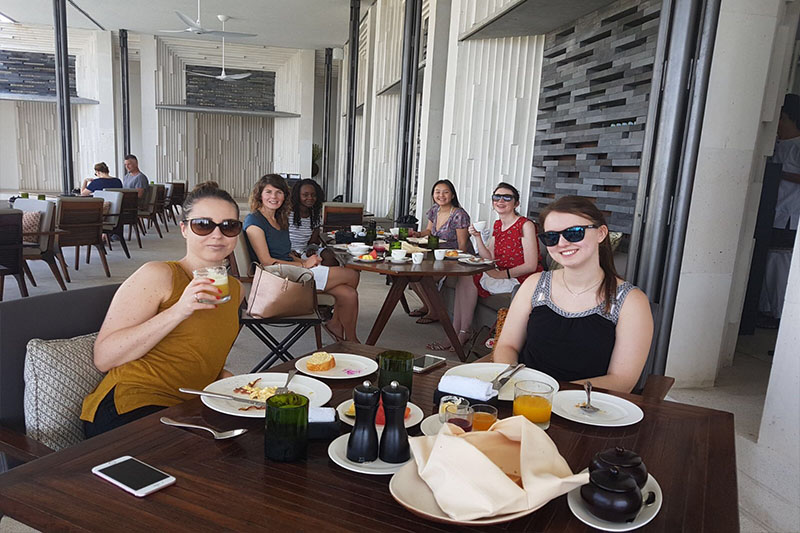 Recommended: This was my favourite hotel out of all the ones I saw on my trip. It's so tranquil and the staff are so friendly and give 5 star service, it really gives you that secluded honeymoon feel and perfect if you want to get away from it all. The hotel also offers free daily morning yoga classes for the fitness lovers.
Legian Beach Hotel – Kuta District
'Firstly we went to the Legian Beach Hotel on the border of Kuta and Legian.' However I believe the only room really suitable for a honeymoon couple would be the Deluxe Pool Villa. They do offer unique experiences such as planting your own tree in the grounds and also allow you to stay on an all inclusive basis which is not usually offered in Bali. It's fine for those who are on a budget however although all the staff are very friendly the main resort is in need of a refurb, the surrounding area is very busy and beach isn't very relaxing.'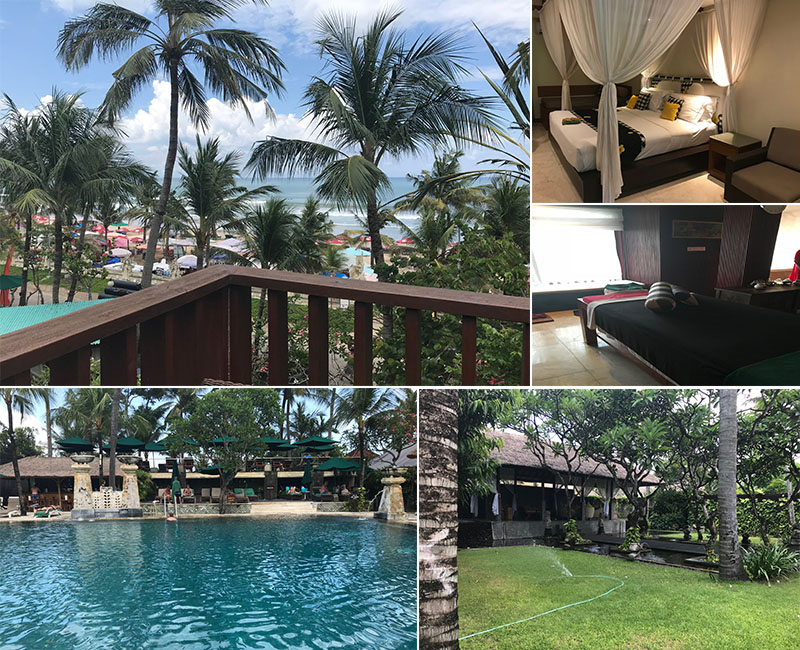 The Oberoi Bali – Seminyak
'Next we headed to The Oberoi Bali in Seminyak. Seminyak is a perfect base for those who want the best of both worlds, relaxation and peace as well as being able to go out to restaurants, bars and a spot of shopping'.
'The Oberoi Bali is just outside the main centre of Seminyak so is very quiet and peaceful. The hotel and  the rooms are well set back from any roads so there's no traffic distribution. The leading rooms are the Luxury Lanai Gardenview which are in clusters of four rooms, but you wouldn't know it. Again, these rooms are all very peaceful and you enter from your terrace. They're very simple Balinese in design, but have a unique sunken bathtub which is a lovely touch. They also offer Villas which are set on their own and Villas with generous sized private pools.'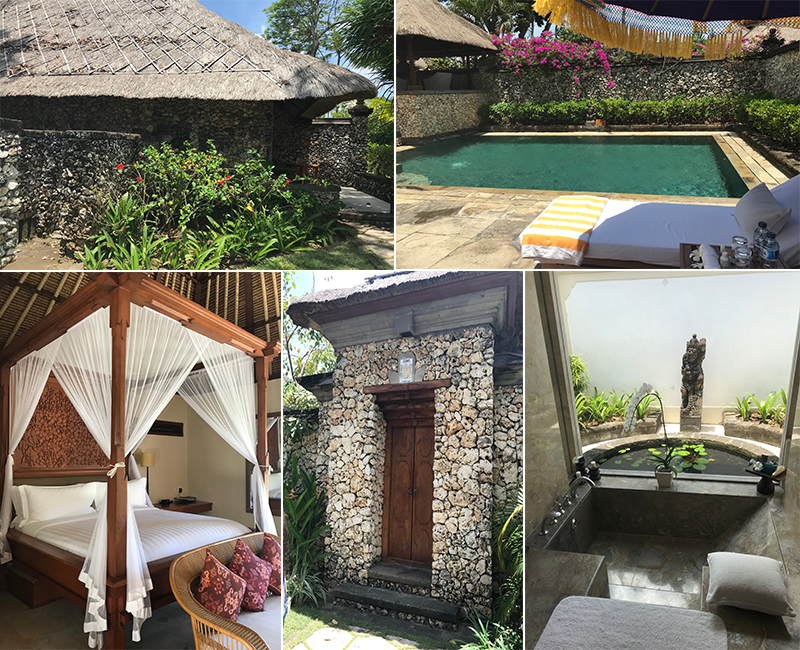 'The hotel has two restaurants the Frangipani Café for an A la Carte Breakfast and Lunch and Kura Kura for dinner. They also offer a number of romantic and unique dining experiences for guests.'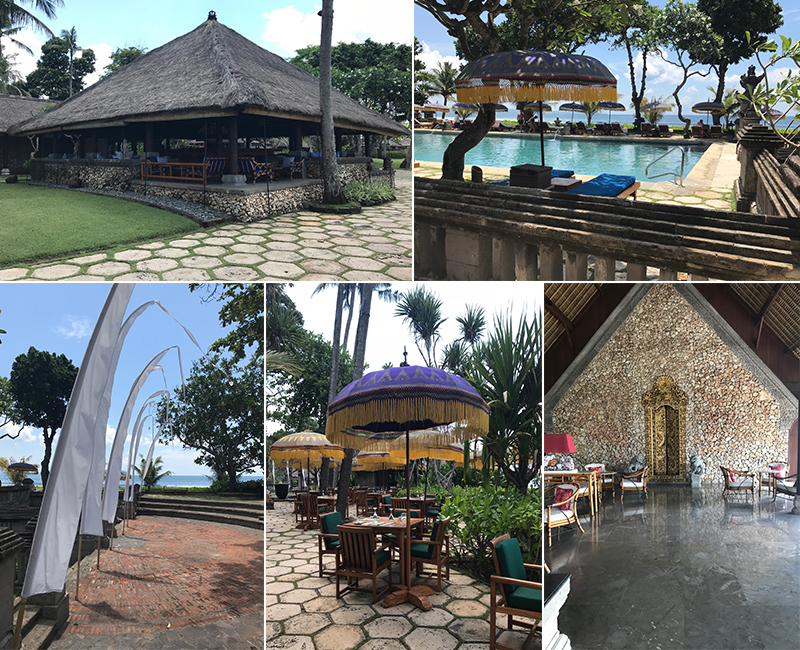 Tip – there's no supplement to have breakfast served in your room.
The Elysian – Seminyak
'The Elysian hotel entrance is in a small side street so is set back from any main roads. We ate lunch in the hotels restaurant Rush Bamboo, which is right next to the main pool and has a great atmosphere. I had my favourite meal of the trip a Beef Rendang, which is a traditional Indonesian dish.'
'Each of the 27 villas here has its own private pool so is perfect for Honeymoon Couples and those looking for ultimate privacy. The villas also come equipped with an Apple TV loaded with box office films, an Ipod pre loaded with music and a quirky sunken shower/bathtub.'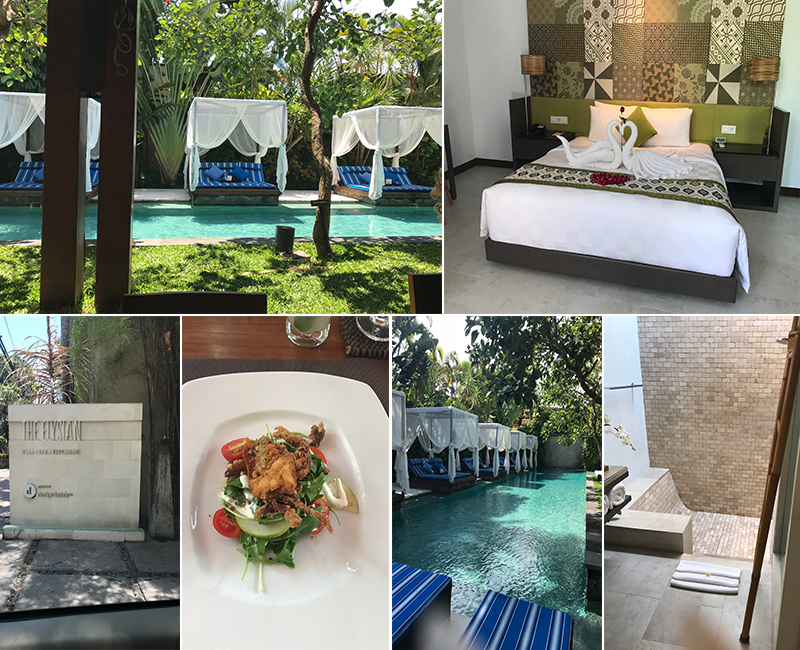 The Legian Bali – Seminyak
'The Legian hotel is closer to the centre of Seminyak so you are able to walk to the main square. The Legian is split into two sections, the main resort building and 'The Club'. The main hotel's suites are all ocean facing (although some are partial or side ocean views) and all are much larger than your usual hotel room an have big open bathrooms. They also have 3 special suites – The Seminyak Suite, The Sunset Suite and The Legian Suite these all share one entrance from the main lobby and lift that is for the exclusive use for these 3 suites.'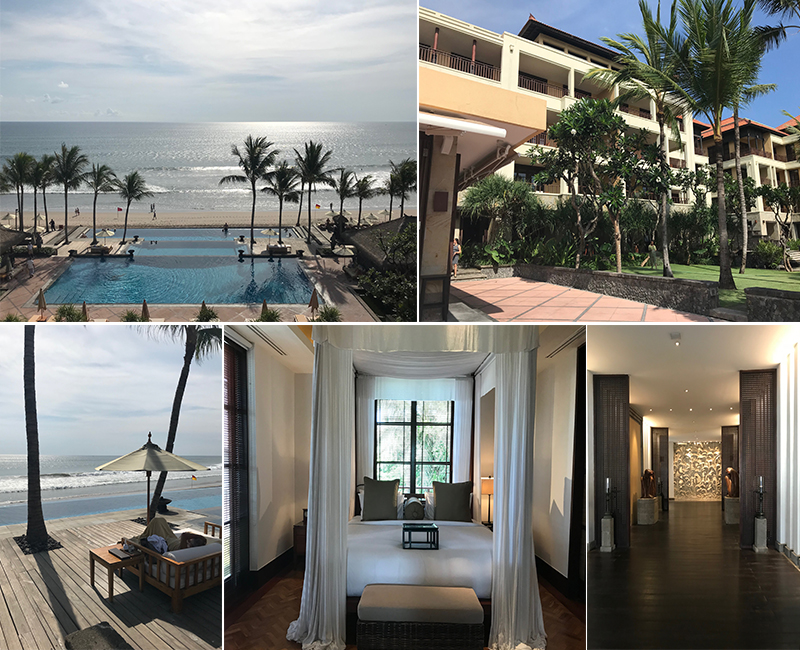 'There's also a very large infinity pool, beautiful spa and 3 bars for you to relax in.
Across the road and just 5 minutes by buggy is the Club complex home to the resorts villas. It has its own pool (although they can use all the main resorts facilities) and restaurant which is for exclusive use of club guests at breakfast.
Each villa has its own private pool, a butler and mini bar that includes alcoholic drinks and is replenished daily. These are the perfect for those looking to get away from it all.'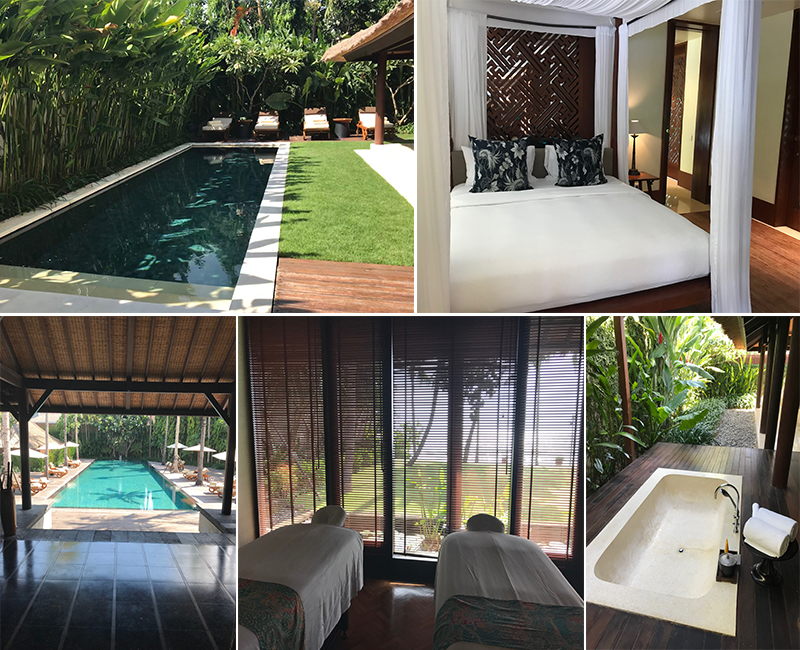 The Samaya – Seminyak 
'We were swiftly shown to our rooms, we stayed in the Royal Courtyard Villas which are just 5 minutes in a buggy from the main hotel area. Although it can be an inconvenience to wait for a buggy each time you want to go back to the main hotel, these villas are so relaxing, peaceful and quiet that they are perfect for honeymooners. Every villa at this hotel has it's own private pool, the Royal Courtyard categories having a slightly larger pool/outdoor sitting area than the standard pool villas. The Royal Courtyard villas are huge, a big bedroom area with King sized four poster bed, a dressing area and huge bathroom with separate bath and shower. Each of these villas also has its own Wifi connection, so no slow internet speeds'.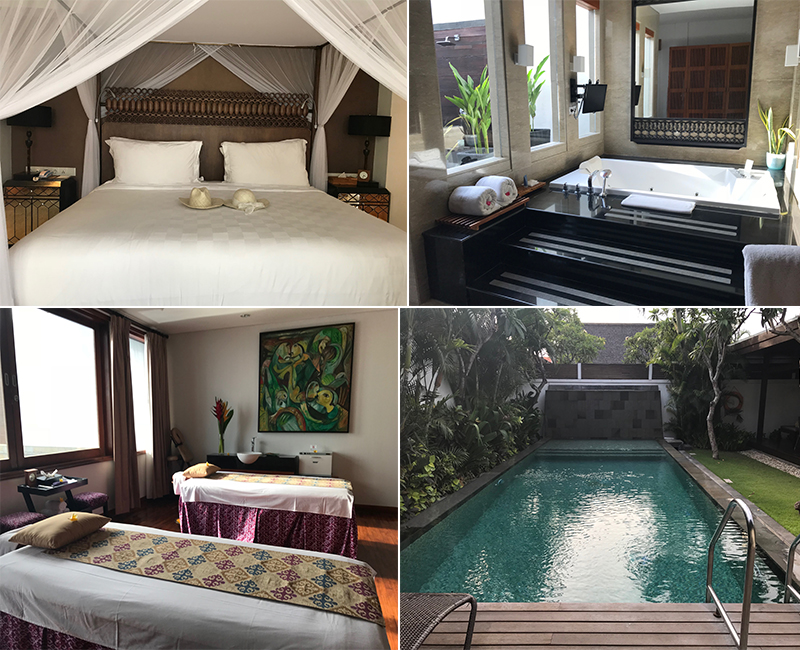 'We ate both Dinner and Breakfast at Breeze restaurant, which is beachside and has lovely views and sounds of the waves crashing. Dinner included western favourites with an Asian twist and breakfast is served A La Carte. Breakfast can be eaten at any time and anywhere, and daily afternoon tea is also included.'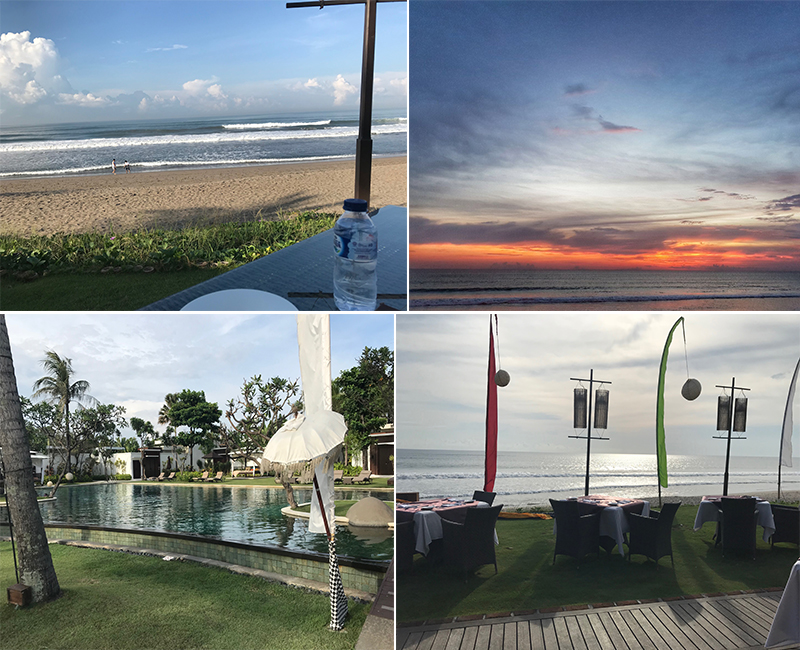 The Alila – Seminyak
'The Alila Seminyak is located next to the very popular Potato Beach Club, which is a great place to spend both your day or your evening, with cocktails being served in giant seashells a big sunbathing area and infinity pool.
The hotel has a huge open air lobby and you are shown to lounge seats to check in rather than standing at a desk. Here we stayed in the Deluxe Ocean suites which have beautiful views of the beach and sea. They're very large rooms and have a small day bed on the balcony.'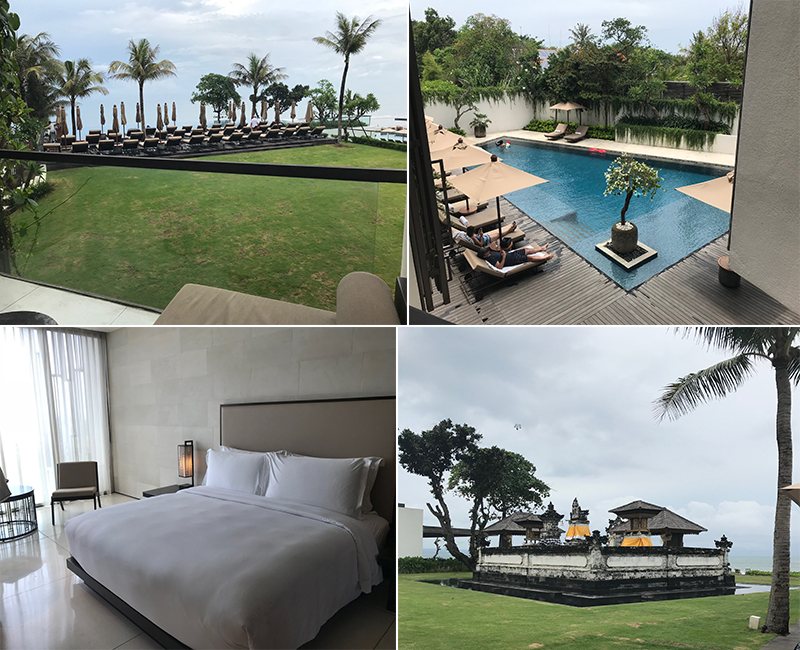 'The hotel has 3 pools, two infinity pools just for guests one and larger pool overlooking the beach which both guests and visitors to the hotels beach bar can use. Other facilities include a massive spa, with a huge range of treatments.
We ate at the restaurant SeaSalt on the evening and for breakfast. The chef there have trained under Michelin star chefs and the food is beautiful and has a Japanese influence in all the food. We had a taster menu of some of the dishes which are all available on the main menu and they also offer a large range of vegetarian dishes. Breakfast was served A La Carte for hot dishes, and a buffet of pastries, fruit and juices. This is hotel is in the perfect spot to explore Seminyak.'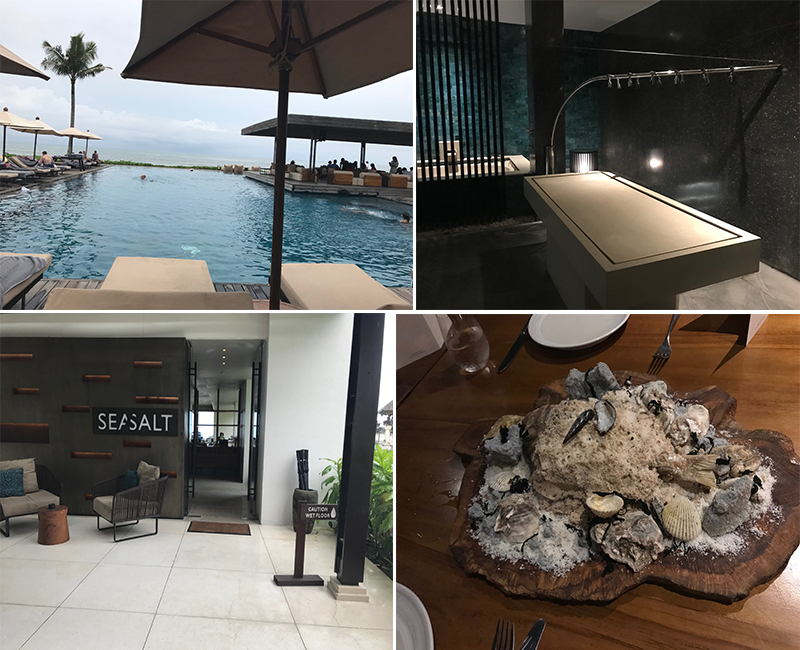 Soori Bali – Kerambitan, Tabanan
'Next, we went to visit and stay at the Soori Bali. It's around a 1 hour 50 minute transfer from the Seminyak area, but it's a very pretty journey traveling through trees and smaller towns. The Soori is pretty much in the middle of nowhere so it's not somewhere to get out and about from, but you can visit Tanah Lot temple (one of Bali's most sacred) which is around 25 minutes away. Another thing to note is that the beach is black sand, but is still very beautiful'
'The drive up to the hotel takes you through lots of rice paddy fields that the locals tend to and that the hotel organise bike and Segway tours through'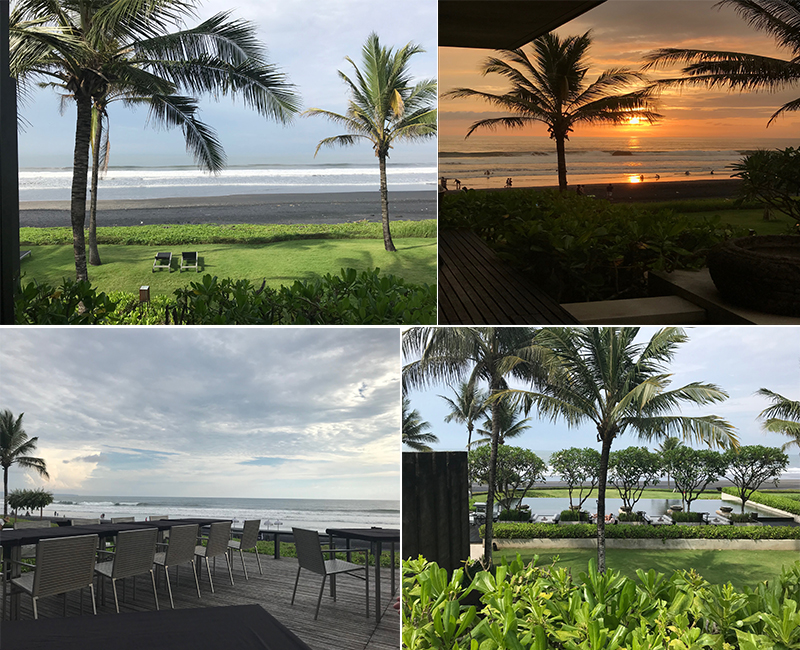 'The hotel is split into mountain villas which are near the lead up to the hotel and have views over the paddy fields, and then the beach villas and ocean villas that face the ocean. I stayed in an Ocean Villa and these are located on top of the beach villas so are full of light and airy, where as the beach villas are a little dark due to the greenery around the rooms. All villas have private pools and big marble bathrooms. It was amazing to watch the sunset from the ocean villa's infinity pool'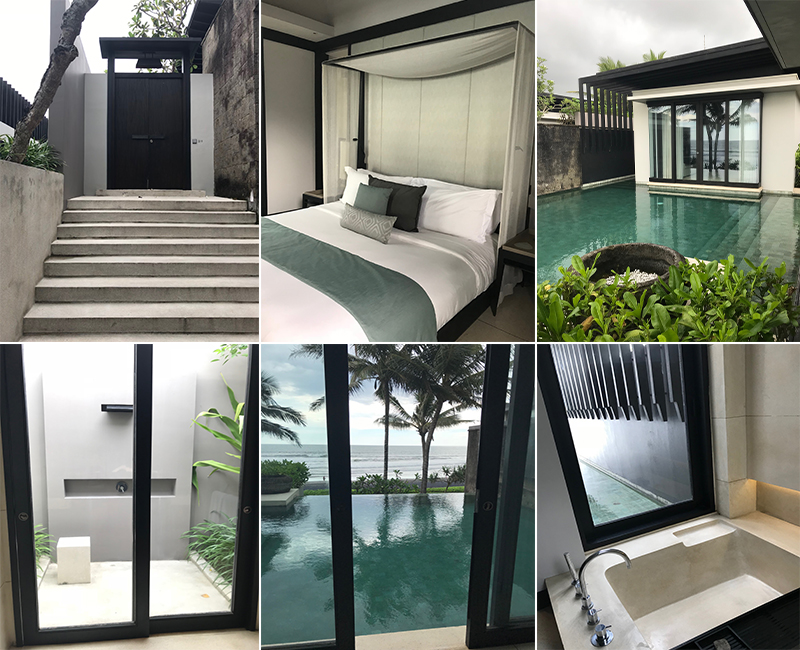 'The restaurant Cotta serves both Indonesian and western dishes and come in very generous portions.
The hotel is great for those wanting to completely relax, however I would say that it's not for those who like entertainment or lots to do on an evening, as the bar shuts at 10pm'
Ubud Village Resort – Ubud
'Today we took a transfer up to Ubud which took around an hour from Soori, but usually takes around 1hr 30mins or so from the airport. Again the drive here provided spectacular views of Paddy fields and Balinese countryside.
We first visited the Ubud Village Resort which is around 10 minutes from the centre of Ubud and the hotel provides a shuttle service.
The villas are all very private so perfect for honeymooners and the hotel leaves a little welcome sign to the both of you at the entrance to your villa. Villas are spacious, have an outdoor bathtub behind your bedroom, a small plunge pool and garden.'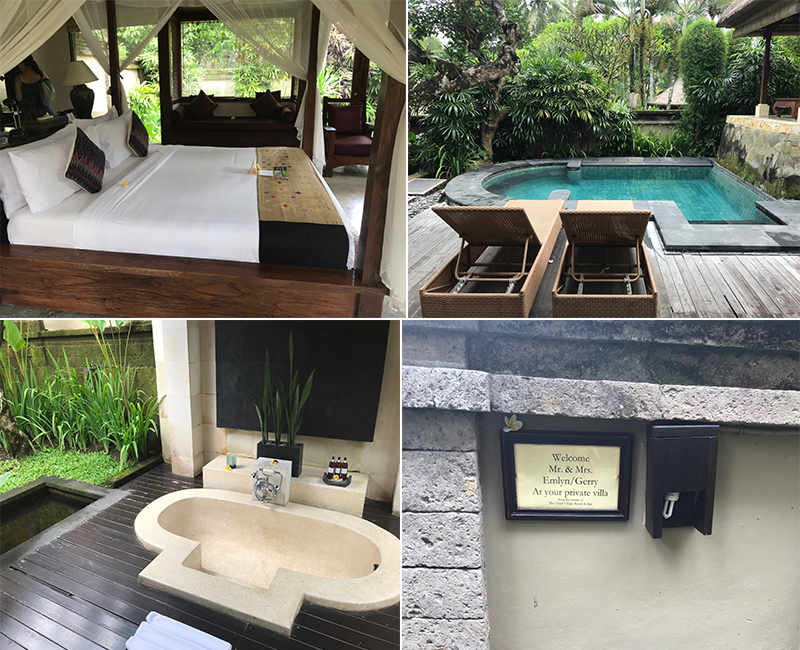 'The hotel grounds are massive and everything is spread out so that nothing feels over crowded and very secluded.
Angkul Angkul is the hotels open air, two story restaurant that over looks the hotel grounds and padi fields. We ate lunch here which was amazing and the chocolate lava cake is to die for.'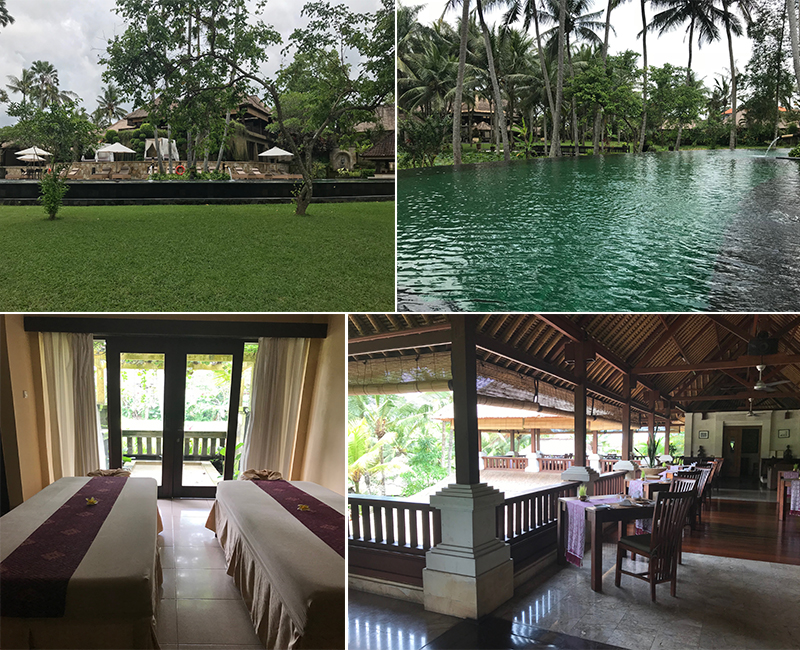 Alila Ubud – Ubud
'After lunch we headed to Alila Ubud where we were spending the last two nights of the trip.
Again this hotel is just 20 minutes from the centre of Ubud and runs shuttles 3 times a day. The hotel makes you feel like you are in the middle of the jungle and everything is built from natural stone and wood. The huge infinity pool overlooks the valley and is the perfect place to relax after a days sightseeing around Ubud. Looking out over the pool is the hotels open air Plantation restaurant, which at breakfast serves a daily changing A La Carte menu and serves both western and Indonesian favourites at lunch and dinner. Once a week it also hosts a Balinese dance night which is a very special experience.'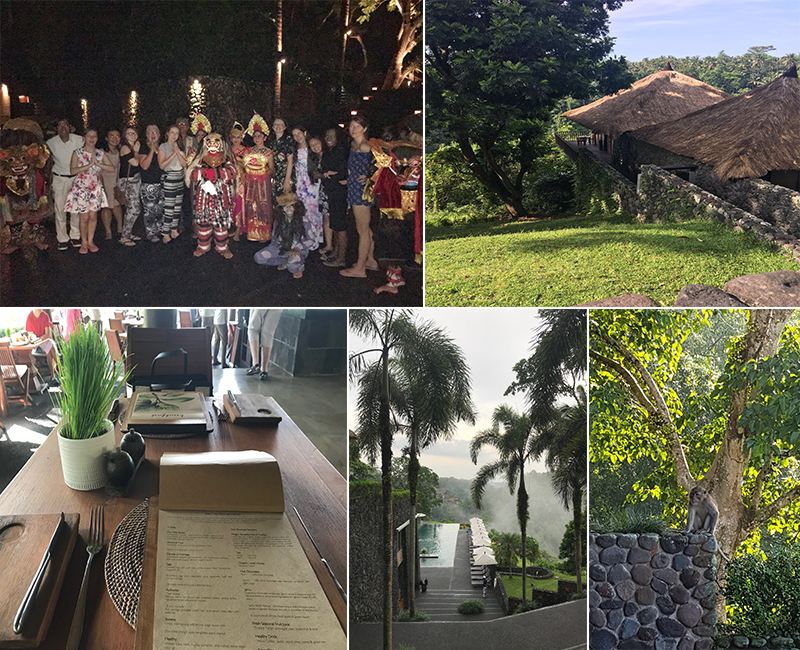 'We stayed in a Superior room, which although small was just right especially if you're spending most your day out and about. Other than this you have deluxe rooms which are on the ground floor below the superiors and have an added bonus of an outside bath tub. Valley villas were my favourite rooms as they unobstructed views of the valley and surrounds, a 'floating' bathtub and sun loungers on the decking.'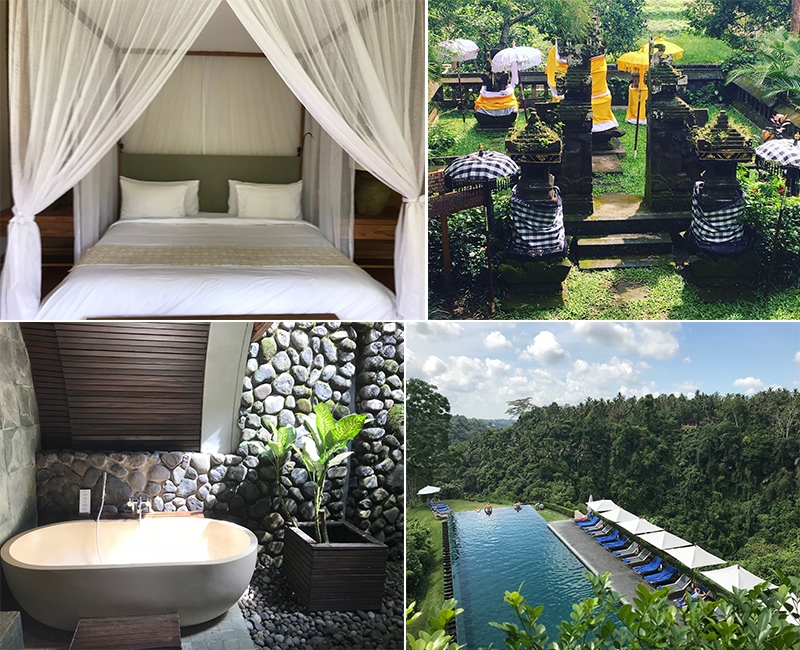 'I also had a chance to try out the spa and had a 60 minute Balinese massage which was amazing, they tailor the experience to you as you get to pick the oils they use during the treatment.'
Tip – If you're up early enough or go for a walk through the paddy fields don't be surprised if you see a cheeky monkey or two
Viceroy Bali – Ubud 
'For our final night, we visited and had dinner at the Viceroy Bali. Everything about this hotel is stunning from the views overlooking the valley, the infinity pools and the big open air bar and restaurant.'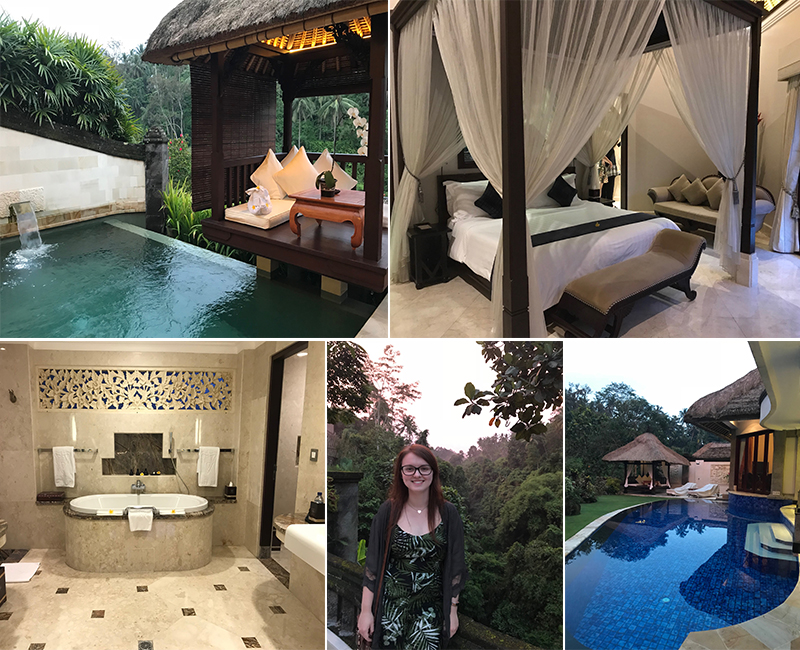 'All the suites and villas have their own private pool, but my favourite was the Deluxe Terrace Villa. It has high ceilings in a Balinese style, a huge bedroom/seating area, a fully marble bathroom and plunge pool with a pavilion overlooking the valley.
After a tour around the hotel we had dinner at the CasCades restaurant. The food is stunning and we had a 6 course meal including Oysters, Soup, Steak, and the amazing deconstructed apple strudel! We were also visiting on the Balinese dance night which was wonderful to see, and you have a chance to chat with the dancers and take photos with them afterwards.'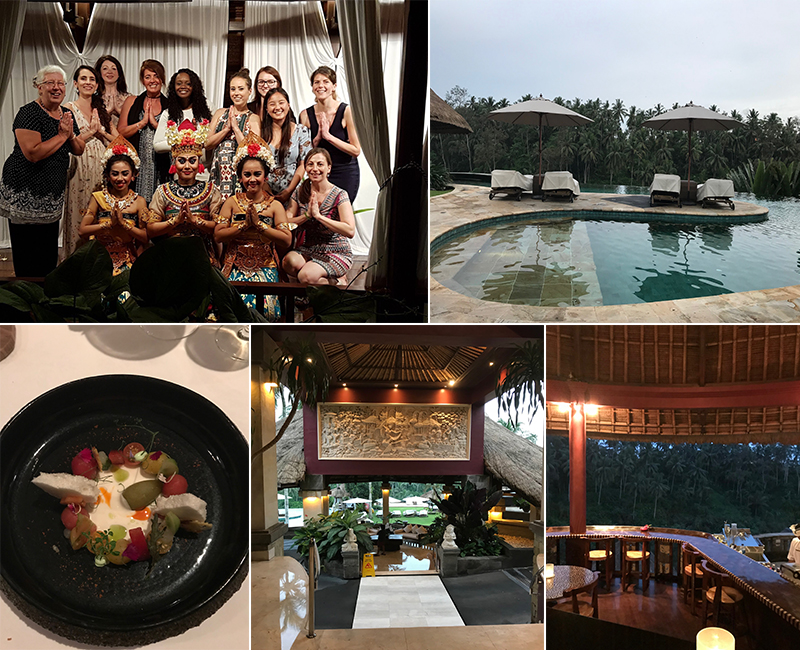 What to do in Bali 
Visit the Ubud market 
'We visited the Ubud market, which was a great experience! There are beautiful crafts, clothes and clothes you can buy which make perfect souvenirs or gifts, but you'll have to brush up on your bartering skills, you can never take the price they offer you first.'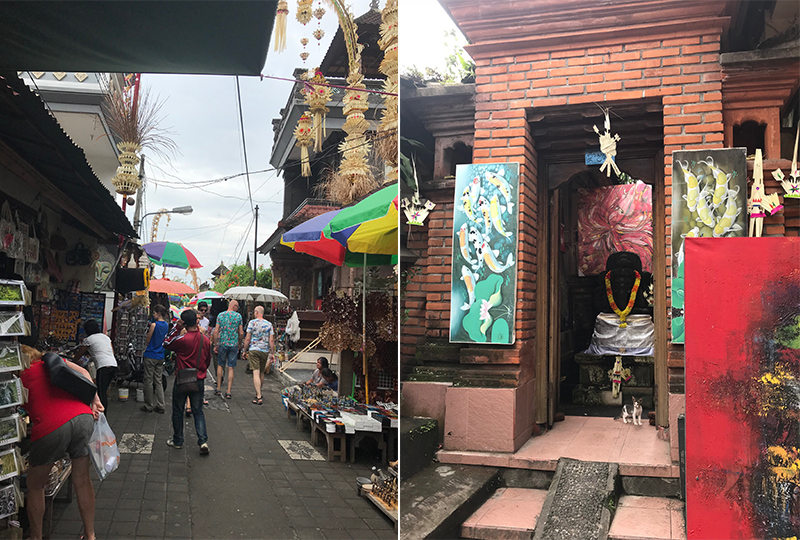 Goa Gajah Elephant Cave temple – Ubud
'You have to make sure you're covered up to visit any temple, your shoulders and knees should be covered, although many popular temples do hand out sarongs to cover up with. The site has both Hindu and Buddhist areas, the main attraction being the giant stone carving over the entrance to the cave. Much of this site was destroyed when the volcano erupted in the 1950's however much of the old temple structure can still be seen. When you head over to the Buddhist area you walk up and down a number of stairs through green gardens, streams and huge trees which is all very peaceful. Just a reminder that this is still a local temple too, so just make sure there is no celebrations on that day before you visit.'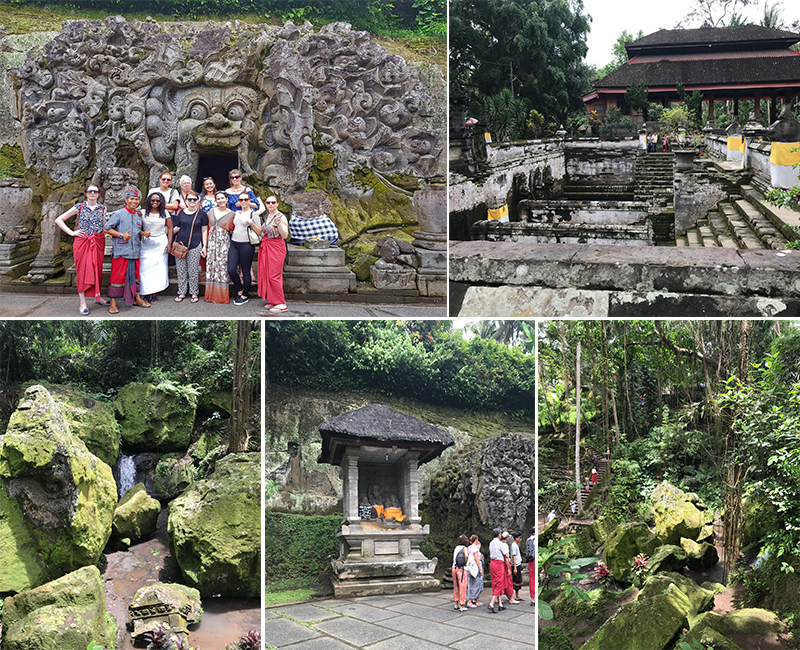 BAS Bali Coffee Plantation – Ubud
'We visited BAS Bali, which is a tea and coffee plantation where you can try the famous Kopi luwak coffee, as well as numerous other coffees, teas and hot chocolates and pick up coffee beans as souvenirs. You can also see the Luwak animal that eats the beans, which are then processed after the beans are digested to make one of the most expensive coffees in the world.'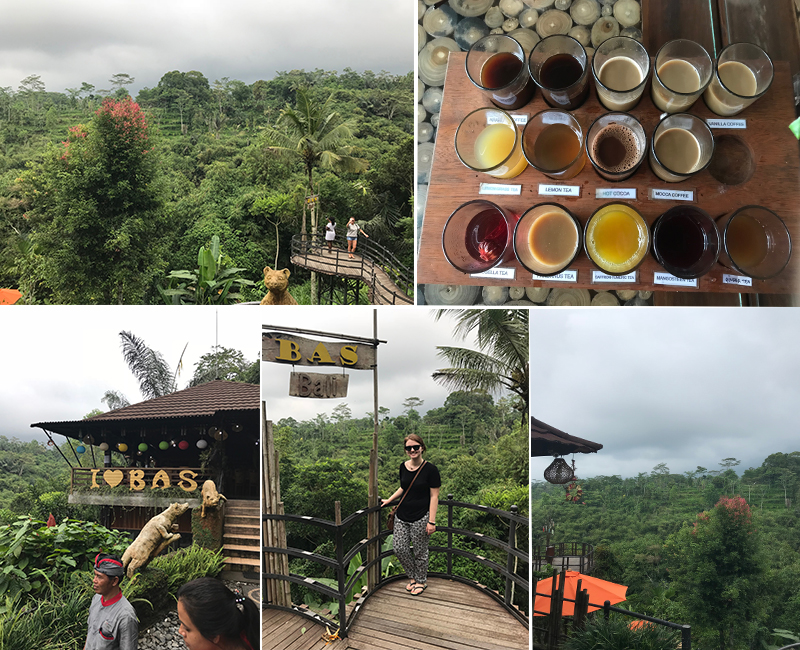 Batur Volcano 
'Unfortunately, the weather wasn't so great as there was a lot of cloud hanging over the volcano so we couldn't get a clear view. However I would recommend going to visit the Batur volcano as it is an amazing sight, you can also organise to trek up it at sunrise'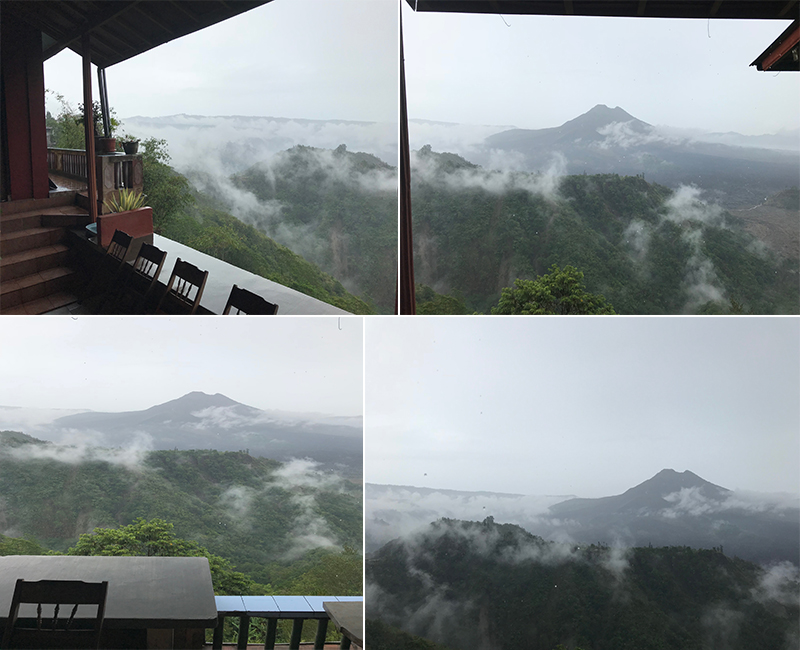 Abbie's Bali review and tips: 
'Overall I loved Bali. Everyone I met whether it be at a hotel or while we were out and about were so friendly and welcoming. All the food was amazing and the local dishes are great to try out.
It's perfect for honeymoons as there's so many options for private villas and your own pool, and the perfect mix of relaxation and sightseeing with activities.'
Tip: I would definitely recommend a two or even three centre trip within Bali so that you really get the most out of what Bali has to offer
Inspired by Abbie's trip to Bali and would love to have your honeymoon in Bali? Why not start planning? Call us on 0121 440 6268