Abbie's Winter Wonderland Experience in the Finnish Lapland
Our honeymoon specialist, Abbie, visited the Finnish Lapland on boxing day at the stunning Santa's Hotel Aurora staying in one of the glass igloos. It's a must-do experience for nature and adventure lover's alike – and if you're searching for a unique honeymoon or even a mini moon that will tick off unforgettable memories for years to come, why not embark on an adventurous break in the Finnish Lapland, which is known for husky rides, Santa's Village and catching the Northern Lights!
Heathrow to Helsinki with Finnar
"We flew out of Heathrow with Finnair (via Helsinki) to Rovaniemi. If you check in online then you literally just have to drop your bags off at the desk and it took us less than five minutes. Checking in online can be done up to 36 hours before your flight, otherwise you can use the self service machines then go to the bag drop desk. Finnair's fleet from London was very modern and although it was only a short flight there were TV's on the back of the seats with films, TV shows etc. They also had a great feature to let you check onward flights at Helsinki so you knew which gate to head for. The transfer in Helsinki was nice and easy, although the airport was large, so I wouldn't recommend any connections under 1 hr. We then jumped on a short flight to Rovaniemi, which took around an hour. Rovanemi airport is tiny (only has one baggage claim and 7 gates!) as soon as you walk out the airport you arrive in a winter wonderland! The airport is very close to Santa's Village so you can visit here on your way to/from the airport if you're not staying in Rovaniemi. We were staying in a small town called Luosto which was around a 1hr 30 mins transfer. Our transfer itself was exciting as we had to keep slowing down to pass reindeer walking along the side of the road!"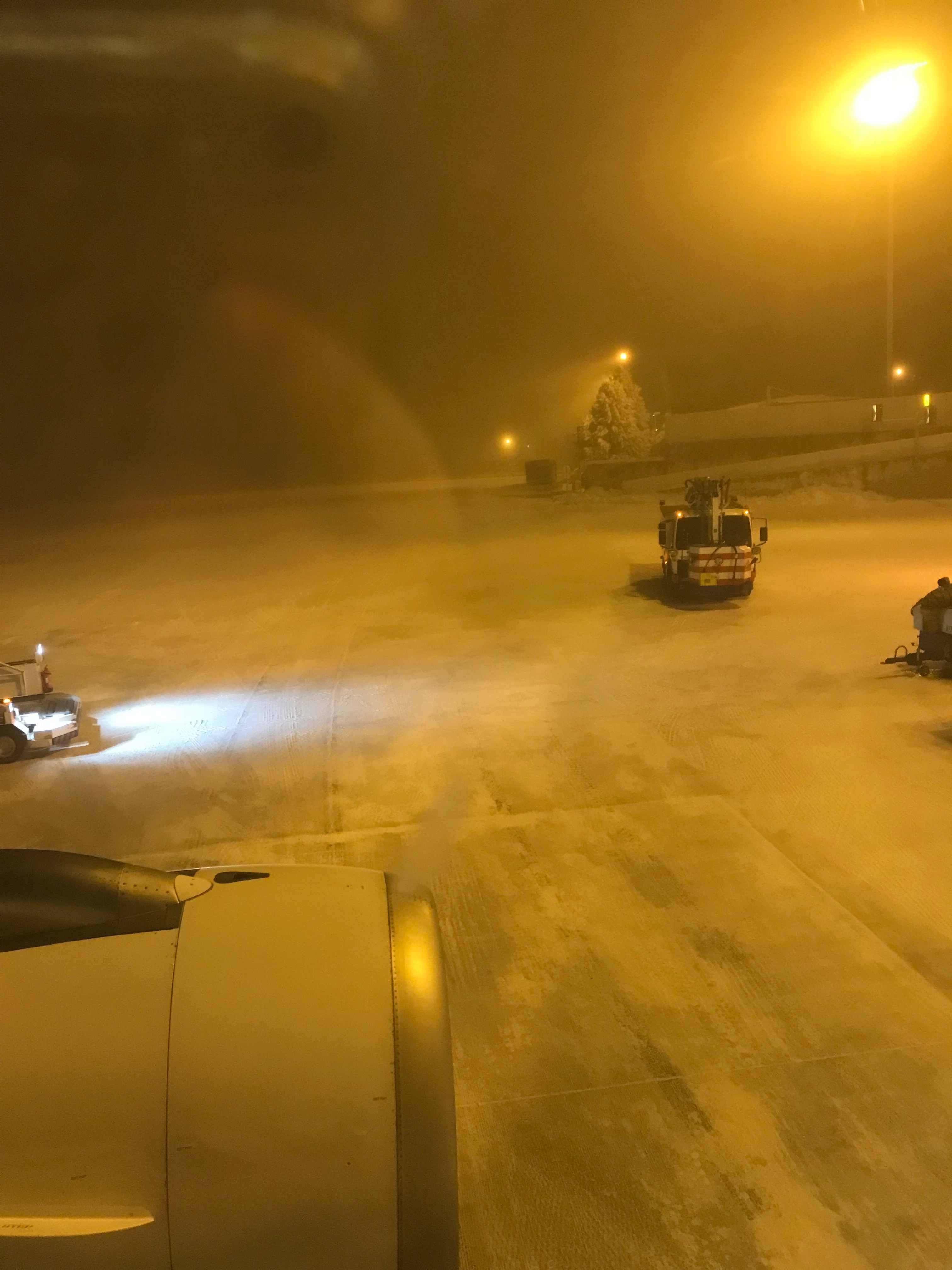 Santa's Hotel Auroroa Glass Igloo Experience in Rovaniemi
"We stayed at Santa's Hotel Aurora, which is a small, cozy hotel (one of only a handful in the town) The staff are all so friendly and welcoming and really cannot do enough for you! The hotel has its standard rooms which all come with their own saunas and some even have fire places, perfect for warming up after being in the snow all day! We stayed in one of the 10 Glass igloos at the hotel. The igloos are magical and so unique! The bedroom area is made entirely of glass, however curtains can wrap around the base giving you complete privacy, while still being able to star gaze and try to spot the northern lights! These igloos have en suite bathrooms whereas others in Finland don't which was a great bonus, there's also a sledge left outside your igloo (for all the big kids!). "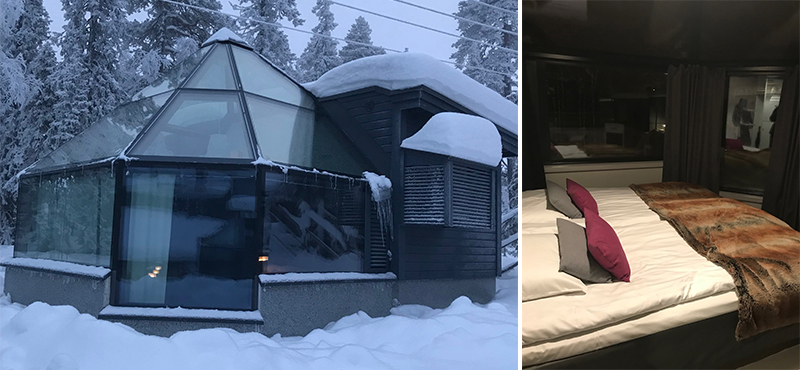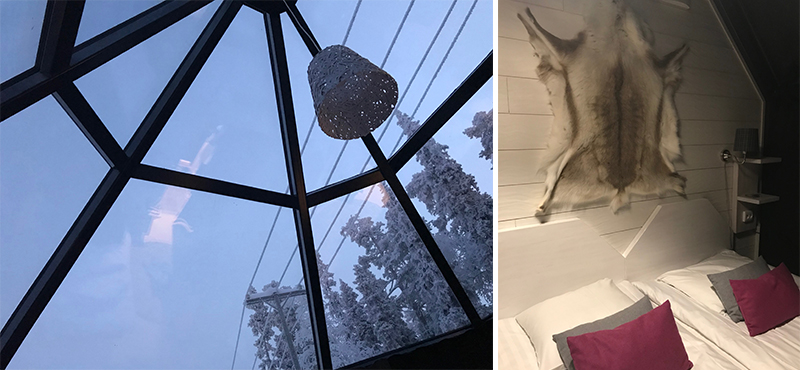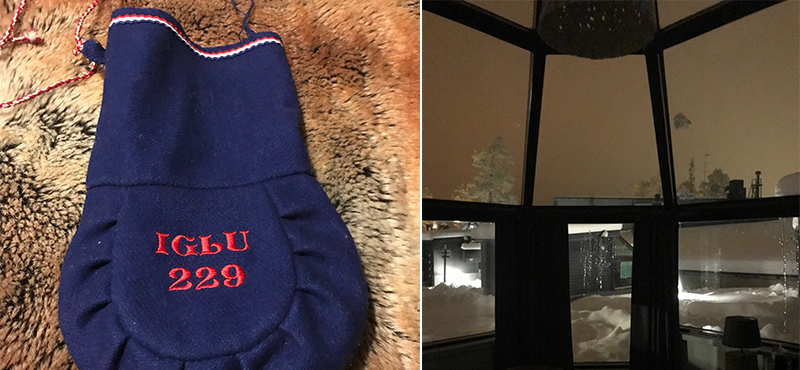 "The hotel operates an Aurora alarm system via a mobile phone you're given at check in, where a text is sent to you if the Northern Lights make an appearance and they provide you with a map to find the best viewing spots. There's a small restaurant and bar at the hotel which provides a basic breakfast (eggs, bacon, toast) but also has the option to go half board and have the set menu dinner each night, which is great value for money, or you can pay and order from the A La Carte menu. The dishes range from fish, steak all the way through to Reindeer steaks! All the food was amazing and I couldn't fault dinner at all. Otherwise there's two or three restaurants in the town you can walk to, or a small supermarket."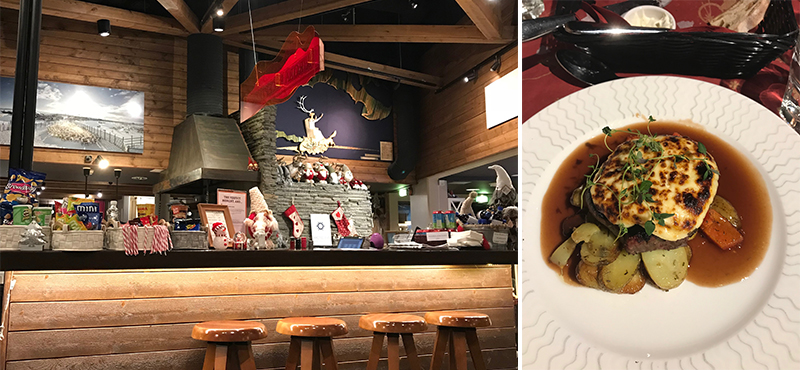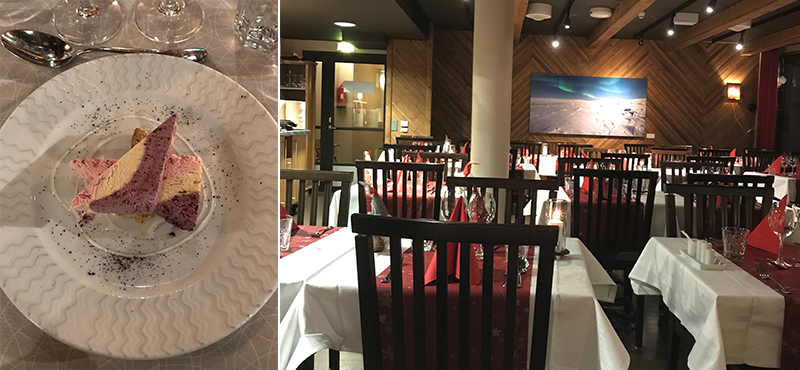 Winter Wonderland Experiences…
"While there you're able to book excursions through the hotel, or through a Safari office just across the road from the hotel. I'd suggest booking all trips before departing the UK as we did, as when we got there, there weren't any spaces left on any Husky or Reindeer safari. The office provides all winter clothing you may need, we were given a big snowsuit, scarf/balaclava, big leather gloves, wool socks and big snow boots. You can of course use your own too (we used both to keep warm!). "
"On the first day, we headed off on snowmobiles to a Husky farm for a thrilling sledge ride! Riding and driving snow mobiles is so exciting, especially through the snowy and wintery landscapes. If you've never driven one before then the experienced guide talks you through everything and makes sure you're okay throughout the hour-long drive. At the Husky Farm, we were shown straight to the sledges to learn how to steer and control the dogs, before setting off on a high-speed ride around a track in the forest! After this we were shown around the rest of the farm and introduced to lots of the dogs (including puppies!) before warming up around a fire before heading back on the snowmobiles."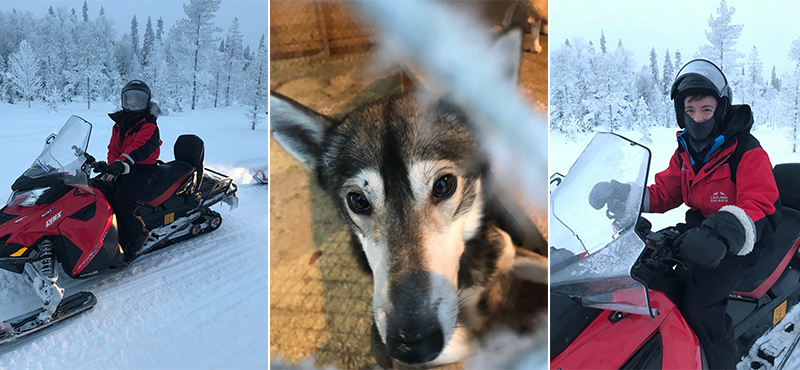 "Later in the evening, we headed back out to try out snowshoeing to look for the Northern Lights. Snowshoeing is very hard work and takes a little while to master going up and down the hills in the deep snow, but it's totally worth it when you get to the top of the fell for the view! You can see the sky so clearly to go star gazing and if the northern lights make an appearance it's the perfect place to see them, unfortunately they didn't appear for us but it was still a great experience."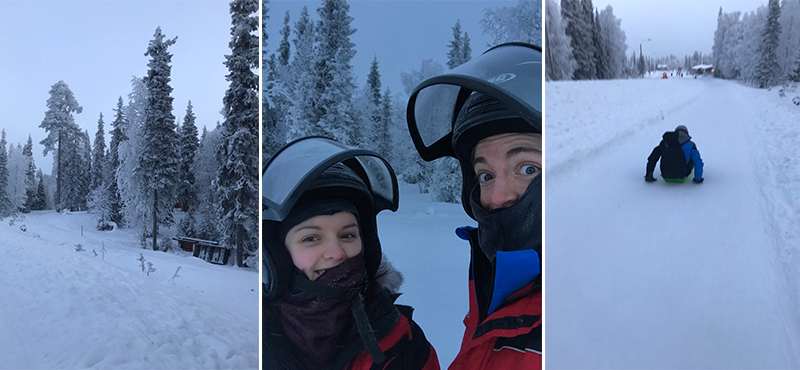 "The next day we explored the local area. We walked to browse the few shops there are in the centre and also went sledging close to the huge frozen lake which is only 5 minutes from the hotel and is literally a winter wonderland! Then on the evening we went snowmobiling again in search of the Northern Lights. Again, although we didn't see them it was a great experience, we stopped off at a teepee half way, sat around a fire learning about the Northern Lights and drinking hot berry juice (best drink ever!)."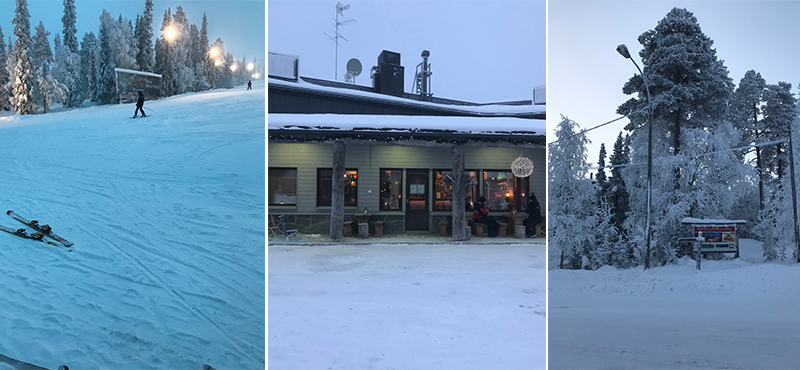 "On our final day we had some free time so decided to try out the Ski slopes which are literally right behind the hotel. I opted to have some time with the Ski school (as I hadn't skied on a mountain before) and found the instruction very helpful! The slopes are great for beginner to intermediate level skiers. The only thing to note is that they only lend out Skis, boots, helmets and poles, you need to take your own Ski clothing in order to ski."
Abbie's Essential Packing Guide 
Here are some of Abbie's top tips on what to pack in your case (it reached -24 while we were there, but can get to -40!)
Good base layers – Decent ones can be expensive but they're worth every penny! We went for Merino wool tops and bottoms.
Mid layers – Cheap fleeces from outdoor shops will do.
Outer layers – Although most safari companies do provide you with snowsuits, if you're doing a snowmobile trip especially at night you'll probably want a big coat on underneath too, plus for use when you're not on the safari. We bought ski coats (mostly because we were going skiing, but they're designed to keep you warm) as well as ski trousers for warmth and to provide waterproofing for when it snowed.
Other things to pack – Socks and plenty of them! You'll want to wear 2 or 3 layers to keep your feet warm.
Also… Good quality hats, scarfs and gloves. With gloves, it's worth taking two pairs, one big water proof style pair, but then a smaller pair to go inside these that work with mobile phones so you can take pictures without exposing your hands to the cold.
Abbie's weather Tips for Rovaniemi:
November to February the sun is only up for a few hours a day and never really rises above the horizon, this is known as 'grey light' and is from around 11am to 2pm, however as there is so much snow that there is always a glow outside when near artificial light. Whereas July to August the sun never sets so you get the 'midnight sun'. It's worth taking an eye mask at all times of the year as this can really throw your sleeping pattern!
Inspired by Abbie's trip? Get in touch with us here to plan your honeymoon!