Top 5 reasons to honeymoon in Bora Bora
Bora Bora is the most favoured honeymoon destination for newlyweds, it's the perfect getaway after the stressful wedding planning. This stunning island in the French Polynesia is ringed by pristine white beaches, crystal clear blue lagoon waters and idyllic sunsets. A honeymoon to Bora Bora offers sublime luxury and a plethora of activities to enjoy with your loved one, which makes the journey all worth it. From staying in a luxurious overwater bungalow, feeding stingrays and sharks to enjoying a romantic dinner by the lagoon and indulging in a pampering spa experience with a view. We've gathered our top 5 reasons to honeymoon in the boundless beauty of Bora Bora to give you an unforgettable dream honeymoon of a lifetime…
1) Overwater bungalows
Staying in a luxurious overwater bungalow in Bora Bora on your honeymoon is a 'must'. The spectacular iconic over water bungalows are thatched huts on stilts overlooking the crystal clear lagoon with the striking green mountains in the backdrop. Each bungalow features a king size bed facing a floor to ceiling window, private sun deck with direct access to the lagoon, private plunge pool, see through glass coffee table to view the marine life and a stunning view of the Mount Otemanu in the background. You can see why Bora Bora is considered one of the most romantic places on earth. It sure is a once in a lifetime experience waking up in paradise to picture-perfect views of the blue lagoon with your loved one.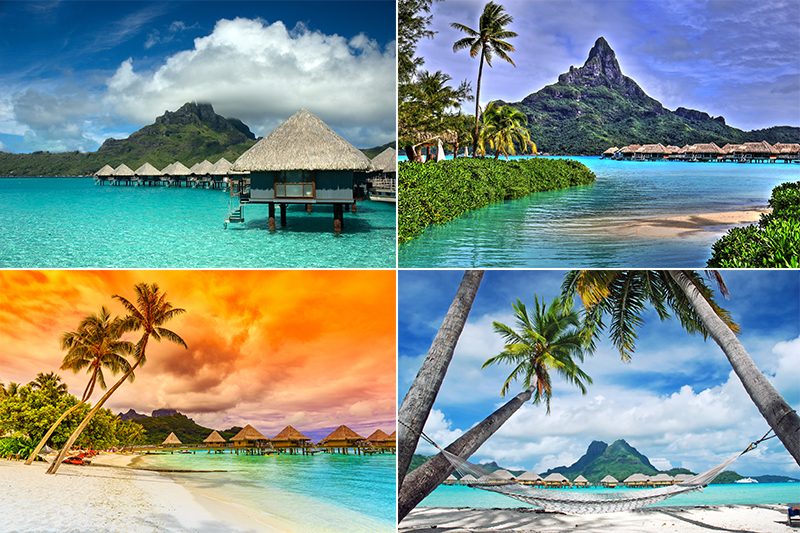 2) Stingray and shark feeding
If you're planning of going to Bora Bora on your honeymoon, be sure to snorkel in the clear aquamarine waters of the French Polynesia. You can swim with an abundance of tropical marine life including shoals of fish, large sting rays and black tip reef sharks. To make it a memorable trip, go the extra mile and feed the stingrays and sharks. Bora Bora has some of the largest manta rays, eagle rays and stingrays which are very friendly and will swim right up to you for a hug. There are various spots around Bora Bora, were you can experience feeding the sharks and stingrays with your hands while you are on a guided snorkelling tour. These can be booked through some of the top resorts or through a tour company for excursions.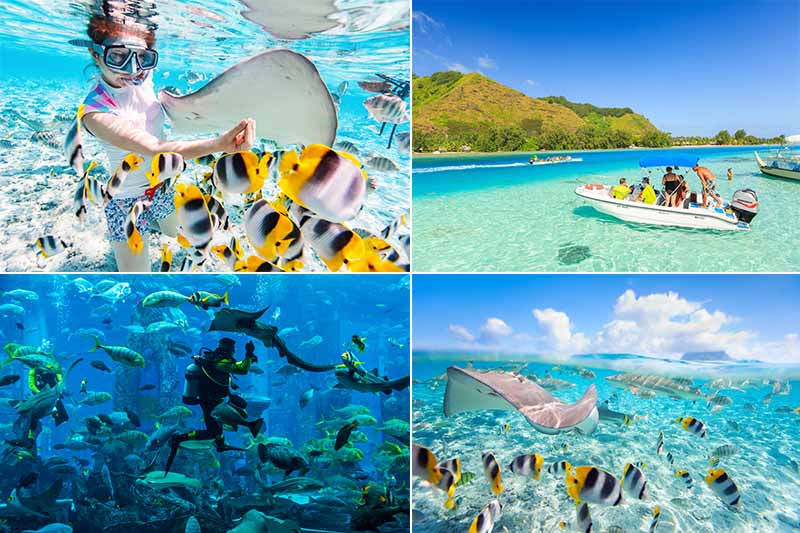 3)  Intimate dinner by the lagoon
Soak up the serene beauty of Bora Bora with a private romantic dinner for two by the lagoon. Most resorts like the Four Seasons and Conrad Bora Bora Nui offer guests dining by the lagoon and other locations like the beach, in the privacy of their own villa or at a small secluded spot of their choice. Enjoy great traditional Tahitian food and drinks served by your very own waiter whilst watching the sunset go down.  It's the perfect secluded picturesque setting to spend with your loved one when on your honeymoon.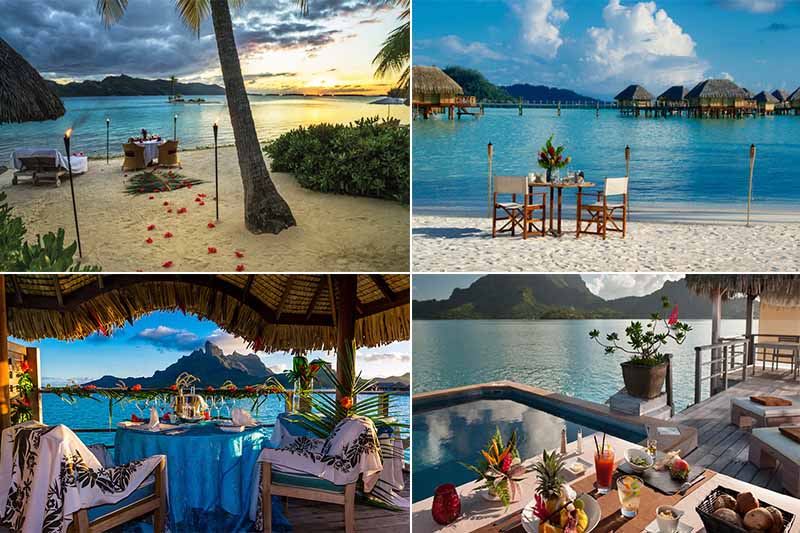 4) Couple spa massage at a Bora Bora Spa
For the ultimate couple spa experience, look no further than the Bora Bora resort spas. Your visit to a tranquil and serene spa in Bora Bora will be the most amazing experience of your life. They are designed to capture the beautiful exotic island and lagoon views whilst you indulge in the mesmerising pampering experience. Most resorts like the Intercontinental Bora Bora and Thalasso Spa resort provide the finest spa treatments using Bora Bora's island natural ingredients including vanilla, coconut, frangipani, palm leaves, ocean water, marine mud and seaweed. It's a haven of relaxation, as some resort spas have glass floors in the overwater bungalows, so you can enjoy watching the marine life during your spa treatment or like the Hilton set on top of a lush volcanic island which overlooks the Mount Otemanu.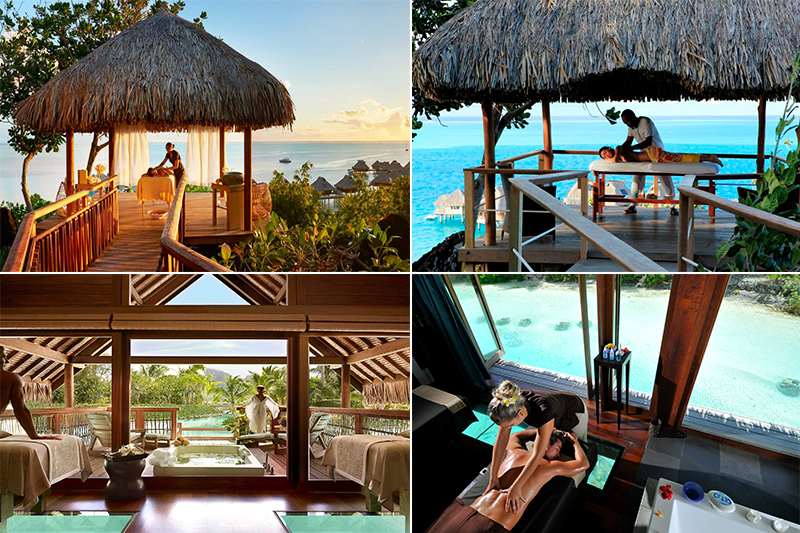 5)      Water sport activities
Bora Bora is one of the most stunning island destinations in the world, surrounded by its sparkling lagoon and white sandy beaches. There's nothing wrong just relaxing at the hotel or on the beach enjoying the great views with your loved one but if you looking for more of an action packed adventure, why not experience the wonderful selection of amazing water sports and off the island activities on offer. The activities include snorkelling, scuba diving, kayaking, paddle boarding, jet skiing, aqua safari, wakeboarding and paragliding. You can also explore the lagoon and visit a beach nearby by outrigger canoes, sail boats and catamarans too.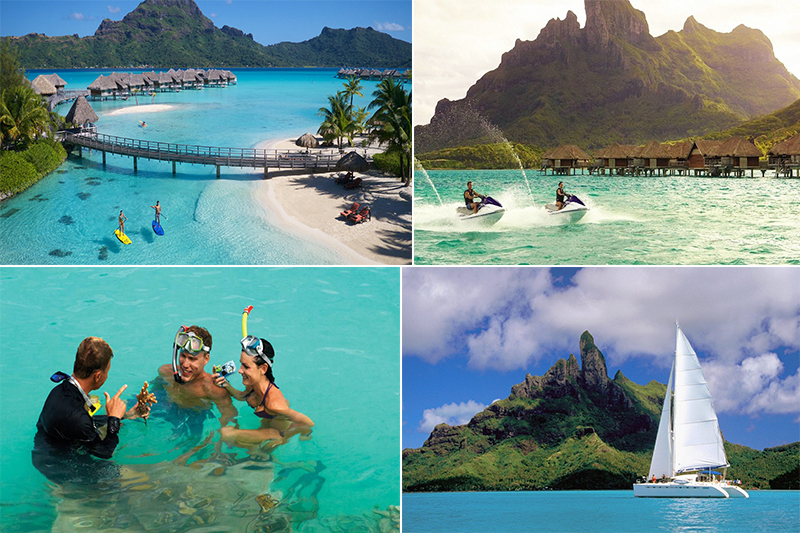 Other things to enjoy when in Bora Bora:
· Take a scenic helicopter ride over Bora Bora and catch the amazing sight of Mount Otemanu, the stunning Bora Bora island itself and a glimpse of the heart shaped Tupai islet (motu).
·  Take a romantic stroll along the popular Matira Beach in Bora Bora, ideal for catching the beautiful sunset over the glittering blue lagoon.
·  If feeling more adventurous, climb atop Mount Otemanu and capture the breath taking views of Bora Bora from the majestic mountain. Make sure to get your camera ready for a picture-perfect photo.  
·  Go on safari tour, take a jeep ride and enjoy an adventurous safari ride around the island. It's the perfect way to get around and capture the beauty of its landscape including emerald pools, religious temples and American World War II relics.
·  Arrange a romantic Bora Bora Photoshoot, to capture your precious and most wonderful time together in the perfect picturesque setting.
Book your perfect Bora Bora honeymoon, Call us on 0121 440 6268 to speak to one of our honeymoon specialists today