Abbie takes a visit to Chiang Mai with Qatar Airways
Our honeymoon specialist, Abbie, got the chance to head out to beautiful Chiang Mai in Thailand with Qatar Airways last month. She has shared her wonderful experience with us from the luxurious hotels she visited in Chiang Mai and Doha to the must-see attractions. Read on to discover what Abbie got up to in the cultural city of Chiang Mai and find out why it should be on the top of your honeymoon list….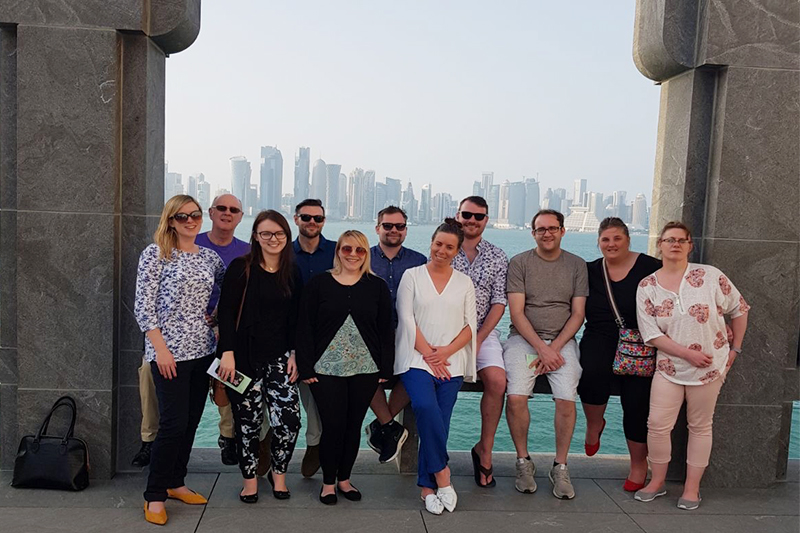 How did you find your upgraded flight with Qatar Airways, including the staff and the service? 
'We flew from Birmingham Airport and got to experience the No.1 Lounge before our flight. I would 100% recommend any travellers to purchase a lounge pass. You avoid the usual hustle and bustle of the airport, as well as having drinks and snacks included. What better way is there to kick off your honeymoon.
'I was lucky enough to be upgraded on our Qatar flights to Business Class throughout my whole trip. You're welcomed on board with a smile and shown to your seat. The seats are very spacious and you get lost in your own little bubble. The entertainment screen is very large with a huge choice of films (some only just out of the cinema) and you're provided with sound cancellation headphones. You are also provided with a proper duvet, big pillow and a lovely amenities kit for you to keep. If you're on an overnight flight, you are also provided with white company pyjamas. The seats have a lie flat feature, so rest assured you will get a great sleep while on board.'
'Once you are seated you are offered a drink straight away with choices including champagne. The cabin crew that will be looking after you also come to your seat, greet you by your name, introduce themselves and take your orders for food. Qatar business class has a 'dine on demand' concept, where you can order from the A La Carte menu and eat as much as you like at a time that suits you. At meal times, they set up your seat with a table cloth, china plates, cutlery and glass cups. The meals I had all tasted amazing.'
'The cabin crew were very attentive on all flights and couldn't do enough for you. I always doubted whether business class was worth the extra money, but after experiencing it for myself I can confirm it definitely is.'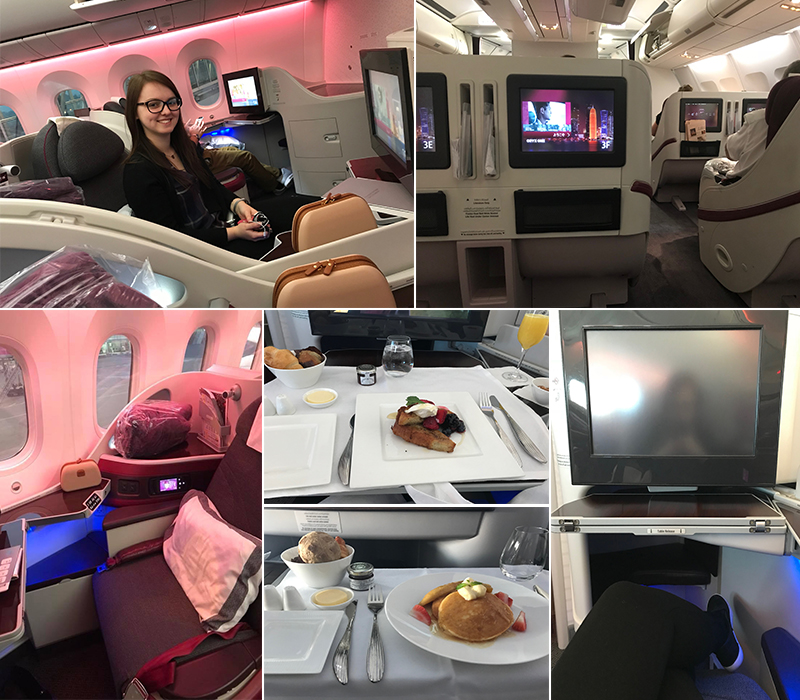 How was your time at Anantara Chiang Mai? 
'Arrival into Chiang Mai airport and boarder control was smooth and our private transfer was ready and waiting for us to tranport us to our very first hotel.'
'For our first two nights we stayed at the Anantara Chiang Mai. There are two buildings to this luxury hotel, the main resort which is very much geared up for honeymooners and couples, and the serviced suites where we stayed, which is apartment style rooms, perfect for families.'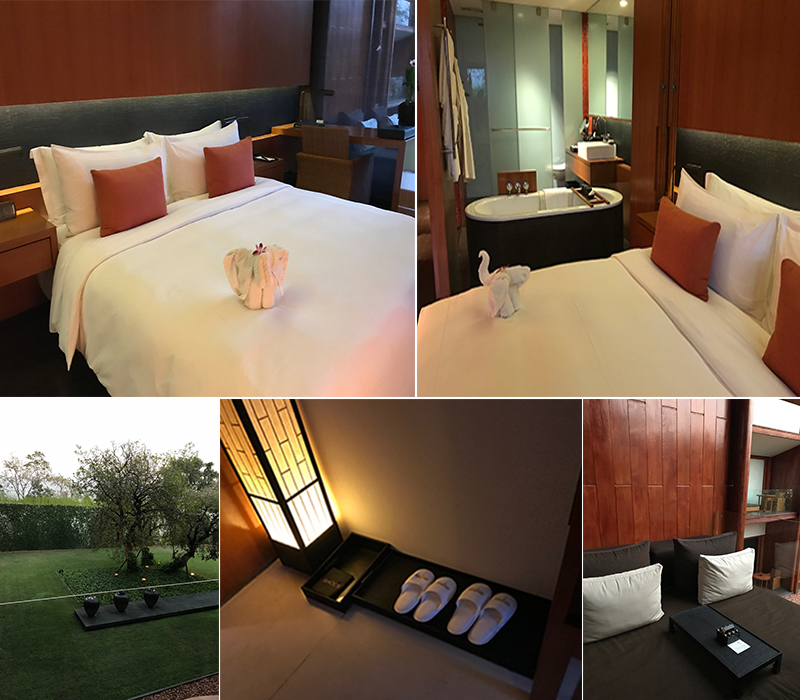 'The main resort has two types of rooms – the leading is the Deluxe room, with either a garden or river view. The rooms are very spacious, light and airy and they also have the Kasara suites – again garden or river views which are much larger. There is also the lovely touch of a turn down service every night.'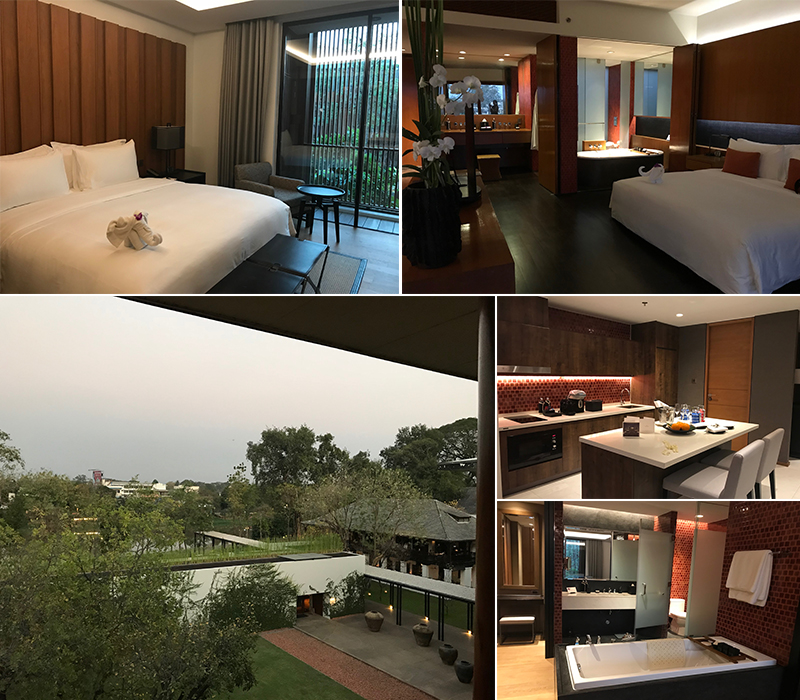 'The resort has two pools, a rooftop pool and bar above the Serviced suites, and the main pool by the riverside which is adults only. It also boasts a lovely spa with a huge number of treatments on offer.'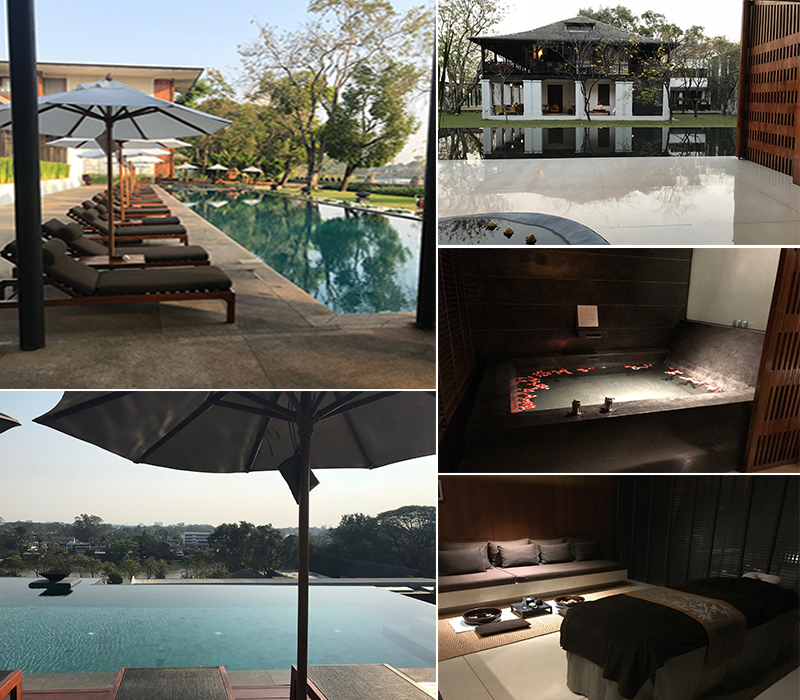 'The hotel used to be a British Consulate, so one unique feature is their specialist restaurant and bar – The Service 1921. It is themed around espionage and spy gadgets and even has a secret dining room accessed behind a bookshelf. This A La Carte restaurant serves lots of Thai favourites as well as Asian and Peruvian fusion dishes. The food was amazing, my favourite was the Beef Shank yellow curry. There is also a buffet restaurant which is open for breakfast lunch and dinner on the river bank. It's a lovely spot to have breakfast outside and watch the sun come up. There's a huge selection for breakfast including pancake and waffle stations, lots of British favourites and egg dishes are cooked fresh for you.'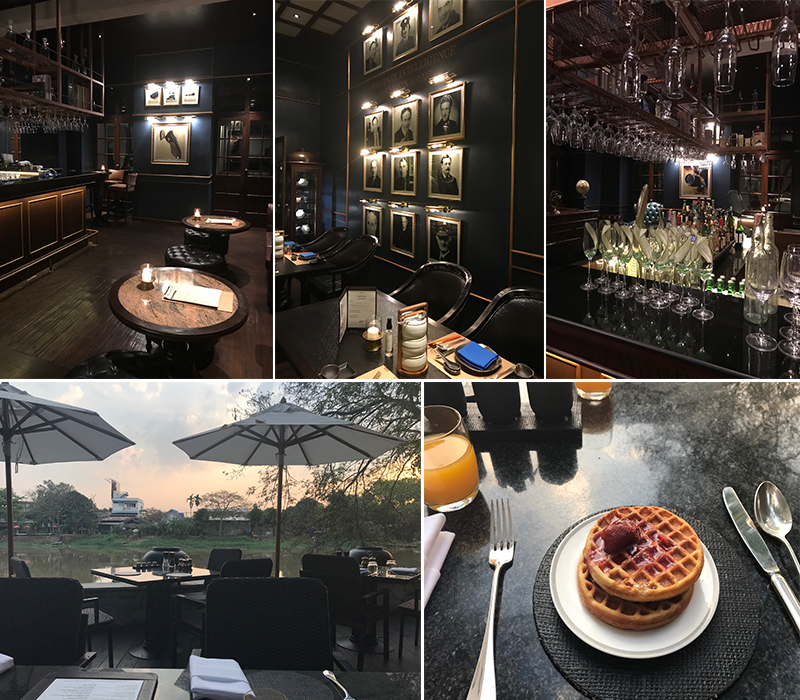 'This luxury hotel, although in a central location is very peaceful around the pool areas. You are only a 5 minute walk from the famous night market and around 15 – 20 minutes to the centre of Chiang Mai.'
Do you have any tips or recommendations for anyone who wants to stay at Anantara Chiang Mai? 
It's definitely worth upgrading to the Suites, extra benefits include: access to the Kasara Lounge, a choice of breakfast at the Kasara lounge or the restaurant, all day refreshments of non alcoholic drinks and evening cocktails with canapes.
How was your afternoon visit to the Chiang Mai Thai Cookery School?  
'On our first day in Chiang Mai we tried our hand at cooking classic Thai dishes. We visited the Thai Cookery school in Chiang Mai, which I thoroughly recommend. We cooked four dishes which tasted amazing including Hot and Sour Prawn soup, Thai Green curry, Pad Thai and Mango with sticky rice.'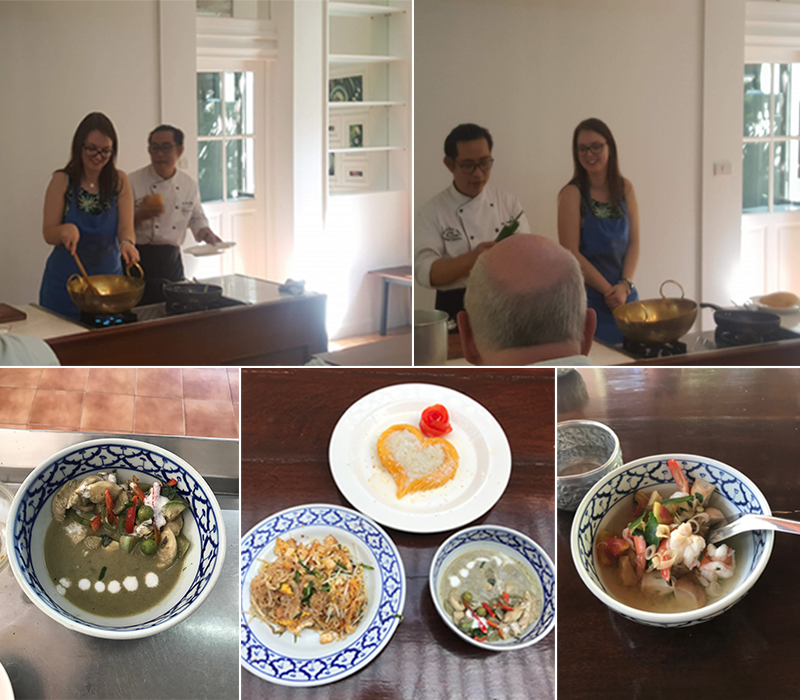 'The Thai cooking class is perfect for beginners and really immerses you in Thai culture. It is very interactive and the teacher gets everyone involved.'
What did you get up to in your leisure time whilst you stayed here?
'After our Thai cooking class we had an afternoon at leisure. We had a relaxing hour or so around the rooftop pool, then some of our group tried out a Thai massage and others went for a walk to see what shops and restaurants Chiang Mai had to offer. There's lots of choice to eat out from traditional Thai street food, through to western favourites such as a Hard Rock Cafe.'
 How was your half day tour at Wat Doi Suthep?
'On our second day in Chiang Mai we visited a local village and then went on to see the famous Wat Doi Suthep temple. It's around a 30 to 40 minute drive up a long winding road but you take in a lot of beautiful scenery en route. At the village we were introduced to the traditions of the local people and how they make their crafts that they then take to the night markets to sell. It was a fascinating morning and well worth doing if you're heading for the temple anyway.'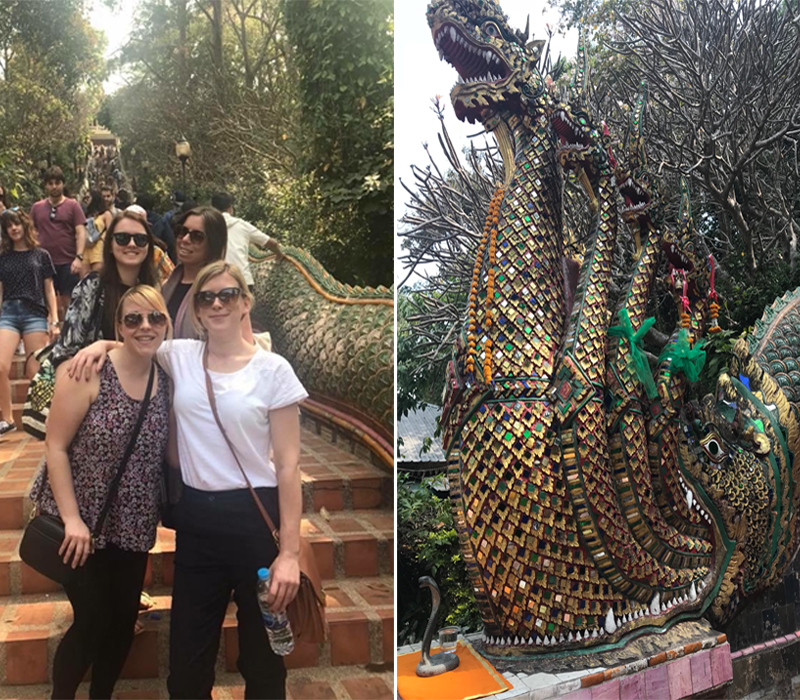 'We then arrived at the temple – It was built as a Buddhist monastery in 1383 and is still a working monastery today. It's a long climb to get to the temple, just over 300 steps (But there is a cable car you can pay for if you don't fancy the stairs). Upon reaching the top you are greeted with views of the huge golden spire which is in the centre of the temple complex. There's many statues and art works throughout the temple and it sure is beautiful to see. Outside the central area, you will find the shrine dedicated to the White Elephant and the story of how the temple was found. There is also a large viewing terrace which has amazing views over Chiang Mai (weather permitting). Back at the bottom of the stairs there's a few stalls selling snacks and local handicrafts.'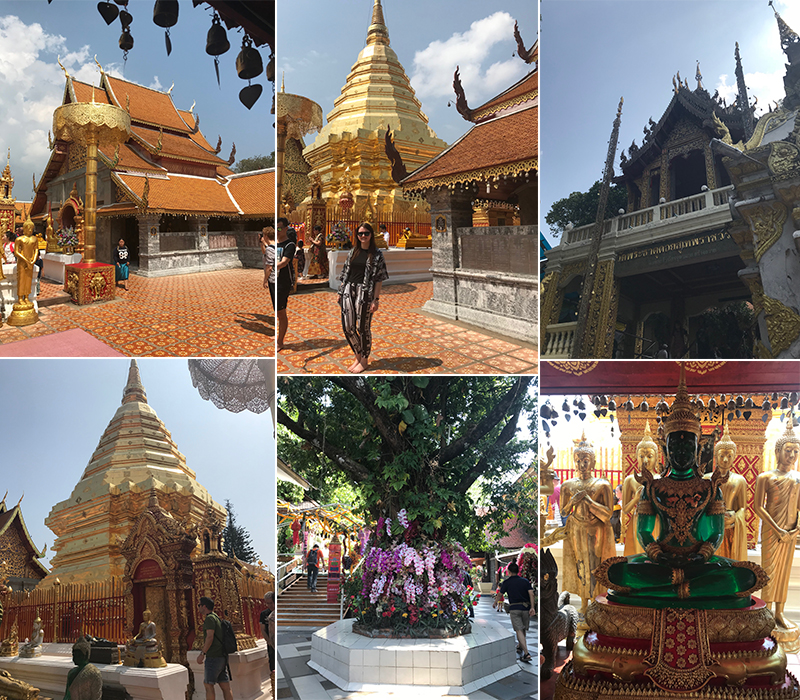 How was your evening at the Street Food Tour and Walking Street market?
'In the evening, we went on a walking street food and market tour around Chiang Mai. We headed first for China Town and wondered through the food stalls. We then walked around the flower market which is very beautiful and then onto the centre of Chiang Mai, where the main street food market is. There's plenty of choice here from traditional Pad Thai all the way through to crocodile and ostrich.'
'After this, we went to the famous night market to explore all the local crafts on offer. There's literally hundreds of stalls so you need at least an hour or so here to explore everything that is on offer. You can also barter to find yourself a bargain, I managed to get a magnet for 90p.'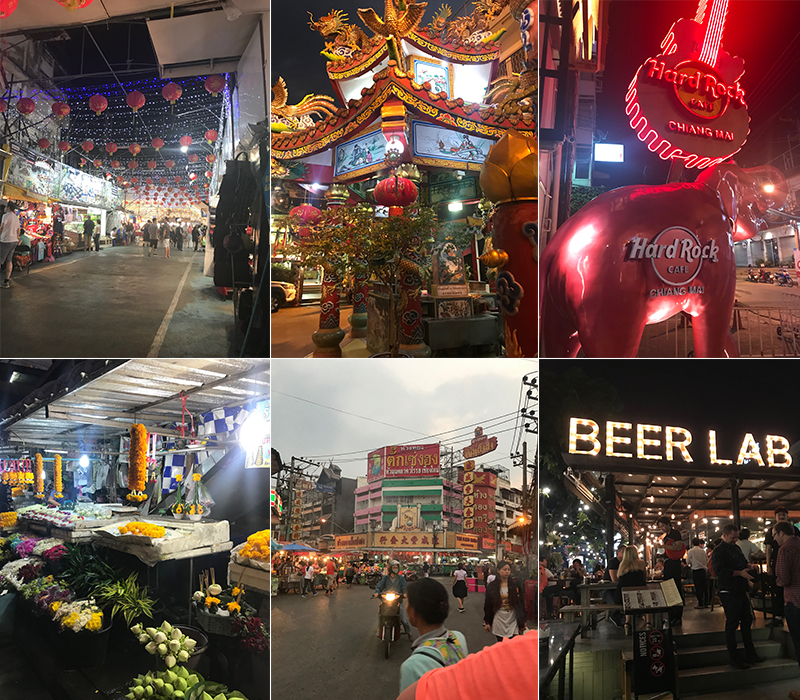 How was your full day tour visit to Elephant Day Care centre? 
'On our last day in Thailand, we visited the Thai Elephant Care Centre which was around 45 minutes away from the centre of Chiang Mai.
I was a little apprehensive having read stories of Elephants being mistreated at so called Elephant Camps, however when we arrived I could see there was nothing to be worried about.
As far as we could see there was no cruelty towards the Elephants and they are well looked after, each elephant has it's own carer that looks after it during the day.  All the elephants are retired and so are all 55+ in age, there was no riding the elephants whatsoever and no commercial elements such as photographers etc, the elephants are literally just there to be looked after.
When we arrived we were given clothes, shoes and hats to wear so we didn't get ours wrecked or muddy. If you do the full day programme like we did then water is provided all day as well as a delicious lunch.'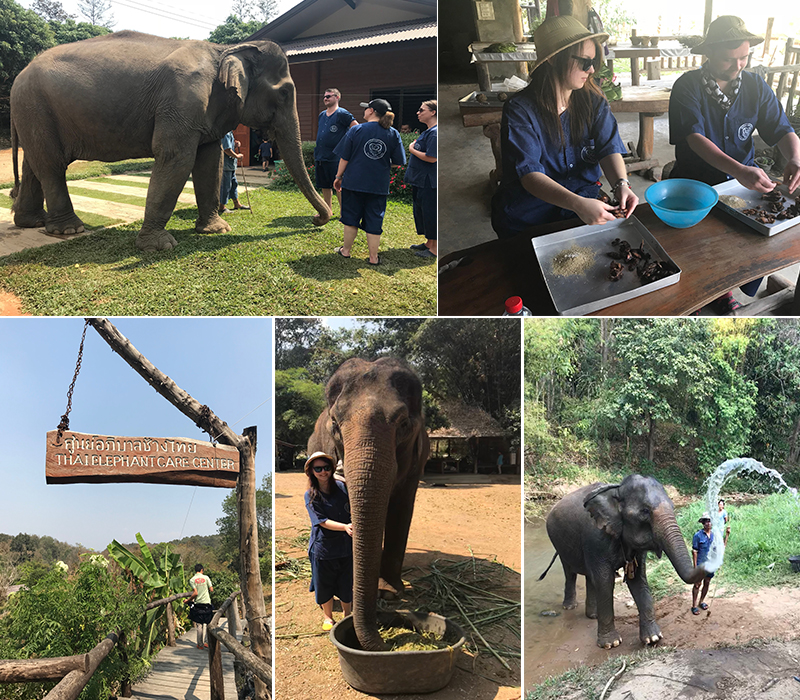 'During our day here we fed the elephants bananas, met the 'elephant doctor', made elephant snacks using herbal remedies to keep them healthy, shredded grass for them to eat, visited their research centre and washed the elephants. It was a great fun day and recommend it to any one who is a great animal lover.'
How was your stay at Kantary Hills? 
'Our last night was spent at Kantary Hills, which is located on the other side of Chiang Mai to the Anantara.'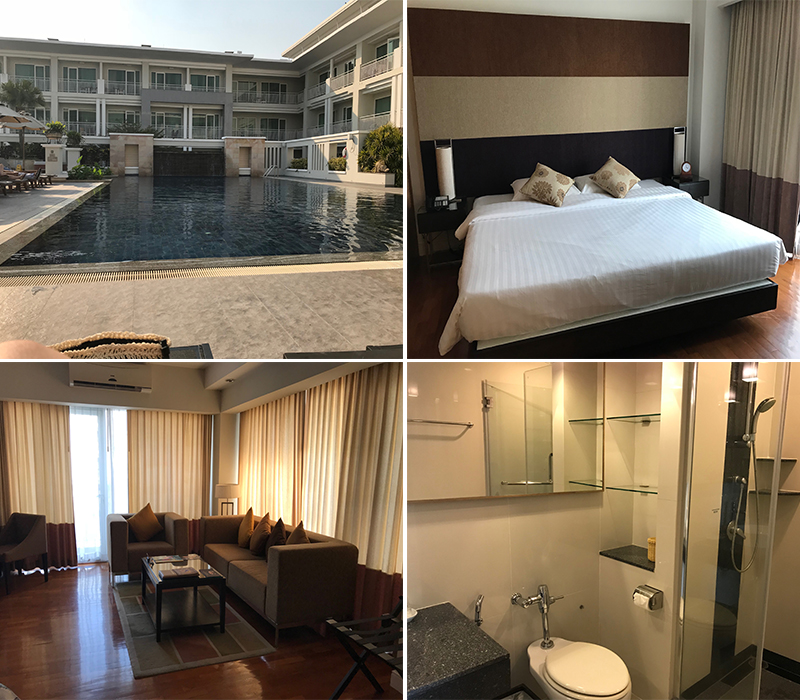 'The hotel is very close to many bars and restaurants and is around 10 to 15 minutes back into the centre of Chiang Mai. Although, it is very close to the airport, so there is plane noise throughout the day, however, there aren't hundreds of flights a day out of Chiang Mai airport though.'
'I stayed in the one bedroom suite, the room was very spacious with separate living area and bedroom. All the rooms also have kitchenettes so they'd be perfect for anyone who prefers to self cater. The hotel has a roof top pool which is lovely as well as jacuzzi's dotted around the pool.'
'For dinner, we ate at the hotels main restaurant, there was a huge salad buffet as well as a few hot dishes on offer.'
What was the Doha Airport like?
'We both transited and arrived/departed to Doha Airport. On the way out, we had around a 3 hour transit before our onward flight to Chiang Mai. The airport in Doha is huge, although lots of passengers pass through everyday it didn't seem overly busy.  If you do end up with a slightly longer transit then you probably won't get bored, there's a large duty free area, number of designer shops and even stalls just selling gold.
I probably wouldn't suggest a transit any less than around 1 hour 30 minutes, just so you can get between gates as if you arrive into one side of the terminal then need to get to the other, it can be up to 20 minutes between the two, and Qatar starts boarding an hour before the flight is due to take off.'
How was your time at the Sharq Village Resort & Spa in Doha? 
'Next morning we were up early to catch our flight back to Doha. On arrival, we were transferred to our hotel for the night – The Sharq Village Resort & Spa. The hotel is only around 10 minutes from the airport but there is no noise disturbance at the hotel.'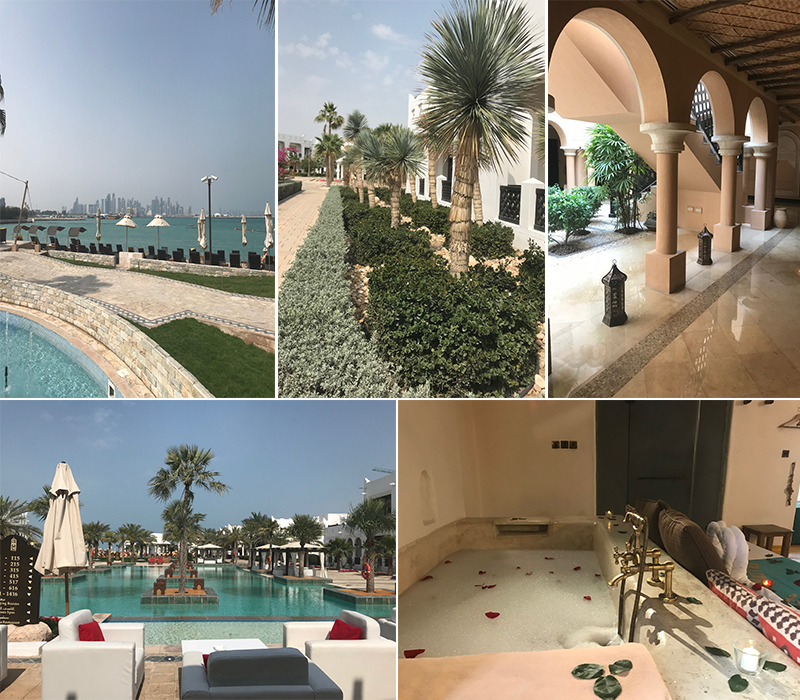 'The hotel is set in a large landscaped garden boasting two huge pools and a Six Senses Spa which includes 26 massive treatment rooms.'
'The rooms are spread through out the grounds in Villa style buildings, each containing around 15 rooms. I stayed in a Deluxe room with a Garden view, the room was very spacious with king beds and traditional Arabic décor throughout. The hotel also offers suites which are much larger with resort or sea views and we also had a chance to see the resorts Royal Villa which can sleep up to 25 people and has it's own indoor swimming pool.'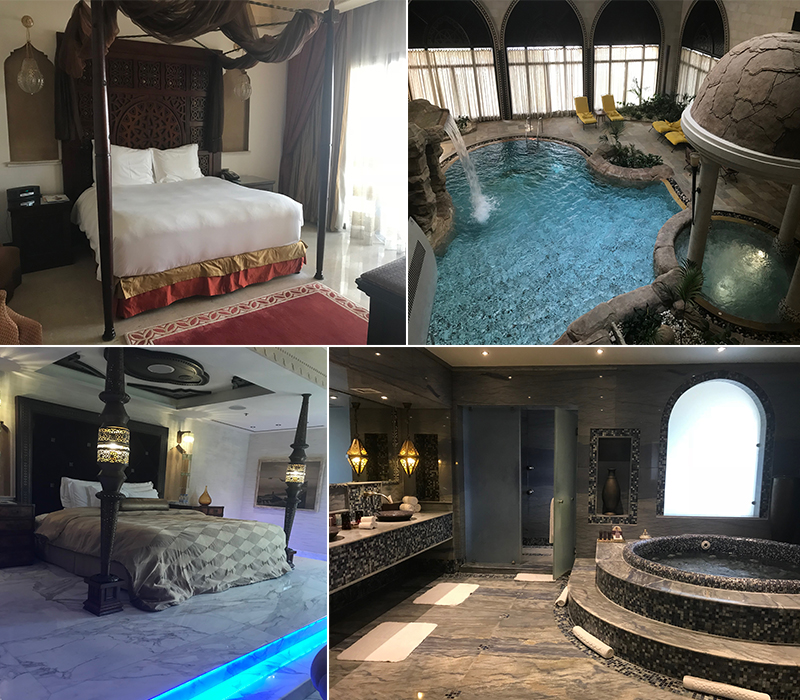 'We had lunch at the hotels all day dining restaurant, Al Liwan, which serves traditional Arabic Mezze, freshly grilled meats and fish and a large buffet selection.
The hotels private beach looks out over the city and is a great place to relax after a day of exploring Doha.'
What was your visit like to the Museum of Islamic art and the Souq Waqif? 
'During our time in Doha, we visited the Museum of Islamic art. The building has amazing architecture inside and out with lots of interesting permanent instalments as well as ever changing temporary exhibits. There's also an amazing balcony that looks out over the city and has fantastic views and is a  perfect edition to your holiday snaps.'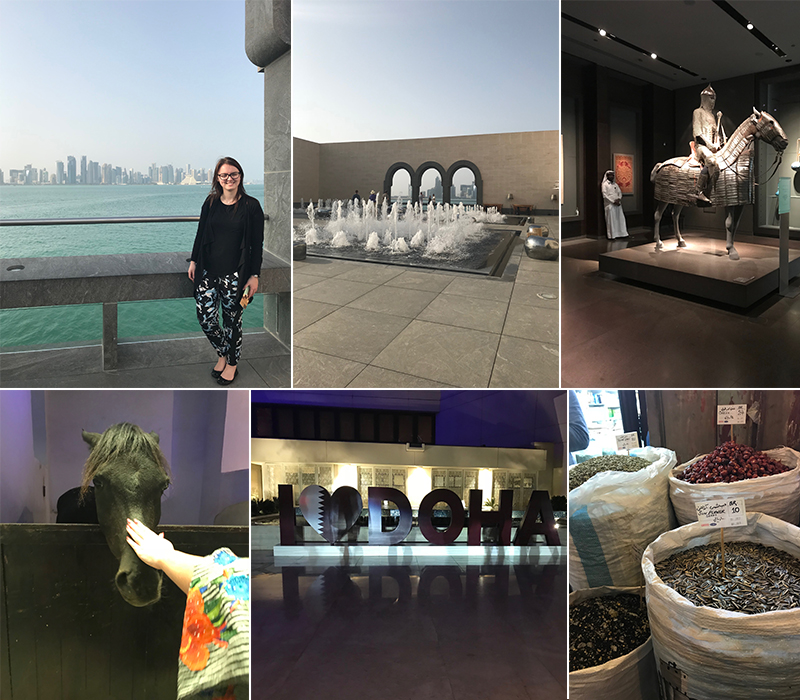 'Later that evening, we visited the Souq Waqif. It's a must-do experience for first time visitors to Qatar and is a great place to eat, grab a drink or just people watch. You don't get hassled by vendors like you do in some other countries. There is a lot to see from the spice market, souvenir shops all the way through to the Falconry shop and Falcon hospital. There is also a few boutique hotels located within the Souq itself if you want to stay somewhere a little different.'
What can you tell us about the site inspection and dinner at the Sheraton Grand Doha Resort & Convention Hotel?
'For dinner, we visited the Sheraton Grand Doha Resort & Convention Hotel. This is the first hotel ever built in Doha and so is the most famous.'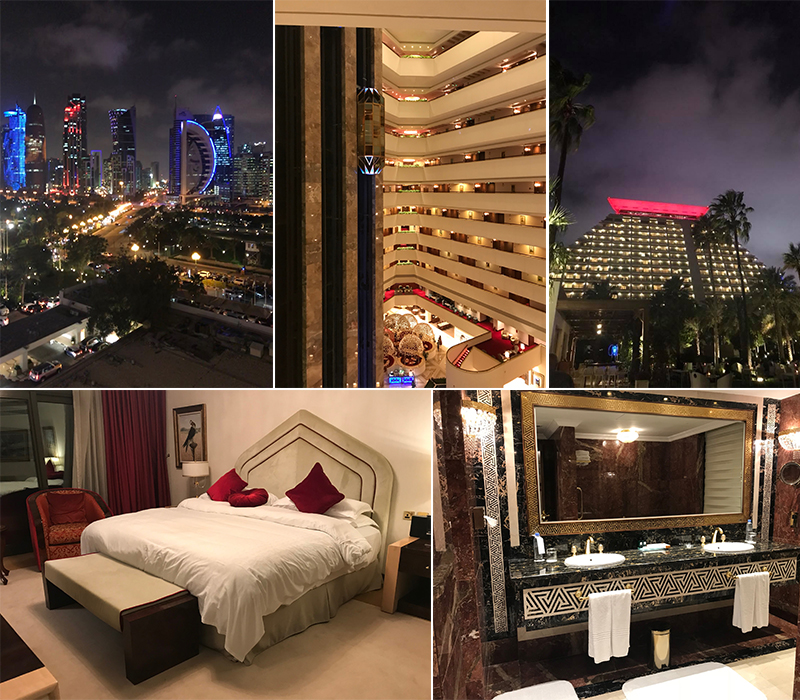 'When we visited it was the Seafood buffet night, there was literally hundreds of dishes to choose from and everything was delicious. The hotel also has a number of other dining outlets including a south American steak house and Irish bar.'
'The hotel has over 10 different room types, and in each category they differ slightly due to the pyramid shape of the hotel. Each room is decorated in a very classic style, so may not be suitable for those looking for a more modern hotel.
It's located in the city opposite a shopping mall, so is perfect for those who would like to get out and about and also has it's own private beach.'
Overall, how was your experience to Chiang mai and Doha? Any tips and recommendations for honeymooners? 
'Overall, I had an amazing time in both Chiang Mai and Doha. I think Chiang Mai is a perfect honeymoon destination for a once-in-a-lifetime experience. It is also a great combination with the beach areas of Thailand as there is five direct flights to Phuket every day and one to Koh Samui. It's also a great alternative to Bangkok if you've visited Thailand before and looking for something different.'
'Doha is also a great stopover on your way to your final destination if you wish to break up your flights with a few days on the beach, some retail therapy and to learn and explore new cultures.'
If you are planning your Chiang Mai honeymoon, contact one of our Honeymoon Specialists on 0121 440 6268 or email us on quote@honeymoondreams.co.uk