Tour Overview
Peer into the past during a full-day tour to the Dambulla Cave Temples and Sigiriya Rock Fortress. You'll travel in comfort among the air-conditioned interiors of a private vehicle, with a dedicated guide on hand to impart insider knowledge about these two ancient sites.
Sigiriya – or Lion Rock as it is sometimes referred to as – is an ancient structure that rises magnificently up into the sky from Sri Lanka's central plains. Standing at around 200 metres tall, this dramatic rocky complex is thought to have been built in the 5th century for King Kashyapa. The place initially served as an elaborate royal palace, featuring extensive royal gardens and even a decadent bathing pool! It was the capital of Kashyapa's empire, later becoming a Buddhist monastery after the king's death, and then finally evolving into a globally-renowned cultural attraction. Today, Sigiriya is UNESCO's 8th wonder of the world and a true archeological wonder that practically begs to be explored.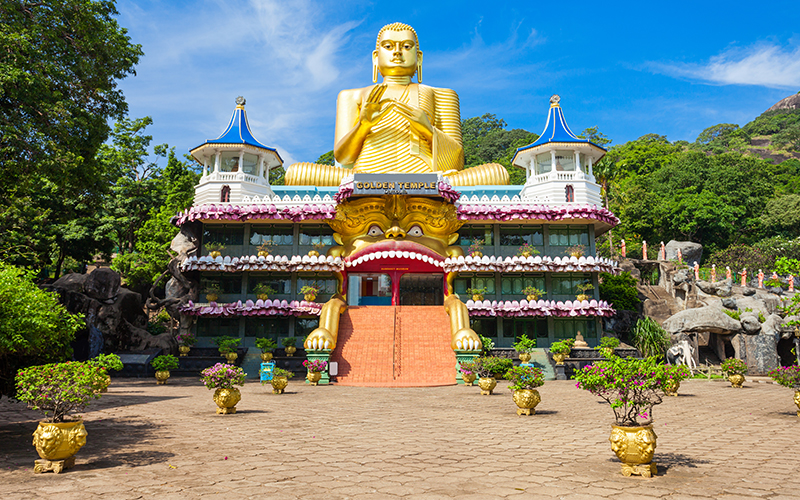 Further Information
Enjoy some free time to discover Sigiriya's delights at your own pace before moving on to the remarkable Dambulla Cave Temples (just half an hour's drive away). This 2000-year-old cave complex is a mind-blowingly intricate Buddhist temple brimming with breathtaking artworks and magnificent golden Buddha statues. Also a UNESCO World Heritage Site, this is a place where your guide will come into their own with fascinating facts and insightful information about the five different caves that make up this gilded complex. Contact us for more information.
Back to Sri Lanka