Top 4 wellness and spa resorts to stay in Bali on your honeymoon
Relax and leave all your stresses behind after the wedding and enjoy your honeymoon of a lifetime. Where better to do that then the spa and wellness capital, Bali, the world' most idyllic destination for newlyweds to rejuvenate and unwind. The island of the Gods is a place of natural beauty and tropical landscapes, where you will find stunning beaches, old temples, rice paddies and ancient culture and traditions. No trip to Bali is complete without indulging in a spa treatment at one of the many resorts or boosting your wellness further with a vast array of fitness activities including yoga, meditation or trekking. Here's our top 4 wellness and spa resorts in Bali that you should consider if you are looking for a healthy and revitalising honeymoon for you and your loved one…
Como Shambhala Estate
Nestled amongst lush tropical surroundings, swaying palm trees and the Sacred Ayung River in Ubud, Bali lies the leading wellness retreat, COMO Shambhala Estate. This is the perfect paradise for honeymooners, couples and guests with the ultimate goal of total rejuvenation of mind, body and spirit.
Focused on a holistic 360 degree approach to wellness, you and your loved one can take full advantage of the fantastic spa and health facilities provided. From indoor and outdoor gyms, hydrotherapy pools to yoga and pilates and even 60 minutes massage treatments. You will be sure to be well looked after during your intimate stay at Como Shambhala estate with an array of trained staff such as dedicated Ayurvedic Doctors, certified yoga and pilates teachers and personal instructors and nutritionists.
This resort takes pride in offering bespoke tailor-made programmes for you and your loved one, leaving you feeling soothed and revitalised. Select from a number of wellness programs to suit your specific needs. It's the ideal way to spend some quality relaxation time and indulge in an exotic Asian-inspired spa treatment in the tranquil environment of the hidden water garden. Experience The Source, a natural spring located by the sacred Ayung river, it is known for its healing benefits. If you enjoy being more adventurous, there is plenty of activities to do such as hiking, climbing, cycling, rafting and other outdoor activities. It truly is an unforgettable wellness experience in this secluded Bali resort.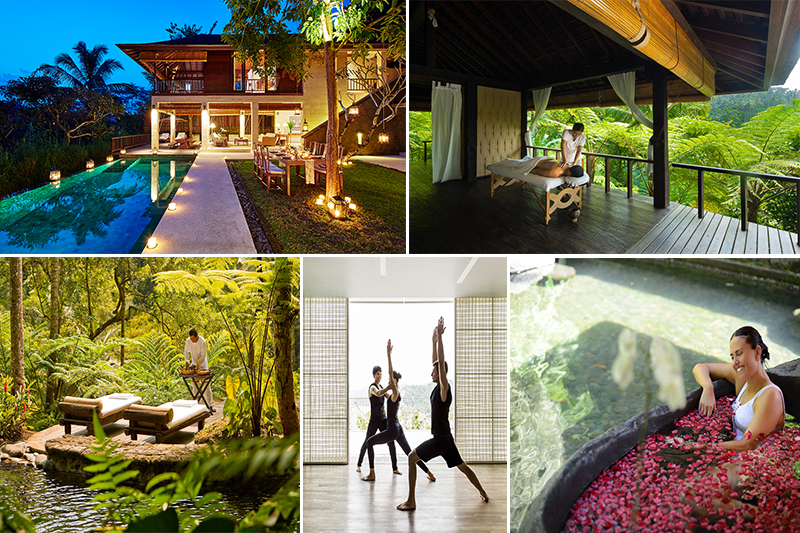 Spa Village Resort Tembok, Bali
It's all about peace and wellbeing at this intimate adults only resort in Bali, the Spa Village Resort Tembok. Leave your worries behind and relax your mind, body and soul at the tropical paradise of Bali, the perfect setting for a relaxing honeymoon for you and your loved one. With the focus being on health and wellness, the resort advocates a mobile phone free and smoke free environment in the public areas and no televisions in the guest rooms.
Your stay at Spa Village Resort Tembok includes a 50 minute spa treatment daily featuring a relaxing foot scrub using the regions famous black sands. The spa therapists use only natural ingredients and local healing treatments inspired by Bali's local culture. As well as access to the daily fitness activity programme such as yoga and an array of island tours to tailor your needs.
Their menu boasts a number of options, for a more romantic spa experience embark on a massage under the stars, where you can enjoy a candlelit massage at the ocean's edge. Or for an aromatic experience, opt for the 'chocolate and coffee indulgence' treatment with a coffee and cacao bean body scrub.
With its soothing treatments, fresh Balinese and international cuisine, quiet ambiance and beautiful beachside location, it's the ideal intimate escape for all newlyweds and couples.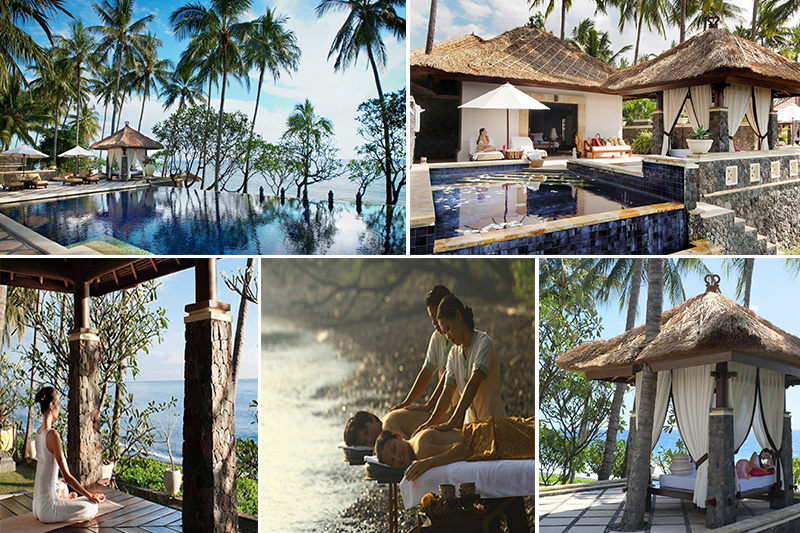 Four Seasons Resort Bali at Sayan, Ubud
With its world class yoga and spa programmes, healthy cuisine, numerous areas for relaxation and outdoor activities, the lush hidden sanctuary, Four Seasons Resort Bali at Sayan has everything a wellness and health conscious honeymooner or guest could ask for. Located amongst lush jungle greenery in the Ayung river valley, hear nothing but the sound of your mind unwinding in the calm and tranquil oasis.
Revitalise your body and restore your inner subtle energies by heading to the beautiful lotus petal shaped outdoor yoga pavilion known as the Dharma Shanti Yoga Bale. The resort offers daily yoga and meditation classes taught by visiting experts perfect for the mind, body and spirit. Then indulge in a pampering spa experience, by trying the Swadhisthana Chakra Ceremony in the Scared River Spa. It is a 120 minute couple's treatment taking place in a gorgeous pavilion with a private plunge pool. Revive your senses with a foot cleansing ritual followed by a Himalayan salt scrub washed off with a Vichy shower. Afterwards soak in a scented bath and receive a full body massage.
No day will be the same, you can even lounge beside the two level riverside swimming pool or work out in the fitness centre. If you're feeling adventurous take a vigorous walk or try cycling through the surrounding hillsides, rice paddies and nearby village.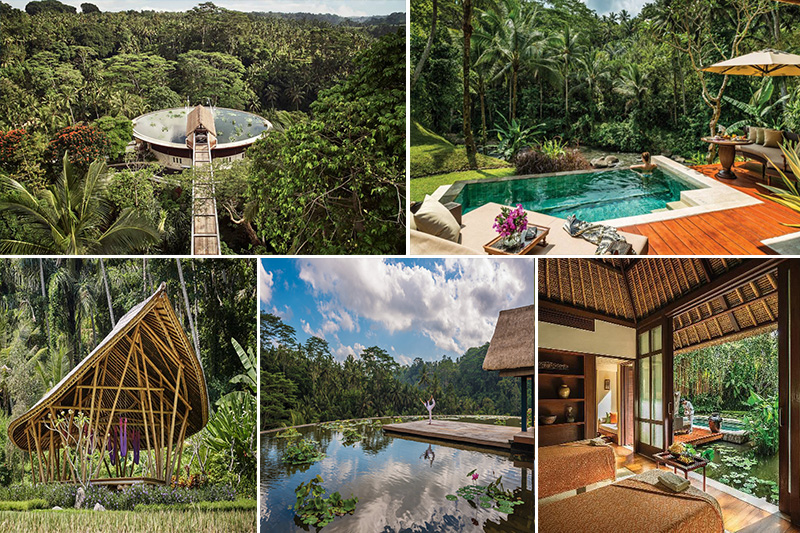 Blue Karma resort, Ubud, Bali
Cleanse your body and mind at Blue Karma resort in Ubud, Bali set in the middle of rice paddies and lush green landscapes. It's aimed to give you a complete and relaxing experience perfect for newlyweds wanting to de-stress after their wedding. It boasts a 25 metre pool, the pagoda 'Karma Yoga' gazebos with their thatched roofs and many other resting areas.
Honeymooners or couples can take advantage of the speciality wellness and yoga packages available, undergoing a complete body detox making you feel fit, healthy and relaxed during your stay. The 4 day detox and wellness retreat includes specially brewed medicinal juices, raw food daily and a daily Colonic Treatments to ensure you enjoy a deep yet enjoyable cleanse.
Throughout your honeymoon stay, indulge in a relaxing spa pampering treatment at the Blue Spa, with treatments such as traditional Balinese massages, aromatherapy and other beauty services or even yoga and meditation to relax your senses.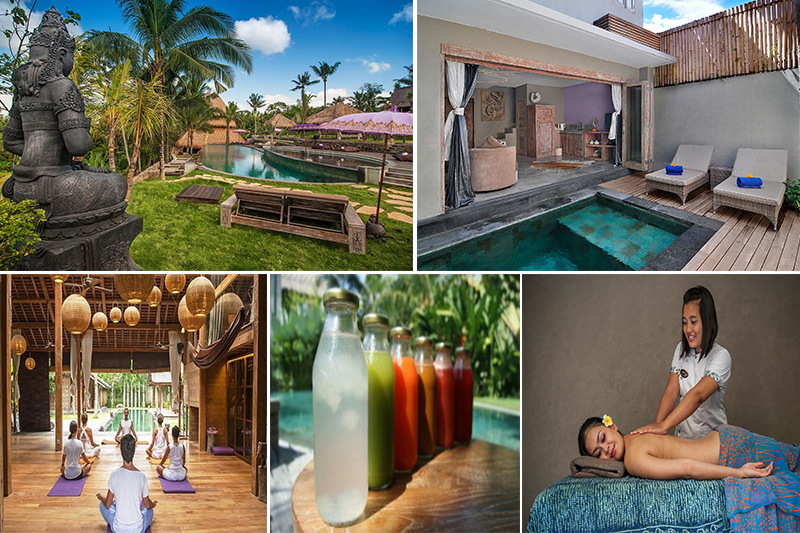 Well, these spa and wellness resorts in Bali have definitely left us feeling a little bit more relaxed. Start planning your wellness inspired honeymoon in Bali today, contact us on 0121 440 6268.