10 reasons to minimoon in Santorini
Are you thinking of taking a minimoon instead of a full-blown honeymoon? Minimoons are becoming increasingly popular among newlyweds; it gives you a chance to enjoy a little break after your wedding without the big budget. Plus, more and more newlyweds are having their honeymoon the year after in which to save for an unforgettable honeymoon. So, if this is what you're looking for, we've got 10 reasons why we think Santorini is possibly one of the best destinations to enjoy your minimoon.
1.Santorini's Magical Sunsets
Santorini is renowned for its notable sunsets, which sets the scene for romance on your honeymoon. Each evening you can enjoy a glass of fizz whilst overlooking the beautiful panoramic ocean where you'll witness the natural beauty of the sundown.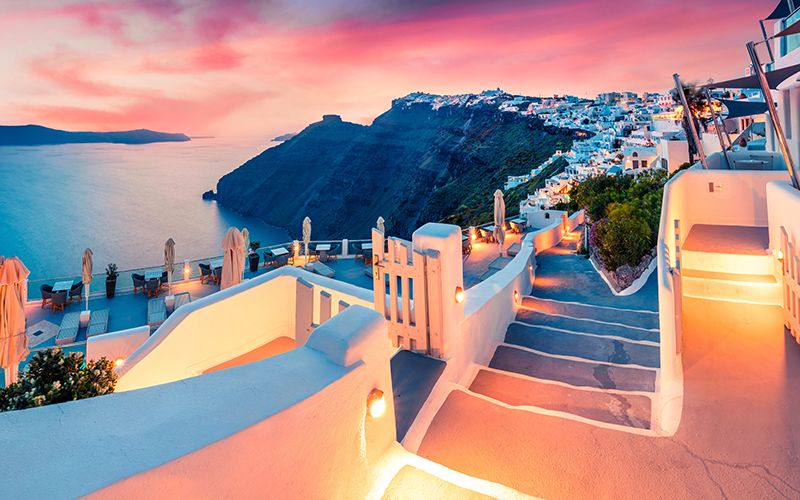 2.Delicious Greek Dining
Tuck into delicious Greek cuisines in Santorini at the many shacks; grill houses and fine dining restaurants with a view. The best way to dine in Santorini is by a candlelit dinner beneath the stars with the stunning ocean and neighbouring islands serving as your dreamy backdrop. If you want a more intimate dining experience, you can always order room service and dine on your private terrace.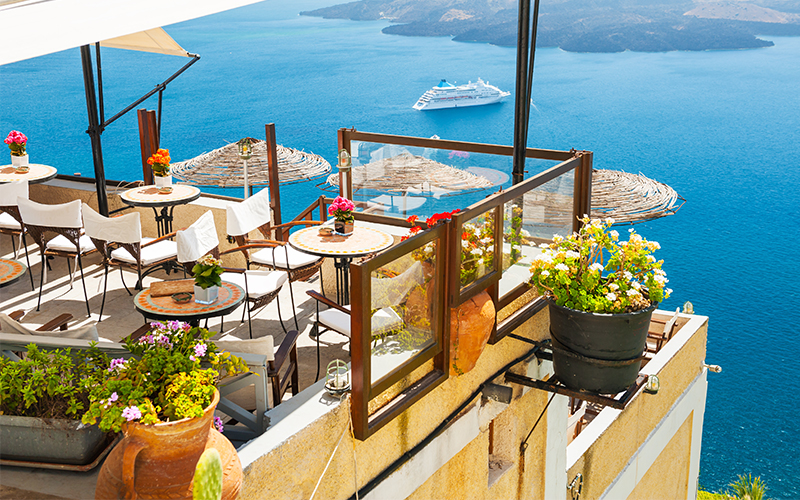 3.Stunning Pool Villas
If there's one thing that sets Santorini apart (as well as its stunning sunsets) it's the unbelievably serene collection of pool villa accommodations. Nestled on the edge of the volcanic island, Santorini's pool villa resorts offer the most staggering vistas, which is why honeymooners love to spend their minimoon here. Choose from ultra modern hideaways and traditional Greek caves that have been transformed into intimate sanctuaries.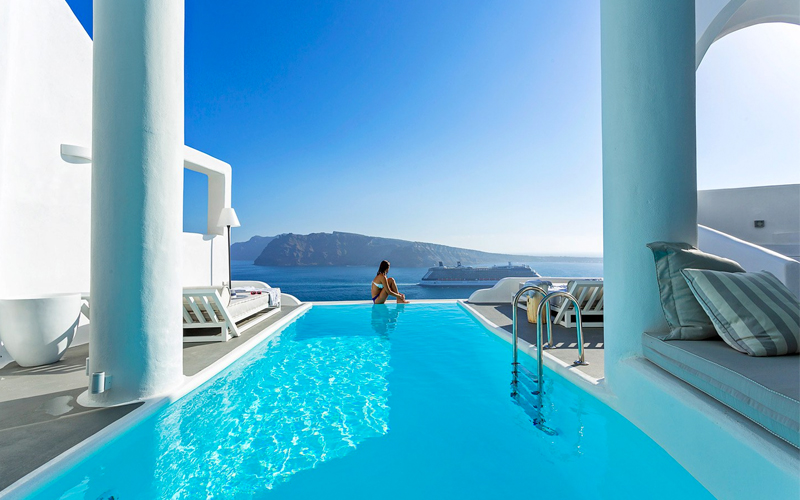 4.Beautiful Honeymoon Photos
Take home a slice of Santorini's beauty by making sure you snap up plenty of photos to remember just how incredible your minimoon in Santorini was. There are so many renowned and beautiful photography spots in Santorini including the Blue Domes of Oia, Oia Castle, the Three Bells of Fira and during sunset over rooftops at the Cross.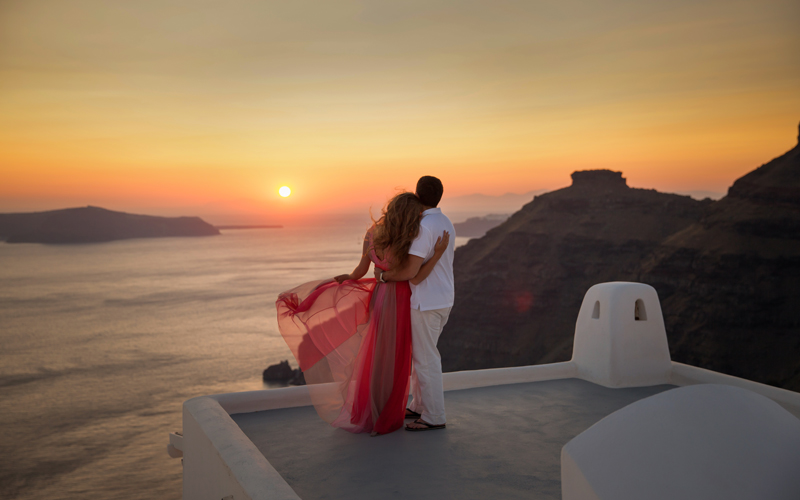 5.The Views
It could be said that finding an incredible view in Santorini can be seen at every turn. Whether it's on your private pool terrace, walking the streets of Oia or strolling on the volcanic beaches, there's always a view to relish in.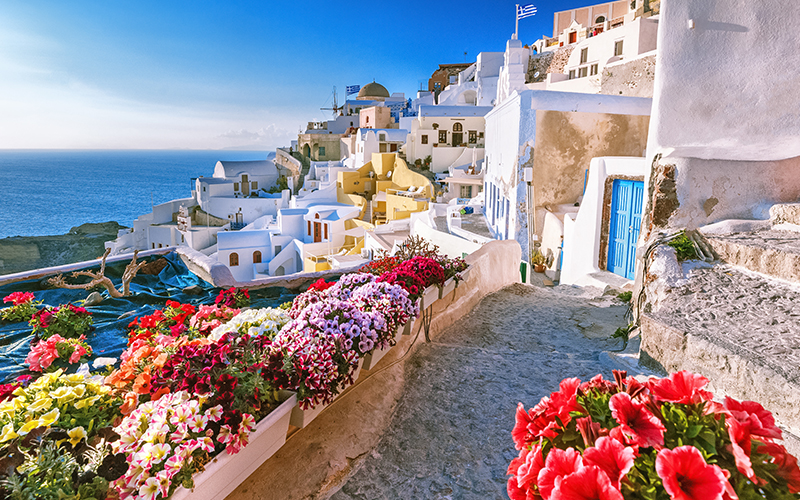 6.Boutique Shopping
Matched by its luxurious resorts, Santorini continues that experience through its splendid selection of boutique shops and galleries. Spend your afternoon trailing the high-end shops and market stalls by treating yourself to Greek inspired jewellery, silk scarfs, leather handbags and shoes.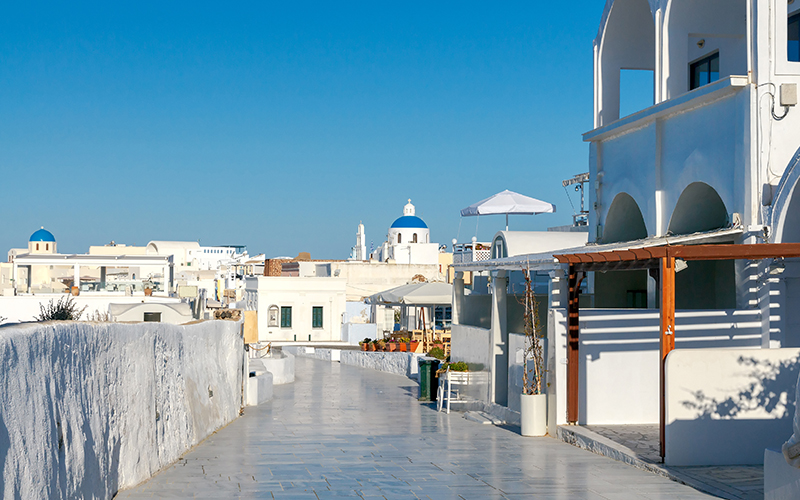 7.Gorgeous Beaches
There's no place like Santorini when it comes to the beaches, you've got choices of visiting red, black and golden beaches.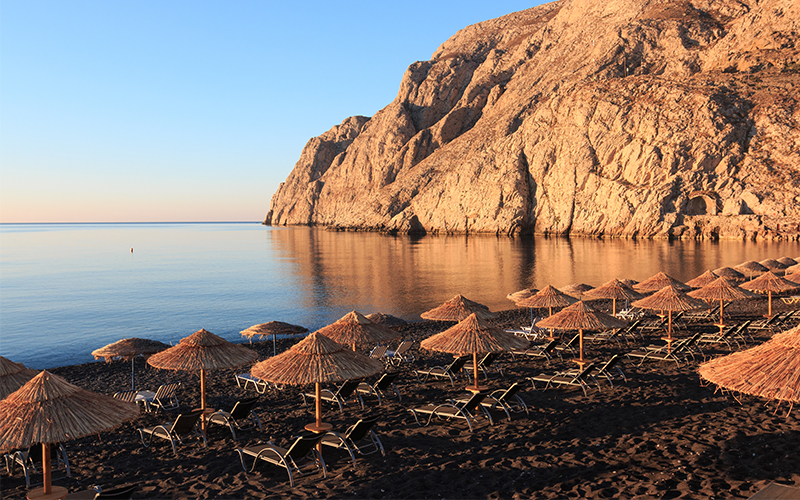 8.Amazing Activities
If you're an adventurous couple but still love the thrill of adventure, Santorini can certainly provide both. From gorgeous beaches for topping up your tan to hiking trails that reveal magnificent views and adventurous water sports including hover boarding, diving and snorkeling. For romantic adventures why not book a sunset dinner cruise around the stunning islands and caldera.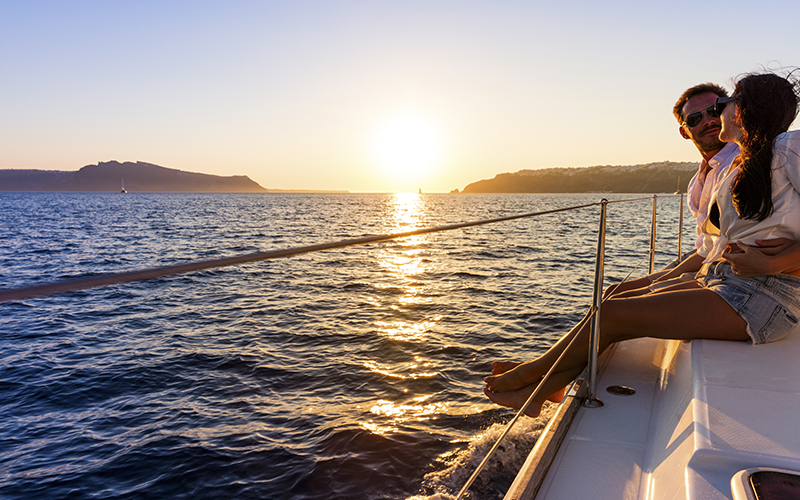 9.Pocket-Friendly Paradise
Santorini is the ideal minimoon destination, which gives you a slice of paradise. If you're looking to keep within a budget, but still want to experience serenity, a minimoon to Santorini is the destination for you. Prices vary from different levels of luxury; speak to our honeymoon specialists today about our Santorini honeymoon packages.
10.Little Rainfall, A Lot Of Sunshine
The hottest months to visit Santorini is between July and August, but this can also be the most crowded time to go. If you want to beat the crowds, consider spending your Santorini minimoon from early September to October.
Inspired by our top 10 reasons to minimoon in Santorini? Contact us today for a quote.