Romantic destinations in South America
South America is a destination behold. It has an incredible diversity, from sun kissed beaches to captivating culture and awe-inspiring attractions. South America really does have it all, whether you're looking for adrenaline-filled adventure, sightseeing spectaculars or a blend of both with some gorgeous beaches in between! So, if you're thinking of exploring this intriguing destination give our quick guide on the romantic destinations in South America a read for some honeymoon inspiration.
Mendoza
Where? Argentina
Mendoza showcases some of its best sceneries through its wineries, which happen to create world-famous malbecs and vino patero. Taste your way through delicious wines on a wine tour, which not only offer a fun date idea but you will see some magnificent vistas of the Andes, which is the longest mountain ranges in the world that pass through Colombia, Ecuador, Peru, Bolivia, Argentina and Chile!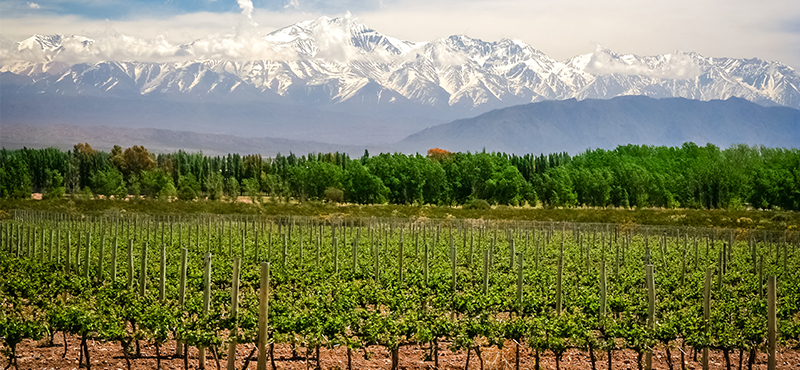 Angra dos Reis
Where? South coast of Rio de Janeiro
Brazil homes its own slice of paradise with 365 idyllic islands – one for each day of the year! The Angra dos Reis are a municipality in Brazil in the southwest of Rio de Janeiro. Ilha Grande, also known as 'Big Island' is one island worth exploring for a slice of paradise, from its palm fringe beaches, lush thick jungles and Blue Lagoon ideal for snorkeling. If you're feeling adventurous, why not hike to the popular Parrot Peak (aptly named for its shape) – here you will set your sights on some of the most awe-inspiring 360 degree views of the island.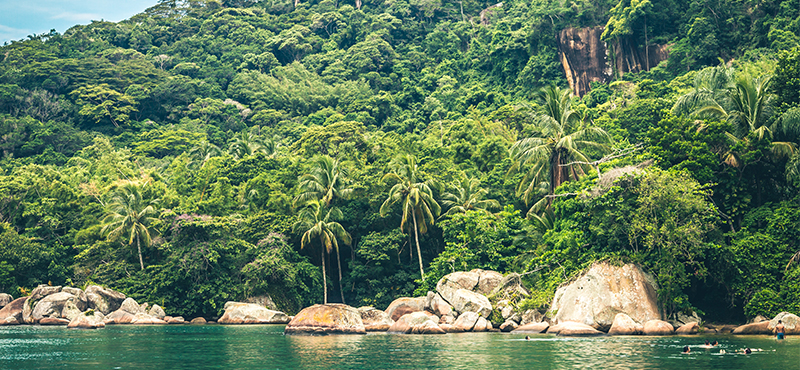 Sacred Valley
Where? Peru
A honeymoon to Peru wouldn't be complete without witnessing the breathtaking Sacred Valley and Machu Picchu. Dramatic sceneries of nature flood the sacred Valley from snow-capped mountains, picturesque meadows, azure blue lakes and rugged landscapes. Discover the wonders of the Sacred Valley together on your honeymoon where you can explore the incredible sights including the renowned Machu Picchu and Inca Trail.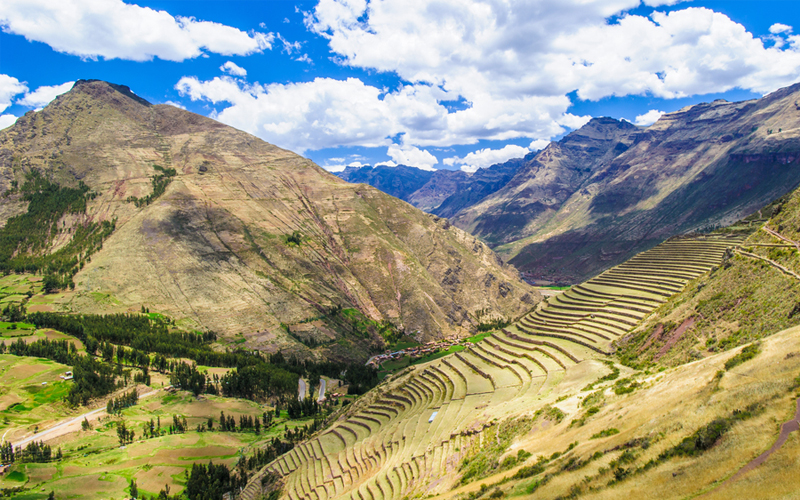 Galapagos Islands
The Galapagos islands are a volcanic peninsula known for its wide variety of wild life that inhabit the islands due to the remoteness of the islands. Exploring the Galapagos by cruise is the surest way of seeing an abundance of wildlife encounters such as sea lions, whales, bats, tortoise, iguanas, geckos, lizards and snakes.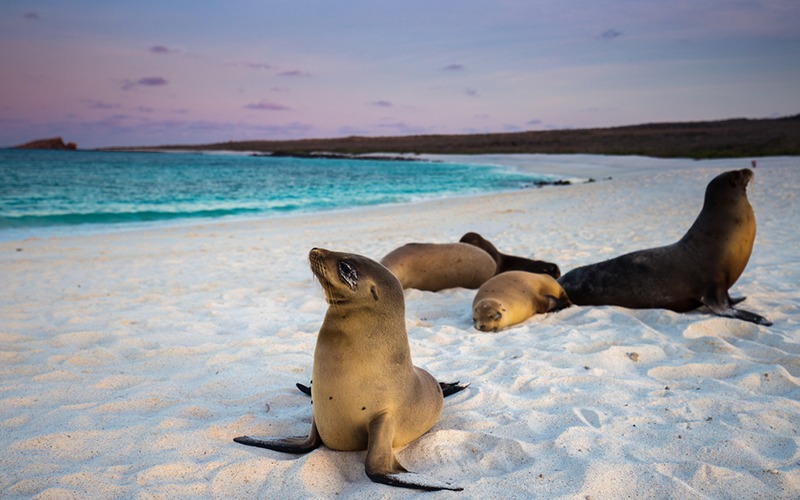 Tatacoa Desert
Where? Colombia
The stunning Tatacoa Desert is the second largest desert in Colombia where the diverse colours of the earth collide. From the red hues of the Cuzco area to the grey and white colours that can be seen in Ios Hoyos and the verdant tones that etch their way through the plains from the cactus plants. Surrounded by the rugged scenery, Estadero Los Hoyos, a public pool is the perfect place to take a dip where you'll surround the desert for a slice of tranquility. For a really romantic moment, why not stay overnight to see the spectacular stars in the stargazing telescope observatory.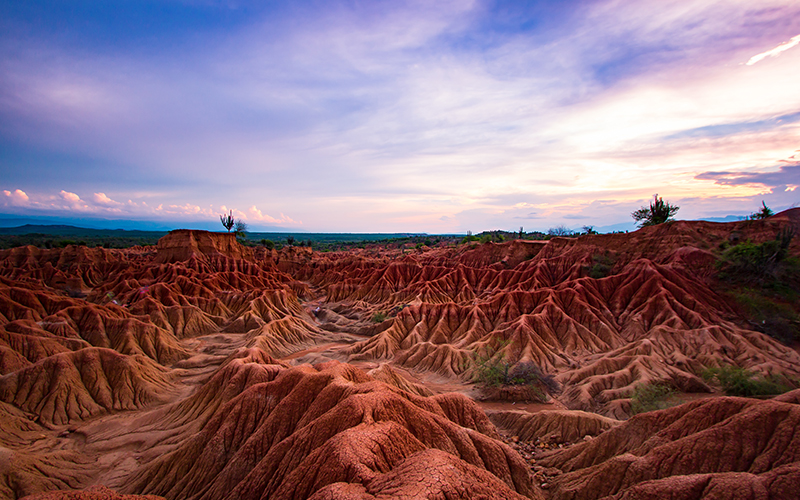 Salar de Uyuni
Where? Bolivia
Take in the awe-inspiring views of the world's largest salt flat, which occupies 11,000 sq km of brilliant white salt and rock formations. If you visit the salt lake when it rains (rain season is from Feb – Apr) you will experience a completely breathtaking sight as when a thin sheet of water layers the salt flat it reflects perfectly to the sky, so it's hard to tell the ground from the sky – which makes for incredible photo opportunities.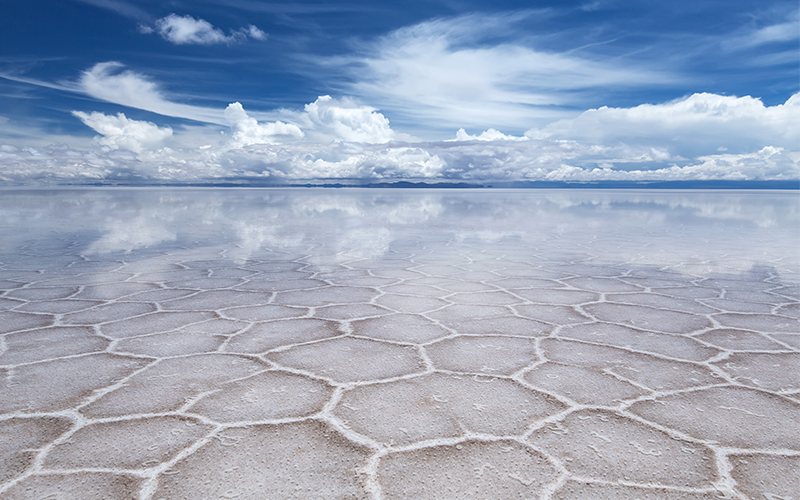 Inspired by our top romantic destinations in South America? Contact us to begin planning your amazing honeymoon.