Paloma and Russell's South Africa and Mauritius Honeymoon
At Honeymoon Dreams we love to create memorable honeymoons for our clients by handpicking hotels that we know our clients will love. Recently, our clients, Paloma and Russell spent 14 nights in South Africa and Mauritius for their dream honeymoon. Read on to find out about the lovely couples honeymoon experience…
'The overall flights were good in general. We did try to get an upgrade in a couple of occasions but all we got was extra leg room in one of the flights – Better than nothing!'
'Our first stay was at the 5* Taj Cape Town in South Africa. On arrival they were very nice taking our bags straight away and giving us a welcome drink while we waited for our room to be finished. Even though the views weren't amazing unfortunately, the room was beautiful and very spacious. We went out and when we got back the room had been beautifully decorated with candles and rose petals. We stayed here for four nights, it was pleasant and well located.'
'We enjoyed the breakfast as we were spoilt for choice. Breakfast was varied with fresh fruits, cereals, pastries and cooked breakfast.'
'During our stay we explored Cape Town which included a couple of day trips to Cape Point, Cape of Good Hope and Boulders Beach which was absolutely breathtaking. The Boulders Beach is the only place in the world where you get close to African Penguins. We spent time around the waterfront and just wandering around the city, enjoying the sights, the wine and the food. We also went to the iconic Table Mountain and to Stellenbosch and the Winelands for wine tasting. On our last day, we had a walking tour around the Malay quarter in Cape Town, which was quite good too.'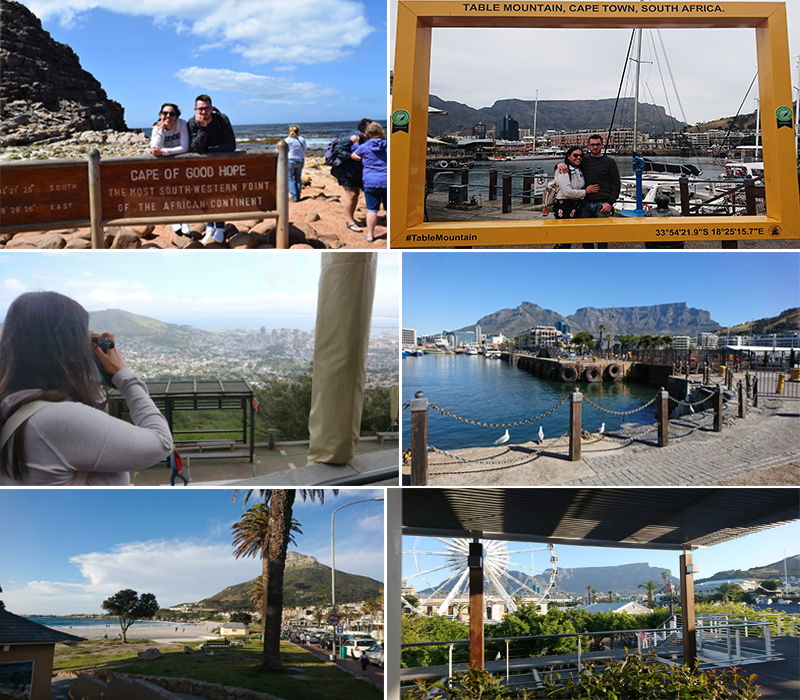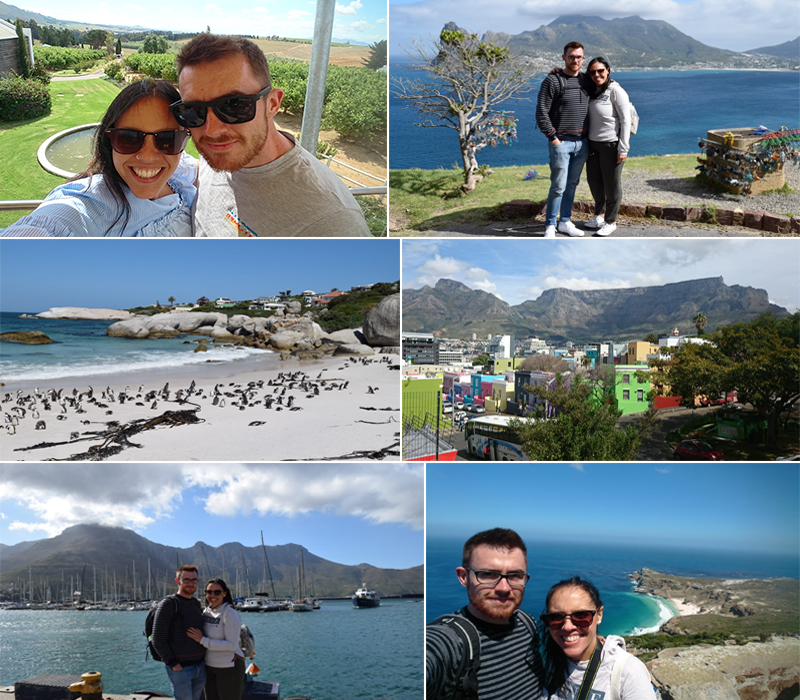 'In Cape Town, we loved a restaurant in Camps Bay called the Codfather which had amazing seafood and another one called Gold which had really good meat, we tried ostrich here for the first time.'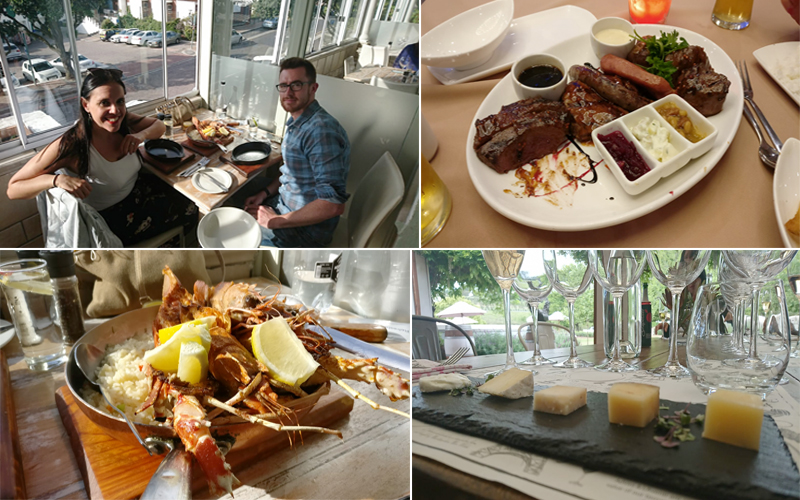 'The night before we packed for departure next morning. We had a very early flight to Port Elizabeth so the lovely staff in the Taj prepared breakfast boxes for us to take with sandwiches, cereal bars, fruits and juice. During our stay we didn't really use any hotel facilities other than the restaurants at breakfast.'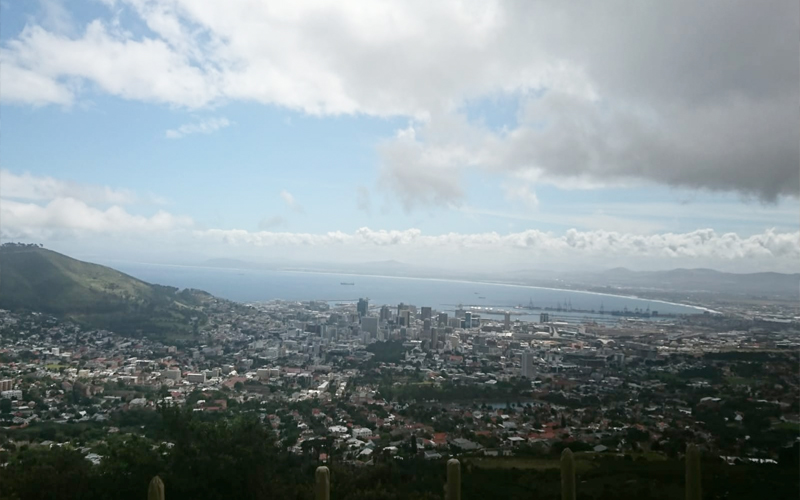 'On the next day we arrived in Pumba Private Game Reserve & Spa around 10am and we were offered a drink while checking in. They then offered us breakfast, but we weren't ready to eat again as we were full.'
'We were then taken to our room in the water lodge to have some rest until lunch time. The room was amazing, very spacious with a living area and an open fire. It included huge windows and french doors to go out to a beautiful deck overlooking the lake, with our own plunge pool and lounges'.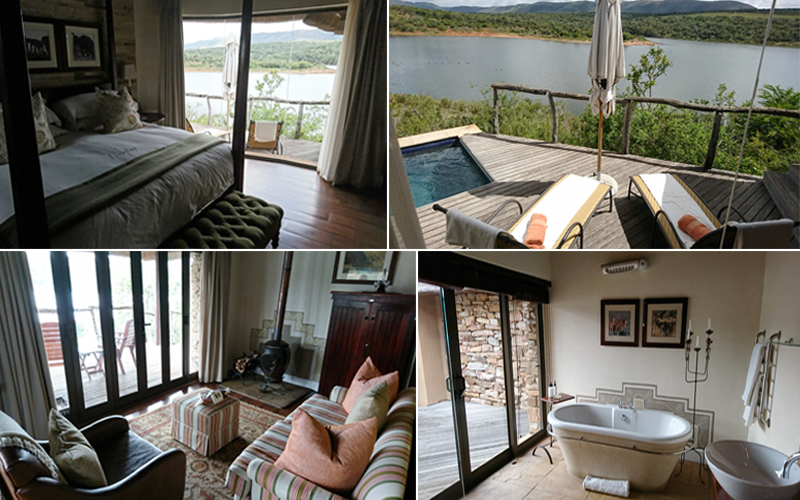 'After having a lovely three course meal for lunch, we then went out for our first game drive which was so incredible. Our ranger Thomas was kind, friendly and so knowledgeable. We were very fortunate to see the big 5 like the lions, elephants and many others on the safari and during our stay'.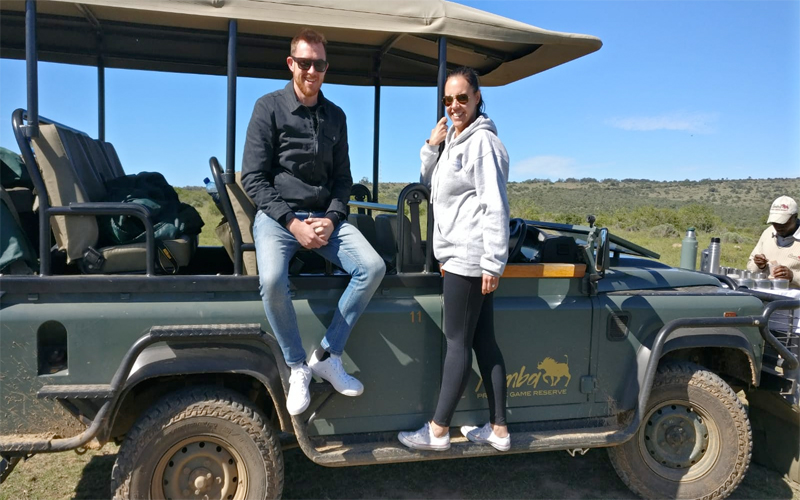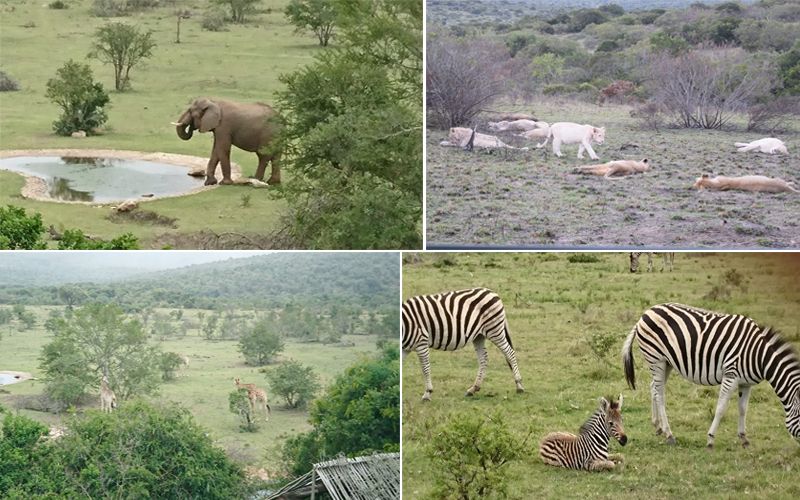 'When we returned we were offered a hot drink and went back to our rooms to freshen up for a three course meal for dinner. The food here was pretty good especially being all inclusive. While we were at dinner the lovely staff at Pumba Private Game Reserve & Spa lit up our open fire, put hot water bottles in our bed and left a bottle of champagne for us in the room, which we thought was a very nice touch to the resort'.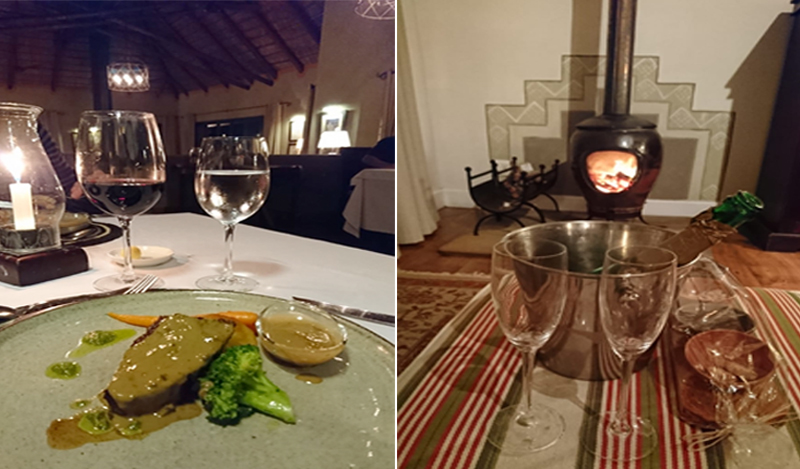 'The next day we woke up early for another morning drive which again was an amazing experience. You get to go on two safari drives every day which is great so you don't miss out on anything. We also did some activities such as archery with one of the rangers. During our stay we had a complimentary massage at the spa in the bush lodge and stayed here for lunch, which was as lovely as the ones at the water lodge'.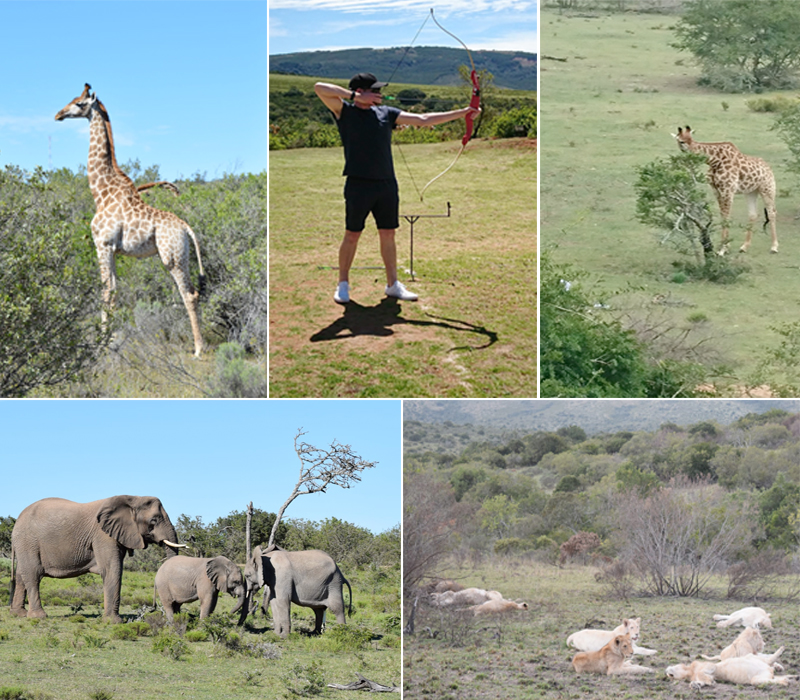 'On the next day we had another early flight to leave for our next destination and we were given breakfast boxes with sandwiches, crisps, juice and cereal bars, which was very nice of the staff to do. Even though our three amazing days here came to an end, we loved every minute of our stay. I would recommend staying here as the Pumba Private Game Reserve & Spa was unbelievable, our favourite by far. It had great service, lots of good food and plenty of little touches that made us feel special'.
'We travelled most of the day to Mauritius, our last destination for our honeymoon. On arrival to our resort for the next seven days, The Ravenala Attitude, we were given a welcome drink while checking in. Dinner and drinks for the mini bar were also delivered to our room. The room was quite big with a spacious living area and the views to the beach and the sunsets were really pretty'.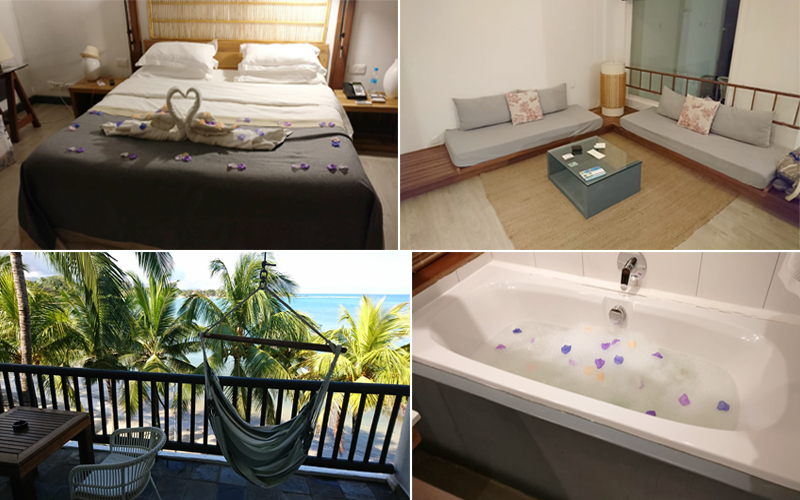 'The next day, we had a breakfast buffet which was varied. After breakfast we had a tour around the resort to show us all the facilities. We mostly spent the day at the beach, the drinks would not stop coming, the beach bar staff were outstanding'.
'Whilst our stay in Mauritius, we spent the week mostly laying on the beach, sipping cocktails and eating lots of lovely food'.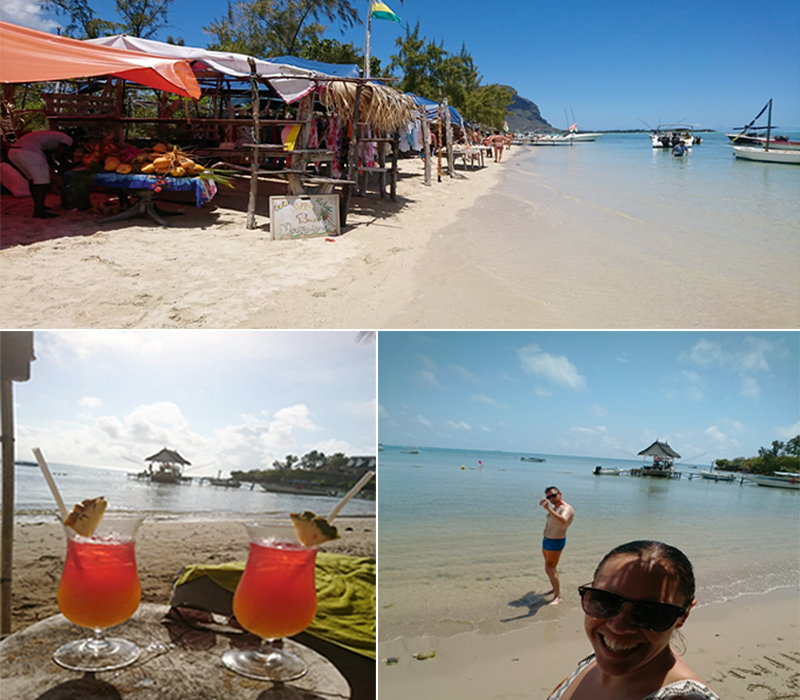 'However, we did do kayaking on one of the days which was offered by the hotel at no extra charge. We went on two day trips outside the resort, one to Grand Bay and a boat trip swimming with dolphins, Crystal rock and Benitiers Island. Unfortunately, as the weather was too windy, we weren't able to do more water sports'.
'When we came back from dinner on our last night, the room was decorated with petals and some goodies were left for us too, which was lovely'.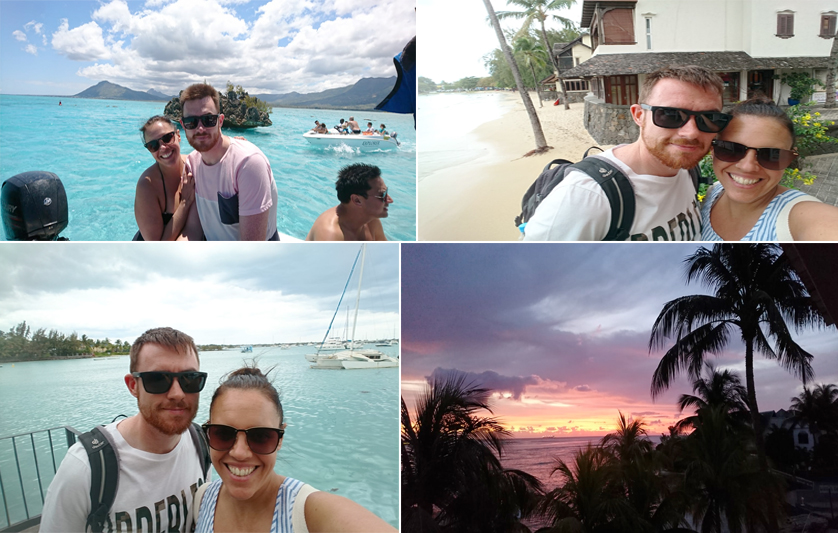 'Overall, The Ravenala Attitude was very nice, lots of different restaurants and excellent service, especially on the beach where we had drinks served constantly without having to chase someone to serve us. Our favourite restaurant was the O beach as it had excellent Mediterranean food, although most restaurants in the resort were really good. The only downside to the resort was the beach, quite small and not what you would expect from a beach in Mauritius'.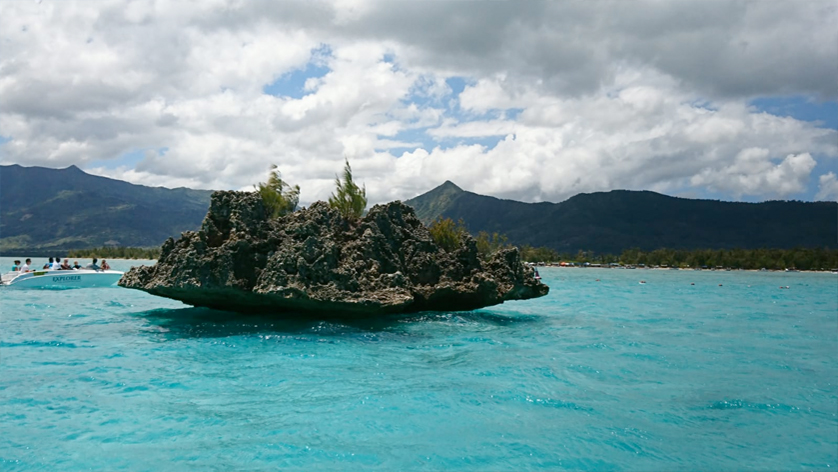 What were the highlights of your honeymoon?
'In South Africa, the drive up to Cape point was absolutely breathtaking and the safari was by far the best part of our honeymoon, not only the game drives were amazing but the location was a dream and the little details made our stay unforgettable. However, in Mauritius, the trip to Benitiers Island was our favourite part as the beach was one of the most beautiful we had ever seen'.
Any tips and recommendations for other couples visiting South Africa and Mauritius?
'We loved everything we did but for beach lovers I wouldn't recommended the Ravenala as the beach was small, muddy and rocky, although the resort is lovely and the staff are very helpful. I would avoid going to Table mountain when cloudy, it is a complete waste of time and money as you can't see anything'.
How was the service that you received from your Travel Agent during your booking process?
'It was lovely, Abbie was very helpful and managed to find us a really good offer to beat a competitor travel agent. Thank you to Abbie'.
Inspired by Paloma and Russell's amazing honeymoon experience? For more information about a honeymoon package to South Africa and Mauritius, please contact us on 0121 440 6268.