10 Amazing Infinity Pools in Bali
The mere mention of an infinity pool instantly evokes ideas of romance, decadence and high-end luxury. When you add in the enchanting isle of Bali, you've got yourself a dream honeymoon experience that is aching to be realised.
To inspire post-nuptial indulgences, we've found ten of the very best infinity pools in Bali. Think soul-stirring tropical views, sun-soaked serenity and intimate hideaways where swaying palms and colourful cucak ijo birds add to the soothing soundtrack of a sensual soak…
1) Hanging Gardens of Bali
Let's start with a stunner. The Hanging Gardens of Bali is a truly exquisite 5-star hotel nestled among the lush highlands of Payangan. Such a location equates to stunning jungle vistas and the resort's multi-level infinity pool is the best place to enjoy it all. Float in crystalline waters close to the pool's tumbling waterfalls as you gaze out over tranquil trees and listen to the call of myriad tropical birds.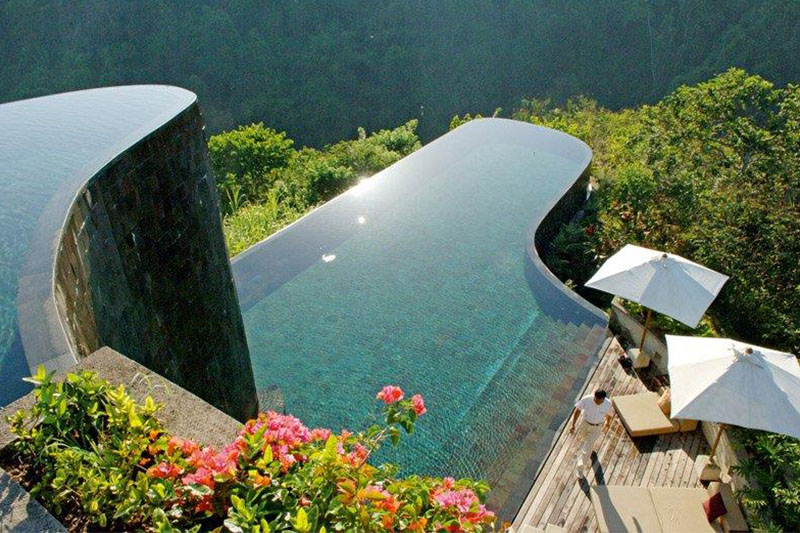 2)  Jungle Fish pool bar and restaurant
Shrouded in the sultry tropics of a vibrant forest, Jungle Fish is a famous open-air pool bar and restaurant. Guests and visitors alike can bask in the beauty of this Balinese oasis where a 35-metre infinity pool offers views over treetop canopies. Enjoy a few gentle laps as you gaze out over the picture-perfect scene, and perhaps make a day of it, lounging on one of the sumptuous daybeds as you sip expertly crafted cocktails from the bar.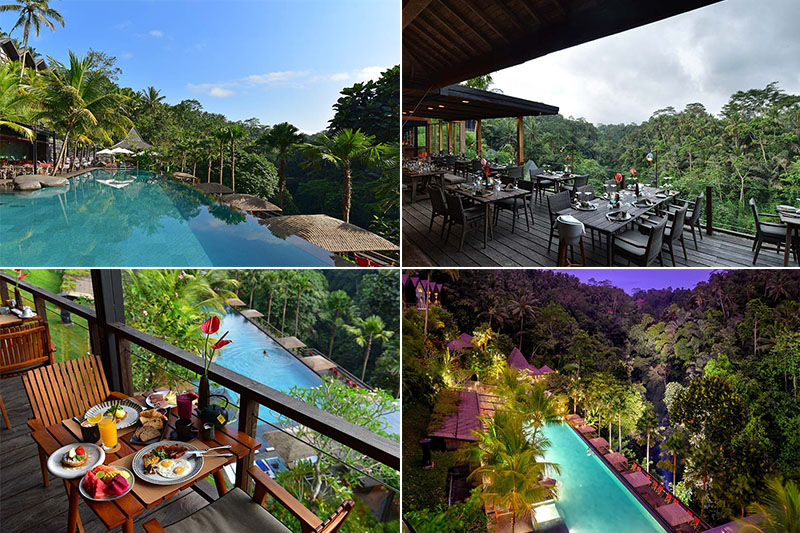 3) Padma Resort Ubud
Staying in Ubud is a delightful experience thanks to undulating rice paddies, lush jungle vistas and unparalleled hospitality. At Padma Resort Ubud, you're further indulged by the truly breathtaking split-level infinity pool. Edging out over a vast bamboo forest, this luxurious lagoon-style pool is accessible from the resort via a dreamy glass-top tunnel. Linger in its cooling depths when the sun is high, or take a dip after nightfall when the water is heated and enchantingly illuminated by the overhead moon.
4) The Mulia
Over in Nusa Dua, jaw-droppingly luxurious resort The Mulia showcases Balinese beauty at its most exquisite. There are several pools here, yet it's the Oasis Pool – a vast turquoise infinity pool just moments from the Indian Ocean and fringed by glorious statues of Balinese ladies carrying harvested rice – that will utterly astound. Settle in a private cabana and indulge with a full day beside this stunning waterside retreat.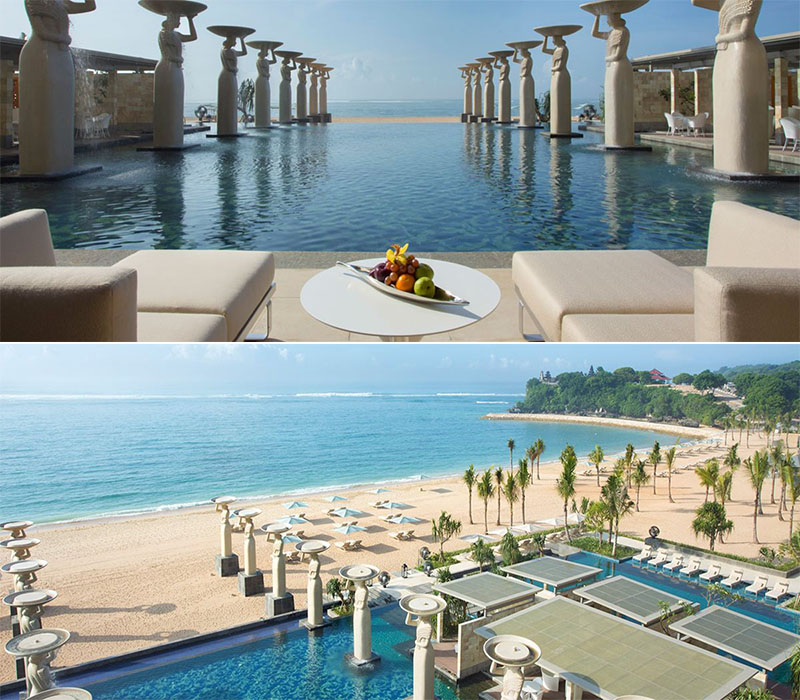 5) Sanglung Villa 
Mountain escapes don't come much more picturesque than Sanglung Villa, and with an elevated infinity pool overlooking the vibrant forest, you'll find yourself unwinding here from the moment you arrive. Enjoy panoramic views over gently swaying mango trees as you float in the glittering waters and consider indulging afterwards with a perfectly chilled glass of wine.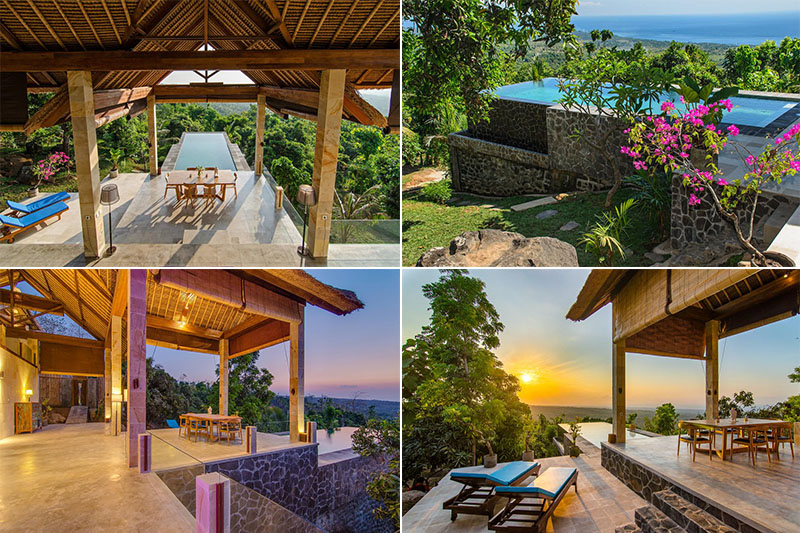 6) Banyan Tree Ungasan
Meander over to Banyan Tree Ungasan and you'll feel yourself enveloped by tropical decadence. This serene resort is a haven of luxury and the place to come for quiet contemplation by a sun-soaked shoreline. While away an afternoon in the famed infinity pool, gazing out at the shimmering water, and be sure to sample one of the hotel's signature hand-crafted cocktails.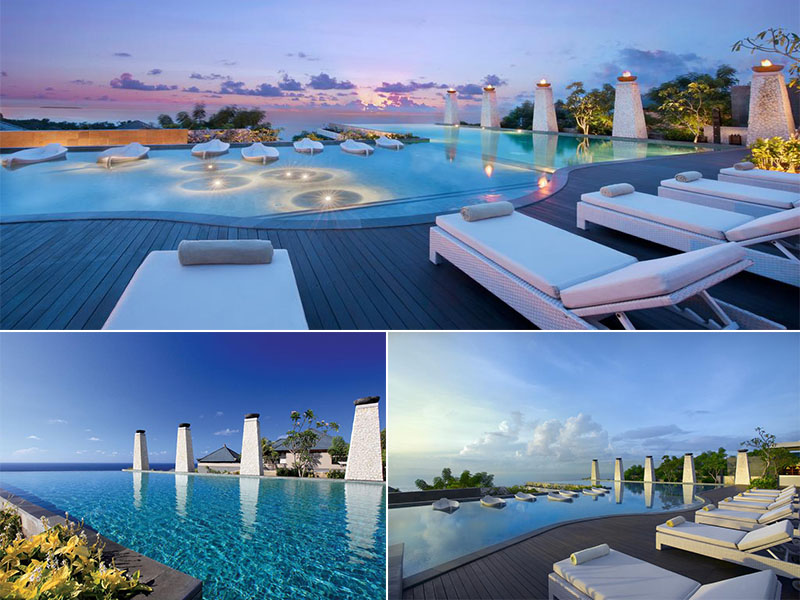 7) Karma Kandara
Drift away to Bali's Bukit Peninsula and luxuriate among the lush grounds of Karma Kandara. This exquisite resort hugs a stretch of glittering coastline known as 'Billionaires Row' and offers a taste of the high life to all who visit. Float in cerulean waters as you gaze out over the ocean, then call in at onsite Di Mare restaurant to satiate your appetite with Mediterranean cuisine.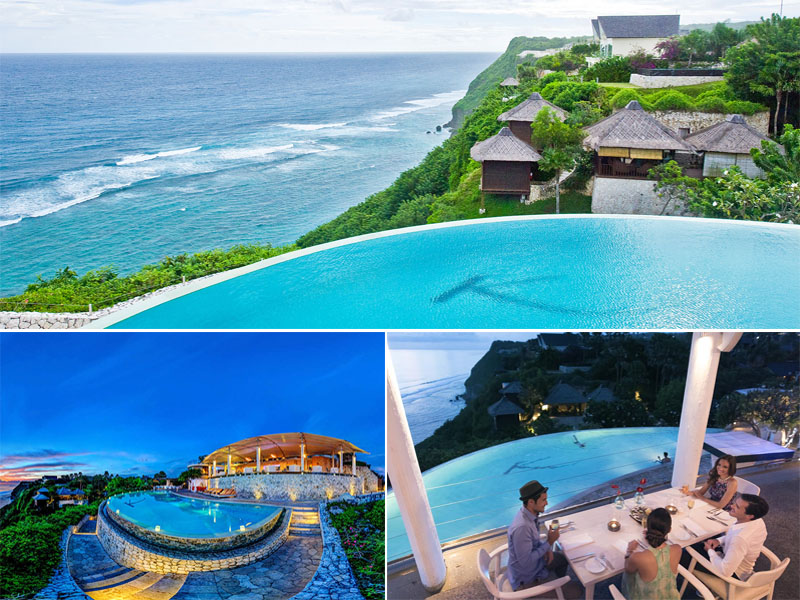 8) Alila Seminyak
Migrate to Alila Seminyak for a retreat among 5-star luxury and you'll happen upon one of Bali's most stunning seaside infinity pools. Linger on the poolside deck and dip your toes in the cooling waters, taking in the incredible ocean vistas as you consider a soothing swim. Afterwards, dry off on one of the comfortable loungers that are conveniently located near to the well-stocked bar.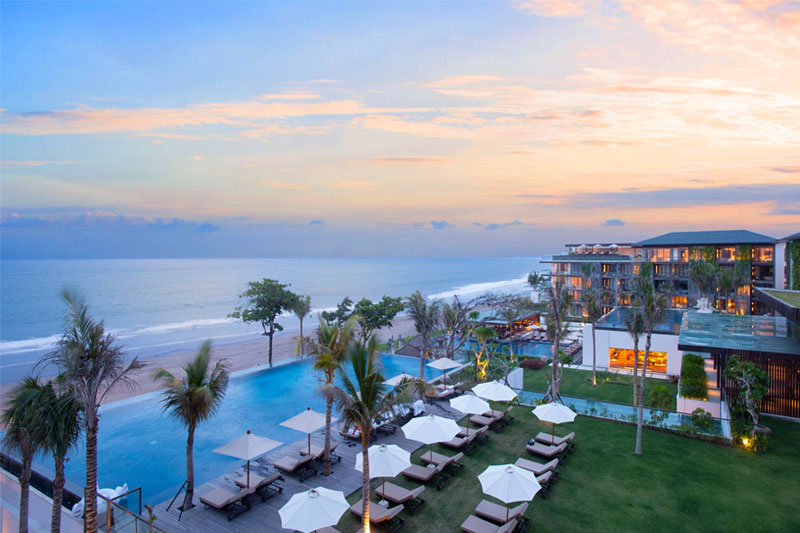 9) Ku De Ta
Seminyak is the place to be for laid-back vibes and vibrant beachside bars. Ku De Ta blends all the fun of a cocktail-lovers haven with an infinity pool that reaches out towards the ocean. For a truly memorable experience, settle into the cooling waters at sunset and watch as the waning sun casts rose-pink and lilac hues over the truly tropical scene.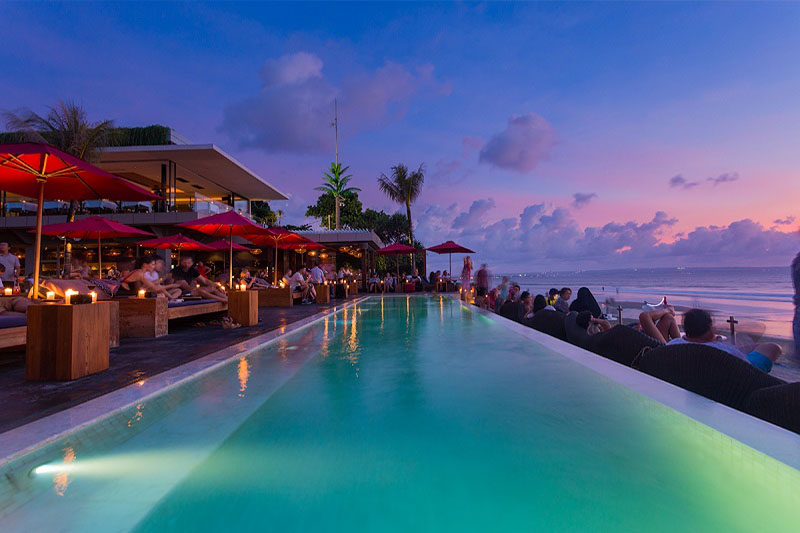 10) Viceroy Bali
Viceroy Bali boasts a vast and glimmering infinity pool that fringes the edge of verdant Petanu Valley. Enjoy a few calming laps to the soundtrack of rustling palms and the casual call of tropical birds as they swoop through the balmy air. The swim-up bar will easily quench your thirst, while the fountain feature invigorates before a quiet afternoon amid the plush furnishings of a nearby gazebo.