Rajdeep and Karamdip's Hawaii, Los Angeles & San Francisco Honeymoon
Our lovely clients, Rajdeep and Karamdip, spent 16 amazing nights in Hawaii, Los Angeles and San Francisco. We caught up with them to give us the low-down on there American honeymoon of a lifetime. Read on to find out all about their wonderful experience.
At Honeymoon Dreams, every honeymoon we book is special to us and we ensure every detail is considered to help you have the honeymoon of a lifetime. Our Multi-Centre honeymoons are some of our most popular bookings, in particular Hawaii, Los Angeles and San Francisco together. Call us on 0121 440 6268 if you would like to speak to one of our honeymoon specialists today.
How was your flight?
'Majority of our flights were with United Airlines and as first time travelling with this airline, it did not disappoint! We began our trip flying business class and what an experience that was! It was our longest flight of the entire trip around 13 hours but it flew by so fast. From being greeted with champagne, a 3 course menu to choose from, great selection of movies and entertainment, to being able sleep lying flat, it was a great way to begin our honeymoon after a hectic wedding week! With this we also got lounge access at London Heathrow and at our lay by, San Francisco: the food and service there was great! The rest of the flights we flew economy and they were pleasant also, good food and great entertainment to keep us occupied on our journey.'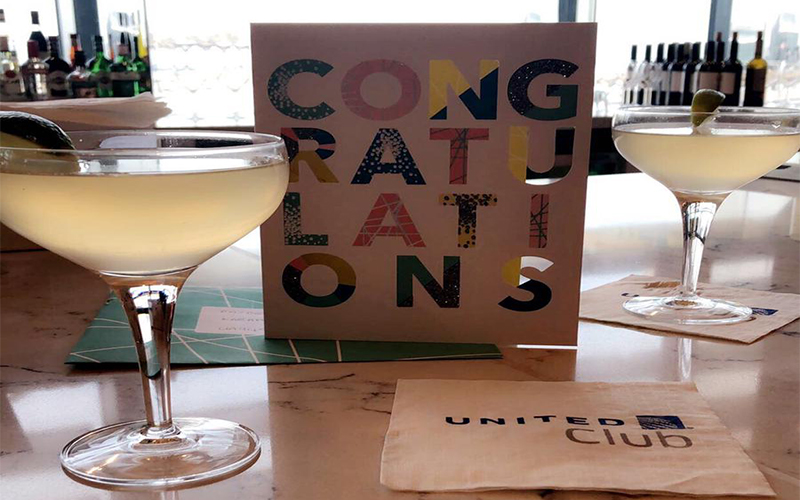 How was your stay at Alohilani Resort Wakiki, Hawaii? 
'The pool was beautiful here at Alohilani Resort Wakiki, Hawaii, an infinity pool that had the view of the beach and ocean, also with a jacuzzi near by and a bar that served food also. It has a convenience store on the ground floor in the hotel, so we were never too far if we needed anything.
Our King Bed Ocean view room's balcony had the view of the beach and ocean, this was lovely being able to see both the sunrise and sunset. On the other side of the room we could see the pool, so we knew when it wasn't too busy for us to get our favourite spots by the pool.'
'The highlight in Honolulu was being on Wakiki beach which was awesome. We also did a hike during our time here and the views were just wow!'
How was your stay at Hyatt Regency Maui, Hawaii? 
'When we got to The Hyatt Regency Maui we fell in love with it from the moment we got there, the location was great – it sure did have the 'WOW' factor.'
'We spent four amazing days and nights staying in a Ocean view room at this resort! Our beautiful room had a balcony with stunning views of the pool and sea which was amazing to wake up to. We loved the personal touch from Hyatt, they gave us Leis on arrival and had fresh flower petals laid in our room.'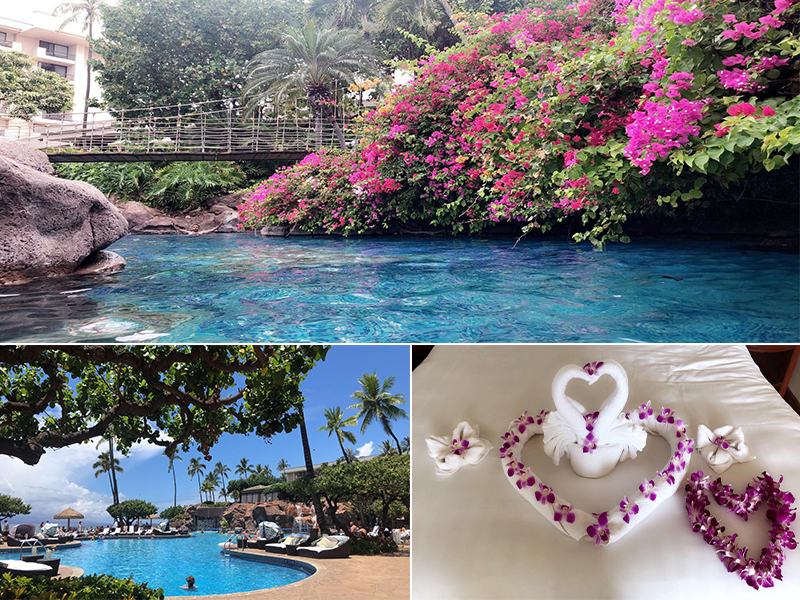 'We spent our days walking along the famous Kaanapali Beach for ten minutes everyday, passing the other hotels and many different cuisine restaurants.'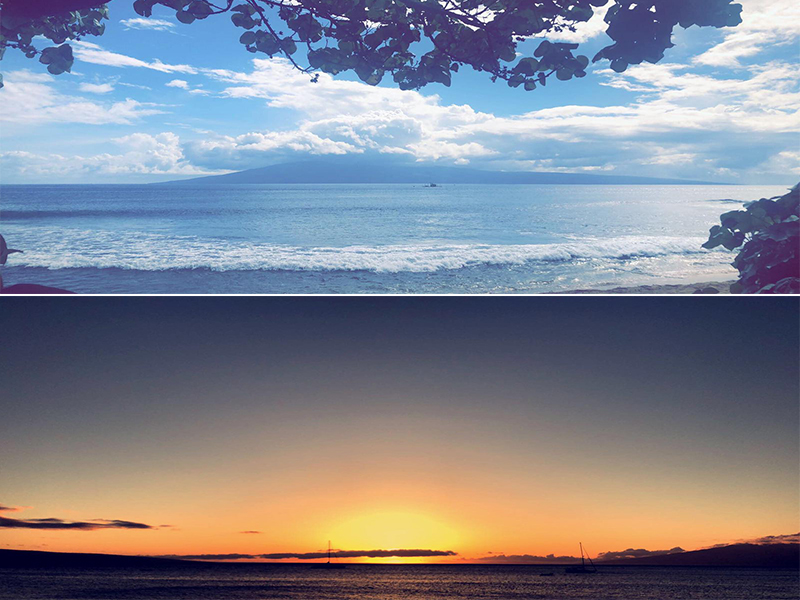 'We purely just chilled and relaxed whilst we stayed here. The staff were really helpful and friendly too.'
How was your stay at Viceroy Santa Monica, Los Angeles?
'After Hawaii, our next destination was Los Angeles we stayed at The Viceroy in Santa Monica for four days. The hotel was beautiful, when we arrived they had chocolate covered strawberries for us in our room – which we thought was a lovely touch. We stayed in a King Bed Partial Ocean room, the bathroom was lush, all marble tiled with a powerful walk in shower – I found this to be so relaxing after our long days in Los Angeles as we wanted to make the most of our days here and see quite a lot. '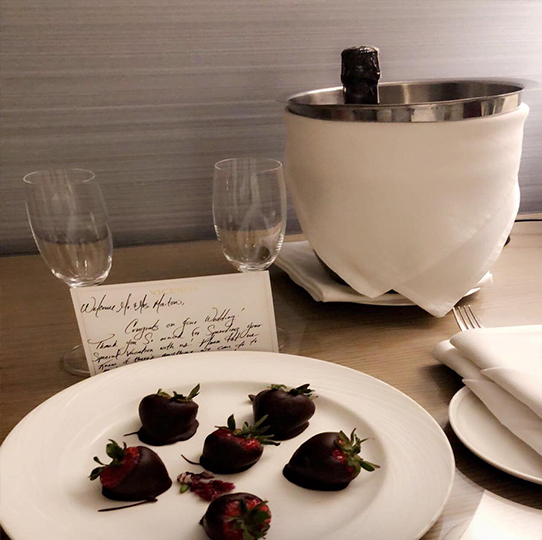 'The evenings were still a little cold in Los Angeles in May and by the pool there were a seating area which had outdoor heaters, we spent a few evenings here enjoying drinks from the bar before heading out, as it was still quite light and the greenery around this area with lighting at that time was really pretty.'
'When we went out in Los Angeles we celebrity spotted! We're big fans of Avengers and at the time we went, Infinity War had just come out and we casually bumped into the assistant director, what a cool guy too, even had a selfie with us.'
How was your stay at JW Marriott San Francisco Union Square?
'We loved the location of this hotel, right in the heart of Union Square, minutes away from restaurants, bars and shopping. We also used the tube in San Francisco, which was again minutes away from the hotel. The layout of the Double Guest King Bed room was great, it's like it had it's own section: the main bit were the bed and tv was, a wall that sectioned off that to where there was a stool and long mirror to get ready – this was great for me in the mornings, as I had ample of space to do everything from hair to deciding which shoes were going to be comfy for that day.'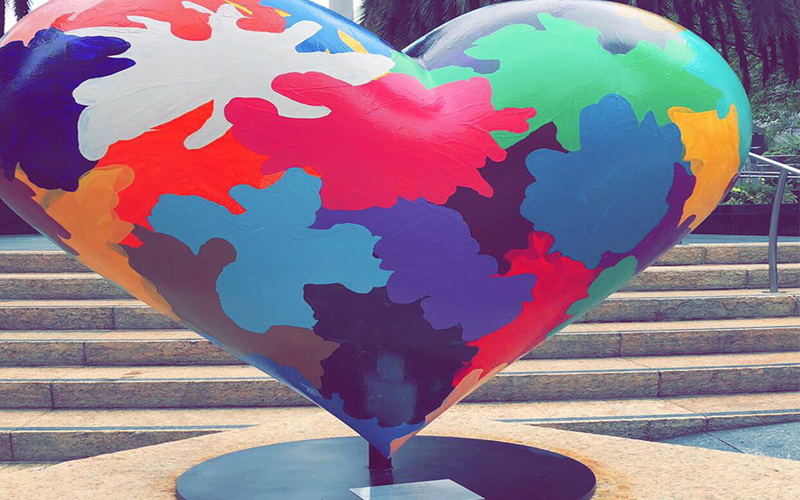 What did you do during your honeymoon at all of the resorts? 
We made sure we had a mixture of days during our honeymoon – days where we pure chilled, so that was either by the pool side on the sun loungers or on the beach. Within each hotel we stayed at we literally spent most of our time on the beach. However, somedays we were out and about, either out for excursions or going to the nearest shopping malls and town for dinner and drinks.'
'However, we did spend more time at the hotels in Hawaii, enjoying the facilities like the spa and swimming pools such as the Hyatt Maui which has three – The main pool, pool with slides and an adult only pool – this allowed us to enjoy peace and quiet as well as getting involved with the pool games.'
What were your impressions of all the hotels you stayed at?
'We loved them all! It sounds too good to be true, but we did our research into each hotel whilst planning and booking and knew they were great choices. All the choices had a swimming pool, so we were able to relax and enjoy the dazzling sun at each resort. We received a congratulations card and bottle of champagne on arrival at all of the hotels we stayed at.'
'At times when we needed advice or help booking excursions, the staff were very friendly and helpful. Also, the rooms were cleaned everyday and the mini bar and toiletries were stocked back up again.'
Did you have a favourite restaurant or eat out whilst staying at each destination?
'With so many food options available to us at every destination of our honeymoon, we ate out majority of the time. Very few occasions where we ate at the resorts like the Hyatt Regency Maui, which was a great continental breakfast buffet. We also ordered room service for dinner after a long day at an excursion, where we wanted the convenience in Honolulu.'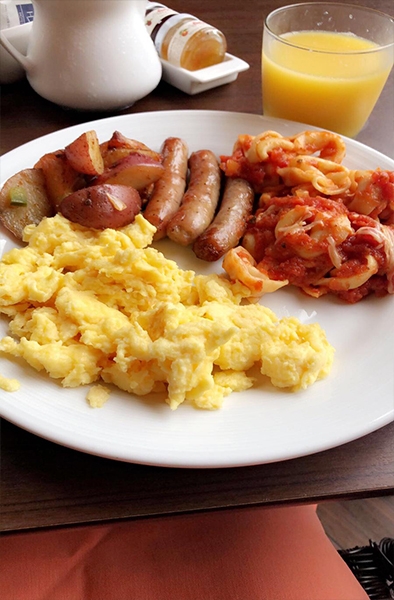 'Otherwise, with the help of TripAdvisor, we were able to find some amazing places for food including:
Lunch in Honolulu at: Hula Grill on Waikiki Beach'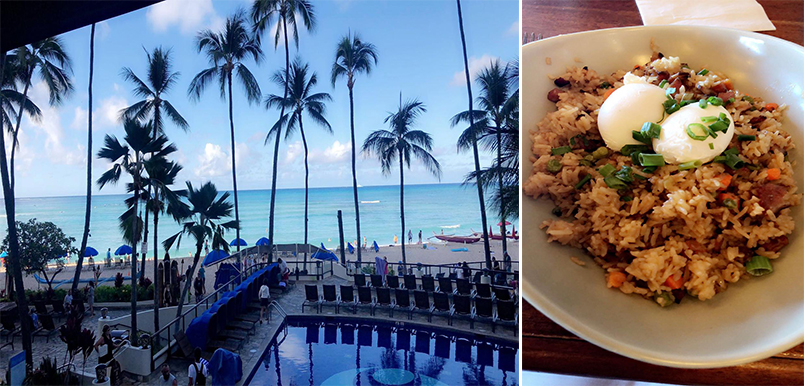 'Breakfast in Los Angeles at: The Griddle Cafe, those Oreo pancakes were to die for!'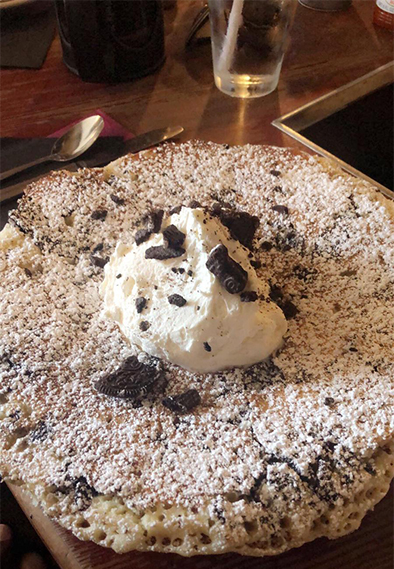 'And dinner in San Francisco, Pier 39 at Fog Harbour, which was great for sea food and dessert!'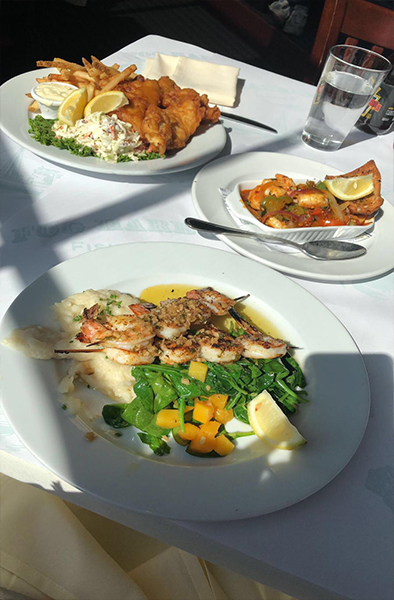 Any excursions you went on when staying at each destination?
'We booked our Hawaii (both Honolulu and Maui) excursions at our Alohilani Resort Wakiki in Honolulu: we went for a Luau in Honolulu: The Chief's luau; this was so much fun with great entertainment and food, something we never experienced before (it was an evening excursion which lasted around 4 hours). We also went on a hiking trip in Honolulu and managed to see some stunning views from the top.'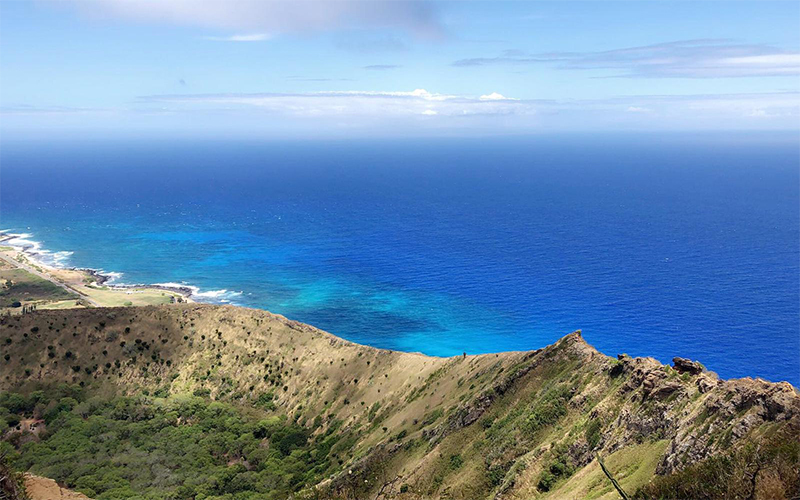 'We did the Road to Hana in Maui, this was a guided tour, which took us to different spots around Maui, leading to Hana (a whole day trip); we loved finding out about the culture, saw many waterfalls, rainbow trees and had great banana bread! We went snorkelling around the Molokini Crater in Maui; best snorkelling experience either of us had been on! We swam with many fishes and even turtles (morning excursion which lasted around 6 hours)'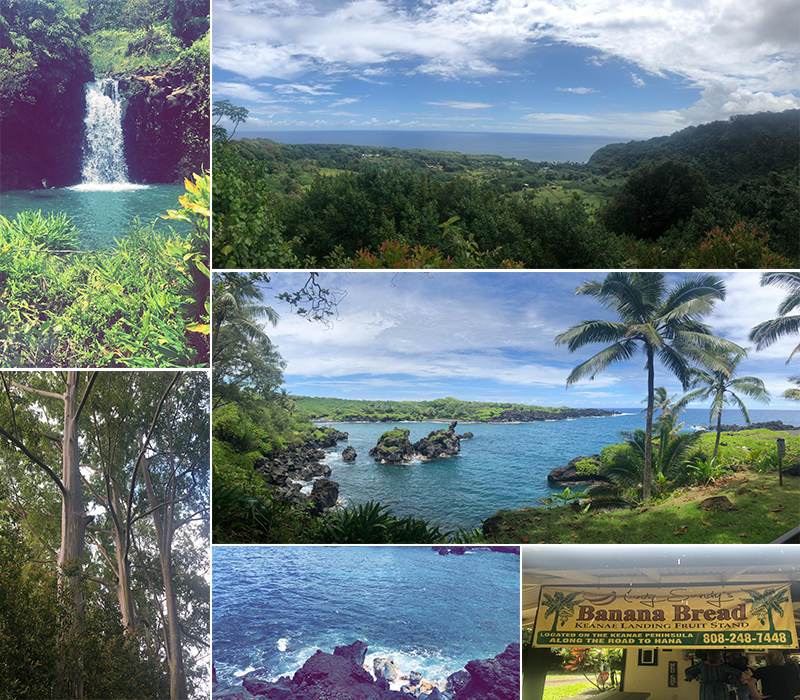 'Excursions we did outside of the resorts were in Los Angeles which was visiting the VIP Universal tour and a theme park day trip'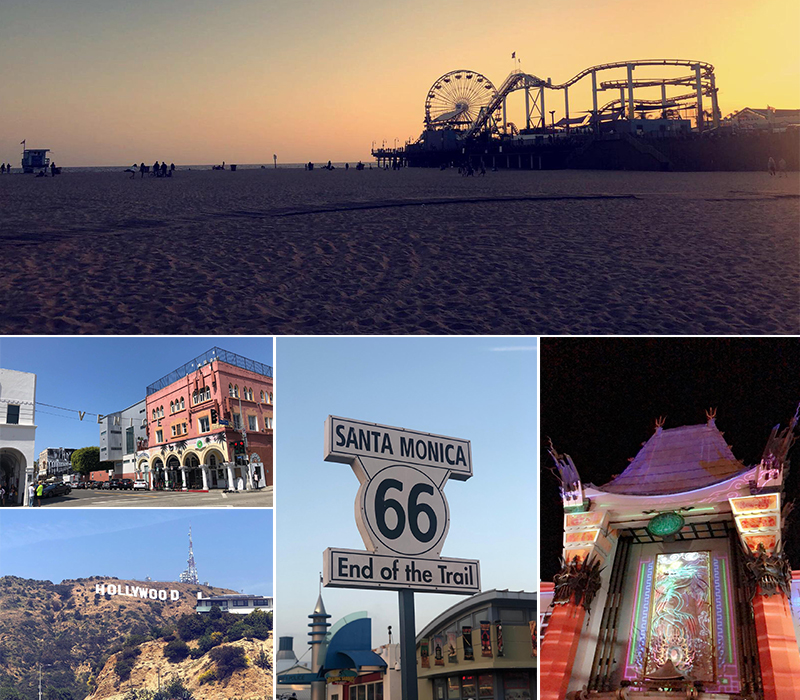 'However, in San Francisco we visited the Alcatraz which took us around 3 hours in total from Pier 39′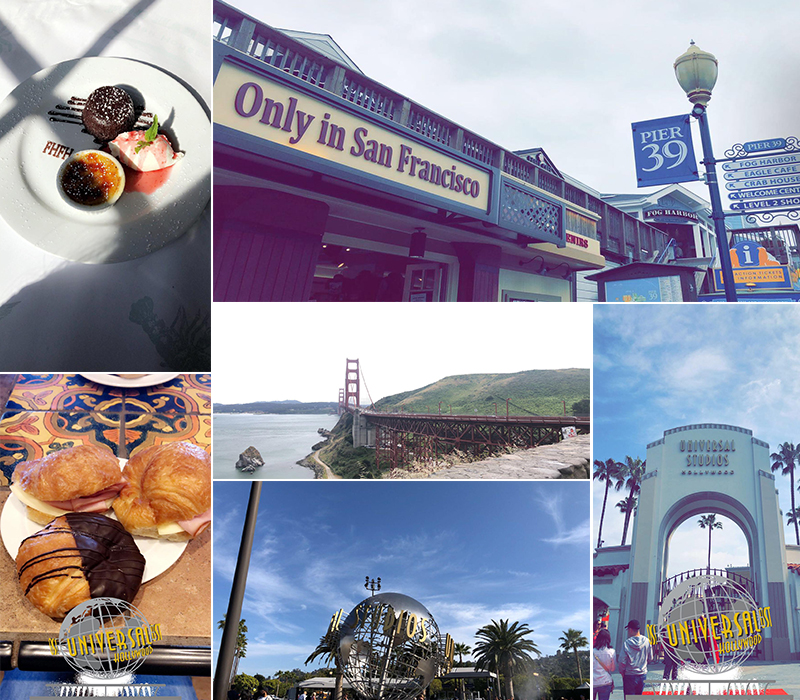 Any tips and recommendations to help our clients?
'Here are a couple of tips and recommendations if you are considering Hawaii, Los Angeles and San Francisco for your honeymoon:
Tripadvisor was our best friend it helped us find all the great places to eat and helped with finding out what was good to do for where we were and the time we were there.
Anywhere on Waikiki beach in Honolulu and Hyatt resort in Maui (Hawaii) is a dream, so we would definitely recommend this
Road to Hana in Maui was great for getting to know the local culture.
VIP Universal tickets in Los Angeles is well worth visiting – not only for queue jump but you get to see more via the mini group private tour.
Alcatraz in San Francisco is also a must see, great for finding out the history behind it.'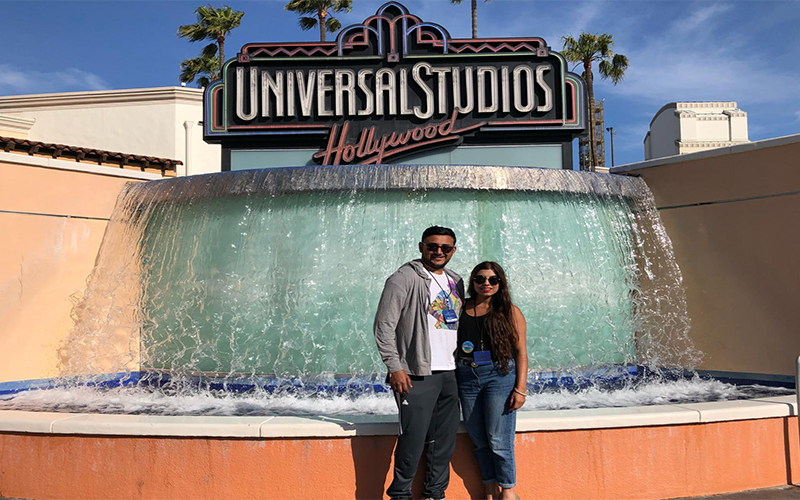 How was the service that you received from your Travel Agent during your booking process?
'Honeymoon dreams were absolutely fantastic helping us plan the most perfect honeymoon! We had a pretty good idea of the places we wanted to go and see, they helped us plan the best order of going to them places, the most amazing resorts, which we didn't just get one option to decide from, we had a few, read the benefits of each that they provided us with and chose the best ones for us. It was so helpful that we were able to pay the honeymoon off in stages too. They didn't just stop there though, when heading to Maui, we originally booked the Westin, but found out whilst already out on honeymoon, there at our first destination (days before Maui!), that hotel had started renovations. We got in contact with the team and without hesitation, they were able to change us to the Hyatt in Maui – this by far became our favourite resort too – so we are so thankful to the team for such a great service they provided and how amazingly helpful they all were.'
Inspired by Rajdeep and Karamdip's amazing Hawaii, Los Angeles and San Francisco honeymoon? Contact our dedicated honeymoon specialists at Honeymoon Dreams today to let us help plan your dream honeymoon! Call us on 0121 440 6268