Top 10 things to do in Kuala Lumpur on your Honeymoon
For a honeymoon destination that blends luxury with a touch of the exotic, consider beguiling Kuala Lumpur. Malaysia's sprawling capital is a sun-soaked labyrinth of exciting corners to uncover, and there's a wealth of romantic activities and indulgent pastimes with which to fill a post-wedding week or two. We've compiled a list of the top 10 things to do in Kuala Lumpur during your honeymoon break, so read on and allow yourself to be tempted away to this sizzling Southeast Asian gem.
1. A sunrise tour of the Petronas Towers
One of Kuala Lumpur's most iconic sights, the towering Petronas Towers are designed to echo key Islamic principles including that of 'unity within unity'. Why not honour your recent romantic unification by purchasing tickets to the towers' Skybridge and Observation Deck? Visit at sunrise and watch the city come alive as the inky night fades to rose-pink dawn.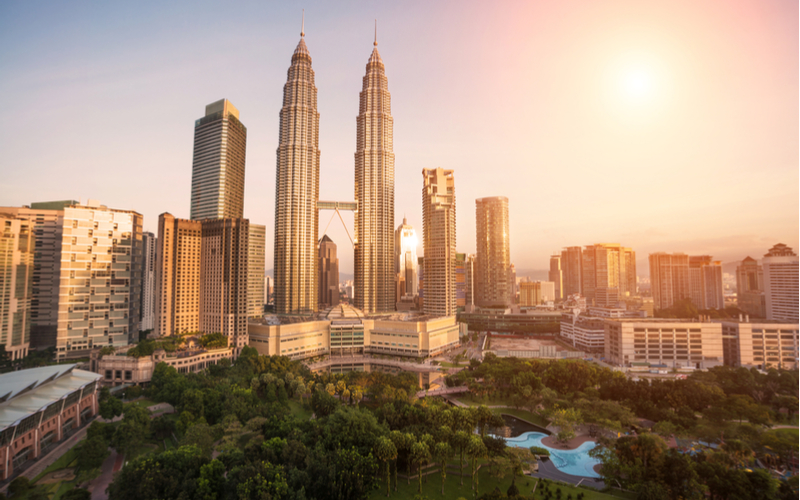 2. A private cookery class
Many aphrodisiacs are food-related, so turn up the heat on your KL honeymoon and learn about the local cuisine. Enjoy a private transfer from your hotel and spend an afternoon of quality time together as you master traditional Malay flavours in a cookery class. At the end of the session, relax as you share the delicious dishes you've created, taking away new knowledge and special memories.
3. Couples spa treatments
There's nothing more luxurious than unwinding in a spa and Kuala Lumpur has an eye-popping range of places in which to be properly pampered. For a truly romantic experience, book in at one of the city's decadent day spas and take a muscle-mending massage treatment for two. With calming interiors, aromatherapy oils and soothing music, you and your partner will be floating on air by the time you emerge.
4. Batu Caves
Take a short train ride from the city to the iconic Batu Caves for an afternoon exploring this incredible Tamil shrine. Stop for an iconic photograph by the towering golden statue of Hindu deity Murugan, then climb the steps to this 400 foot high complex of craggy hillside caves. Adventurous couples with a penchant for amateur caving might venture on to the Dark Cave, though there's plenty to see just inside the vaulted entrance, including the many mischievous monkeys who live in and around this fascinating site.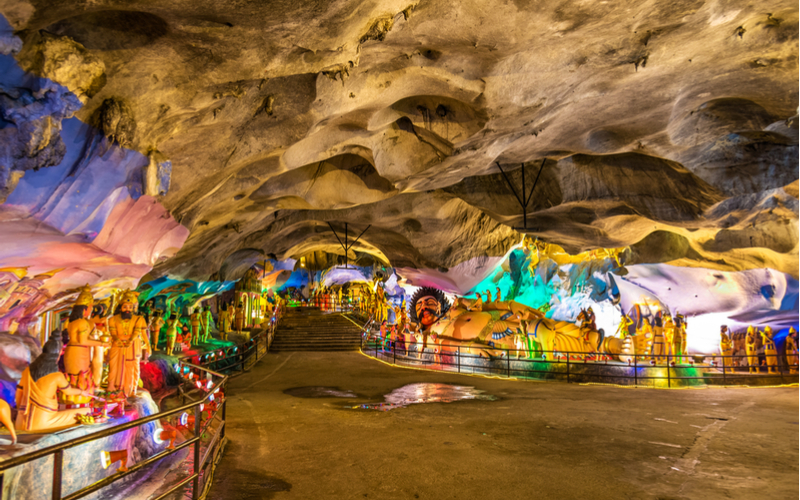 5.Chinatown at twilight
For colour, culture and the chance to sample sensational cuisine, meander over to Chinatown. A twilight wander catches this vibrant area of the city at its most romantic, with couples coming out for a street-side feast of steaming hokkien mee noodles and a slow meander through the colourful markets of Petaling Street. Purchase a souvenir or two as you wander arm-in-arm beneath a darkening sky.
6.Aerial tour of the city
It doesn't get more thrilling than an aerial tour of the city in your own private aircraft. Take to the skies in a helicopter and cuddle up to your other half as you soar over KL's bustling centre and iconic landmarks. Ask your friendly pilot to point out any must-see places to visit during the rest of your stay.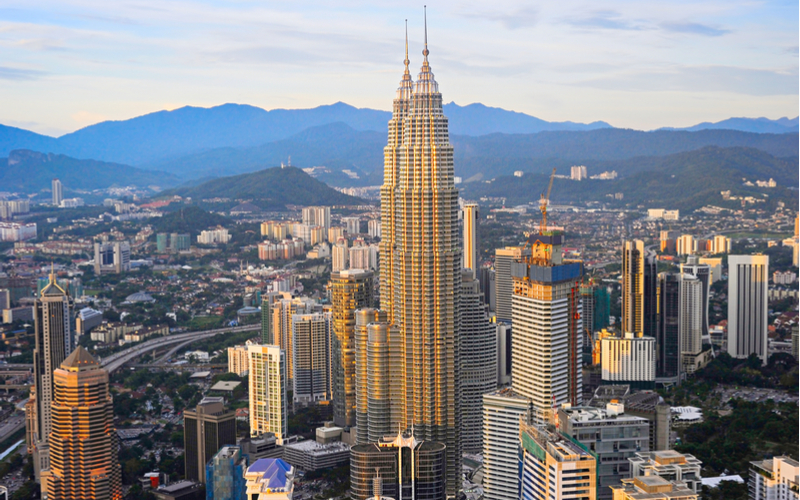 7.Dinner overlooking the Petronas Towers
Dinner for two is always a romantic affair, but take time over a meal at a Marini's on 57 and you'll enjoy your food with a fabulous view of the Petronas Towers. This exquisite Italian restaurant has a glass roof so you can take in the awe-inspiring views while washing down tagliatelle al tartufo with silken cabernet sauvignon.
8.Sunset from Heli Lounge Bar
Catch a dazzling sunset over the city skyline from renowned rooftop hangout Heli Lounge Bar. A helicopter pad by day, this quirky little spot morphs into one of the hottest places in town as day turns to night, so grab a refreshing cocktail from the bar and settle down to watch the sky streak orange and pink as the sun disappears.
9.Spotting lovebirds at KL Bird Park
Weave a touch of nature into your eastern honeymoon break with a visit to the charming KL Bird Park. Wander the wilds of this bird-dotted paradise and be sure to seek out the aptly named 'Love Aviary' for a heartwarming afternoon spotting colourful lovebirds and mischievous Indian ring-necked parakeets.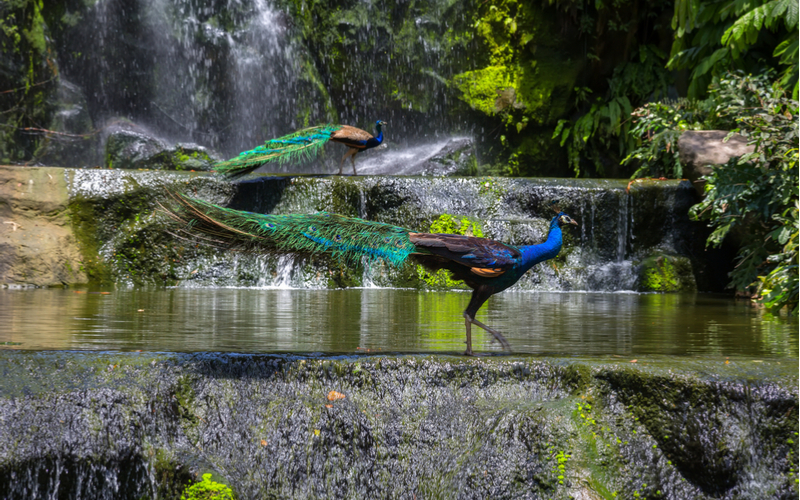 10.Romantic stroll through KL Forest Eco Park
Kuala Lumpur's Forest Eco Park is a lush reserve and serene sanctuary in the centre of a hectic city. Take time among ancient trees on the canopy walk and feel yourselves relax to a soundtrack of birdsong. For an extra touch of romance, pack a picnic and feast together on tasty treats among the flora.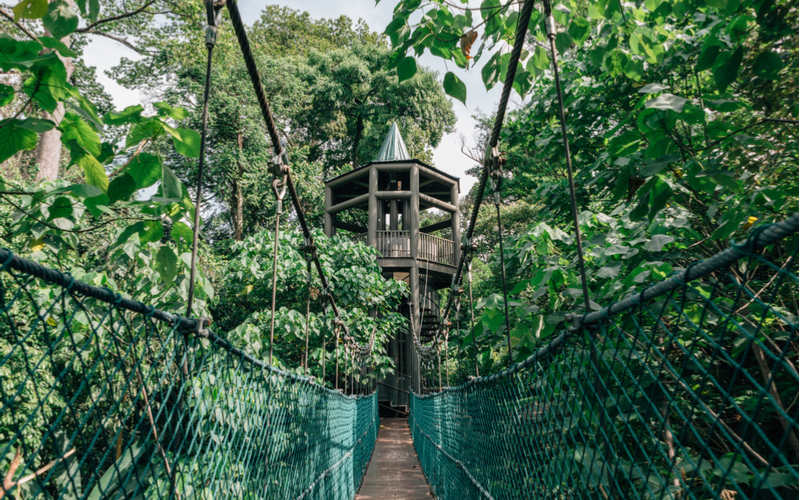 Inspired by our top 10 things to do in Kuala Lumpur on your Honeymoon? Contact a Honeymoon Specialist about a tailor made Kuala Lumpur honeymoon package here or call 0121 440 6268