Top 10 romantic things to do in Vietnam
If you are planning a honeymoon to Vietnam then be sure not to be disappointed. Whether you want to sit back on the beach, enjoy the spectacular romantic scenery, soak up the vibrant culture and rich history or sit down and enjoy the delicious cuisine then Vietnam has it all. There is so much to see and do whilst you are here as a newly married couple, therefore, we have compiled our top 10 romantic things to do in one of Asia's top honeymoon destinations…
1) Walk hand in hand along the white sands of Sao beach, Phu Quoc Island
Imagine going for a romantic stroll on one of the best and renowned picture-perfect white sandy beaches in Vietnam, the Sao beach. Nestled on the Phu Quoc Island's southern tip, this tranquil beach surrounded by clear turquoise waters, is the perfect spot for honeymooners or couples to catch the gorgeous sunset views, enjoy delicious fresh seafood, sip cocktails, take a swim in the ocean or laze away on the beautiful sands. Expect to enjoy a peaceful day on this untouched and secluded beach.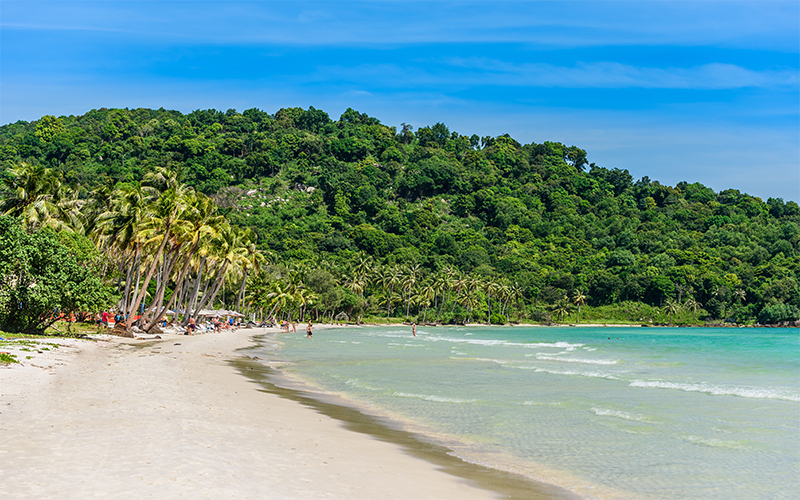 2) Sail along the waters of Halong Bay
For an unforgettable romantic experience, sail across on a cruise to Vietnam's world heritage seascape of Halong Bay, meaning 'Bay of descending Dragons'. Showcasing limestone peaks, hidden beaches and floating fish villages, enjoy the picture-perfect scenery as you and your loved one glide along the emerald waters. With over 1,600 islands and islets it certainly is one to tick off your honeymoon bucket list.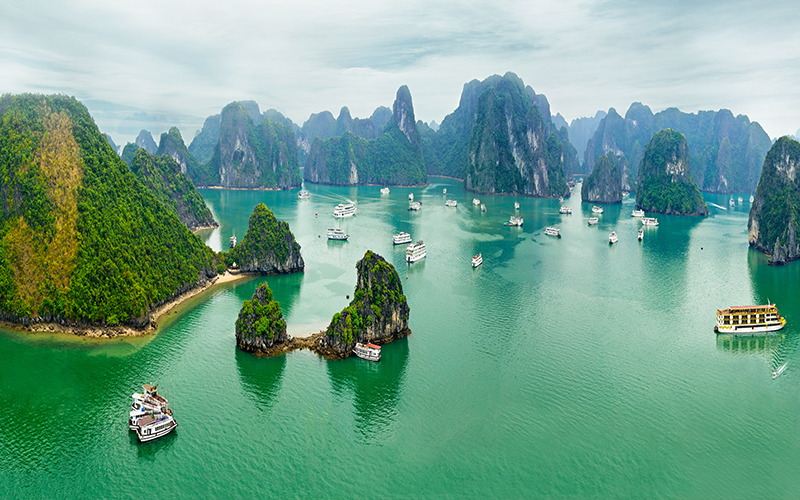 3) Spend time at Valley of love, Da Lat
For those wanting to celebrate love in a romantic setting, then Valley of Love is the idyllic place to be with your loved one. Set 5 kilometres north of Dalat, it is a picturesque valley of rolling hills with a lake as its centrepiece and love themed monuments. Whether you're on your honeymoon or on a romantic getaway for two, express your love by admiring the beautiful scenery of Vong Canh Hill, exploring the bridge of love, walking hand in hand through the lush garden with colourful flowers, enjoy a romantic picnic or take memorable photos by the giant carved out hearts.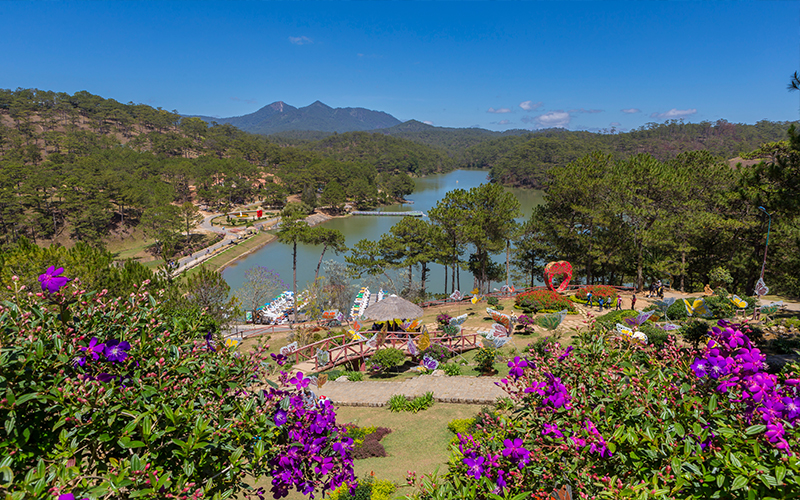 4) Visit the beautiful Ngoc Son Temple, Hanoi
Spend quality time together by visiting the beautiful Ngoc Son Temple known as the Temple of Jade Mountain. Sitting on an island in Hoan Kiem Lake, the Ngoc Son Temple built in the 19th century is the most visited temple in Hanoi. It is an active place of worship and reached by crossing the red coloured classic Vietnamese style wooden bridge called The Huc, here you can take special and memorable pictures.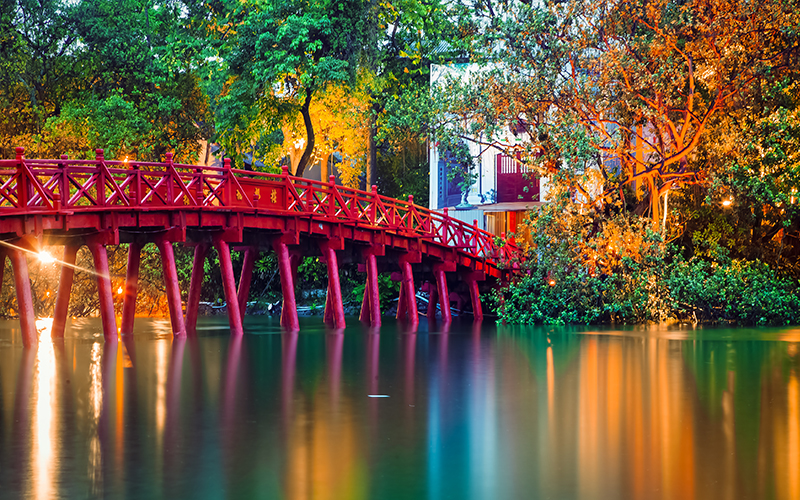 5) Soak in the mineral hot springs of Binh Chau
One of Vietnam's popular hot springs are the Binh Chau. It is set amongst the mountains of South-eastern Vietnam, amidst the lush greenery of a primary forest. Therefore, it is the ideal spot for a lovely little escape to relax the mind and body and forget about all the hustle and bustle of everyday life. Enjoy a hot water bath at 37 degrees Celsius in a swimming pool or indulge in a pampering hot mud bath. The warm water which contains high contents of minerals is great for the health including improving the blood circulation, relaxing the muscles and soothing the nerves and joints.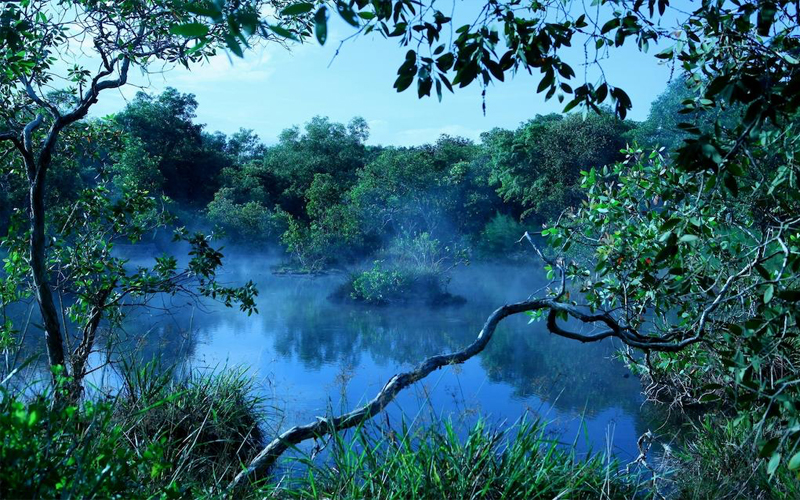 6) Snorkel the crystal clear waters of Con Dao
Being voted as one of the most mysterious islands in the world, Con Dao Island is a snorkeler's paradise. So if you are looking to snorkel or go scuba diving together on your honeymoon, this remote location with turquoise waters, golden beaches and colourful marine life is the ideal spot. You may even have a great chance of spotting turtles and stingrays while snorkelling and diving too. Therefore, the best time to embark on any water activity is during the summer months as in the winter months it can be cancelled due to high winds and low visibility.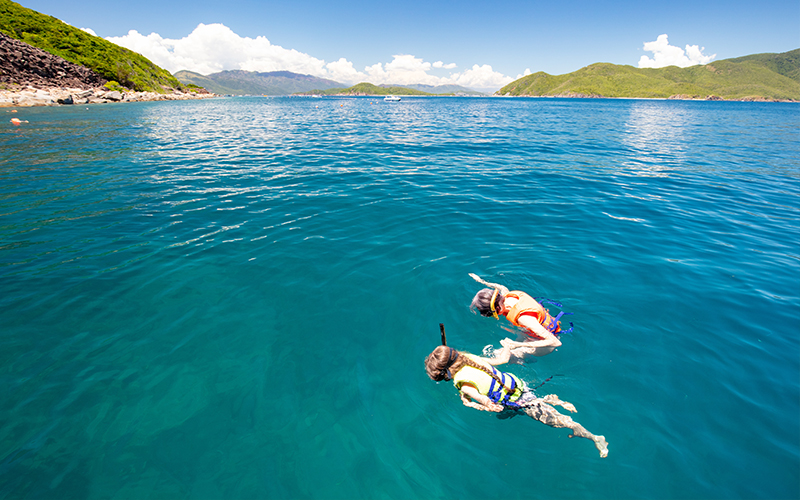 7) Enjoy a candlelit evening in Hoi An
Hoi An is a beautiful ancient city by the sea, rich in culture and history. It is romantic by day and night with bright colours and many lanterns hanging along Hoai River. Named one of the most romantic cities in the world, it's the perfect romantic place to walk hand in hand along the cobble streets of Hoi An old town, enjoy a candlelit evening for two or hop on a little boat to light and release a lantern on the evening of the Full Moon Lantern festival which is said to bring luck to your marriage and good fortune.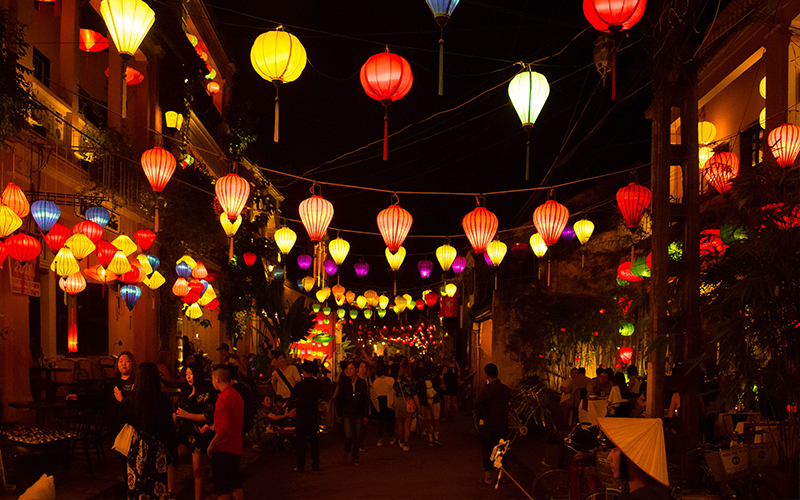 8) Climb the Heaven's Gate of Sapa
Sapa set in the North-western Vietnam is home to spectacular views, lush mountain ranges and breath-taking landscapes. If you're feeling adventurous on your honeymoon, then climbing the Heaven's gate of Sapa in Vietnam is a must. Climb to the top at an altitude of around 2000m above sea level and admire the scenic views of the Muong Hoa valley with lush terraced rice fields, the famous Thac Bac waterfall (Silverfall) and the highest mountain, Fan Si Pan. As well as taking a dip in the Silverfall, it is worth taking a dip in the romantic love waterfall nearby too.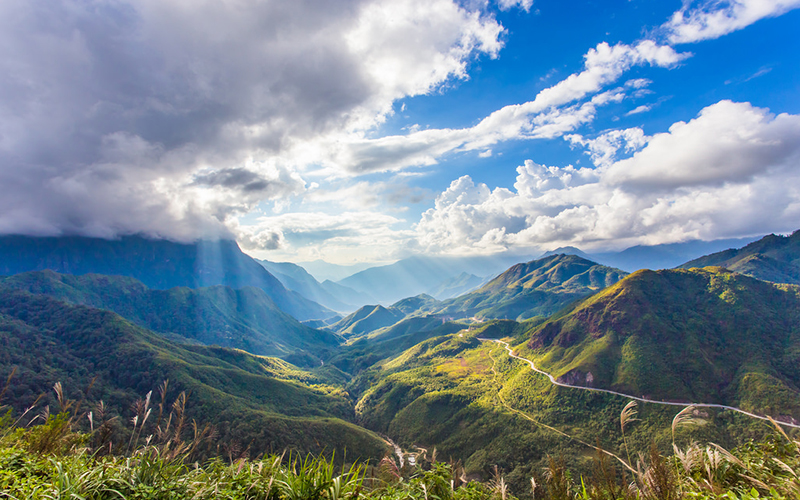 9) Walk high above Vietnam's 'Golden Bridge' in Danang
Stroll along the 150m curved long Golden bridge seemingly held aloft by two giant hands known as 'God's hands'. Giving a true wow factor, the sculpted hands located in the lush forested Ba Nang Hills near the city of Danang, holds the bridge offering stunning panoramic views of the beautiful surroundings. Take a ride on the 20 minute cable car together, then walk hand in hand across the 'road to heaven', enjoy the majestic beauty of nature and capture a shot of the two of you to remember during your honeymoon escape. Therefore, be sure to tick this off your honeymoon bucket list in Vietnam.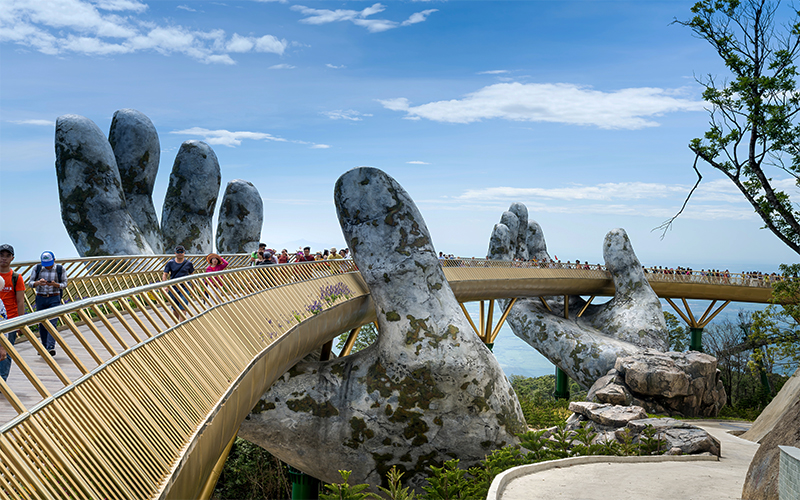 10) Couples cooking class in Ho Chi Minh city
After spending a day together exploring the beautiful Ho Chi Minh City formerly known as Saigon, why not take on a private cooking class for two. Ho Chi Minh City has a vibrant food scene and is well known for its diversity of delicious cuisine ranging from the classic Pho, Bun Bo, noodle dishes, spring rolls, pancakes and much more. Therefore, there's nothing better then learning how to cook your own authentic Vietnamese dishes combined with a trip to the market to buy the ingredients. Enjoy your love of Vietnamese food and this fun experience whilst spending time together.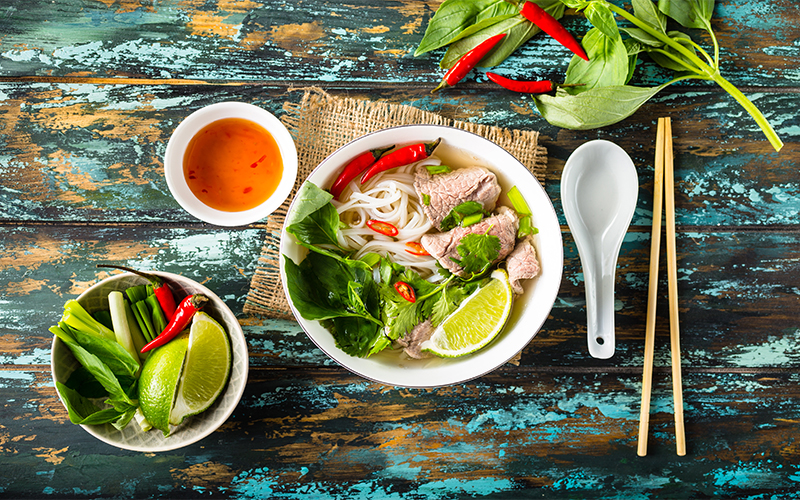 Planning your honeymoon to Vietnam? Contact us on 0121 440 6268 or enquire online.