Emily's Mauritius and Dubai holiday review
Our honeymoon specialist, Emily and her partner, Jack, recently visited stunning Mauritius and the bustling city of Dubai. We caught up with her to give us the low-down on where she stayed and what she got up to on her couples holiday. If you've always wanted to visit Zilwa Attitude in Mauritius and JA Ocean View in Dubai, read her fabulous review to see what she thought of both of the resorts and see some gorgeous snaps of both the destinations to give you the ultimate wanderlust!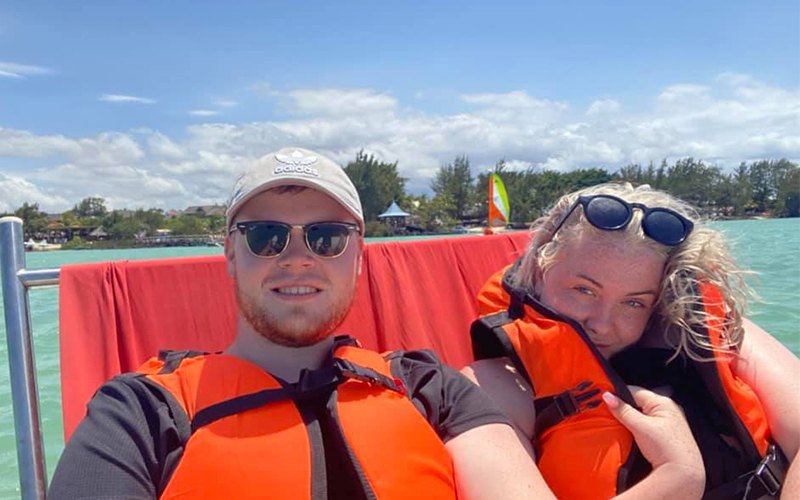 Zilwa Attitude, Mauritius
All of the trip advisor reviews say that the view when you walk in is breath-taking, we arrived at night when it was dark so had to await morning to really appreciate it. On our way to breakfast we walked through the lobby bar, to this incredible view – and then we were sure we had made the correct decision staying at Zilwa. See the view below and decide for yourself.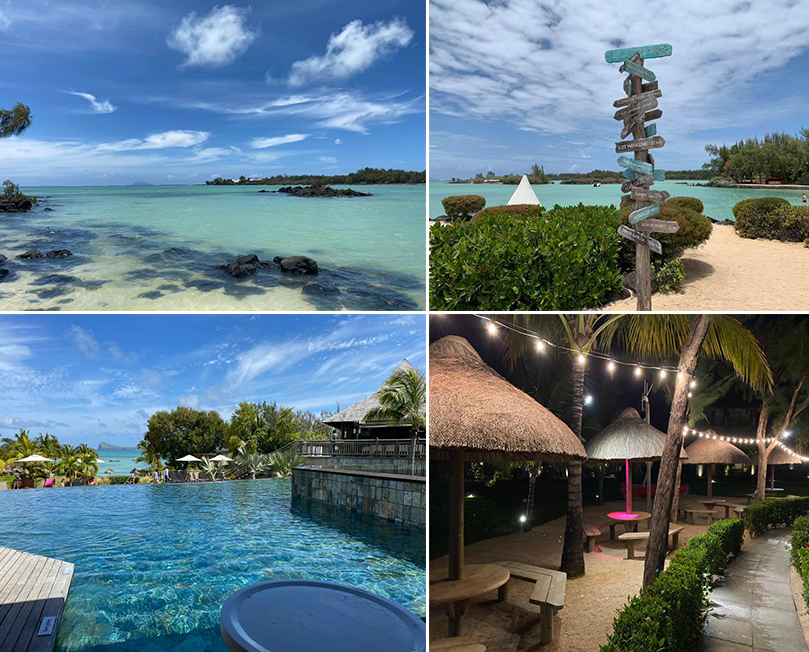 We stayed in the Couples Junior Suite with tropical view and it was lovely! The room was rustic and really got us into the island feel, with creole phrases dotted around the room and a huge amount of space – it was better than we expected! The room comes with a mini bar with beer, pepsi, juice, water, a Mauritian snack and teas and coffee, our favourites were Phoenix Beer and the Vanilla Tea.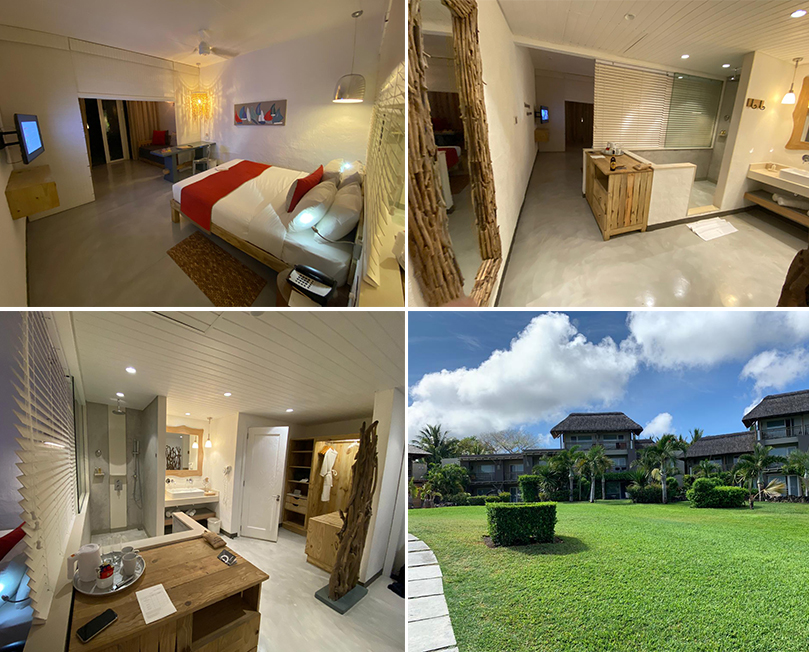 There are about 4 different pool areas to choose from, depending on the kind of vibe you like and what you want to be near. The pool pictured below is adults only and surrounds the lobby bar, the views alone make this a great place for a dip! The only issue with this pool area is there are no sun beds around it, just tables and chairs. There is occasional waiter service around this pool too.
One of the pool areas had sun beds, but we didn't tend to sit around here as it is where things like AquaAerobics took place at 11am everyday.
Next to that, there is a smaller pool which mostly attracted families, as there is a very shallow rock pool joining it – if you hadn't already guessed, we didn't even consider this pool area!
The final pool area is where we spent most of our days as it is next to the beach bar, the beach, the water sports and the buffet lunchtime restaurant. There was a nice mix of people around here and there was always a little bit of shade too.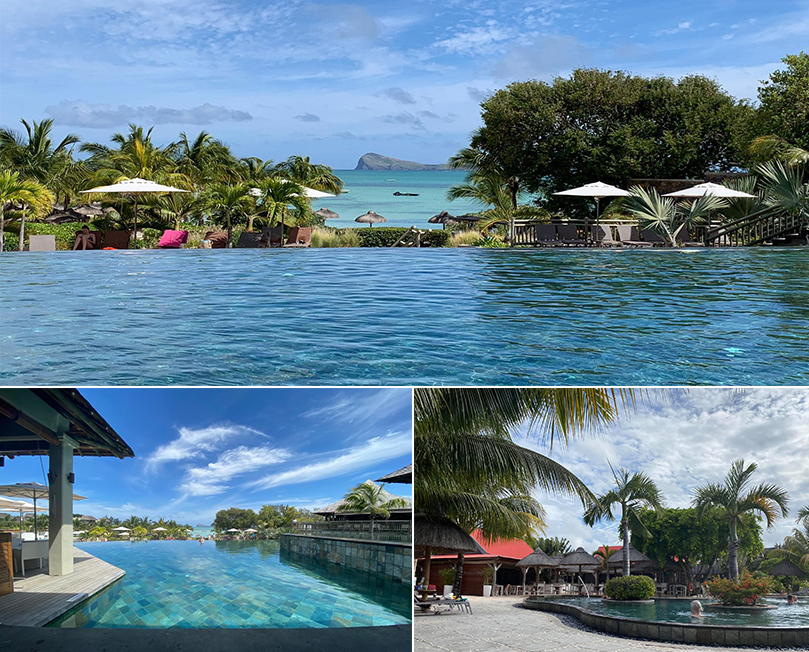 Watersports are perhaps the most popular daytime activity on the island and at every hotel, so it is worth experiencing during your stay! In the all inclusive package you have kayaking, pedaloes (very comfortable!) and paddle boarding, included as many times as you like. All you have to do is head to the boat centre, sign your disclaimer and get a lifejacket. The lagoon around the hotel is beautiful to look at but is quite cloudy, so not good for snorkelling, however due to this the hotel offer a snorkelling boat out to the corals 4 times per day for all guests, this is complimentary but you do need to book this in advance. If you don't fancy getting in or just want to see the corals that they take you to snorkel, they also take out a glass bottom boat trip twice per day to the same location, again complimentary.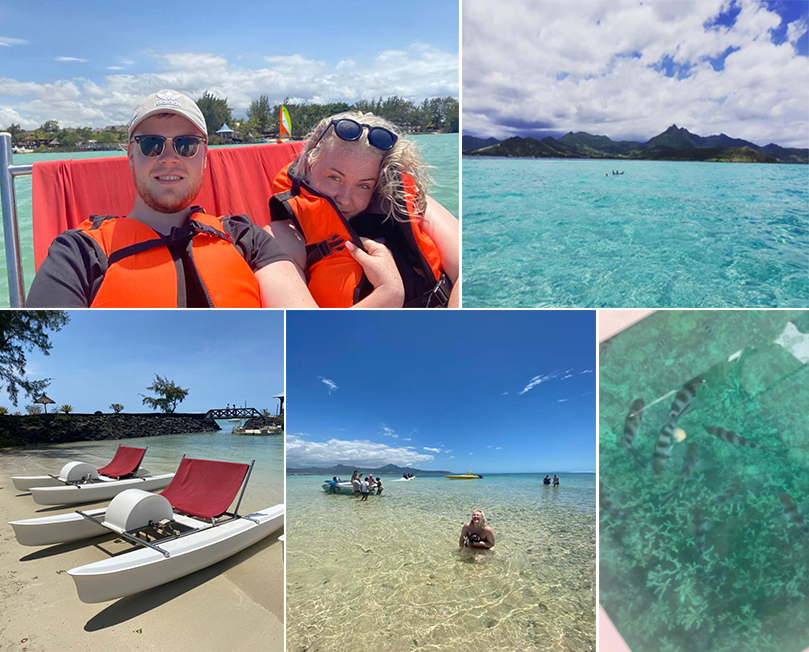 The hotel offers a range of experiences that they call Otentik, these essentially allow guests to experience the real Mauritian culture. They offer things such as going to a staff members house for dinner, or a trip to a local market – both chargeable. But there are two that are complimentary, the first is creole lessons and the second is an Otentik cooking class experience which we did. This happens twice per week on a Tuesday and Friday at 1215, it usually takes place in Kot Nou restaurant and guests will make a traditional Mauritian Curry and then eat it for lunch. There is one cooking station and all guests partake by completing one stage of the recipe.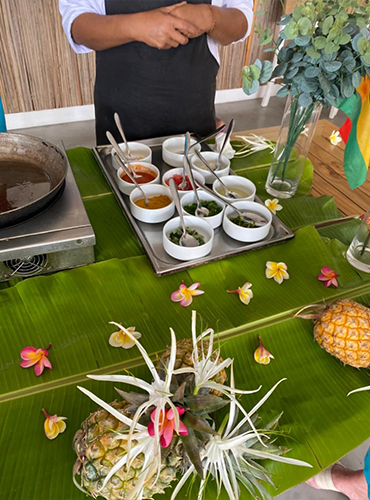 There is entertainment every night in the lobby bar from around 2000, each night is something along the lines of a band or singer. One night a week there is a Mauritian show and on another night there is the managers cocktail party. I can't really comment on the entertainment as to be honest, it isn't my thing. If it isn't yours either, you are in luck as the bar on the beach is also open until around 11pm and is incredibly peaceful! I have put a photo below of the bar in the day as I didn't take one on a night.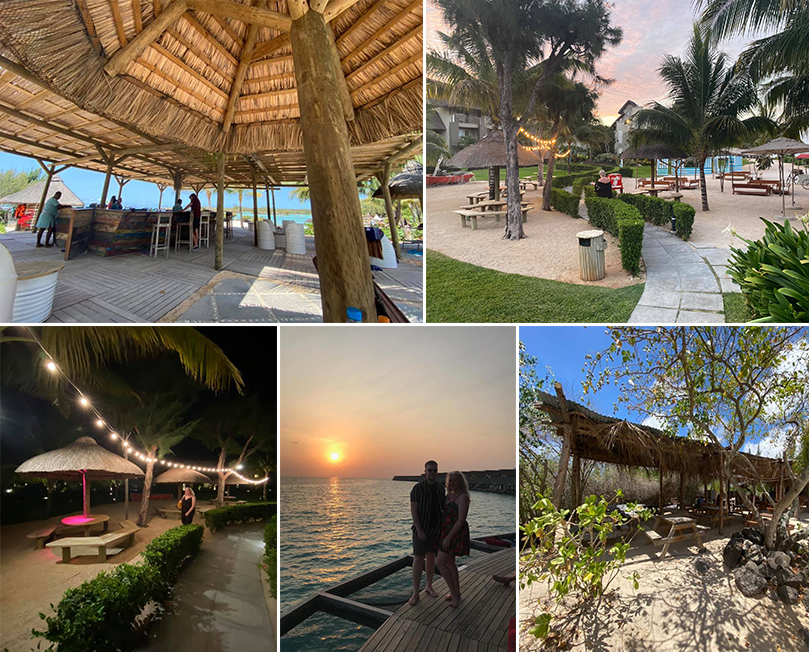 In regard to the dining, we didn't have a single bad meal – in fact we couldn't stop eating! It is worth noting that all reservations for dining and Otentik experiences are made at the guest experience desk, this is also the place to go if you have any queries or issues.  Even if we prebook restaurants before you travel, you will still have to go here on your first night to collect your dining tokens.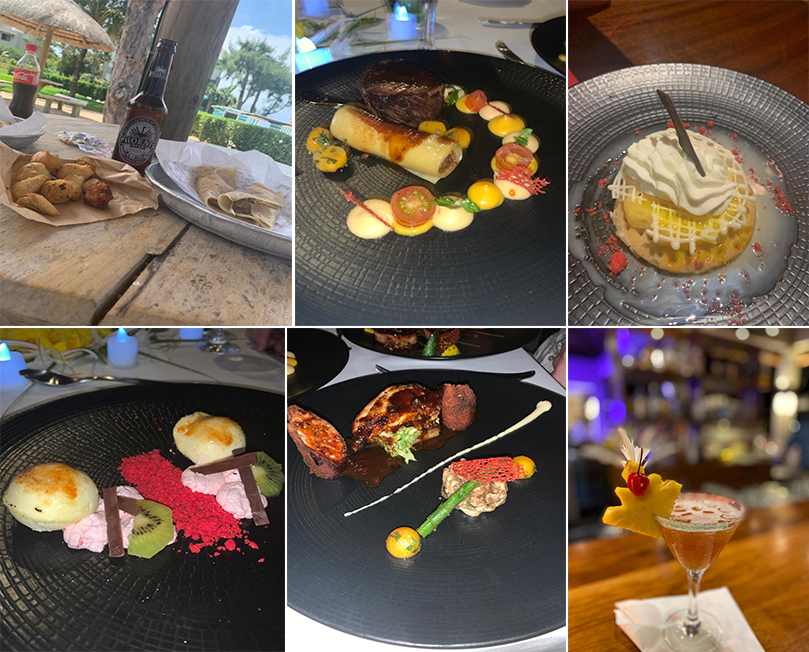 Usually I am not a fan of buffet food, although I must say I was pleasantly surprised with the buffet restaurant here. Breakfast is buffet only and has a great selection of hot food (even hash browns!), a fresh pancake station, an egg man and continental meats, breads and cereals. For lunchtime you have a few different options, Lor Disab is open as a buffet restaurant, you can get sandwiches, wraps, and burgers from the lobby bar between 12-6 all included on the all inclusive. We then have a Mauritiuan street food cart, Taba J – which I highly recommend, the Lamb Roti is amazing! 
On the evening, the buffet food had a huge selection including traditional curries, and one of the nights crabs! They have a different theme every night too to keep things exciting. All of the al a Carte restaurants require reservations and I would highly recommend that we try and make these before you travel as availability goes quickly, I would say October time. They are all open for 6 days a week meaning one of them is closed each night. There are two dinner sittings, one at 1900 and the other at 2030, I went for the 2030 as we are not big on entertainment, and we spent an hour in the bar beforehand. My favourite restaurants were Lor Disab and Tadka.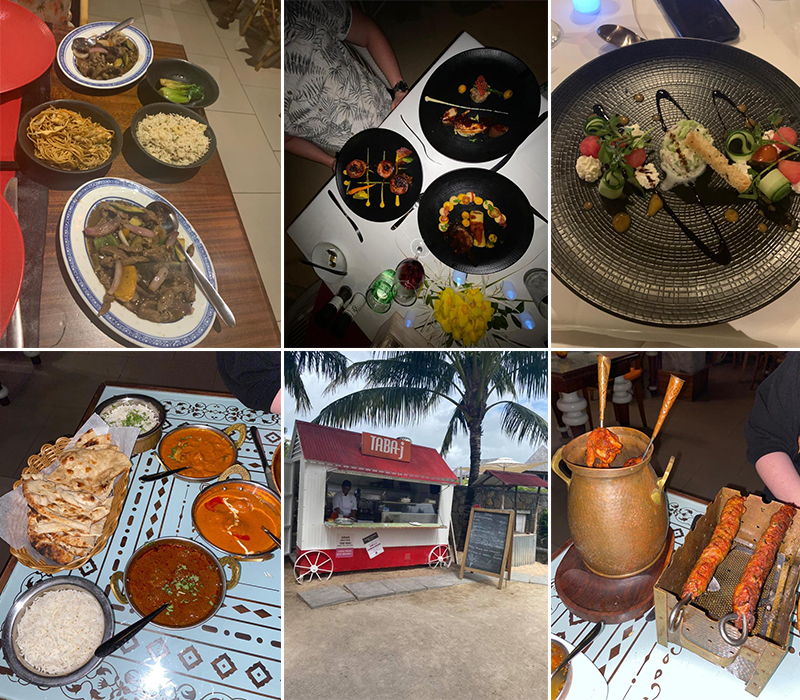 Another option for lunch time upon reservation, is a trip over to the small island of Grand Zil. This was a highlight for us, as the water is clearer, the sand is finer and the overall atmosphere is so relaxing! It is accessed by a pontoon and takes around 1 minute to get there. The first pontoon departs the jetty at 1100 and departs every 30 minutes each way, the final pontoon leaves Grand Zil between 1430/1500. Once on the island there are sun beds and benches, and one non-flushing toilet as there is no running water. There are also two hammocks in the sea. The lunch BBQ has chicken, beef and seafood along with an octopus curry, rice, salads, breads and two small cakes for desert. Drinks here include soft drinks, water, beer, white wine and rum.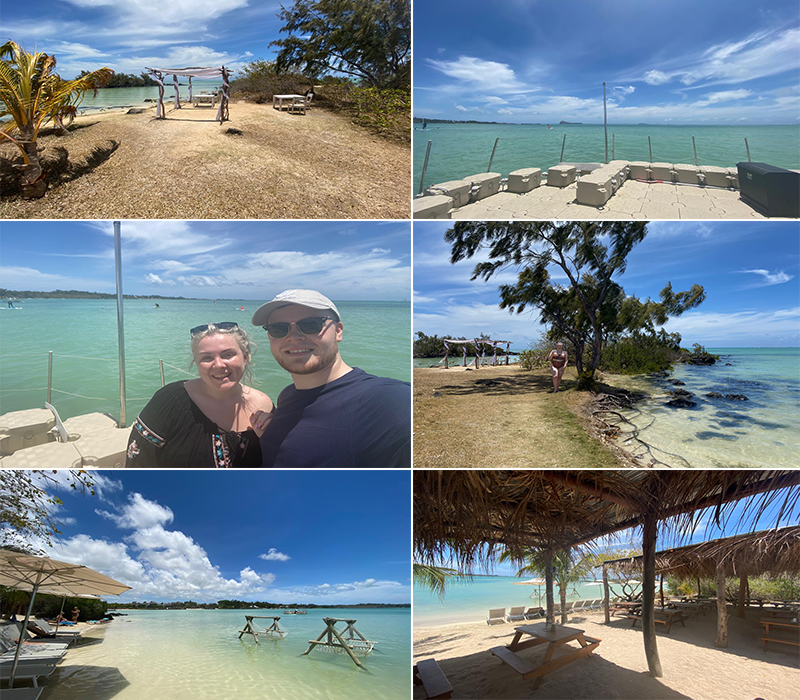 some more holiday pictures…..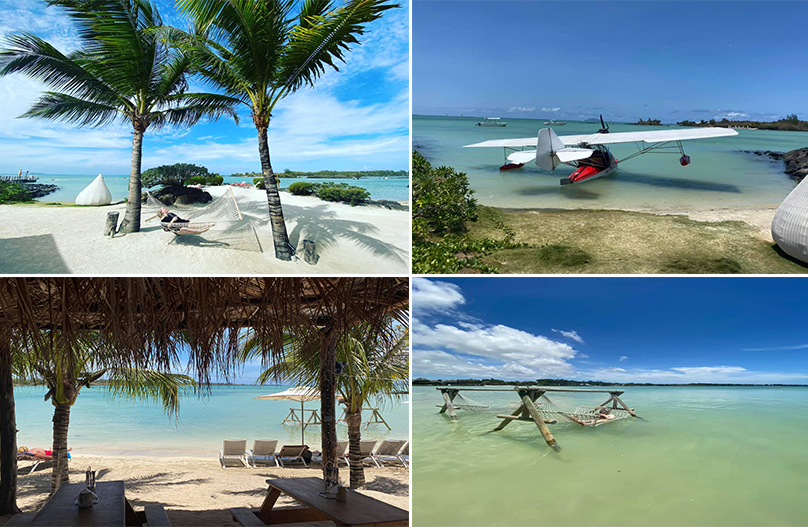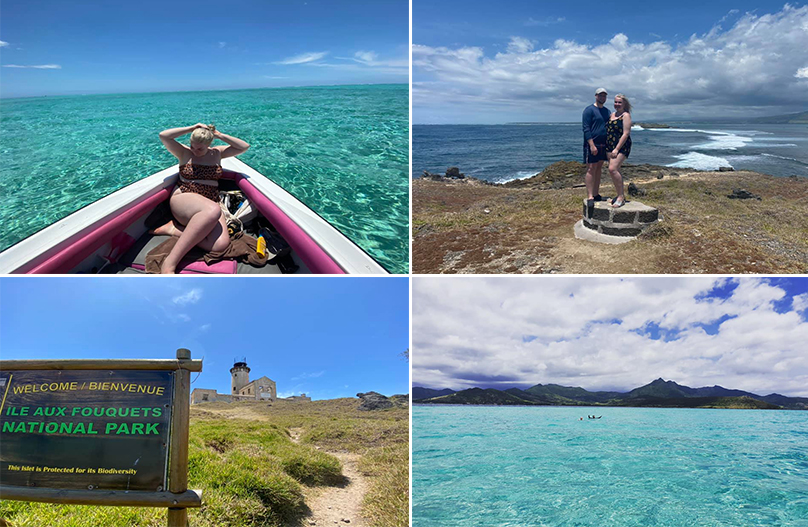 Emily's Top Tips when staying at Zilwa Attitude in Mauritius:
– Take some beach/sea shoes as the lagoon surrounding the hotel has broken coral.
-The hotel has NO straws in any bars as they are protecting the surrounding marine life, so if this is important I would advise to maybe order a metal straw before travel and take it with you.
-Spa treatments aren't actually ridiculously priced, and you get 20% off ONE Mauritian Massage between certain times of the day as you are on all inclusive. If you are feeling like doing something really special, I would recommend the other private island – Grand Zil, that is available for couples to book massages on and it is super peaceful.
JA Ocean View, Dubai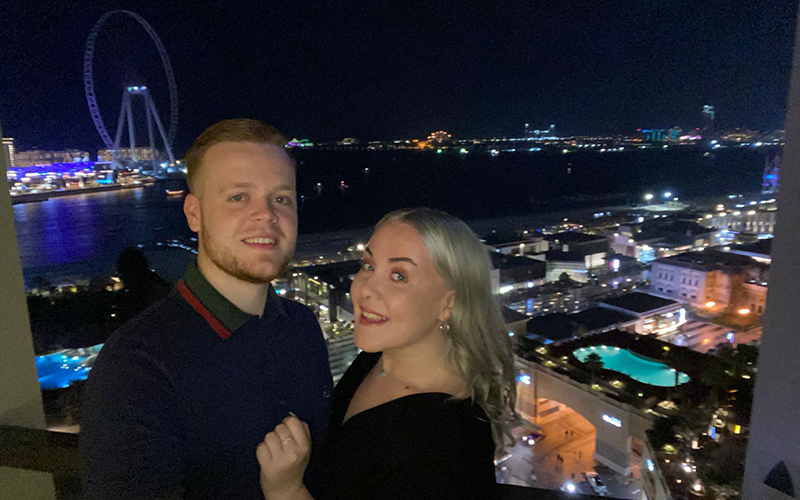 The perfect Marina location makes this the best choice to explore Dubai. Easily connected by taxi's to all of Dubai's main attractions but in a location full of bars, restaurants and activities galore!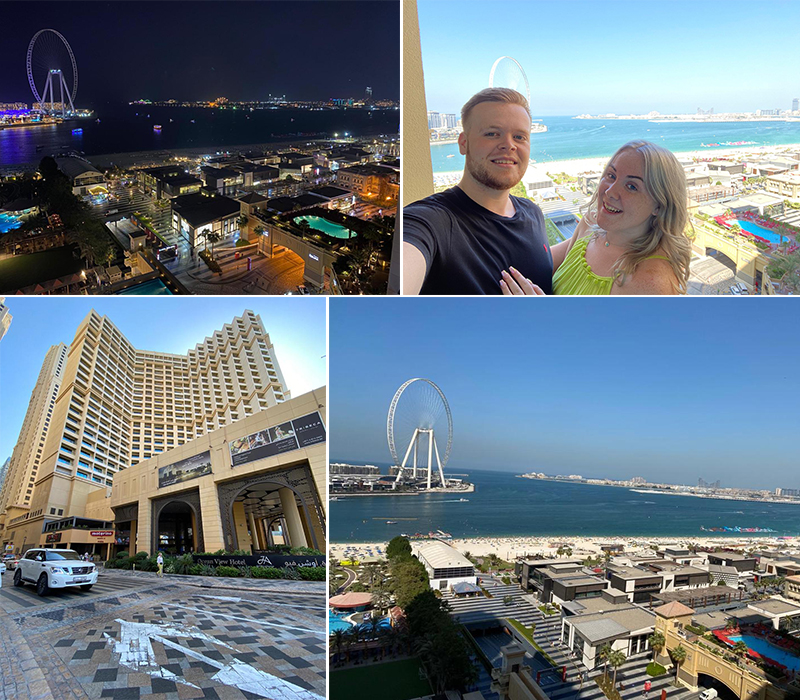 I absolutely loved the rooms here, they were so spacious and bright. I stayed in a Superior sea view room which came fully equipped with a small fridge, a hairdryer, robes, slippers and toiletries. All rooms come with a sea view room, the views are fabulous and overlook the Marina, the Dubai Ain and even the Palm!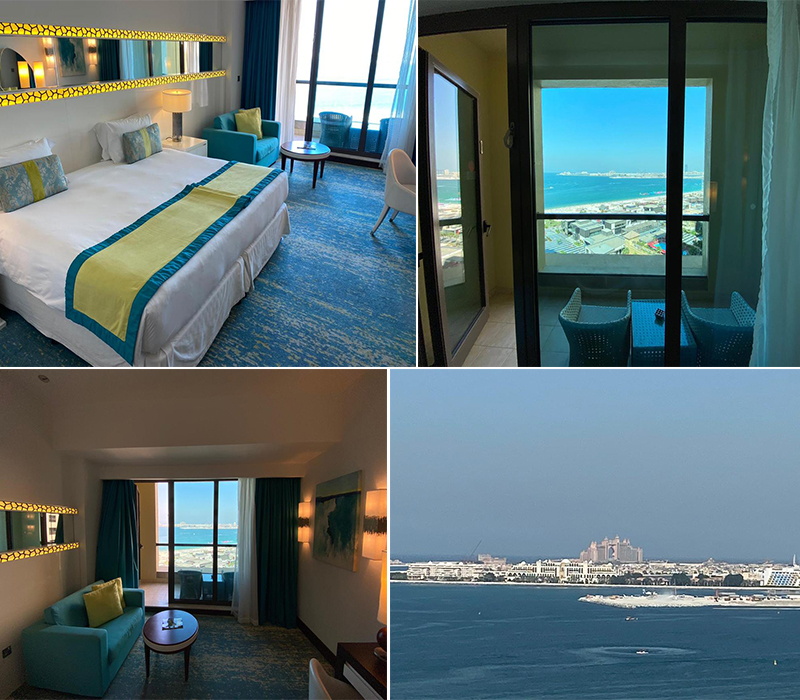 The pool area is the perfect place to cool off after a busy half day of sightseeing or to prepare for the day ahead. The pool area is open until 7pm and is surrounded by lots of sun beds and even waiter service! Pool towels are complimentary, but if you are heading down to the beach, the towel desk next to the pool offer complimentary use of beach bags that include a beach matt, towels and an umbrella. There is even a lift next to the pool area that takes clients straight down to the marina which is really handy.
The pool offers a view of surrounding islands including Bluewaters, which is home to the new big wheel, and the palm. There is a poolside lounge open from 1100-2100 and offers snacks and drinks. There are some deals on drinks such as a pitcher of Sangria from 99AED.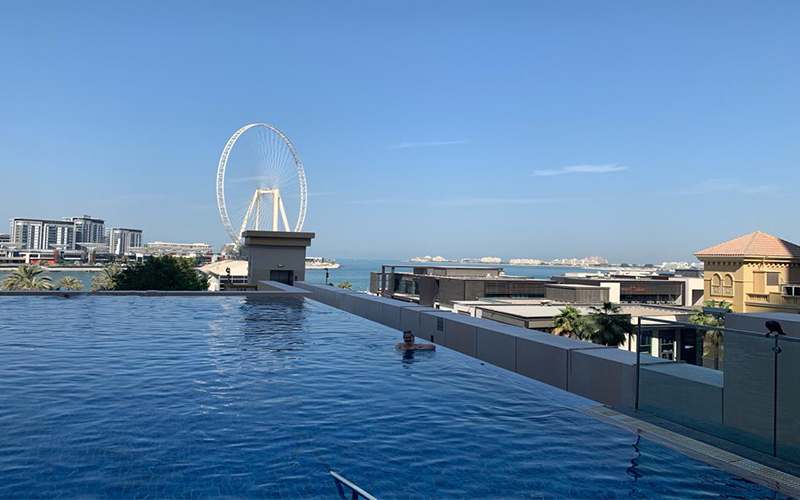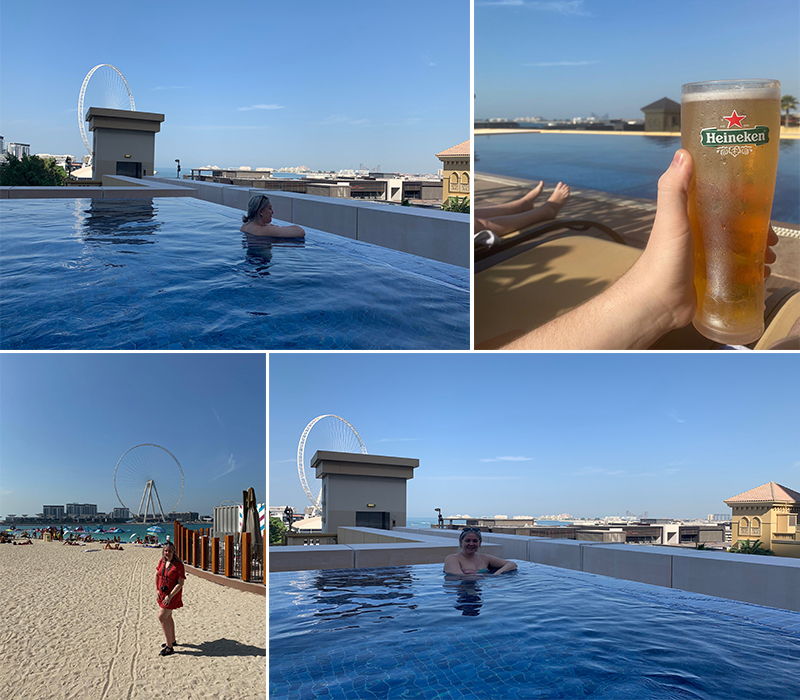 Breakfast is served between 0630 and 1100 at Le Rivage and is buffet style. Water, juices, teas and coffees are available along with a range of breakfast foods including breads, cereals, fruits, eggs, salads, cheese and certain hot dishes.
The hotel also has a café open from 0630-2330 that offers pastries, ice cream and hot drinks, you will find this just off the Lobby next to the gift shop.
There is a sportsbar called OFFSIDE which is kitted out with large TV screens and table sports such as pool, table football and snooker. This is located on 2nd Floor and is open until 3am every day, it opens at 4pm in the week and 1230 on Fri/Sat. Happy hour here is every day from 4pm-8pm where a draft beer is 32AED (£6.80) compared to the normal £10! Also on the happy hour are selected cocktails, wine, spirits and shots.
While we were there we went in and around Dubai, we got the local metro over to Dubai Mall where we had a leisurely stroll around the grand designer shops that's displays tempted you in every time! We had a walk around the lower mall where we found the aquarium and then headed outside. We exited to the wonderful sight of the Burj Khalifa – the worlds tallest building. At night time this is beautifully lit up and if you have a little time to hang around, you can even view the dancing fountain show! We enjoyed the show that much that we ended up watching it twice from two different angles! We also chose the Gordon Ramsey Hell's Kitchen for our first Dubai Brunch Experience and it exceeded all of our expectations. I would also recommend a day at the Lost Chambers Aquarium waterpark at Atlantis the Dubai, although this doesn't take too long to walk around, the marine life is mesmerising, the rays were my personal favourite!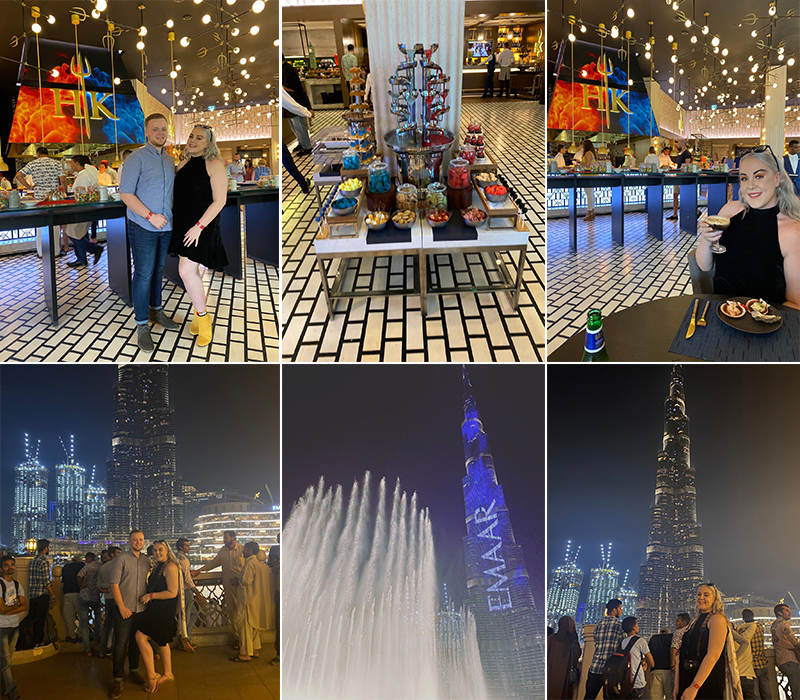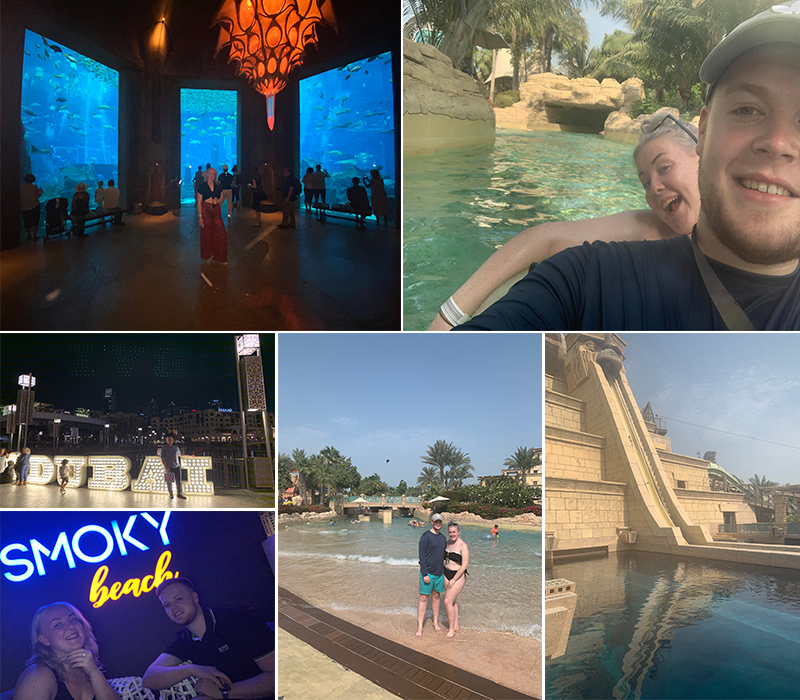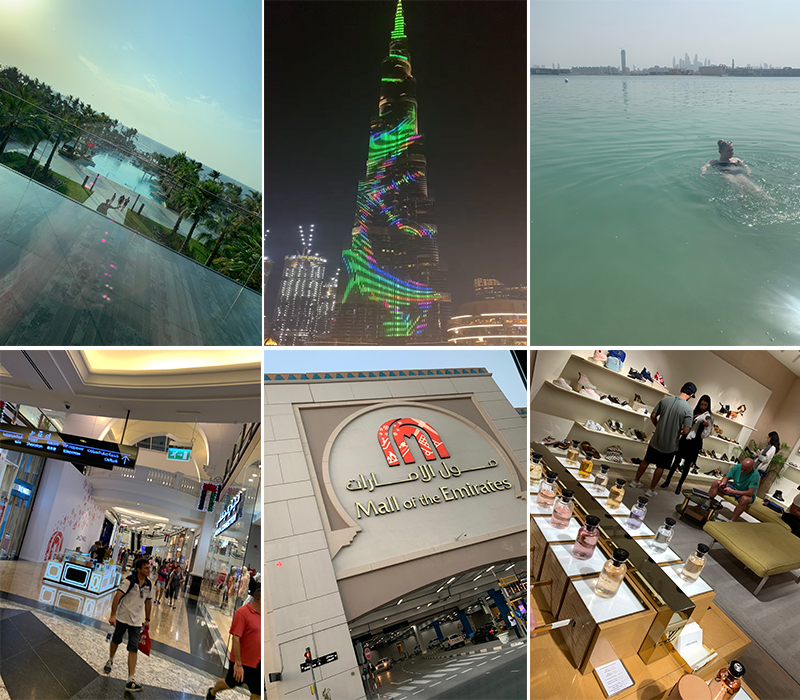 Emily's Top Tips when staying at JA Ocean View in Dubai:
– Book a club room! Club rooms are located on higher floors and come with access to the Executive Lounge on the 24th floor. Here they will receive complimentary afternoon snacks, evening canapes and beverages.
– The hotel offers complimentary mall shuttle buses to both The Dubai Mall and The Mall of Emirates. These depart from the road outside of the hotel (opposite Mcdonalds).Reservations cannot be made and availability is based on a first come first serve basis. 
Inspired by Emily's Mauritius and Dubai holiday review? Contact us today to start planning your romantic getaway!