5 Reasons to Honeymoon at Sandals Royal Barbados
Experience royal treatment on your honeymoon in Sandals Royal Barbados and create unforgettable memories for the beginning of your love-filled married life. The all-suite, all inclusive, adults-only Caribbean beach resort sets the perfect destination for a dream honeymoon retreat, featuring luxury accommodation, elite dining, including the first rooftop pool and bar, and the best of all a romantic ambience with stunning ocean views. Continue reading for more reasons to visit the marvellous luxury resort of Sandals Royal Barbados…
1) Romance
Sandals Royal Barbados offers a perfect intimate scenery highlighted by aquamarine crystal waters and pure white sandy shoreline, creating an atmosphere embellished with true romance. Experience simple pleasures, such as a serene stroll on the beach as the sun settles in the endless horizon or unwind under a canopy of stars with a glistening glass of champagne. For more of an extravagant experience indulge in a private candlelight dinner in your lavish suite as to leave all the wedding planning stress behind.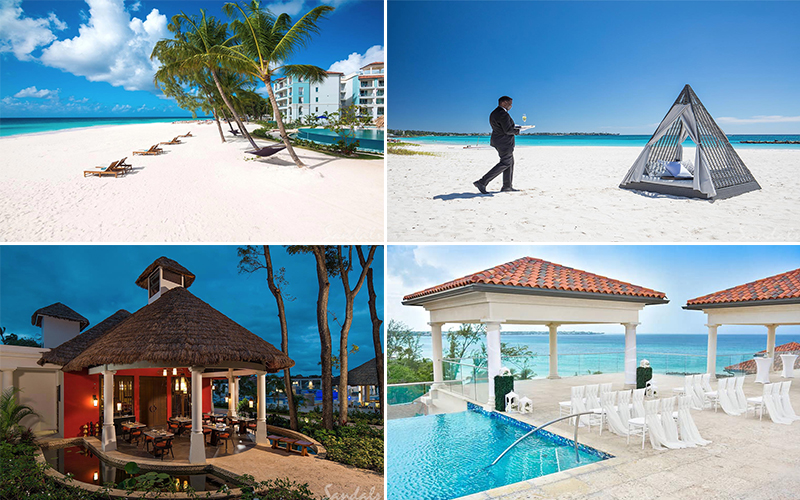 2) Lush Accommodation
Well-known as the resort of love, Sandals Royal Barbados provides romantic and exotic suites, called Love Nest Suites, featuring exclusive all-suite amenities, such as plush terry robes and hand-embroidered Egyptian cotton duvets and exquisite décor. These opulent suites are the perfect retreat for lovebirds, including Millionaire Suites, Swim-up Suites and Skypool Suites. In addition, more exclusive features consist of Tranquillity Soaking Tubs for two, a special turndown service that includes flower petals on top of your bed on the first night of your honeymoon, delivery of a lovely fresh bouquet of flowers and sumptuous breakfast in bed one morning of your stay and lastly you will be welcomed with a fine bottle of chilled sparkling wine for a toast to your future.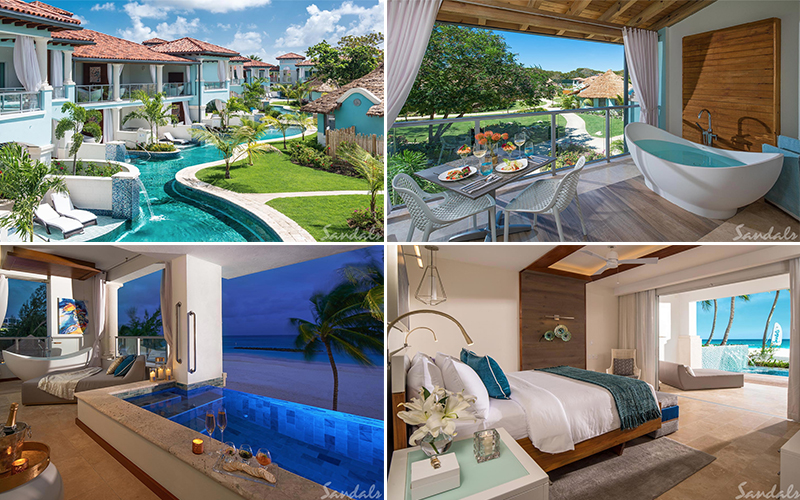 3) Dining 
Bringing new scenes and flavours, 5-Star Global Gourmet at Sandals Royal Barbados offers a few Sandals firsts, from brand-new rooftop restaurant and bar to two new restaurants. These include the Chi Asian Fusion, featuring a magnificent blend of Japanese, Chinese, Thai, Vietnamese and Singaporean cuisine, and the American Tavern, inspired by America's rich culinary heritage offering trademark American dishes. Indulge in a romantic intimate dinner at any of the stylish and chic dining venues, where master chefs cater to your needs and cravings in the finest of sceneries. Choose from discovering the spirit of charming France at The Spirit of France to exploring the divine platter of Mediterranean seafood at Neptunes.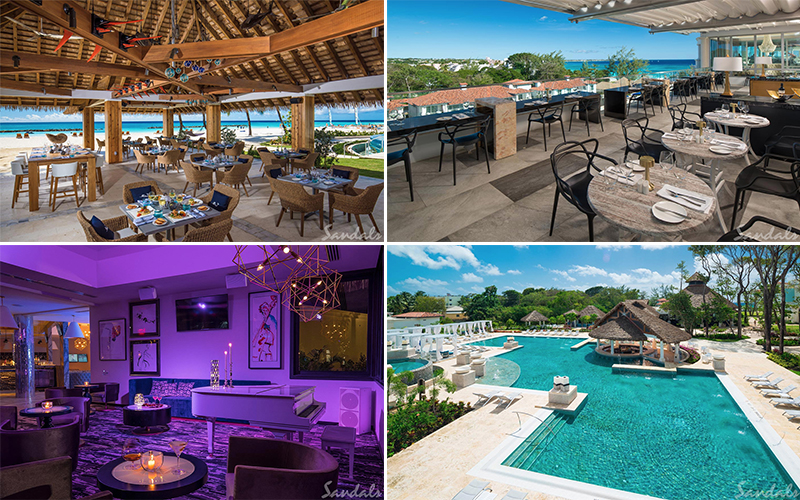 4) Red Lane Spa 
Embark on a revitalising journey for two at the Sandals Red Lane Spa and let a unique body and mind experience renew your mental and physical wellbeing. Influenced by the lovely traditions of the Caribbean and gorgeous surroundings, the facility will envelope you in organic botanicals to last you and your loved one a lifetime. Featuring some of the most extraordinary treatments, Red Lane Rejuvenation therapists focus on the warmth of the island to soothe your body and soul. Offering a wide range of spa treatments, you can choose from the exhilarating aromatherapy massages, lush body care therapies and exotically-influenced skincare treatments. Engage your senses with a salt bath soak, a soothing mix of essential oils and detoxifying minerals, or the Couples Massage 'Scents of Love', featuring candle lights and a romantic warm massage oil ritual.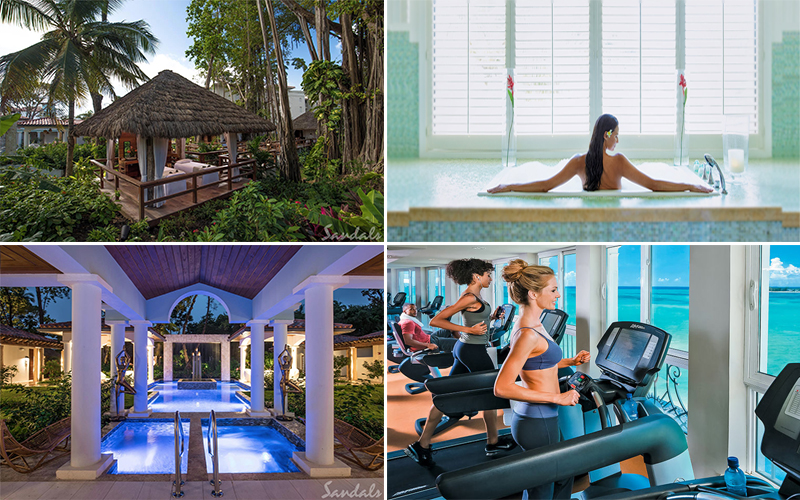 5) Romantic Adventures and Activities 
Find a variety of activities and tours that await your arrival at Sandals Royal Barbados. Indulge in a friendly game of bowling at Lovers Lane, the first four-lane bowling alley to open in a Sandals resort, offering a dazzling cocktail lounge, or revel in endless entertainment at the resort's theme parties, such as Caribbean Night, Chocolate Buffet Night and Barbados Day & Street Jamboree. Relish an ocean filled with water activities, ranging from snorkelling, Hobie Cats, paddle boarding and many more. Additionally, for diving enthusiasts, the Sandals Royal Barbados offers couples a thrilling adventure with PADI Certified Scuba Diving programmes, which will take you to remarkable reef and wreck sightings. And if you would like to explore local Barbados cultural sights, you and your special loved one can embark on an exciting adventure tour to gain a new perspective of the charming sanctuary.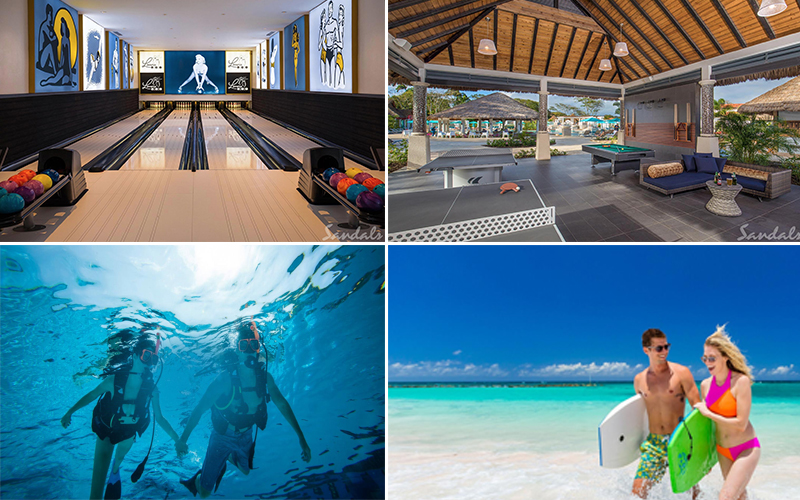 Inspired by our 5 reasons to honeymoon at Sandals Royal Barbados? Contact our Honeymoon Specialist today to plan your romantic honeymoon, call us on 0121 440 6268 or enquire online