Your Guide to a Wedding Abroad: From wedding packages to choosing the right destination for you
Are the thoughts of a sopping wet dress, dull photos and guests hiding under umbrellas on your wedding day leaving you feeling stressed about your special day? Stop stressing about the unpredictable UK weather and begin planning your wedding abroad in a guaranteed sunshine destination.
Weddings abroad are becoming increasingly popular as one in four couples now choose to say 'I do' abroad. Planning a wedding abroad may seem like a daunting task, but it needn't be with our help and advice. Here at Honeymoon Dreams, we want to take the stress off your shoulders to ensure your wedding day is stress-free as you say 'I do' in a beautiful location, so we have put together this guide of important things to consider from choosing the perfect destination to ensuring your wedding is legal.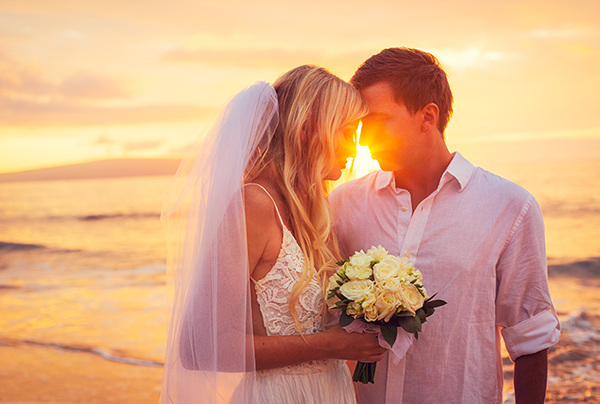 Your wedding date will determine the destination for your wedding abroad
The last thing you want for your wedding abroad is a hurricane and torrential rain to spoil your special day, so check weather forecasts before getting your heart set on a destination. Our wedding specialists have a great knowledge of climates around the world and when is the best time to visit each destination.
View our wedding destinations around the world.
Are you planning on inviting family and friends to your wedding abroad?
Are you picturing your wedding abroad surrounded by all your friends and family as you say 'I do' and seal your marriage with a kiss? Don't be surprised if your friends and family aren't willing to fly 15 hours to Bali for 1 week, some destinations are just too far for some people to travel.
Consider your friends and family when picking your destination, will they be able to afford it? Will they be able to have the time off work? Will they be willing to travel that far? Will you be inviting children to your wedding abroad? There are a variety of factors to keep in mind when planning your wedding abroad and these will help you decide your perfect wedding destination.
Get your save the date & invitations for your wedding abroad out early
Decided on a wedding abroad, but haven't decided the minor details yet? Give your guests as much notice as possible that you are planning your wedding abroad. We advise sending out your save the date cards between 10-12 months in advance, even if you have not decided on the destination, it will give your guests time to save for your wedding abroad.
Keep your guests updated about your wedding abroad
Once you plan more details of your wedding abroad including destination, hotel and specific wedding packages for the guests, send them a cute note with extra details and finally once all the details are finalised, send out the formal invitation. The formal invitation should include the venue for the ceremony and reception, whether it is possible to stay there and various flight details depending on length of stay.
Your guests will love the updates about your wedding abroad and the excitement will grow with each detail you provide them. Honeymoon Dreams advises sending out the formal invitation at least 6 months prior to your wedding abroad.
 
Will your wedding abroad be legal?
Often the most stressful part of weddings abroad can be all the legalities involved to ensure your wedding is legally recognised in the UK. Our experienced wedding specialists will take the stressful administrative side off your shoulders and will advise you of the legalities involved for each destination for your wedding abroad to be recognised legally.
Each destination has different legal hurdles to jump over including how many nights you must spend in the country before your wedding may take place and a minimum night stay, whether you will require a blood test or if your wedding documents need to be translated to the local language. Our wedding specialists will make you aware of what is required, when it is required and how you can provide it to ensure your wedding abroad is legally binding.
What does your wedding package include for your wedding abroad?
There are many different avenues couples can take when booking their wedding abroad and booking with a wedding specialist is the easiest and stress-free way as the entire wedding package can be booked through Honeymoon Dreams. We often get questions about what is included in a standard wedding package, so we have provided a list of what most basic wedding packages offer:
 Assistance from your personal wedding specialist here in the UK
In-resort wedding co-ordinator
All administration and legalities will be covered in your wedding package
Celebrant to conduct your wedding ceremony
Ceremony set-up including decorations (chairs, flowers, decorated aisle etc.)
Bouquet of flowers for the bride and buttonhole for the groom
Dinner for two with sparkling wine
Our close-knit relationship with wedding co-ordinators in resorts and hotels throughout the world means we can provide our couples with direct contact with the in-resort wedding coordinator who will look after the wedding on the day. We have access to a full list with prices of extra touches to ensure your wedding abroad is unforgettable including music, wedding receptions and pressing of the garments on your wedding day.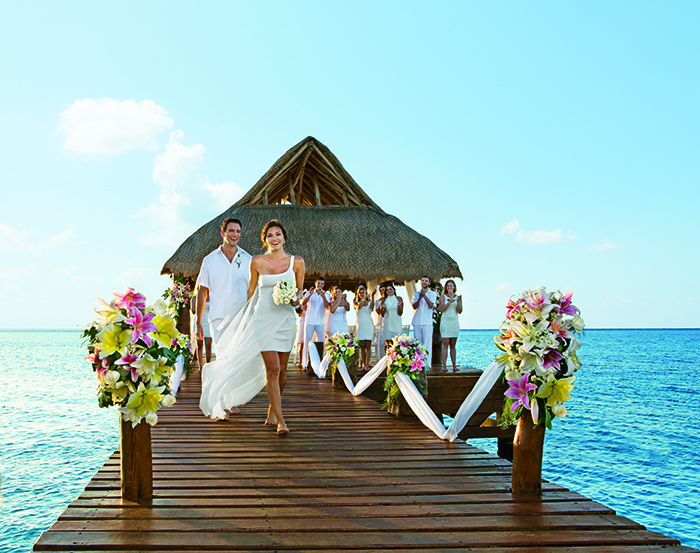 Finally, get excited. Your wedding is one of the most exciting times in your life and to spend it abroad in a beautiful location, it is simply a dream come true.
If you would like more information on a wedding abroad or are interested in prices for a particular destination, please call Honeymoon Dreams on 0121 440 6268 to speak to your personal wedding specialist.