Tour Overview
Enjoy a spectacular and romantic cruise aboard a luxury yacht, sailing off into the horizon. Grab a cocktail on board before sitting down for a beautiful barbecue diner. Taking place during the evening this is your chance to experience Langkawi during the setting sun, and on the deck of a majestic boat you'll perhaps catch sightings of flying fish, sea eagles and dolphins.
Sailing and sipping cocktails, as the sunsets couldn't be more magical on your romantic Langkawi honeymoon. Take in the beautiful surroundings of the Andaman Sea, with stunning islands nearby to witness the glorious, natural beauty of Langkawi – make sure to bring along your camera to snap those Instagram-worthy sunset shots!
Lasting around two and a half hours, you'll have plenty of time to bask in your surroundings and take in some of the most amazing views throughout Malaysia.
The amenities on board are first class with bar service, excellent hospitality, dining service with BBQ and a saltwater Jacuzzi to make your cruise extra special.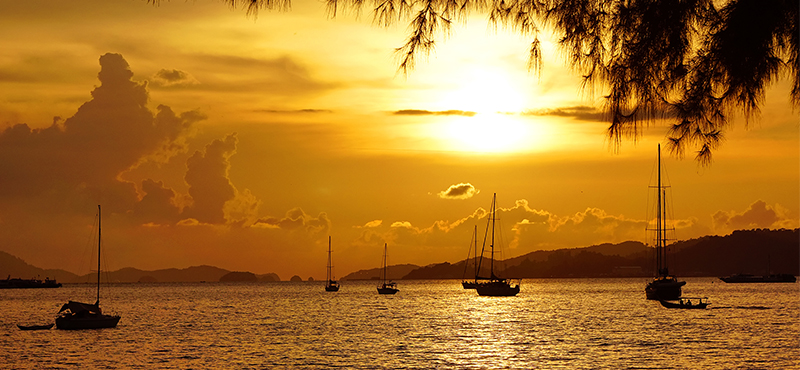 Further Information
Sumptuous BBQ dinner
Tuck into a delicious and hearty BBQ dinner, which compromises of 19 delicious courses as well as a salad bar. Tea and coffee and alcoholic drinks will also be available on board for you both to enjoy.
The salad bar features delicious and healthy food such as potato salad, coleslaw (oriental or continental), pineapple and cucumber salad, pasta salad, bean salad and Young Mango Salad.
The BBQ corner features ate served with peanut sauce, beef rending, chicken curry, marinated spicy chicken, BBQ fish, sausages in skewers, BBQ local fish, squid or crab, roasted sweet potatoes, potatoes and carrots, green stir fry vegetables and tofu with spicy sauce.
Celebrate your honeymoon in style with free-flowing drinks
You will be treated to an open bar on board with top-class service, free flowing alcoholic and non-alcoholic drinks to celebrate your nuptials in style!
How long is the Langkawi Sunset Island Cruise?
The cruise lasts for around 2.5 hours on board. This doesn't include transfer times from your hotel.
How many people are aboard the sunset cruise?
The cruise occupies up to 15 travellers.
Sunset dinner cruise package inclusions:
Open bar free floor
BBQ buffet dinner (vegetarian options available)
Saltwater Jacuzzi
Sunset Cocktail Cruise inclusions:
Open bar free floor & snack
Saltwater Jacuzzi
Other information:
Hotel pick up/drop off from Langkawi hotels

Sunset Cruise on Luxurious Yacht
2 Hours 30 Minutes Duration
Choice of cocktails and dinner on board
Are you interested in adding the Langkawi Sunset Island Cruise in Malaysia into your honeymoon itinerary? Contact us today to know more.
Back to Langkawi