Top luxury safari lodges in Africa
Adventurous honeymoons are becoming the more desired way to celebrate the beginning of marriage, and with many safari lodges becoming more glamorous, it's no wonder that more and more newlyweds are deciding to share their honeymoon with the Big 5 in Africa in a hideaway safari sanctuary and a backdrop for romance. Read on to discover our top luxury safari lodges in Africa to make your safari honeymoon completely unforgettable.
&Beyond Ngorongoro Crater Lodge, Tanzania
Beautifully placed so that you can appreciate admirable vistas of Ngorongoro, &Beyond Ngorongoro Crater Lodge is situated on the edge of the crater. Each tastefully furnished suite boasts of incredible vistas from your bedroom to the bathroom. Exuding with elegance and romance, this charming safari lodge offers plenty of opportunity for romantic gestures such as dining in an ancient volcano, spotting the flamingos in the soda lake or bathe in the rose petals at Ngorongoro Crater.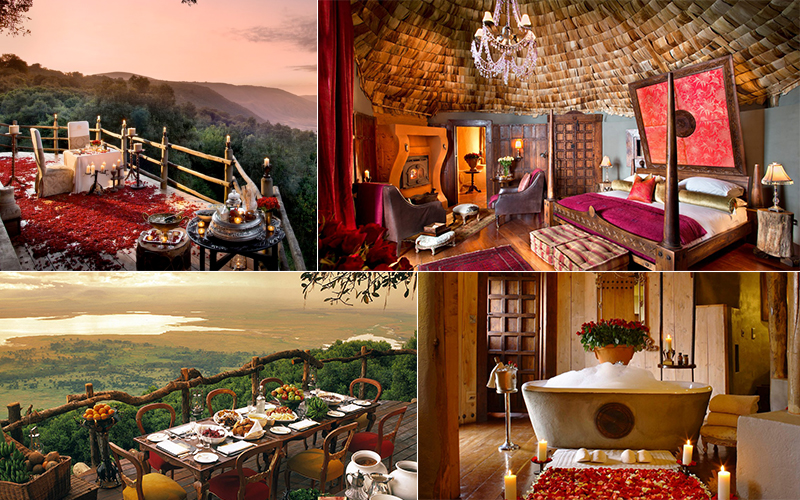 Royal Malewane, Kruger National Park 
Positioned on the west border of the Greater Kruger National Park, Royal Malewane boasts of offering its guests a classic safari experience with unmatched game viewing thanks to the highly qualified team of safari guides that you'll have access to. As well as thrilling game drives spotting the Big 5, you will delight your senses with romantic candlelit dinners, Bush spa treatments and luxurious safari sanctuaries that will serve as your hideaway home in the depths of Thornybush Private Game Reserve. There are so many ways to be romantic at Royal Malewane, from horseback trails to canyon cruising and seeing the spectacular sights on a helicopter panorama route tour or a hot air balloon ride over the river, mountains and plains.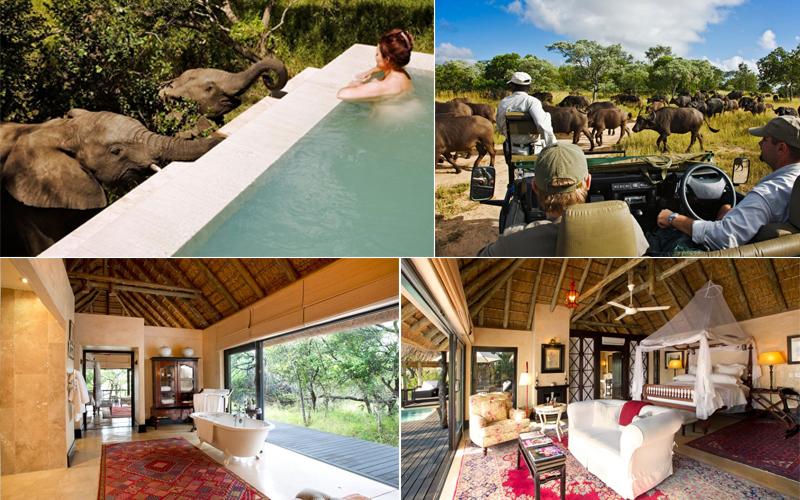 Mahali Mzuri, Kenya 
Placed on Kenya's acclaimed Maasai Mara National Park, Mahali Mzuri is perched on the side of the lush valley boasting of sweeping views. With an occupancy of only 24 guests, Mahali Mzuri provides a completely peaceful safari experience – apart from the thrilling 2 daily game drives that you'll embark on of course! You will get to see safari favourites including wildebeest, elephants, giraffes, cheetahs and much more. Each of the 12-luxury tents boasts of a sublime bathroom with wide windows to enjoy private viewings of the wilderness while you bathe. Adorned with luxury, you'll have your very own private deck and African designed bedroom with a cozy king bed and sofa for relaxing.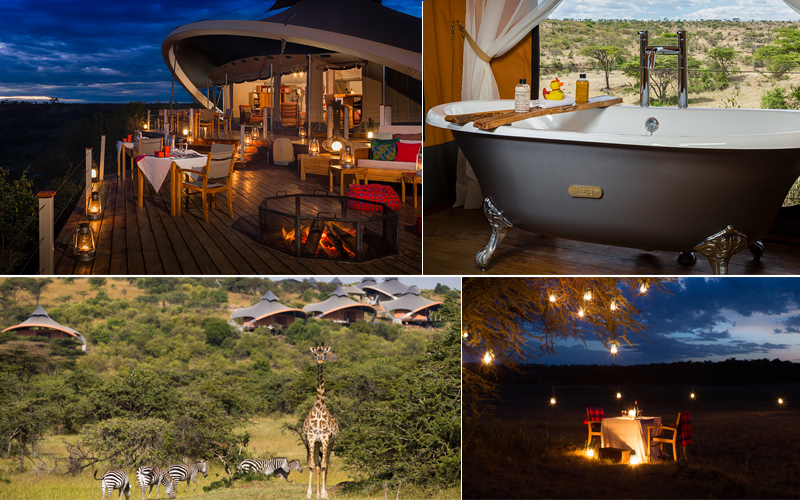 Tswalu Kalahari, South Africa
Tswalu Kalahari is one of South Africa's largest private game reserves where no more than 30 guests are to discover its savannah at one time. Renowned for its great wildness from wild dogs and endangered desert rhinos to meerkats, aardvarks and much more. Split into two lodges, The Motse and Tarkuni, you can experience a completely remote safari experience with the choice of a private Motse suite with al fresco showers, Wi-Fi and a private sundeck overlooking the waterhole, or, for the ultimate luxury, stay in the Tarkuni sanctuary boasting of your own chef and host, a private game viewing vehicle and an outdoor swimming pool.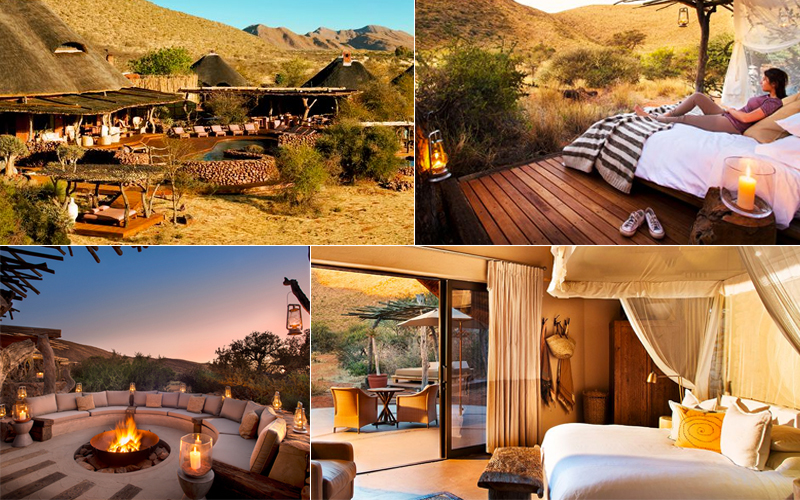 Gibb's Farm, Tanzania
Overlooking the Great Rift Valley and Ngotongoro Forest, Gibb's Farm is situated in a refurbished coffee farmhouse serving as a romantic location to begin your married life. Compromising of 17 guest cottages, you'll feel like you've stepped into a countryside fairy-tale, with rustic features, handcrafted furniture and a cozy fireplace. Gibb's Farm is a unique base in which to explore the sweeping plains which envelope the farm. Local activities include garden walks and visiting a real working farm, coffee fields and vegetable gardens. But, further afield you'll experience unique safari adventures such as the hippo Pools sunset safari, Lake Manyara night drives, Elephant caves and waterfall walks, Ngorongoro Crater Rim walks and so much more.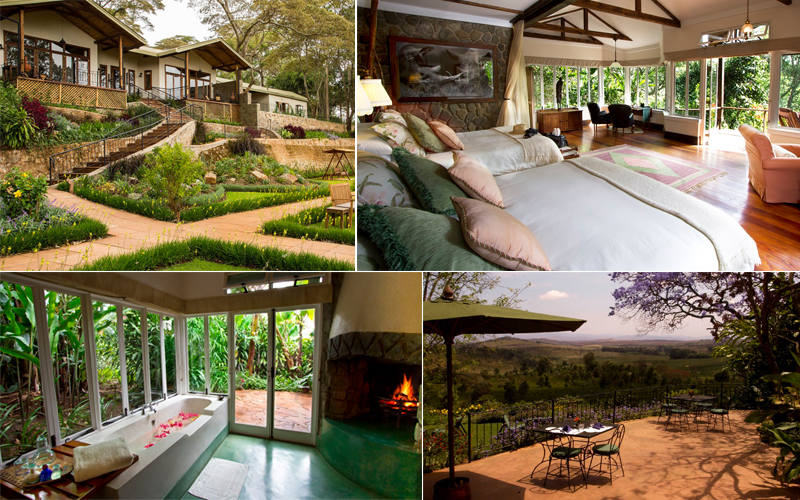 Ulusaba Game Reser, South Africa
Ulusaba is placed within the Sabi Sand Reserve near the Kruger National Park, enveloped by 13,500 hectares of open bush, you'll be sharing your honeymoon with the likes of buffalos, leopards, elephants and rhinos! Voted as the number 1 resort in Africa in the Conde Nast Traveler Reader's Choice Awards 2016, Sir Richard Branson's private game reserve serves as the ideal base for an adventurous safari honeymoon. Ulusaba homes 21 rooms and suites across two lodges perched on the rocks and cliffs of the reserve making you feel like you're on top of the world. Adorned with African décor and luxurious features, each room and suite is a safari sanctuary with well-appointed bathrooms and some suites boast of private plunge pools.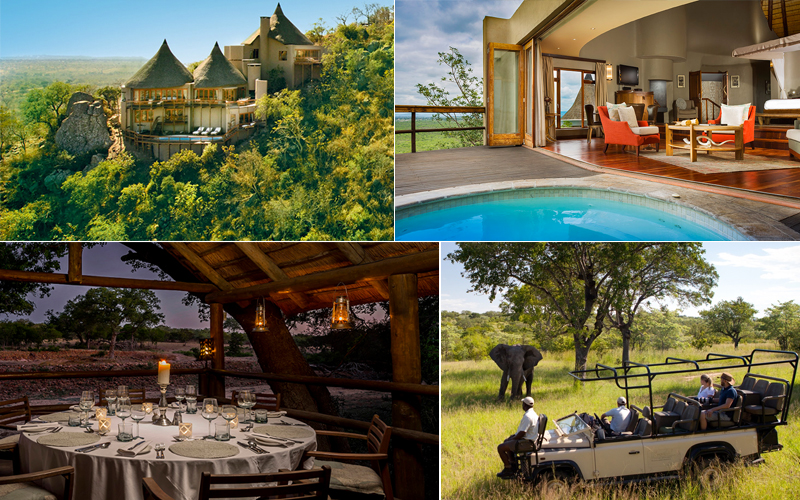 Inspired by our top luxury safari lodges in Africa? Contact us today to plan your unforgettable safari-moon!