Tia and Chris's Amazing Maldives honeymoon
Our lovely clients, Tia and Chris, decided to travel recently during Covid-19 and spent nine amazing nights at the stunning adults-only, You&Me Cocoon in the Maldives. We caught up with them to give us the low-down on there honeymoon of a lifetime. Read on to find out all about their wonderful experience…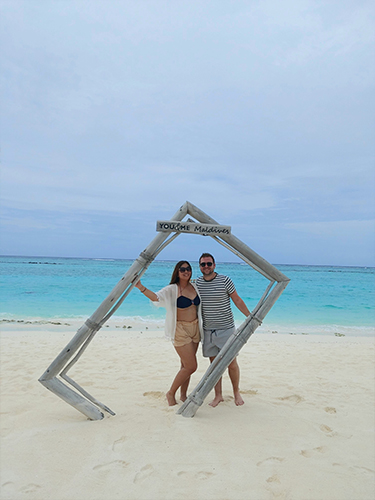 How was your flight during Covid-19? 
The flight experience was better than we anticipated. We flew Qatar Airways, and as part of their Covid-secure measures, we were given face shields before boarding, which we had to wear until our final destination. They additionally gave out protective kit like masks, sanitisers, etc during flights. Three out of four legs, the middle seats were left empty, a massive factor contributing to a very comfortable trip!
We were welcomed by a big group of staff on arrival which was amazing and welcoming. The cold towels, welcome drinks, introduction to the on-site doctor and our butler (a nice surprise for us) on arrival gave us a great first impressions!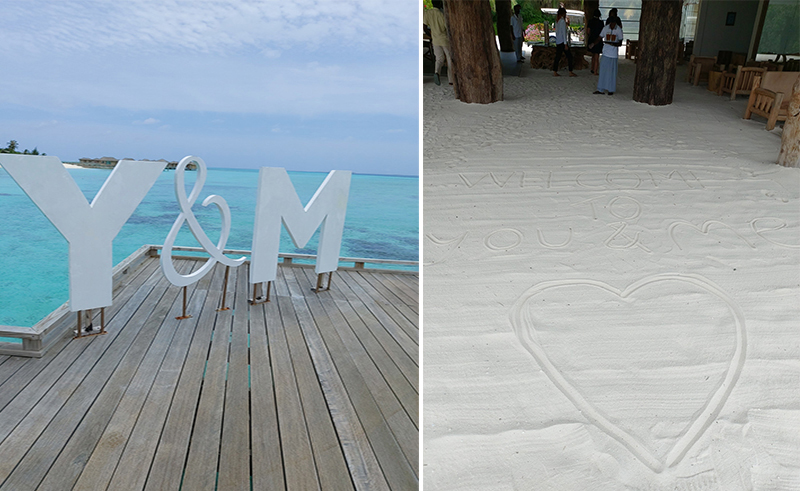 How was your stay at the resort?
We had such a wonderful stay – we stayed at an overwater bungalow for the whole duration of our honeymoon. The room and bathroom were very clean and spacious, with excellent room amenities. They provide raincoats, umbrellas and life-jackets in the room as well as bath robes, slippers and toiletries. Water and drinks are refilled daily/on request. Just note that alcoholic beverages in the room are not covered in the all-inclusive.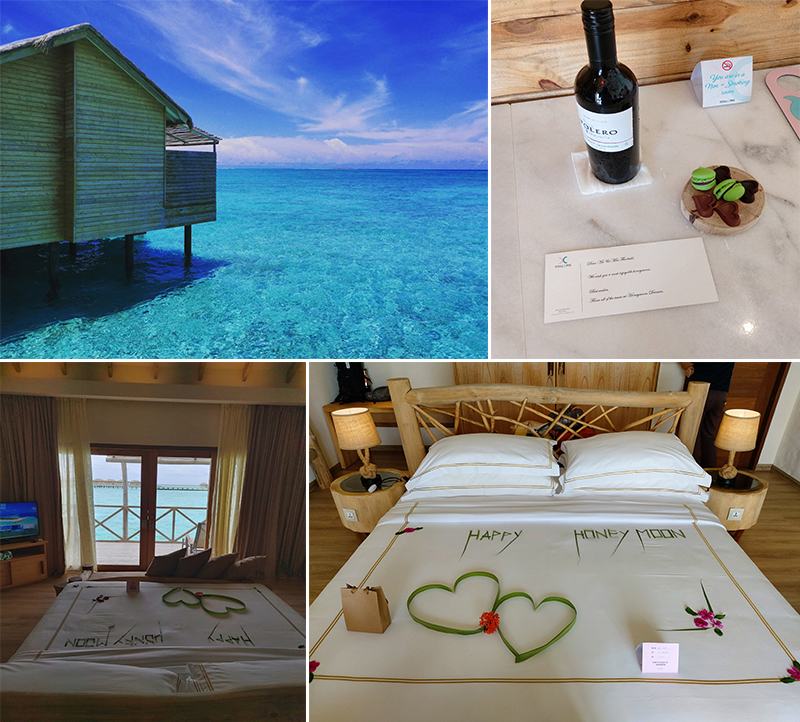 The resort itself is on a secluded island, allowing plenty of space to roam freely and to enjoy the beach/facilities.  You can walk around the whole island in 15 minutes.  It has a big pool which was very quiet, due to low occupancy. They offer a range of water sports at an additional costs, but others such as kayaking was free. The staff was very friendly and we got to know some of them on a more personal level.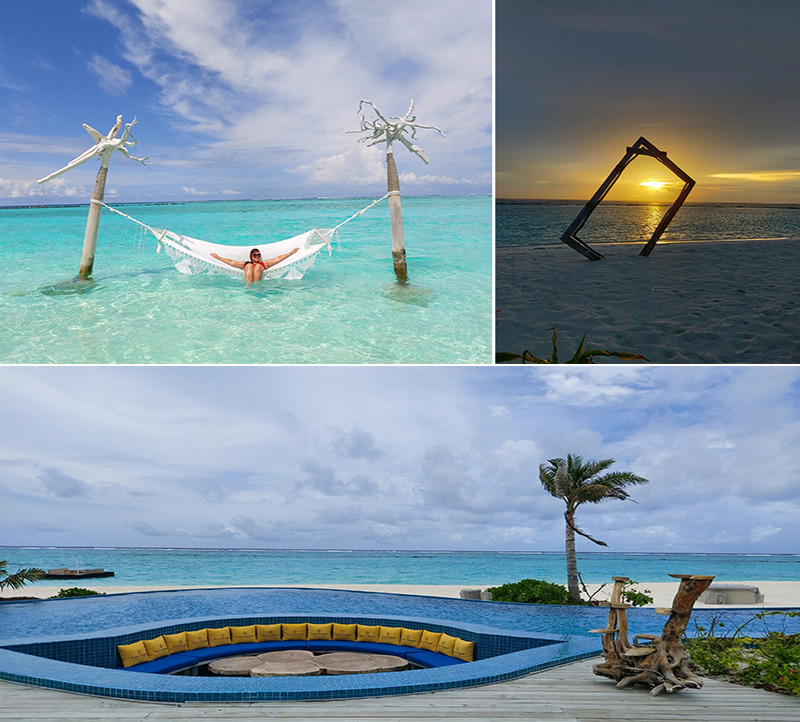 What did you do during your honeymoon at the resort? 
We were given complimentary couple massages (25-minutes each) – it was so nice that I went back for another treatment before our flight home. The spa was amazing – not only relaxing but you can watch the fish from the glass floor whilst getting your massage.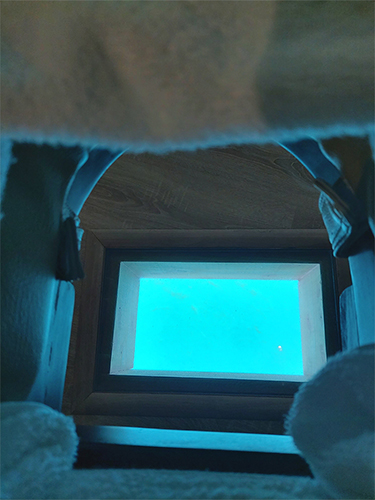 We also spent one morning scuba diving (two dives) – we are certified divers and thought the registration process was straight-forward. Our guide, Azeem, was brilliant – he was very patient and professional.  We saw moray eels, marble sting ray and many other marine life.  The whole team looked after us well from preparations, briefing until the end of the trip.
We also did a jet ski ride and water tubing one afternoon, which was so much fun and I highly recommend!
Did you have a favourite restaurant? 
We opted-in for all-inclusive and we tried all the restaurants in the resort, including H20 (the underwater restaurant), which is our favourite diner.  They offer fixed and daily rotating menus for lunch and dinner, allowing a wide variety of adventurous dishes (such as Maldivian food) whilst allowing the comfort of simple dishes if preferred. Hawaiian poke at lunch is highly recommended as well as the burger! The underwater restaurant is a fine dining fixed course menu, mainly seafood. Enjoyed each course and the experience as a whole.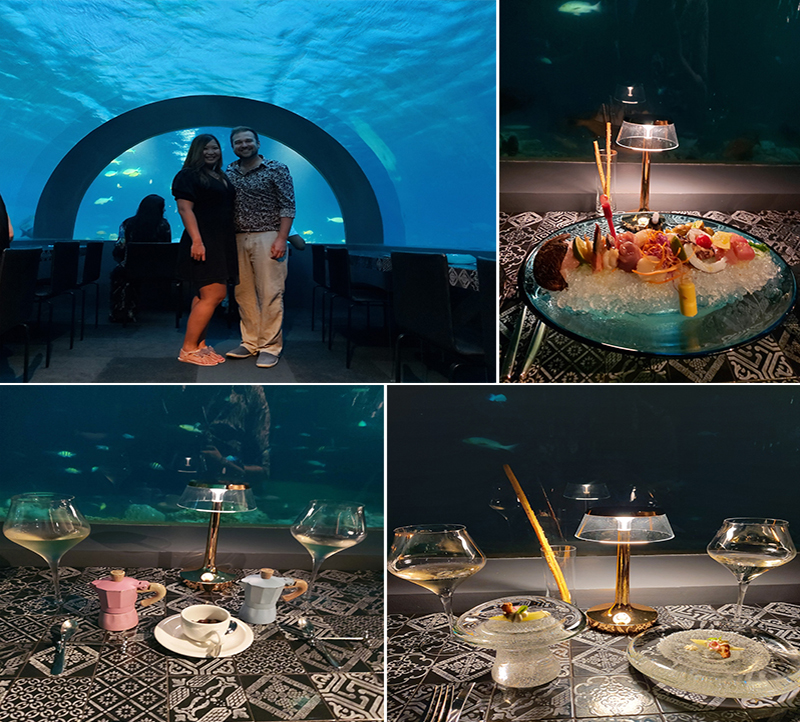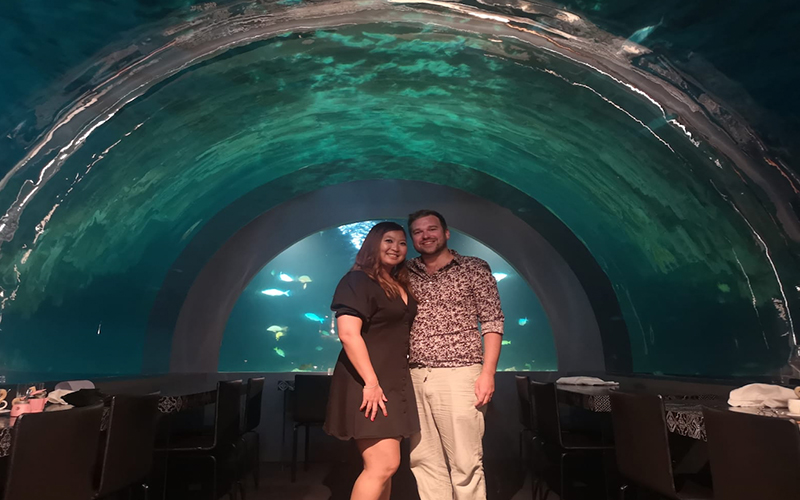 On Wednesday and Saturdays, dinner would be either at the Italian restaurant or a live Japanese teppanyaki. Alcoholic drinks for all-inclusive were offered at the beach-side bar with a good variety of tasty cocktails, and wine/beer were included at dinner. Non-alcoholic drinks were available throughout the day as well.
Any honeymoon benefits you received? 
Yes. Couple massage at the spa, candle-lit dinner, a bottle of wine and chocolates in your room when we arrived. (Like other couples at the resort, we had a butler but I'm not sure if this was because of our honeymoon or Covid-19).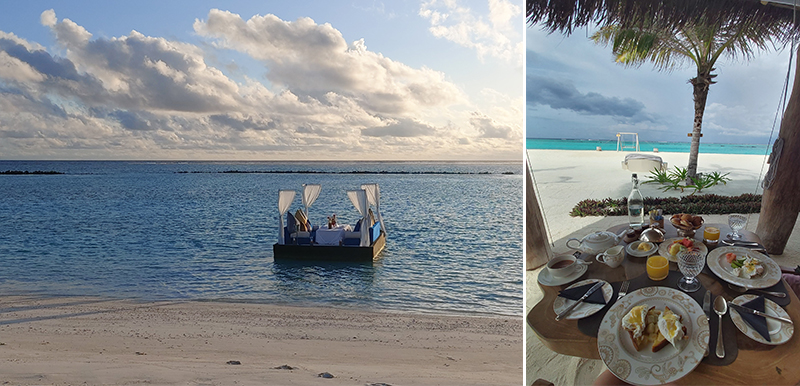 What were the highlights of your honeymoon? 
The underwater restaurant and watching sharks and sting rays from your walk on the jetty from breakfast/dinner.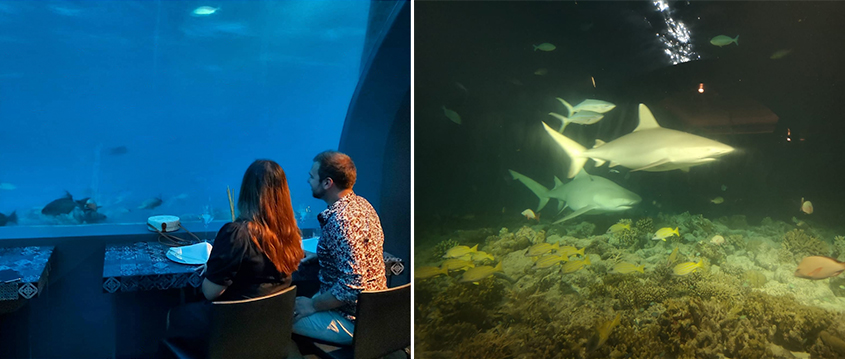 Any excursions you went on? 
Sadly, no. We wanted to do fishing trip however due to low numbers of customers, this was more difficult to arrange.
Any tips and recommendations? 
Bring some cash to tip your butler (any currency) and to dine in the underwater restaurant.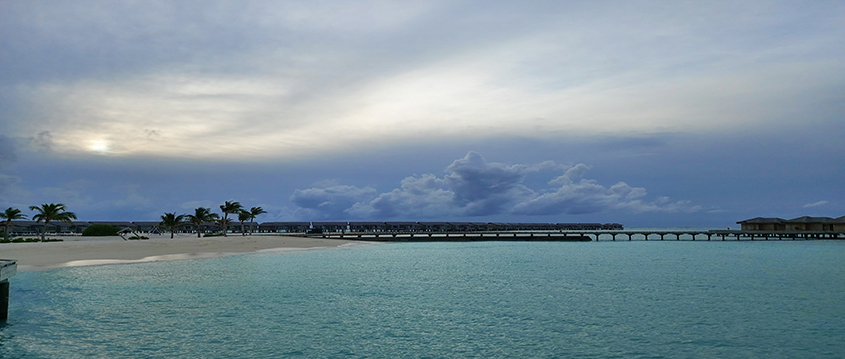 How was the service that you received from your Travel Agent, Caralyn, during your booking process?
Brilliant! It wasn't the most straight-forward booking journey due to Covid as we changed destinations/itineraries/flights twice or three times in a space of three months!  Caralyn was always there to help us, responded promptly, very patient when dealing with a quickly-panicked client like myself! Massive thank you, we wouldn't have been able to go if it wasn't because of Caralyn and her team.
Inspired by Tia and Chris honeymoon escape to You&Me Cocoon Maldives? Call us or request a quote to stay here too.