Susan and Lee's Fabulous Thailand and Maldives honeymoon
At Honeymoon Dreams, our mission is to create tailor-made honeymoons where unforgettable moments are made between you and your newlywed. Recently, our lovely client, Susan and her husband Lee headed to Thailand and Maldives for a honeymoon full of culture, adventure and relaxation. Read on to see what they got up to on their two week honeymoon of a lifetime………
'We started our honeymoon with an 8am flight, so the included lounge pass was very welcome. The flights were okay and we had a layover in Doha which allowed us to stretch our legs. The return flights were quite similar.'
Bangsak Village, Khao Lak 
'Bangsak Village was beautiful, and we were given a room upgrade on arrival. We were greeted with welcome drinks and a cool towel. We thought this was a very warm welcome after such a long journey.
'The room was big and spacious, it had a lovely freestanding bathtub which we took advantage of having spent so long travelling and flown so soon after our wedding.'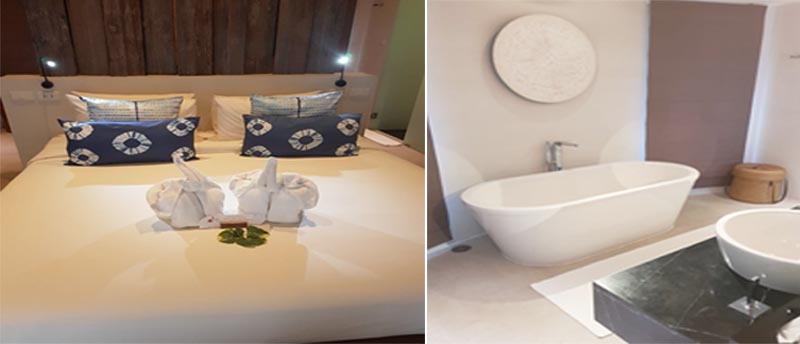 'We were exhausted and it was very rainy whilst we were there (only one night) so the main facility we used of the hotel's was the restaurant- the food was delicious and had a good variety. The pool looked amazing, we unfortunately just didn't have enough time there to take advantage of it as we only stayed for one night. We can't fault the service, the staff were friendly and helpful.'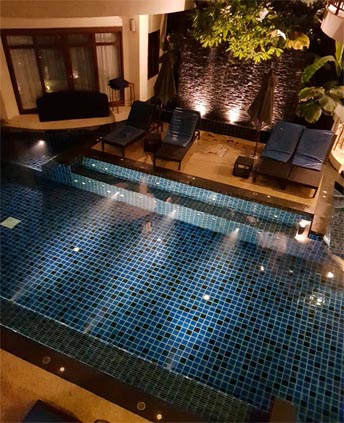 Elephant Hills
'The transfer from Bangsak Village to Elephant hills was seamless. We were greeted on arrival by our guide for that day who provided us with welcome drinks and reusable bottles to borrow during our stay – water is free to refill and they are trying to cut down on the amount of plastic used. We had time before the first activity to find our 'tent'.'
'The accommodation was lovely, outside the tent we had a porch looking out towards the jungle, with two chairs and a hammock. Inside there was a big double bed, complimentary water (in glass bottles), an ensuite with a good shower and toiletries provided. Small touches like the towels in the shape of swans with 'Happy Honeymoon' helped make it something special.'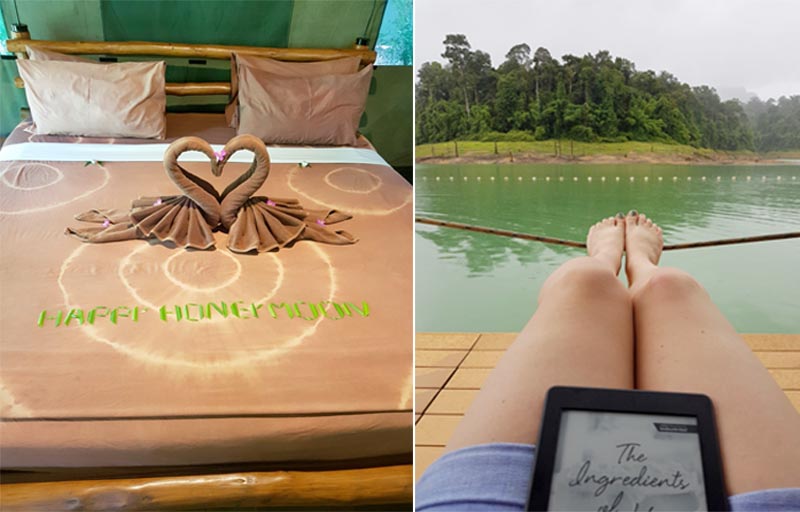 'Our day 1 activities included a trip to the elephant sanctuary which was a great experience. They educate as well as give you the chance to meet the elephants. Initially we watched the elephants bathe, then once they've made themselves soggy and muddy, you are given the chance to give them a scrub and wash. Each family gets their own elephant to give attention to. Once the elephants have had enough, they are able to walk away to show they no longer want to be touched. When all the elephants have walked away, you are taken back to the main shelter where they show you how to prepare their food (fruit) and feed the elephants. The elephant experience lasts about 2 hours and feels very relaxed. The elephants are clearly quite happy and well cared for.'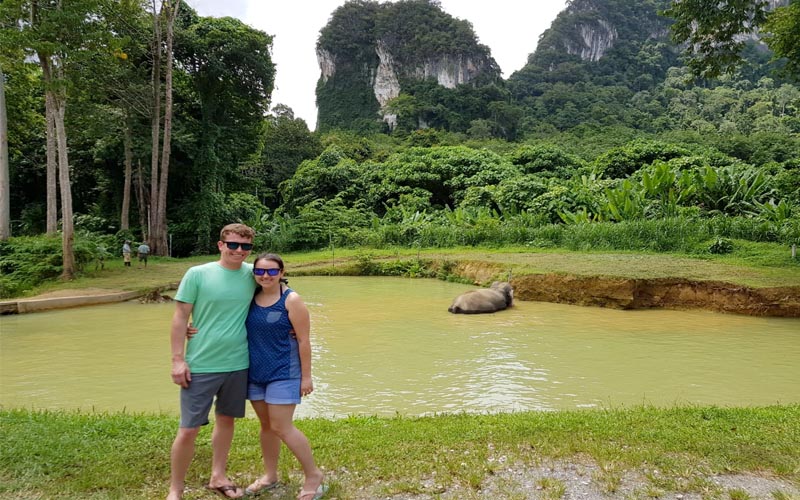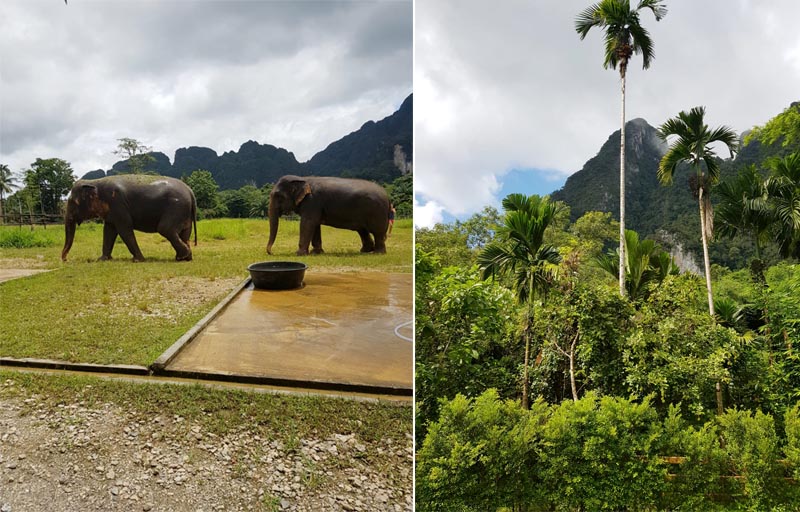 'We had a break for lunch which was a buffet served with a mixture of Thai and Western food. There was free time in the afternoon before we headed out to our second activity which was a trip down the river. A great experience, made more interesting by being out in some of the heaviest rain we've been in. Monsoon season was in full force whilst we were there, but it was warm and fun and we felt safe at all times.'
'Dinner was served as a buffet again, and they had local school children come and do traditional dances followed by a documentary about the elephants. There's a bar on site and the only thing you have to pay for is anything from the gift shop.'
'On our second day we travelled to the lake. During the journey they stop off at a local market. We travelled by longboat to the lake accommodation, which took around an hour. On arrival, we were greeted with welcome drinks and lunch followed shortly after. There was the option to do a jungle trek which we opted out of and instead took one of the kayaks that are free to use and took ourselves down the river. The accommodation is the same as at the main jungle camp, with the difference of floating on the water. The view was lovely even if it was cloudy and raining most of the time. In front of your floating tent is a roped off section of water which is safe to swim in – the water was so warm it was like having a bath. Dinner was an evening buffet – the food was always lovely with a good variety. There was a cupboard full of games to keep you entertained, back to basics like Jenga and dominos.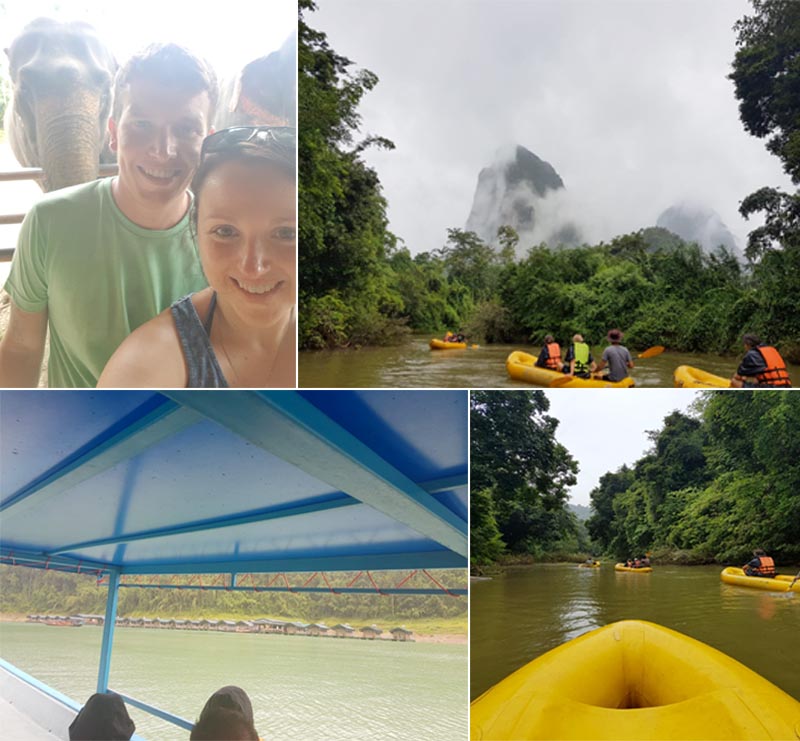 'On the final morning we were taken on a guided kayak tour along the river looking for wildlife. As it had been so wet we didn't see any monkeys, but animal tracks along the river side were pointed out. We were given a final lunch before a long boat journey back to the mainland where onward transport had been arranged and was waiting for us.'
Tubkaak Boutique Resort, Krabi 
'On arrival at The Tubkaak Boutique Resort,  our next resort for the next three nights, we were given welcome drinks and cool towels. We were also given little extras like vouchers to use for food and a complimentary 'honeymoon' cocktail to use at the beach bar. Our room was stunning. They had done a beautiful floral decoration on the bed when we arrived and the outdoor bathtub was full and had petals in it. We also had macaroons waiting for us. The room was second storey and had a covered balcony with a day bed on it so we were able to sit out even when it was raining.'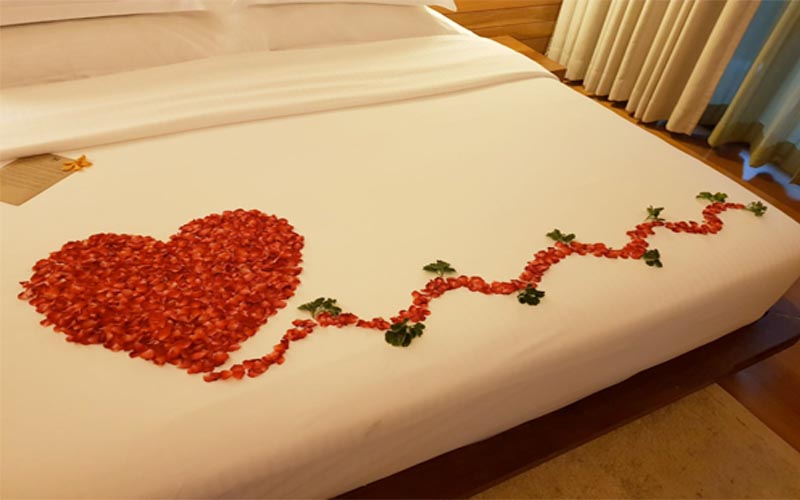 'On our first evening, we had dinner at the onsite Italian restaurant, which was a nice change. The main restaurant was where breakfast was served and they had a great range to choose from. We mainly dined at the Thai restaurant for the rest of our stay there, it was angled so the tables all looked out onto the sea and was a great spot to have cocktails while watching the sunset. They had live music one night which was great.'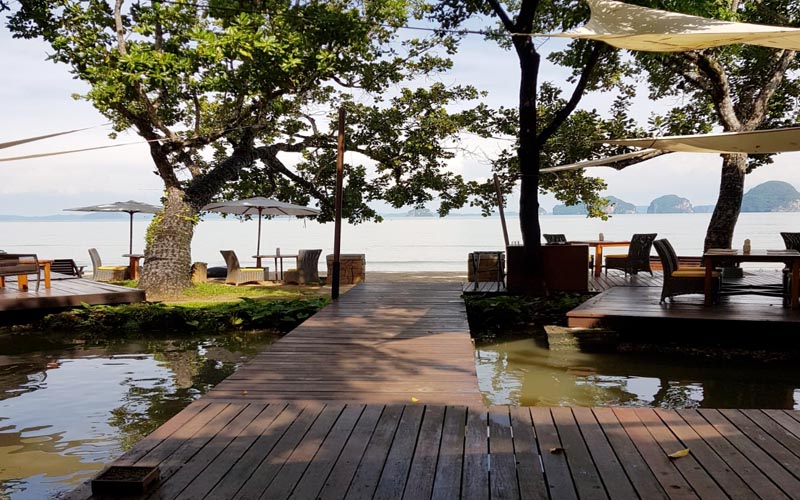 'We took advantage of the pool which was right outside our room, and took a taxi to Ao nang, arranged for us by the hotel.'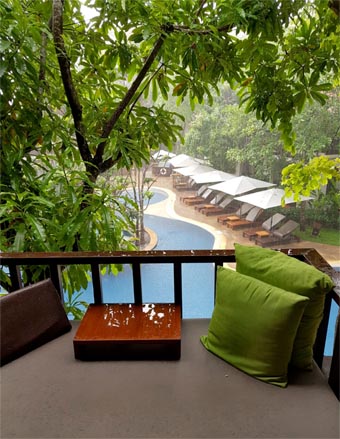 'The reception staff were helpful and also booked us onto a day trip to Koh Phi Phi. This include transport to and from the departure point, which was prompt on the day. We luckily chose a day where it was sunny all day to go on the island hopping adventure, which included a trip to bamboo island, places to go snorkelling (snorkels included) and lunch. We were picked up around midday on the final day and had a private transfer to our final hotel in Thailand.'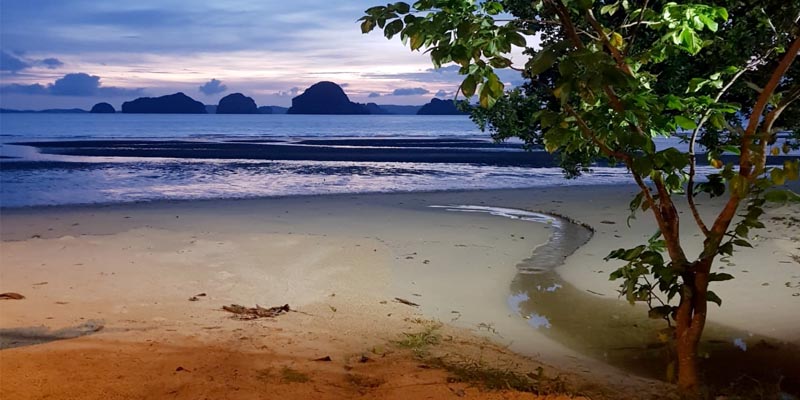 Marina Phuket
'Marina Phuket was welcoming, with a number of little extras in our Jungle room, including a bottle of wine and free mini bar.'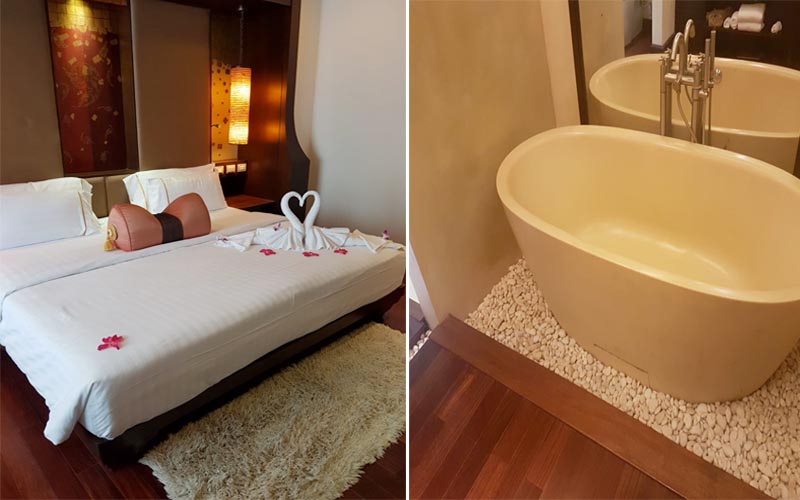 'We only had an afternoon and one night there so we enjoyed the pool, walked down to the beach for a lovely sunset and had dinner at 'on the rock' which was included in our stay. We had an early checkout for our flight, and they had prepared a take away breakfast for us.'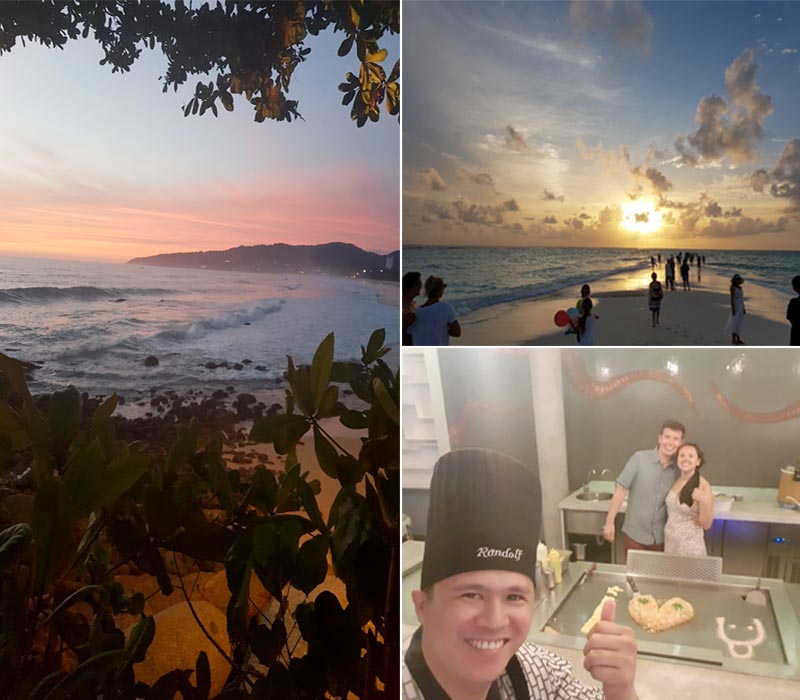 Kuramathi Maldives
'The Maldives was something else and certainly the highlight of our trip. Kuramathi is quite a big island which meant there was plenty to keep us occupied on our 7 nights stay. We took the speedboat to get there which was about an hour from the airport, and were given a very detailed introduction to the island when we checked in.'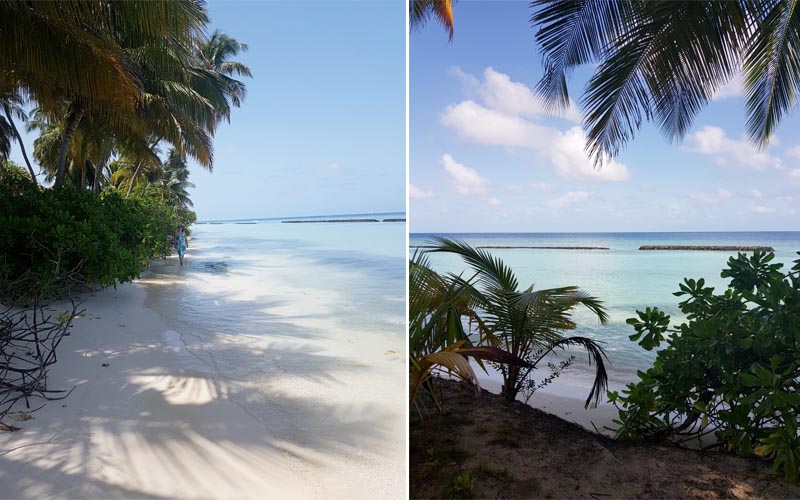 'We had a room upgrade as part of our package and stayed in a Superior beach bungalow which was huge, and it included an outdoor bathroom and Jacuzzi. We had a lovely welcome decoration on the bed, beach towels were included, a free bottle of wine and some chocolate too. We were given vouchers for the spa, the champagne loft and the sunset cruise. The beach was literally out of the door, and plenty of sunbeds dotted around so you could feel like you were on your own private bit of the beach if you wanted. We took advantage of our free spa treatment on our first full day there, which was lovely. We booked an additional treatment after for our final day to finish our honeymoon totally relaxed.'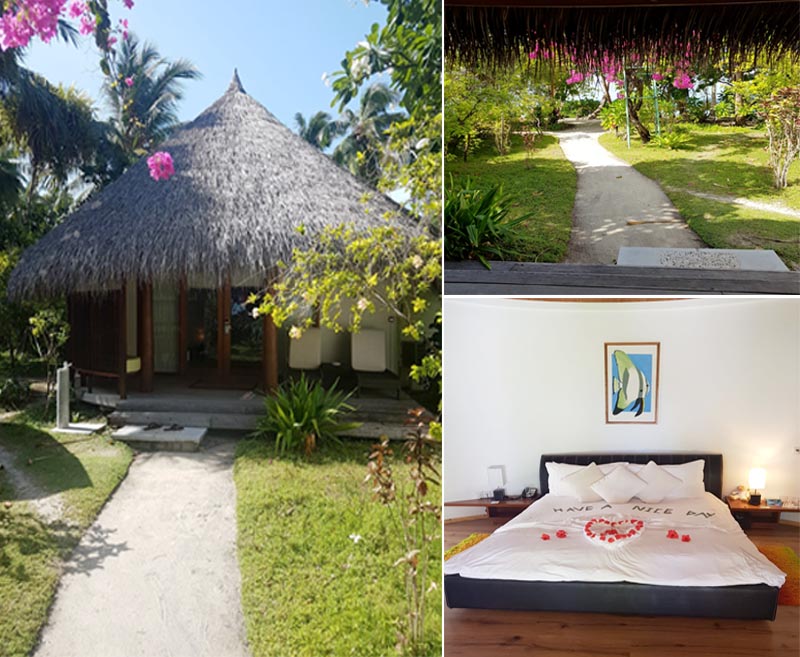 'The resort provides buggies to get you around the island which was great as walking the length of the island in the heat takes it out of you. The two infinity pools are beautiful and we made time to visit both. As part of our package snorkel equipment was provided and you can snorkel straight from the beach or go on excursions- we went on the turtle snorkel trip which was great and we saw several turtles. We made the most of the water sports while we were there too.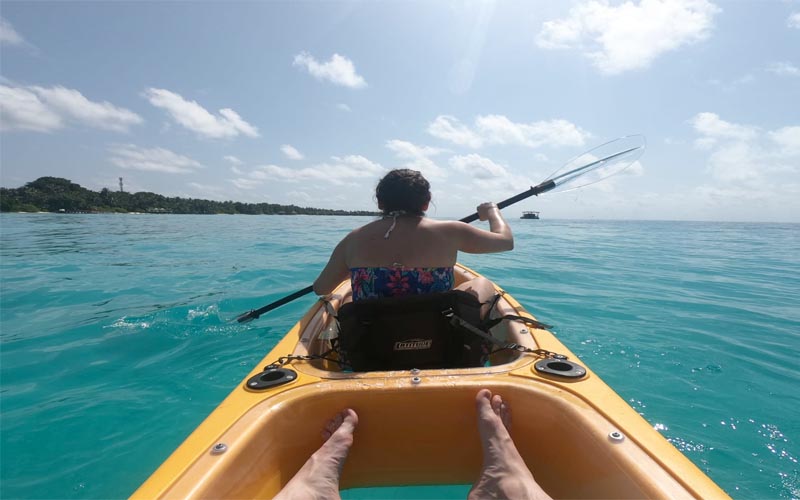 'The Champagne loft was a wonderful addition to the trip, angled to see the sunset with free champagne and canapes. We booked this in ourselves so we could choose which evening we wanted to go. The sunset cruise was pre-booked for us, as it's so popular, and you were given a free glass of sparkling wine during the trip. The island always had something going on in the evening, which was advertised in the main restaurants where breakfast was served. Our favourite was movie night on the beach with the choice on the sunbeds or beanbags to watch the movie from. It was near one of the bars so you were able to get drinks during it too.'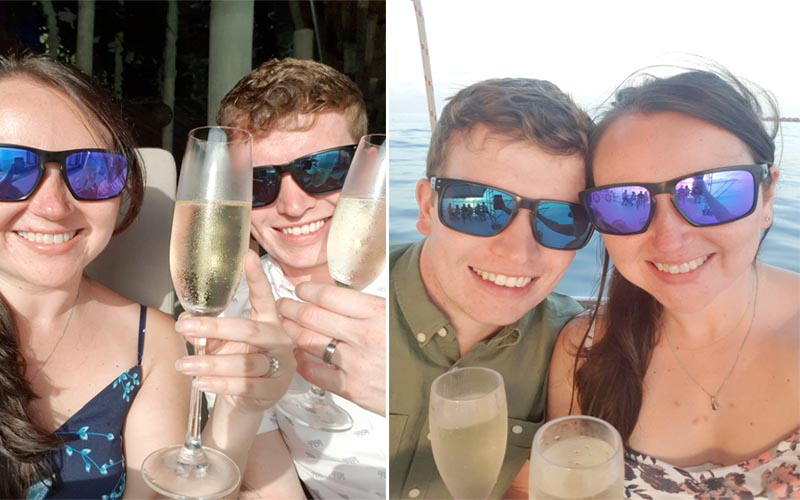 'One of our favourite things about the island was the choice of restaurants and food. We were select all-inclusive which meant we could go to any of the restaurants. We reserved tables with the reception staff, and visited several only repeating two. Our favourite was the Japanese restaurant on the water, which included live cooking in front of you and the Island BBQ. The Palm had the best range of ice cream which was available all day too.'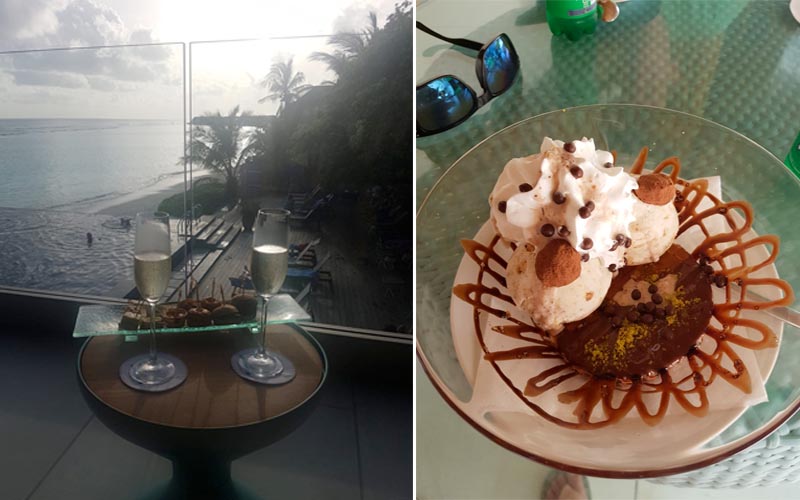 What were the highlights of your honeymoon?
'The highlight of our week in Thailand was Elephant hills, as it's something so different and unusual to experience. We are really glad we were able to do the day trip from Krabi out to the islands as it was beautiful.'
'As for the Maldives it was without a doubt our overall favourite place though. The staff were so accommodating and friendly, the food was incredible and there was such a range of things to do, it was perfect.'
How was the service that you received from your Travel Agent during your booking process?
'Service was great. We actually had to change our honeymoon as we were meant to be going to Sri Lanka and the Maldives so that was handled really well by our specialist. '