Michelle Discovers Paradise in the Maldives & beautiful culture in Sri Lanka.
Our honeymoon specialist Michelle was fortunate enough to join the Kuoni Educational to Sri Lanka and Maldives last month and she has shared some very valuable information and tips with us to make our team even more knowledgeable on these magnificent places.
Michelle has shared some of her top tips and recommendations for each destination including where to stay, what to do and which rooms are best. Perfect for those thinking of a dream honeymoon in the Maldives, Sri Lanka or combine both for an unforgettable experience.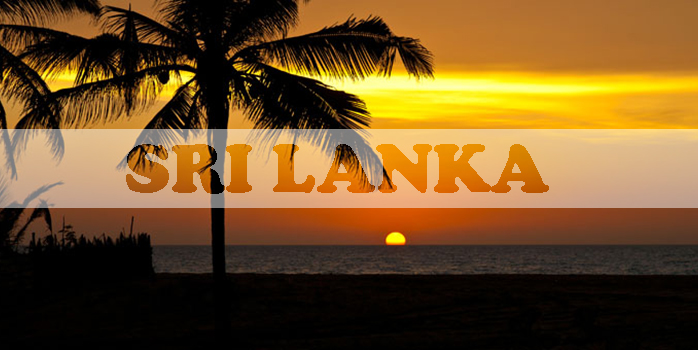 Michelle set off from London Heathrow with Sri Lankan airlines, direct into Colombo and hopped on the transfer to Jetwing Sea where the group spent their first night. The group enjoyed an afternoon of leisure, followed by a dinner at the hotel where a variety of food was available from pasta to curry and plenty of desserts.
The following day, the group departed to Habarana to visit the Sigirya Rock, an archeological site in North Central Sri Lanka where they climbed the stairs and took in the breathtaking views of Sri Lanka.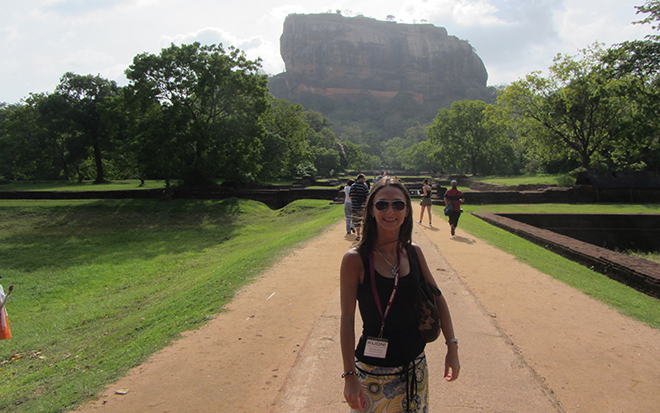 Next, time for check-in at Chaaya Village in Habrana where they enjoyed a delicious dinner and then up for an early morning stroll to see the elephants the next morning. Time to head back to Negombo, with a stop-off at Dambulla Rock Temple, the largest, best preserved cave-temple complex in Sri Lanka and a sacred pilgrimage site for 22 centuries.
Jetwing Beach was next for Michelle and the group, where they spent the night and enjoyed a gala dinner. Then it was up early the next morning for the next part of their journey… the Maldives!
Michelle says she would definitely go back to visit the tea plantations and the Yala National Park. She recommends 1 week in Sri Lanka to see as much of it as you can before heading to another destination.
Michelle's Top Tips for Sri Lanka!
Sri Lanka- Where to stay?
I would recommend couples on their honeymoon to stay at the Jetwing Beach because of its beautiful beach location, spacious living area and large balcony where you can soak up the sun as you admire the beautiful ocean views.
Must do's:
If you have not been to a temple before, definitely go check out the Dambulla Rock Temple.
The Sigirya Rock site is worth visiting, the stairs are well built and the view is beautiful.
For tea lovers, the tea plantations are a great place to visit where you can taste each tea as there is a huge variety to pick from – you will be an expert on teas and know exactly which tea to take home to family and friends.
You can't leave Sri Lanka without doing…
TRAVEL TIPS
Take the local currency (Rupee) with you for tipping and other purchases outside your hotel.
Keep a selection of small notes on you for tipping as it is very common in Sri Lanka.
Do not stand with your back to any statue of Buddha as there can be large penalties if you're caught doing so.
You must remove your shoes and hat in temples and cover your knees and shoulders.
You will need an
ETA tourist visa
to travel to
Sri Lanka
, which you can apply for online and costs $30 USD. Consult your GP for information on vaccinations.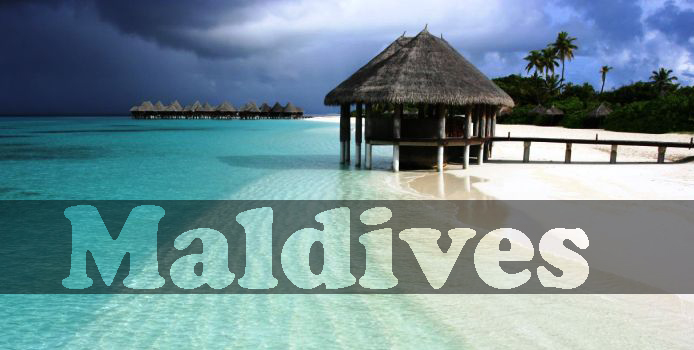 Michelle and the rest of the Kuoni group flew into the main island in the Maldives called Malé where they got a speedboat transfer directly to Meeru Island. Michelle stayed in one of the water villas and says it was beautifully decorated and highly recommends it.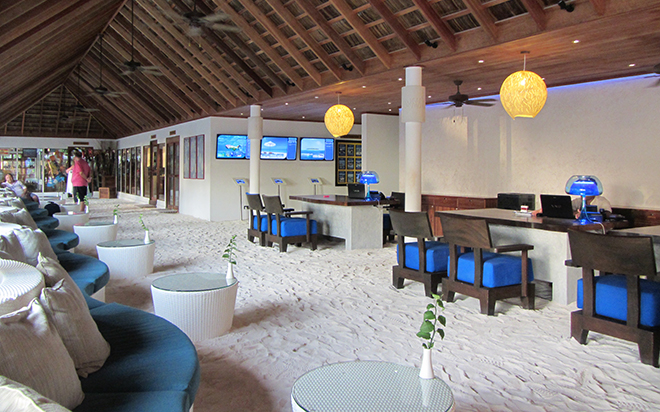 Once on Meeru island, the group had an inspection of the island where they viewed the various room types available and enjoyed a delicious dinner. Michelle says the food variety was great and there was something for everyone with a large salad bar.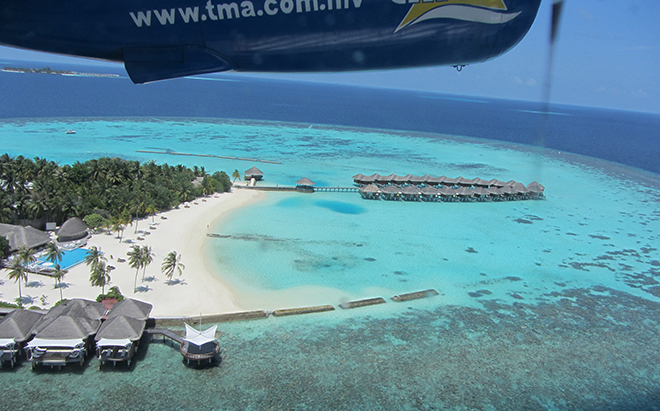 The next day it was off early to Maafushivaru, where they got a seaplane transfer from Malé which took approximately 30 minutes. They began the day with a site inspection, followed by a visit to the uninhabited sister island where you can book it out for romantic private dining or an overnight stay on a desert island. Michelle got to snorkel the beautiful coral near the private island before heading back to Maafushivaru where they were given leisurely time for the afternoon.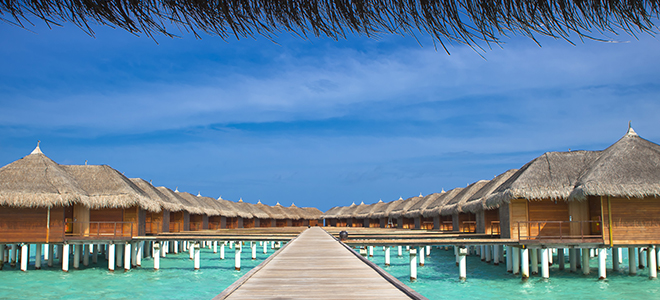 Michelle spent her time at the spa where she enjoyed a relaxing 40 minute massage in a beautiful over-water villa. Michelle highly recommends making the most of the spa as it is located in a very tranquil and beautiful area over the Indian Ocean and the staff are excellent.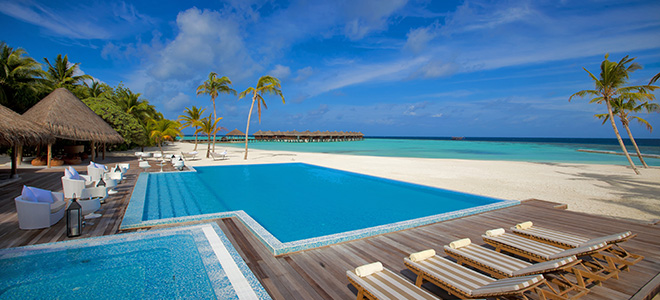 Dinner time at Maafushivaru and the group got treated to a delicious and entertaining teppanyaki dinner, which they all thoroughly enjoyed. Then it was an early start as the group got a seaplane to Kuramathi Island where Michelle stayed in the Superior Jacuzzi Beach Villa and absolutely loved it.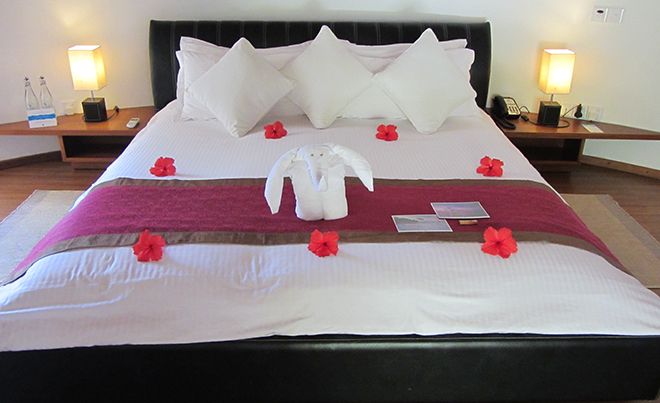 The group were given free time to explore island and enjoy the beautiful beaches and crystal blue waters of the Indian Ocean before lunch. After lunch it was time for a site inspection where the group viewed all the villa options available on Kuramathi Island and said the Honeymoon Pool Villa is the perfect honeymoon accommodation.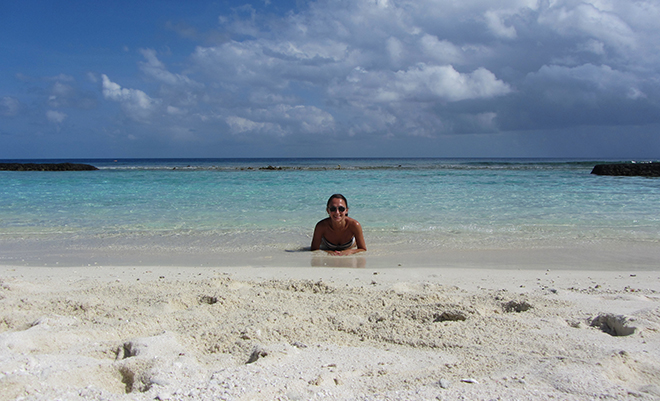 As the sun began to set, the group walked to the sandbank at the end of the island where they got to watch the beautiful sunset over the sparkling Indian Ocean – a must do. It was now time for sunset cocktails at the bar, which overlooked the ocean before the group got to watch the sting ray feeding. It is an event they have often at Kuramathi Island, where guests get to look from above as the staff feed dozens of sting rays right up at the shore.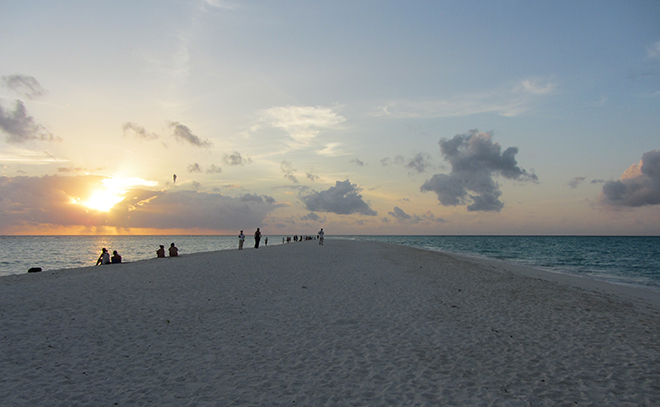 Michelle and the Kuoni group later enjoyed a delicious dinner at Palm restaurant, one of the á la carte restaurants on the island serving Italian and Mediterranean dishes. Michelle says the food was delicious and everyone thoroughly enjoyed the meal and service from the friendly staff at Kuramathi Island Resort.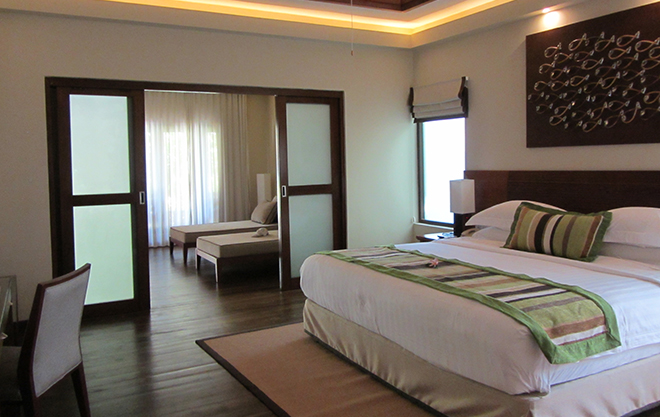 The final island the group visited was Kurumba, which is accessible by private yacht provided by Kurumba Island direct from Malé. The day began with a site inspection with a tour around the island, Michelle stayed in a Beachfront Deluxe Bungalow and says it was lovely, she particularly loved the outdoor shower surrounded by aloe vera plants and relaxing daybed right by the beach.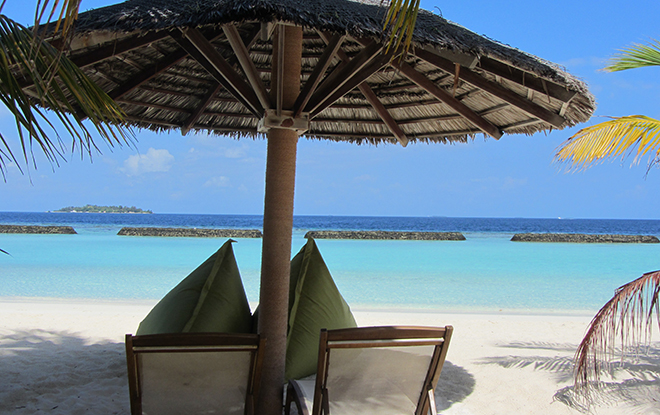 The group enjoyed leisurely time and Michelle decided to do some more snorkelling and explore the island. Guests can head down to the dive centre at Kurumba Island and hire snorkelling equipment for the duration of their stay and simply return the equipment before they check out. This is all included in the package, Michelle said it was great to not have to worry about any hidden costs and you are given the freedom to use your equipment whenever you like.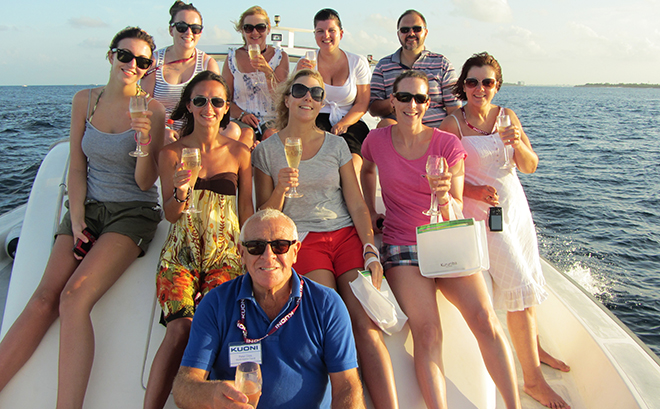 The group was treated to a stunning sunset cruise where the group received complimentary champagne and witnessed dolphins swimming around the boat. Michelle highly recommends the sunset cruise and the group all had a wonderful time. The day ended with a dinner hosted by Kuoni at Ocean Grill where the group were treated to delicious and fresh seafood platters with everything from tiger prawns to succulent lobster. A must-visit for seafood lovers!
Michelle's Top Tips for Maldives!
Maldives… where to stay?
Each island is beautiful and each has plenty of positives. I would say for couples looking for the complete package of a small island, water villas, dining options and plenty to do, Maafushivaru is a stunning option.
Must dos:

Make the most of the excursions each island offers and visit nearby islands, go dolphin sighting and enjoy a sunset cruise.
Watch the stingray feeding at Kuramathi Island Resort, it is very interesting to see them up close and definitely a once-in-a-lifetime experience.
Treat yourself and experience a relaxing Maldivian massage, their spa villas are stunning and a nice relaxing place after a busy wedding—highly recommend!
You can't leave the Maldives without…
Snorkelling! Make the most of the beautiful clear Indian Ocean, colourful coral and interesting sea life and grab a snorkel and dive straight in.
TRAVEL TIPS

Opt for an all inclusive option when booking your honeymoon—it will save you money and give you the freedom to try any of the restaurants available without being limited to a few.
Take plenty of photos! Your friends and family will definitely need proof when you can't stop talking about how heavenly the Maldives are… and you may want to make them a little jealous too.
Always take out travel insurance to cover you in case you need to cancel your honeymoon.
Want a honeymoon like this? Fill out our easy online quote system or call 0121 440 6268
Has this inspired your for a twin-destination honeymoon? Check out our other great combinations!
Click here to view more of Michelle's photos of the Maldives & Sri Lanka.