MEXICO AND NEW YORK HONEYMOON
Dreaming of a honeymoon spent relaxing on a pristine white beach enveloped by turquoise waters, but your partner wants to explore the sights of a city? A Mexico and New York honeymoon is the ideal choice where you will find the perfect combination of relaxation and adventure.
Enjoy some much-needed down time as newlyweds after a busy wedding and relax on a sun lounge or explore the active marine life and lagoons of Mexico before visiting the sights and soaking up the ambience of the cosmopolitan city of New York.

Your flight will land you in Cancun where a private transfer will take you to the beautiful region of Riviera Maya. Admire the unique Mexican landscape and beautiful beaches on the way to your home away from home. Our chosen hotel is Paradisus Playa del Carmen La Perla, a luxury five-star all-inclusive resort unlike any other. This resort is the perfect escape after a busy wedding period where you will experience the finer things in life.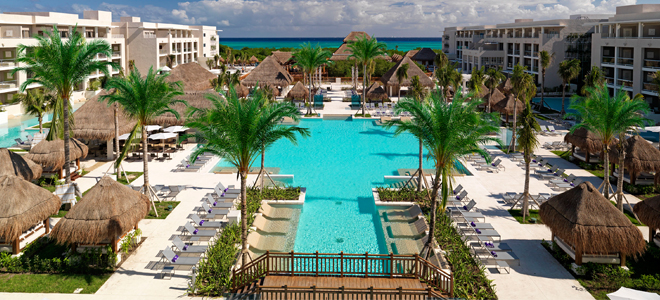 The Paradisus Playa del Carmen La Perla offers an exceptional all-inclusive package where you will enjoy all meals, premium brand drinks, various activities, mini bar, non-motorised water sports, sushi making classes and wine tasting plus more all included in your package.
It's time for some exploring and adventure as you head to Xel-Ha, the world's largest natural aquarium. Spend the day snorkelling in one of the most magical spots in Riviera Maya where the ocean meets freshwater currents of springs and underground rivers, forming a fascinating ecosystem.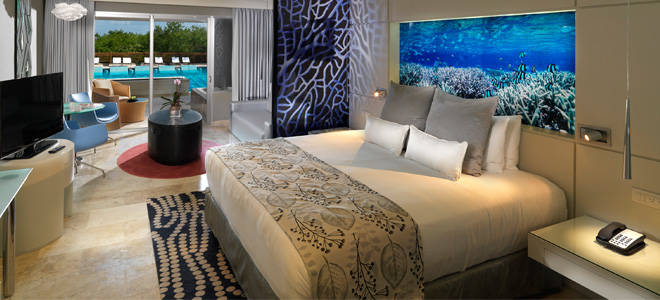 Head back to the hotel and leave your wallet and worries behind as you enjoy a romantic dinner in any of the eight restaurants and bars the resort has to offer with delicious drinks included. Enjoy the nightly live entertainment as you soak up the beautiful views at Gabi Club, where they serve long drinks and seafood specialties for lunch and dinner.
Enjoy a delicious breakfast at Paradisus Playa del Carmen La Perla before heading just 15 minutes to the marvellous Xcaret Eco Archaeological Park where you will meet spider monkeys, turtles and swim with the dolphins. In the evening, more than 300 actors and performers take visitors on a musical journey of Mexico.
Mexico is a popular holiday destination among many with its pristine white beaches, laid-back lifestyle and delicious food. Explore the history of Mexico at Chichen Itza, one of the new Seven Wonders of the World before enjoying a delicious beachside dinner. Riviera Maya is a luxurious area of Mexico with famous beaches, vibrant bars & nightlife and the largest coral reef in the northern hemisphere.

After ten relaxing days in Mexico, it is time to say goodbye to your favourite sun lounge and hello to the bright lights of New York City.
A 4-hour flight from Cancun to New York will land you at the gates of JFK airport. Hail down a yellow cab and make your way to your hotel, watching the breath taking New York City skyline open up in front of you. We have chosen the elegant boutique hotel, Westin Times Square for its perfect location for your luxury honeymoon to explore the city.
Located at the heart of Midtown Manhattan, Westin Times Square cannot be beaten on location. With Broadway, shops and fine dining just steps away from this modern and stylish hotel. Check-in and your off, it's time to discover New York.
Step onto 5th Avenue, and let the boutiques and department stores introduce you to a whole new way of shopping where luxury stores line the streets of this shopping haven. Tiffany & Co, Bergdorf Goodman, Louis Vuitton is just a few of the impressive shops you will wander through. After a day shopping up a storm, it must be cocktail hour. Visit the world-famous Plaza Hotel, choose from a list of tantalising cocktails and take in the magnificent views over 5th Avenue.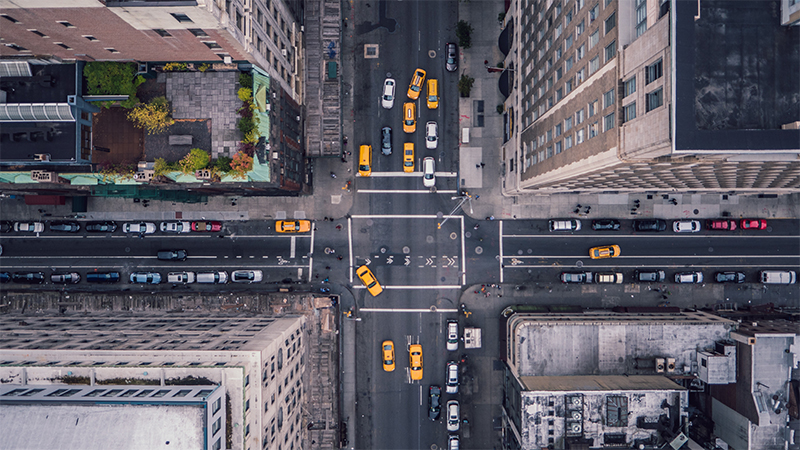 Once you're re-hydrated, walk down to the iconic Central Park and pick a horse and cart, the most romantic way to explore the beauty and romance of Central Park. After a day spent exploring the magnificent sights of New York, head back to your hotel, freshen up and it's time for dinner. TAO off 5th Avenue is a popular choice, this exquisite restaurant (booking required) offers contemporary pan-Asian food and oriental inspired drinks. The bright lights of the city keep shining way past midnight, so wander back to Westin Times Square and take in the diverse city around you.
The subway is the easiest way to get around Manhattan, so jump on and travel down to South Ferry. We advise to pre-book your ferry seats as queues for the Statue of Liberty can wind for hours. Once you've been amazed by the Statue of Liberty, wander towards the Vietnam War memorial and the Brooklyn Bridge. A walk over the bridge will offer some of the best views to be had in New York.
Tonight, enjoy a Broadway show with over 40 theatres within walking distance from your hotel Westin Times Square. It is usually best to book the show when you're there to take advantage of special offers. For sports lovers, a basketball, baseball, or ice hockey game is a great New York experience.
One of, if not the most famous landmark in New York City, the Empire State Building is a must-see. Hop in the lift up to the 86th floor and watch the sunset over the amazing city. As the sun casts a shadow over the buildings, the neon lights brighten up the city to create a sight you will never forget.
Say goodbye to the incredible city of New York as you board your flight back to London and reminisce on your incredible honeymoon.

For details and an example itinerary of your Mexico and New York honeymoon, Click here.