Malkeet and Rajbir's Las Vegas and Bora Bora Honeymoon
Recently, our lovely clients, Malkeet and Rajbir spent two fabulous weeks in Las Vegas and Bora Bora for their dream honeymoon and they have shared their wonderful experience with us. Read on to see what they got up to…
'Before our trip our impressions of Las Vegas and Bora Bora were quite different. We have previously been to Las Vegas and every time we have been we have loved it and this time was no different. As for Bora Bora, our impressions of it were it can't be like the pictures can it, no place looks that good? However, in fact we were very wrong, it looked better then the pictures,  it was totally amazing.'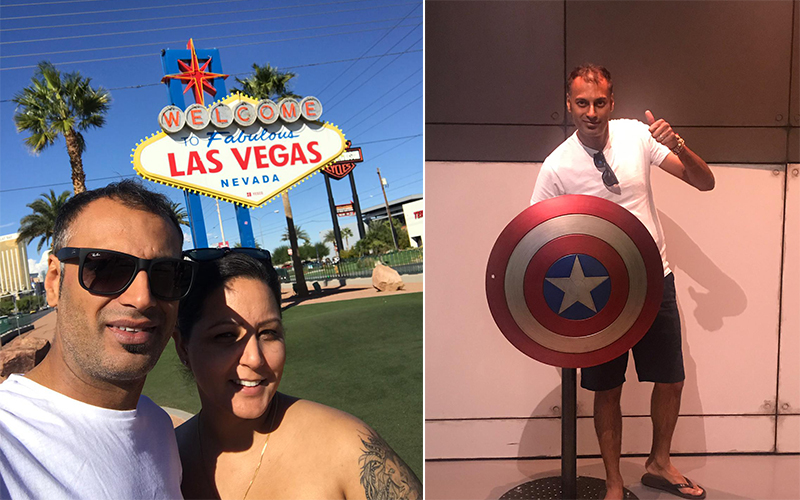 'Upon arrival in Las Vegas, we were staying at the MGM grand, I asked for an upgrade to our room which they were happy to do it, but it was a-bit extra to pay but not much so it was worth the upgrade they also gave us a complimentary breakfast at the buffet because it was our honeymoon which was nice of them.'
'The staff were great and helpful, anytime I would have a question or needed anything they were always polite and more then happy to help. We both loved the night life and enjoyed going on the strip in Las Vegas and really liked the MGM Grand where we stayed, it's a great hotel to stay in, its fun and vibrant and the casino has a great atmosphere in there. I have been to other casinos in Las Vegas and this casino is one of the best I have been to. Las Vegas can be anything you want it to be.'
'We really enjoyed our time in Las Vegas, while we were there we did plenty of activities including going to the Vegas sign to walking the strip. As we have both previously visited Las Vegas before we knew what we wanted to do. We went shopping at the outdoor outlet centre which is well worth a visit we got some great deals and it is a great place to get some bargain gifts for friends and family. We ate out a lot in Las Vegas and we loved the food out there, they do the best burgers especially in and out burger, I was actually looking forward to going to Las Vegas and eating a burger from there. There's a lot of places to eat such as Denny's which is a great place to go for breakfast or lunch and Shake shack is also a good place to get good food. We went to the Avengers station at Treasure Island which was fun, it maybe is for the younger person but none the less still worth seeing. We also went to the Michael Jackson the ONE show which was amazing and anyone who visits Las Vegas I think this is a must see.'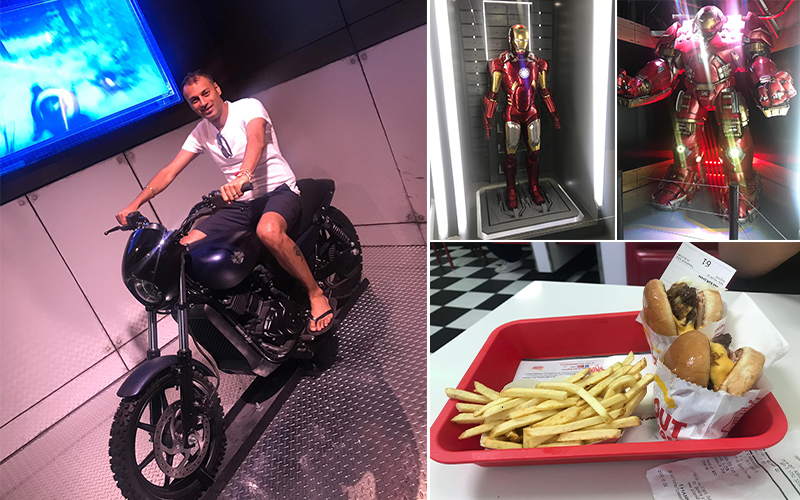 'Our next destination was Bora Bora, well where do we start, upon arrival the staff greet you and take your bags then take you to the reception were they said 'Welcome to St Regis Bora Bora and welcome to paradise' and we have to agree it is paradise. You arrive in Bora Bora and you are in awe of this place, the scenery is just amazing, the weather was fantastic with the blue sky and blue seas which really bring a ear to ear smile to your face.'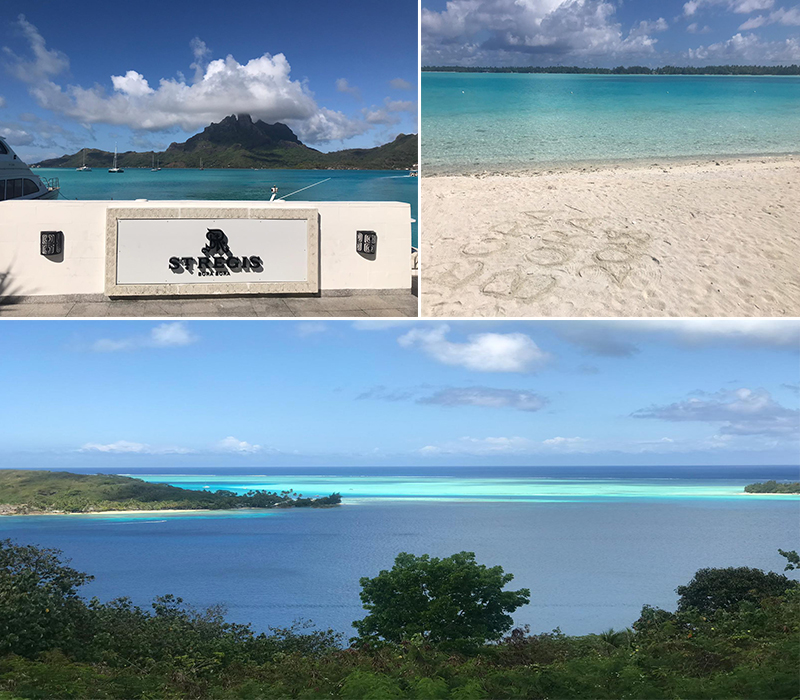 'We were given a complimentary breakfast on arrival as our room was not ready. We were able to change and use the resort facilities as our room was not ready because of our early arrival. They also took us on a little buggy tour around the island to show us where everything was which was very helpful.'
'We stayed in a Superior Overwater Bungalow which was fantastic, it was spacious, comfortable and the decor was great. It had a large bathroom with a shower and bath tub. We had a stunning sea view which was great to wake up to every morning. We were also given a complimentary bottle of champagne as a welcome gift which was a lovely touch from the St Regis Bora Bora. If you plan to visit Bora Bora I would definitely recommend staying in a Overwater bungalow.'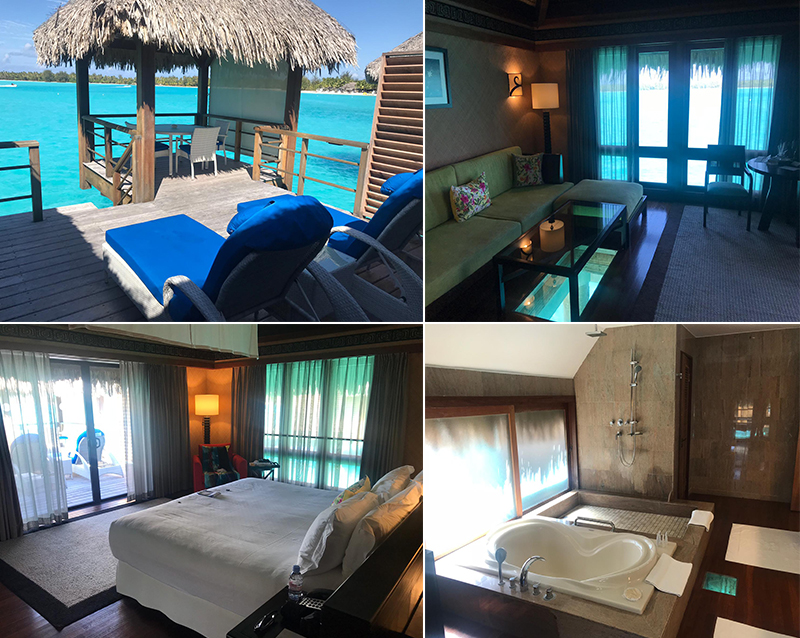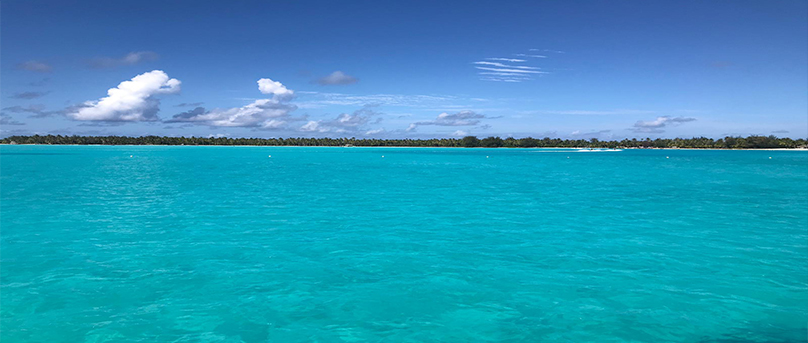 'The staff during our stay were amazing so friendly and helpful, from the management to concierge to the maids to the pool service and butler service all were so great to us and made us feel so welcome and this really added to how good our stay was at our stunning resort. The resort itself is magnificent including the two pool areas which were a lovely place to relax and soak in the sun as well as the lovely beach. It also had fish and shark feeding available and had a great place to snorkel and see some amazing sea life. There were complimentary activities from the resort to use including the canoes, the surf boards, the water bike and the bicycles, which were all great fun.'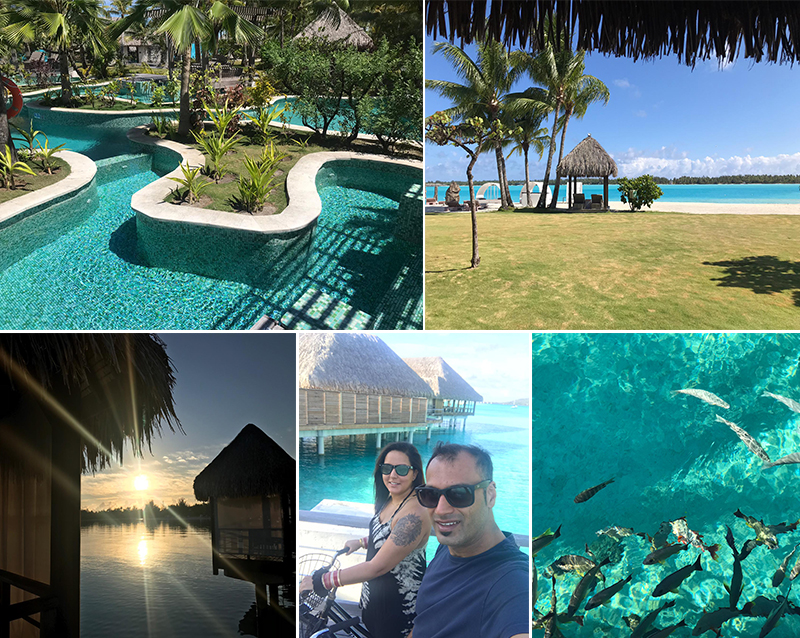 'The restaurants on the resort were lovely from good food to good ambience. The room service and resort menu was great in it self too, I would recommend fish and chips which is a must if you go to Bora Bora, it was possibly the best fish and chips I've ever had. The breakfast there is one of the best, a great selection and really tasty food something we were looking forward to was eating the breakfast every morning.
'While staying in Bora Bora, my relatives and friends would ask what is there to do and in fact there is a lot to do depending on what you would like to do. We did a couple of excursions during our stay we did the combo jeep, jet ski tour and swimming with the sharks and sting rays. Both I think are a must, they were great fun taking you around the whole island and seeing all its beauty. You also have the option of going to mainland Bora Bora which is a short boat ride depending where you stay, which has a selection of restaurants. Bloody Mary's is a good choice to eat at, it has great food and a great design to the restaurant, well worth a visit. The entire stay at St Regis was amazing, the service it provides is second to none. The resort itself is fantastic, I would really recommend to stay here it really does have the wow factor and I can only look forward to staying there again one day. '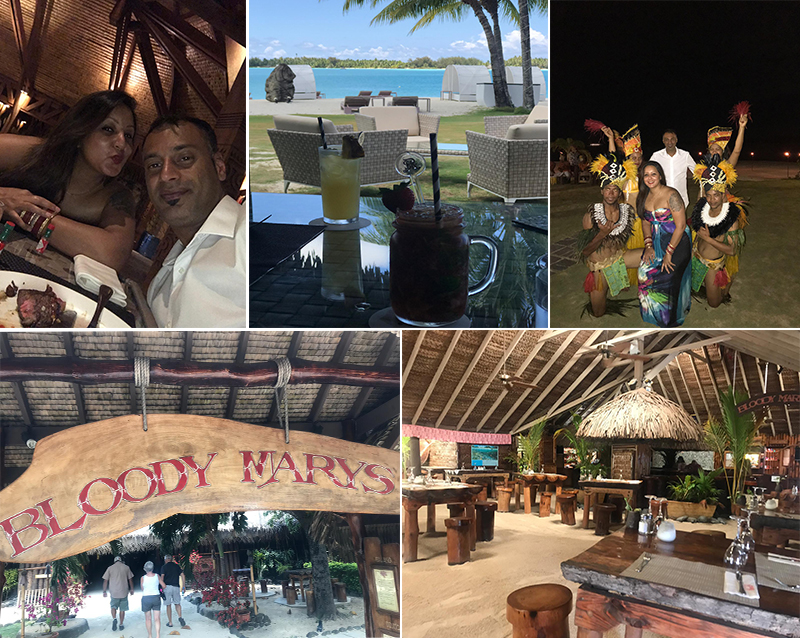 What advice would you give to couples looking to have their honeymoon in Las Vegas and Bora Bora?
'The highlights of this trip I have to say was staying at the St Regis Bora Bora, it's a really special place to visit. In Bora Bora, a must do is swimming with the sharks and sting rays it's great fun and this is helped by the great tour operators who make it a fun and enjoyable trip. I could really talk for days about how good St Regis and Bora Bora itself is but it probably still won't do justice to how amazing and beautiful this place actually is, it truly is paradise.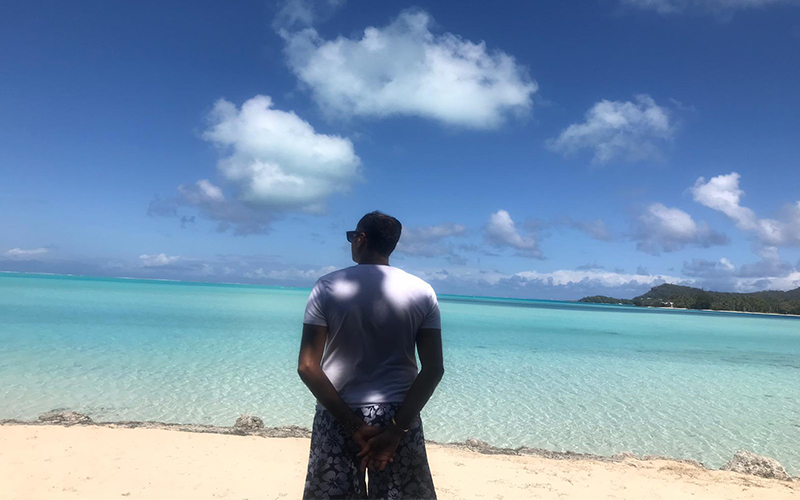 Also, I recommend anyone who is planing to go to Las Vegas they should definitely watch the Michael Jackson the ONE show it's really really good, the amount of work they have put in to that show is amazing and once you watch it you appreciate how much they put in to it and it really is a must see.'
How was the Honeymoon Dreams service?
'I booked this trip through Honeymoon Dreams and through my travel agent, Leigh Bladen. Without him and all his help this trip wouldn't have been possible, he was so helpful and every time I needed help he gave me all the information I asked for and it made booking this trip easy. From the many emails and phone calls I sent and made, he was always happy to help and assist me. He helped our dream of going to the most beautiful place in the world come true and made our dream honeymoon something we will never forget and we both are so grateful to him for making this possible and me and my wife would both like to just say THANK YOU Leigh. '
Inspired by Malkeet and Rajbir's amazing honeymoon experience? For more information about a honeymoon package to Las Vegas and Bora Bora, please contact us on 0121 440 6268.