Leigh visits the luxurious Sun Siyam hotels in the Maldives
Turquoise waters, pristine beaches and sunset views makes Maldives our most popular honeymoon destination. Therefore, our honeymoon specialist, Leigh, got an incredible chance to head out to Maldives on a FAM trip with LJR consultancy, and visit a collection of the luxurious Sun Siyam hotels to help you decide where to stay on your honeymoon. Take a look at where best to stay and his top tips for an unforgettable honeymoon of a lifetime to the Paradise Island of Maldives….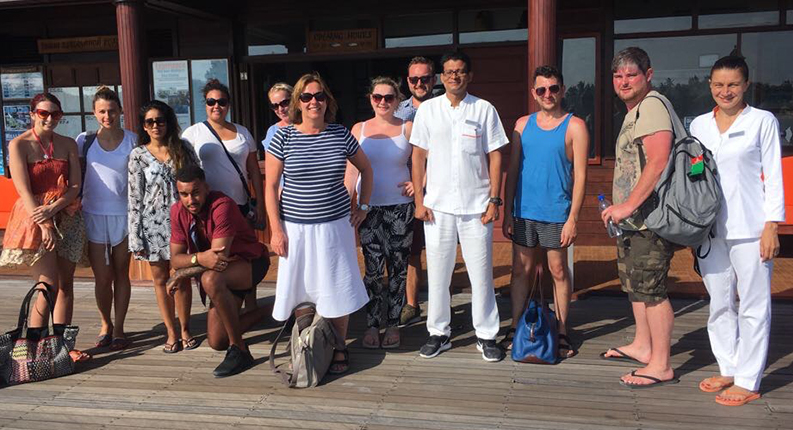 Flying with Emirates flight 
"My journey started from Birmingham which was a nice change to be flying from my local airport. We were flying with Emirates via Dubai on their new A380 which was very impressive, we were even seated upstairs as there is a small area allocated for economy passengers."
 "The Emirates flight as you would imagine was flawless and the choice of entertainment and food and drink was impressive. The flight from Birmingham to Dubai lasted just over 7 hours, we did have a 2-hour connection time in Dubai which was certainly needed as Dubai airport is more like a city. "
Olhuveli Beach & Spa Maldives (2 nights)
"After we landed in Male, we were taken to our awaiting speed boat transfer to travel to our first Sun Siyam hotel, Olhuvelhi Beach & Spa"
 "The speed boat transfer was quick and efficient, we also had the amazing sight of Dolphins travelling along with our speed boat for part of the 45-minute transfer to Olhuvelhi"
 What Leigh thought: 
"Our greeting at Olhuvelhi was well orchestrated and friendly, you could really see that the staff on the Island love their work as we were greeted by what seemed like an army of staff all wanting to greet us personally and offer us welcome drinks, canapes and cold towels. After a short welcome meeting, we were taken to our first accommodation of the trip a Stunning Water Villa with Jacuzzi. Olhuveli is classed as a 3.5 – 4* accommodation but I would have said that it felt more like a 4*+ Island, the room was bright and spacious and the outdoor Jacuzzi that overlooked a stunning sunset was amazing. The bathroom offered direct access to the decking of the water villa with a roll top bath under a double window that opened up over the clear water of the Indian Ocean. I was lucky enough to have turtles swimming under my water villa"
"Our first dinner was hosted by the Islands Four Spices restaurant. Four Spices is an a-la carte option at Olhuveli, the restaurant offers seating both inside and outdoor on decking over the ocean. The food was amazing and had a thai flavour to it all, the waiting staff were some of the best I have ever experienced in a resort, our glasses were never empty and all of our courses were delivered to us in a timely manner, which was great as we did have more than 5 courses. My favorite dish being salted Maldivian fish cakes with a fish broth. After our delicious meal, it was amazing to go back to my Water Villa to have a Jacuzzi under the stars."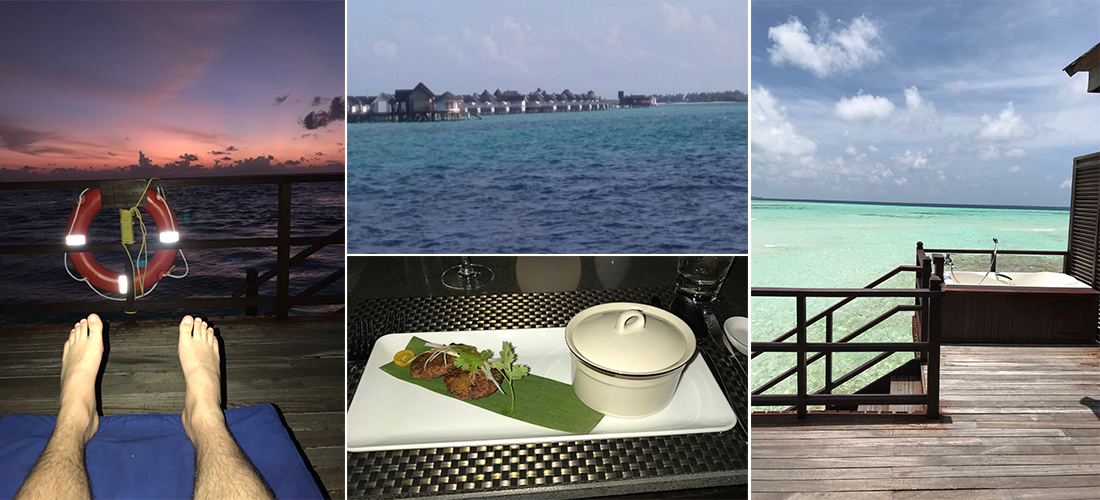 "Our second day in Olhuveli started with free time to explore the Island and take in some snorkeling at the resort. Whilst snorkeling at Olhuveli we got to see a few species including saw turtles, reef sharks and sting rays. Lunch was served at The Sunset restaurant, this was a buffet style lunch and I could not believe the amount of foods on offer and the freshness of it all. Again, there are indoor and outdoor seating options. Cooking stations with live chefs cooking all sorts of clients requests were open and again the choice for people with no dietary requirements as well as dietry requirements (Vegan, Vegitarian etc.) was impressive."
"Later in the afternoon I booked in for a Jetlag massage at Oluvelhis Sun Spa ($100) and again felt very impressed with not only the look and style of the spa facilities but also the level of choice and treatments available.  Spa treatments at the Sun Spa range from $35.00 per person for an array of water bath options to Sun Spa samplers 3-day package costing $330.00 per person"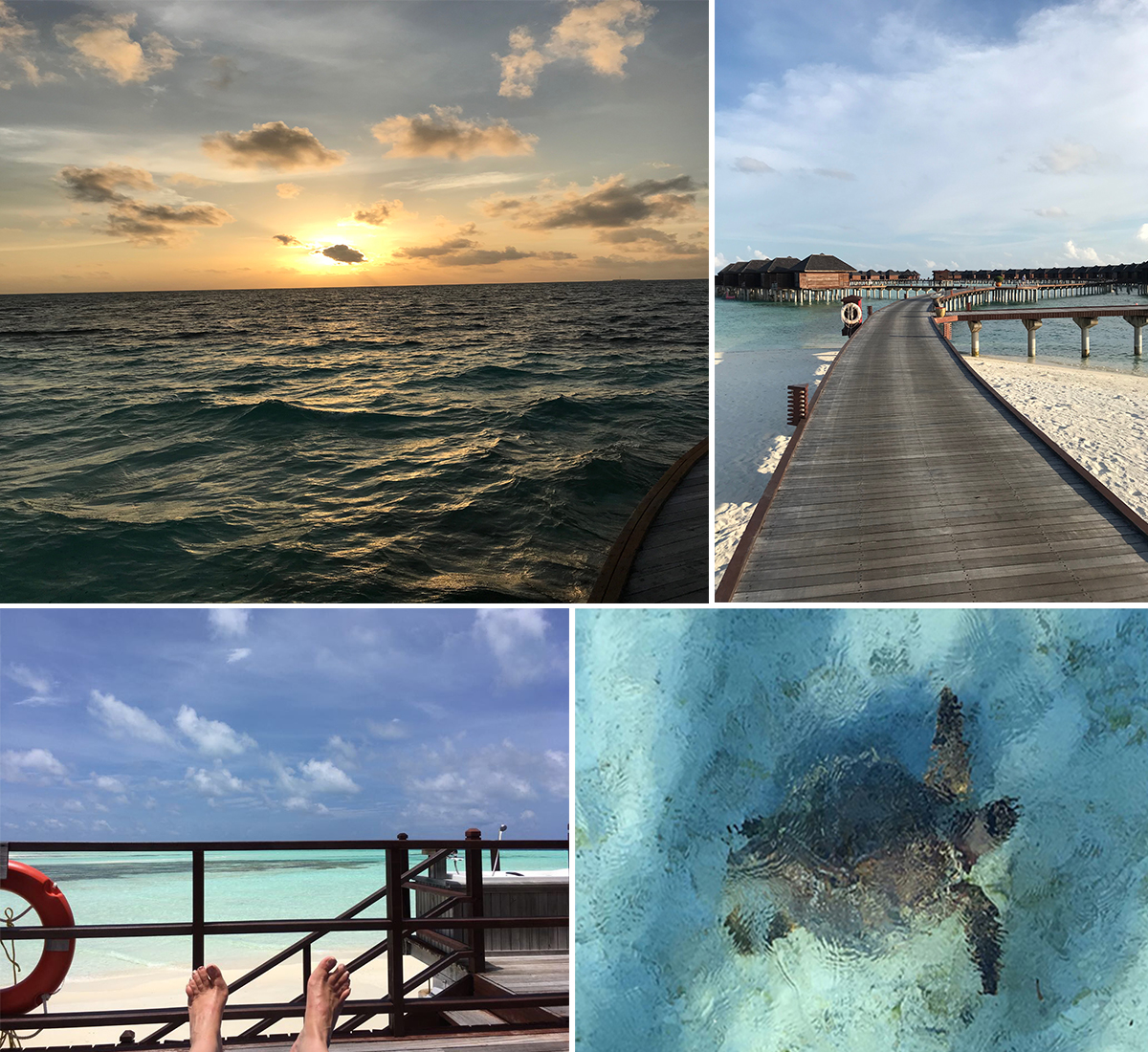 "The second evening started with a VIP management cocktail and canape reception which was taking place near Olhvelis dive center at sunset, tall tables were decorated with white table clothes and red ribbon, the event was at the end of Olhvelis pier over the crystal-clear waters of the Indian Ocean. The variety of cocktails and canapes was great. I must admit it was one of the best Champagne cocktails I have ever had and it was complimented by meat, fish and vegetable canapes brought round to us by staff as we stood and soaked up the atmosphere of where we were. We were then guided to our long table set up directly on the beach for a dinner at Plankton restaurant, an outdoor seafood restaurant with open kitchen. We were asked to choose our own lobster/crab from the Plankton tank (all of which have been caught that day). Absolutely stunning service and food."
"The evening was at leisure so we were taken to the Islands Private Karaoke room, that is very popular with Olhuveli's far east guests, and we all got into the spirit of the evening, making it a great night."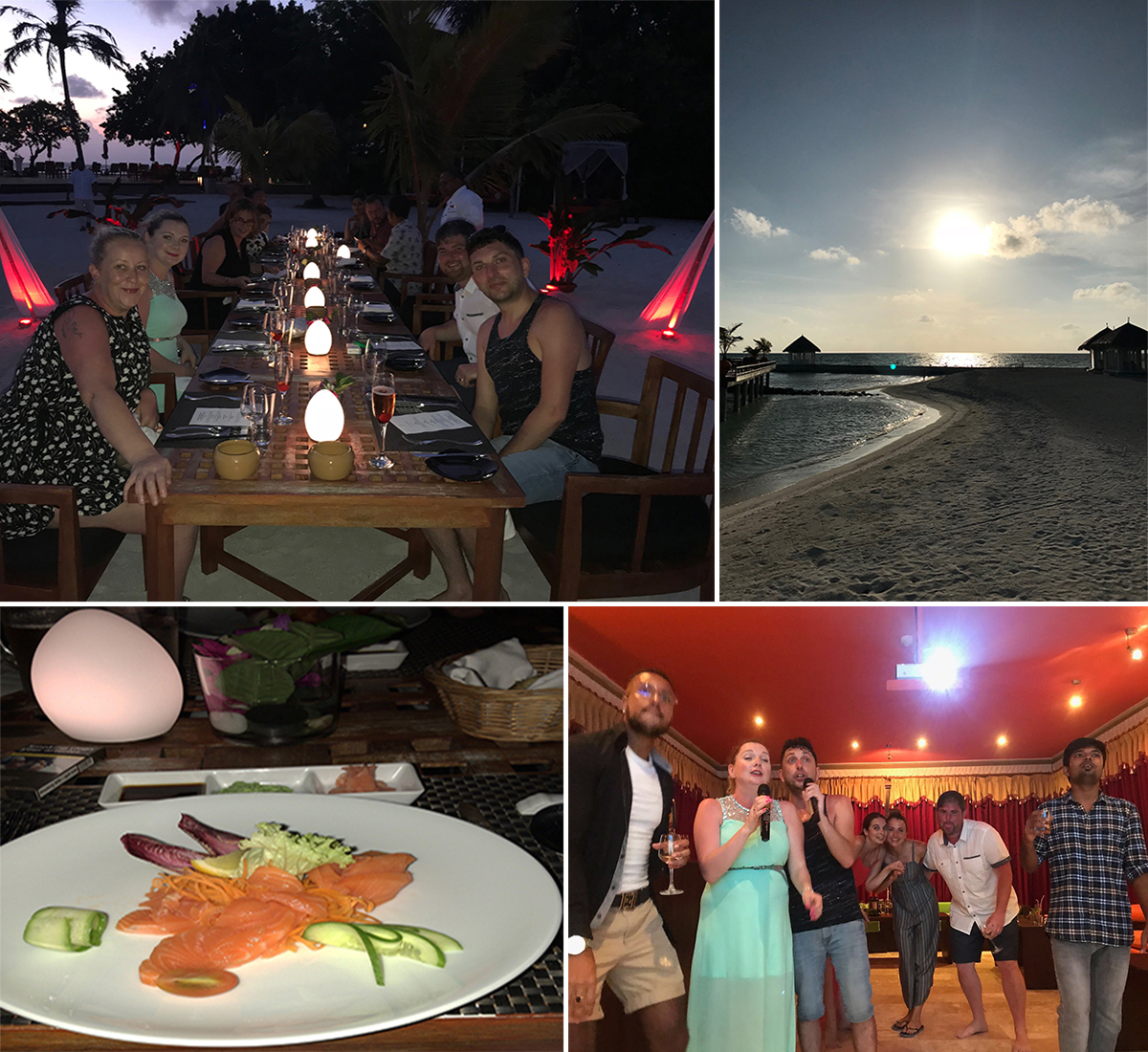 Seaplane journey to Sun Aqua Vilu Reef (2 nights)
"Today we were up earlier than usual as we had to get a speed boat back to Male to connect to our first sea plane journey to our second Maldivian Island of Sun Aqua Vilu Reef. Once we arrived in Male again we were whisked by coach to another airport nearby where all of the Islands seaplanes depart and arrive. We were taken to Sun Aqua Vilu's and Sun Siyam Iru Fushi's private lounge in the airport to wait for our first seaplane. In the lounge, we were offered complimentary food and drink (no alchohol as Male is dry). There were cold food offerings such as sandwiches, salads and patisseries, as well as hot and cold beverages. There was also a masseuse in the lounge offering free head, neck and should massages."
"A sea plane is an experience I have never had before and it did not disappoint. Such an amazing experience."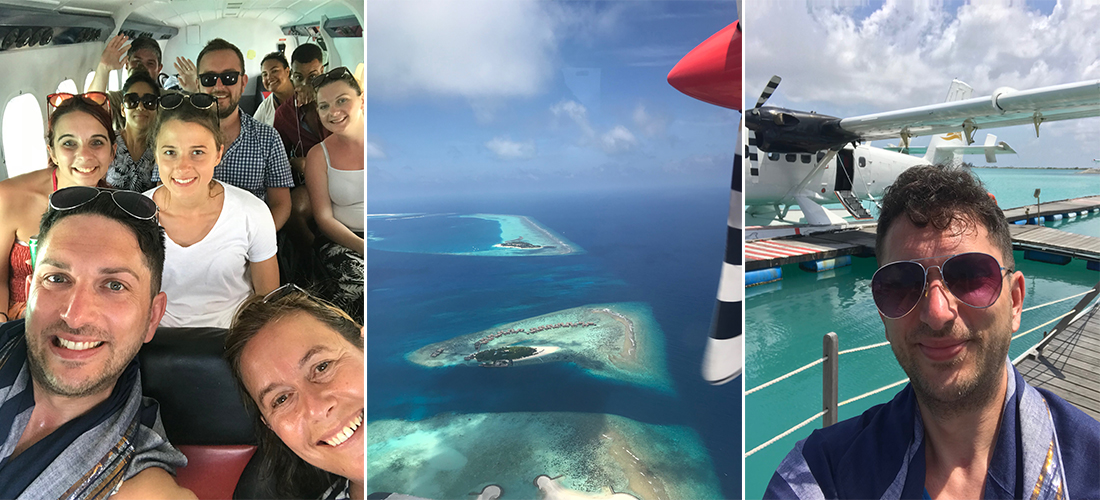 What Leigh thought: 
"We arrived to a fantastic welcome at Sun Aqua Vilu Reef again from a whole host of staff waiting with drinks, cold towels and garlands for us all. I thought it was an amazing touch that the Island had, and the head chef greeted all of us to discuss any food requirements we had for the duration of our stay.
"We were then escorted to our accommodation which was home for the next two nights in a stunning Deluxe beach villa with private pool. The room was bright and came with a infinity pool that was dug into the beach, it was unbelievable with a clear view to the sea which was literally yards away from my room."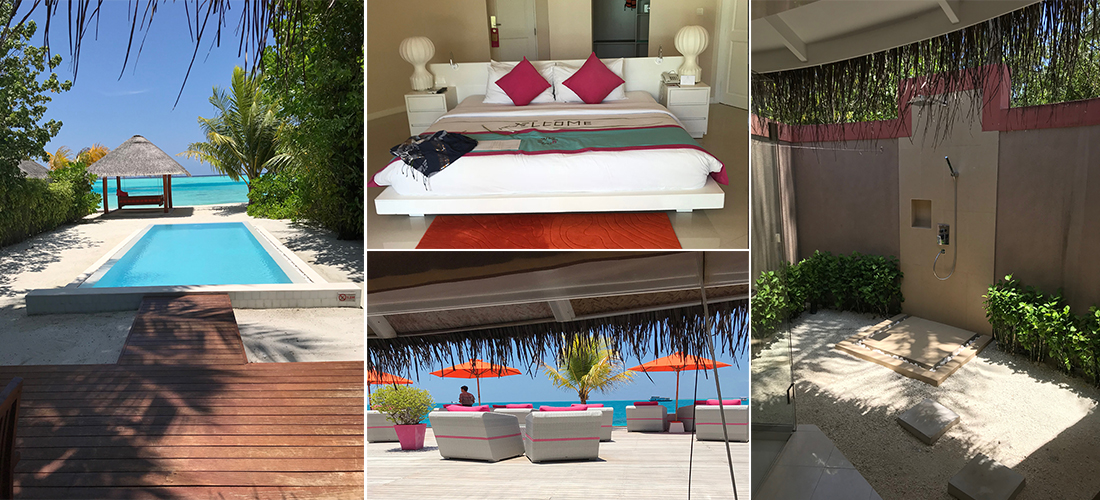 "We were allowed free time until stingray feeding and cocktails at the Nautilus a gorgeous cocktail bar that also serves finger food and hugs the shore and sea. We watched Stingray feeding which was an experience, we were not allowed to feed the Stingray as we were advised at the moment two of them are pregnant and can be a little boisterous so a staff member stepped in."
"Later that evening we were treated to a beach barbeque catered for by Sun Aquas Vilu's Well Done beach front restaurant. The food was amazing and all cooked freshly for us on the beach. The ribs and lobster dish was so good, again water and wine flowed all night with the most attentive staff I have ever seen. 
Our second day in Sun Aqua Vilu started with breakfast at the Aqua restaurant, this is a buffet style restaurant available for breakfast, lunch and dinner."
"After 10am we experienced our first excursion to Farm Island, all Islands in the Maldives try to be as self-sufficient as possible, just like Sun Aqua Vilu. It was a short 35-minute speed boat ride to Farm island. Once on the Island you see that it really is a desert Island that sole purpose is to grow fruit and vegetable's as well as holding farm yard animals. After our excursion, we were allowed free time to explore the Island, again we snorkelled to one of the best house reefs I have ever seen, Maldives has huge amounts of coral reef but to have such amazing reef in house is fantastic and a real selling point for the island.
Later in the evening we were treated to an authentic Maldivian night with Maldivian dancers and an exciting night of of crab racing, sadly I did not win. (the trick apparently is not to move or make noise when the race starts)"
 Sun Siyam Iru Fushi (2 nights) 
 "The greeting at the Sun Siyam Iru Fushi was the best of the trip with a Maldivian band greeting us from our 1 hour and 15-minute sea plane, again we were offered cold towels, a fresh coconut and cold towel." 
What Leigh thought: 
"We were escorted to our rooms a fabulous beach villa with pool, it was by far the largest room I have stayed in while in the Maldives, with an outdoor bathroom and outdoor private infinity pool on the other side of the villa. One thing I noticed at all three of the islands but certainly here that privacy was not an issue at all. This is by far the largest island of the trip as well, with beach buggies travelling passengers around the large resort. We were advised we all had our own wish butler that will take care of anything we need. As we entered our rooms the bathroom was lit up from the neon lights coming from the outdoor brand-new Jacuzzi bath that had been run for me, including oils and petals."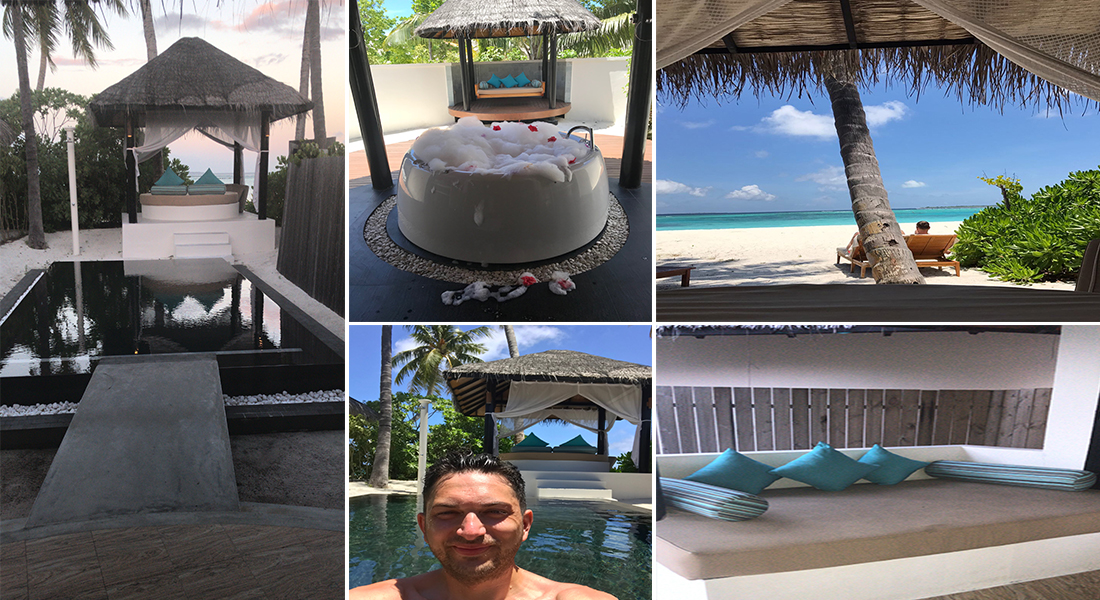 "After we had taken a look at our rooms, we were taken to Waters Edge for a cocktail reception on the beach where the weekly VIP barbecue was being hosted, stunning sea food options as well as meat, vegetarian and vegan options. This is not part of the all-inclusive and carries a $150.00 per person price, but it looked amazing."
"Then we were escorted to our hosted dinner at the award-winning Flavor's French restaurant, the food was delicate and gorgeous, a great variety of sea food and meats, the vegetarian and vegan amongst us were also very impressed by the offering. All of the wines we experienced that night were chosen from the Islands own wine cellar with a stellar choice of wines, spirits and champagnes."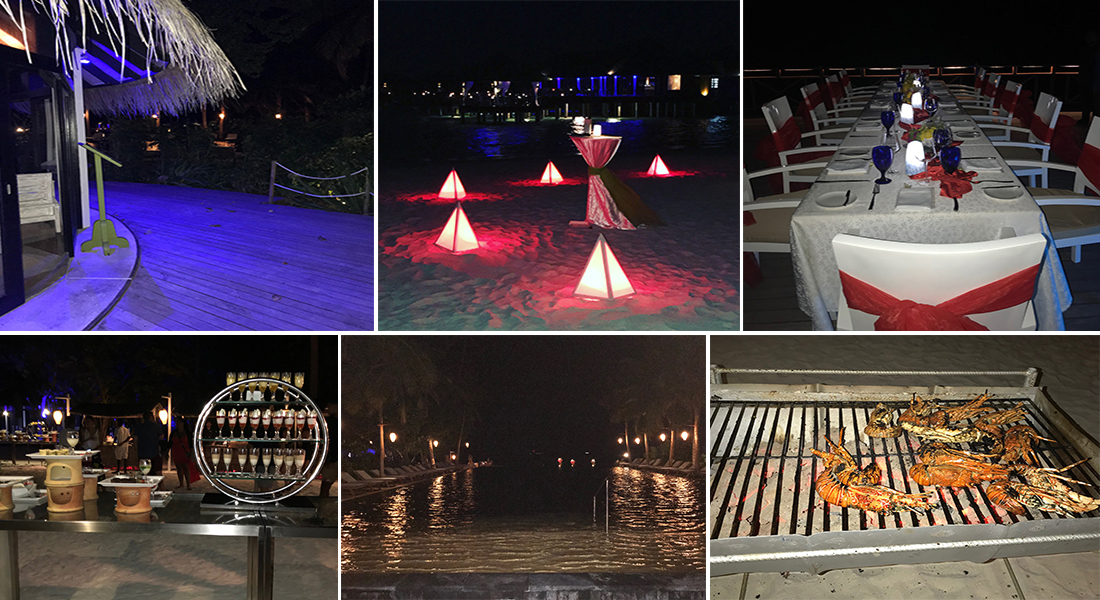 "The next day we were on our way to our speed boat before 6am, ready for the AMAZING sunrise we witnessed out at sea on our way to a stunning sunrise snorkeling safari.
"We were advised that currents early in the morning can be quite strong so even the more confident in swimming should think about wearing a lift jacket to snorkel."
After the snorkeling safari, we were taken to breakfast and then again free time to explore this larger island before my Balinese massage was booked in at Sun Syiam Iru Fushis award winning spa, it is also one of the leading spa's of the world, Total bliss."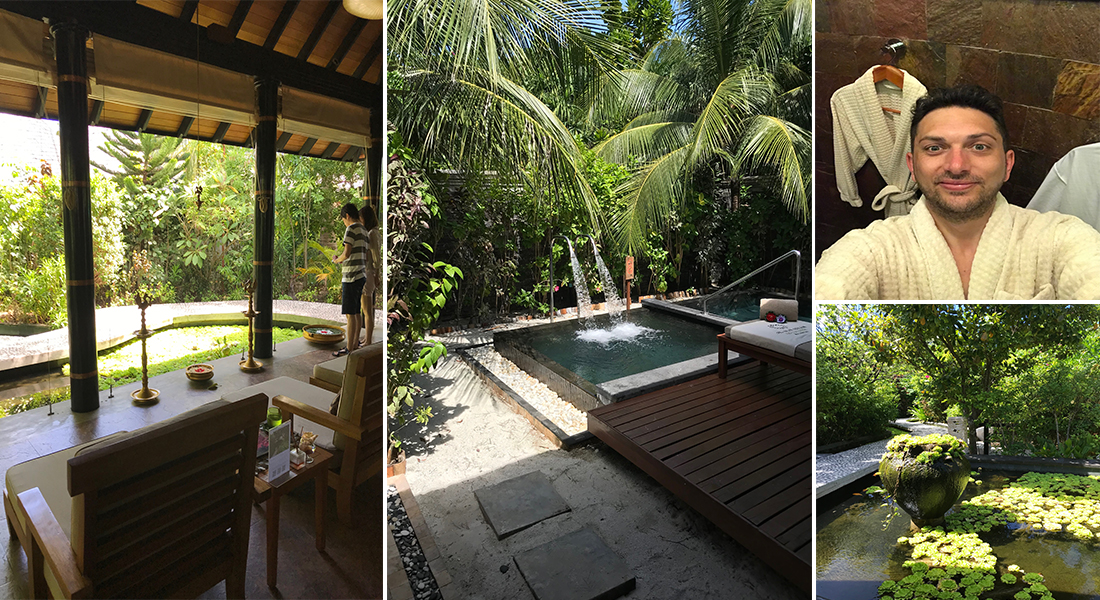 "Our last evening was spent at the Islands Baja, Mexican restaurant, as this restaurant was nearer to the water villas of the island we were picked up from our room by buggies and driven to Baja.  Once again food did not disappoint truly stunning blue cheese risotto."
 "We were on the 09.10am flight from Male to Dubai on our homeward journey so we left Sun Siyam Iru Fushi at 4am, one thing that is also good to know is that Male is 4 hours ahead of UK time, but I was not aware that all Islands have their own time zone that is actually an hour ahead of Male time. Be careful with this as you might do what I did and wake up at the wrong time."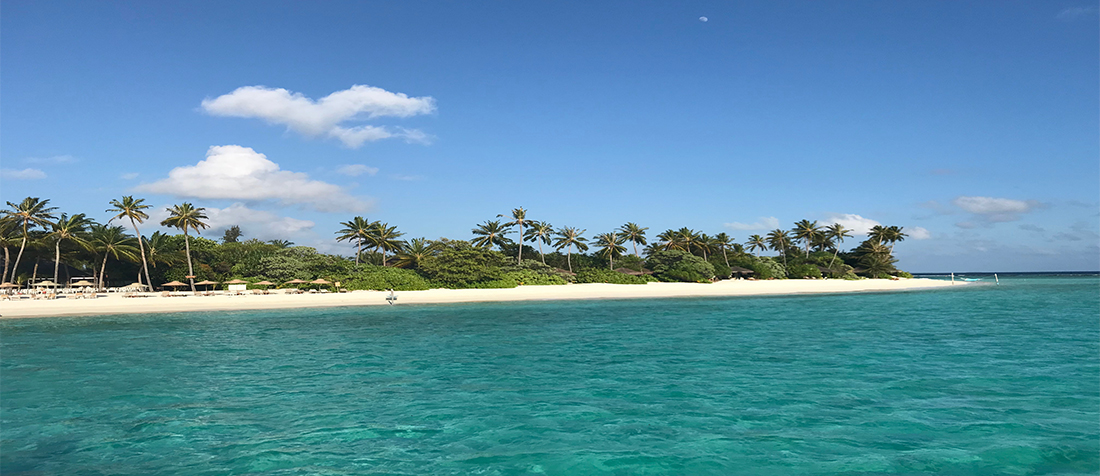 Leigh's recommendations and tips for the Maldives when staying at Sun Siyam Hotels
#1 Sun Aqua Vilu felt more like a 5* Island than a 4*, The ambience of the Island makes this a perfect choice for honeymooners that are looking for a modern, bright and beautiful Island that also has the exclusive, romantic small Island feel.
#2 If there is an option to upgrade to a la carte all-inclusive on your chosen island, TAKE IT!!! You are a captive audience and I would rather have everything included than get to your island and have to pay for certain aspects that you would expect to be in the standard all inclusive.
 #3 A beach villa is just as nice if not better than a water villa. You are closer to amenities and still have the privacy aspect you would expect in a water villa.
 #4 Buy a pair of sea shoes – £4.99 on average from Decathlon, though the beaches and sand are powder white and gorgeous, your walk out to sea has aspects of Coral and it can be very sharp.
#5 Speed boats are as efficient as sea planes if anything they have a more structured schedule to depart to Islands than Sea Planes.
#6 Budget is an issue for all, but really look into what you get for your money, I would pay more for accommodation I wanted now as it is hard to see some of the stunning room types you turn down to get a better priced honeymoon, pay the extra it is worth it!!!!