Estelle visits the luxurious Kanuhura in the Maldives
Our honeymoon specialist, Estelle, recently got the chance to visit Kanuhura Maldives with A Sun Resorts. We caught up with her to give you some inspiration on your honeymoon. Read on to discover what Estelle got up to at the 'unfettered paradise', from her day to day experience to her handy top tips…
Day One
We flew from Manchester Airport with Emirates Airlines and I found the aircraft and service very excellent. Emirates have over 400 movies to choose from and a variety of meal requests, should you wish to pre-book a special meal on the flight. All of the meals they serve from the menu are Halal. I had the vegetarian and it was delicious.
The connection through Dubai was seamless and around 2 hours which meant we had some time to stretch our legs ready for the onward flight to the Maldives and as we didn't have to collect our luggage it meant we had a little time to indulge in some retail therapy. 
#Note: To mention you have to fill out a Visa form on the flight, for your entrance into Male, so please have this ready for immigration upon arrival into Male.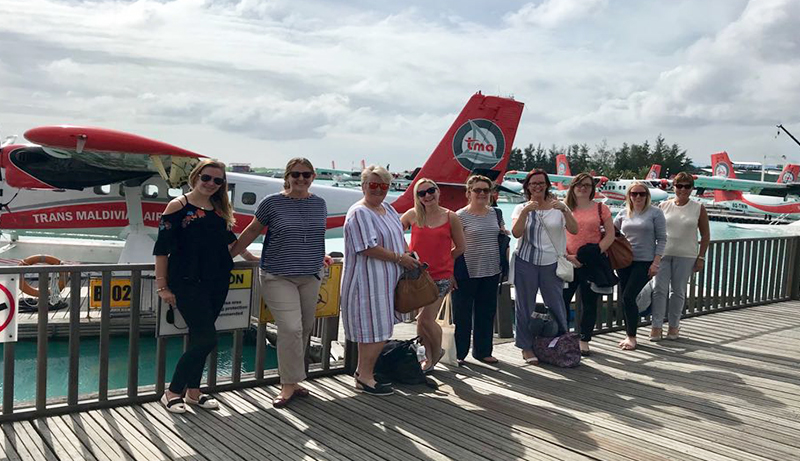 Day Two
On arrival into Male airport, we were greeted by a friendly representative from Kanuhura and as this island is served by a seaplane we were taken in a private coach to Kanuhura's Private Seaplane Lounge at the main seaplane terminal, around a 10 minute journey from Male. Our suitcases had already been checked in for the seaplane at Male airport.
We enjoyed the elegance and comfort of Kanuhura Private Lounge with complimentary snacks and water, showers and friendly staff. Kanuhura staff are on hand in the lounge to complete the island check in service, so no waiting in reception on the island which means your Honeymoon or special occasion holiday can start as soon as you step onto the island.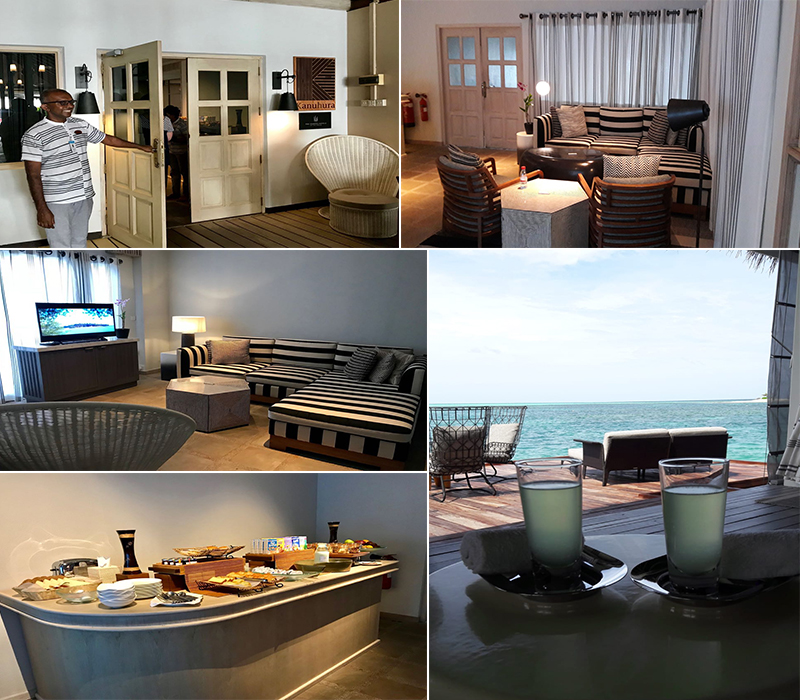 The seaplane journey was out of this world and a once in a lifetime moment to share as a special couple so don't forget your cameras. The views are breathtaking, passing over various habited and non habited islands. We did land once to drop off some clients to a different island, however the overall flight lasted around 45 minutes.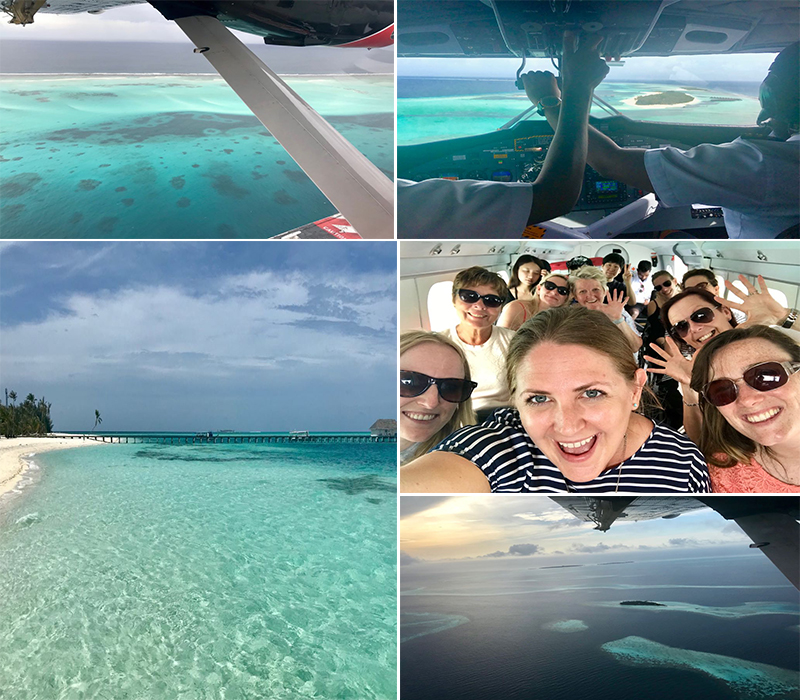 #Toptip: If you want to feel like you are flying the plane, try and sit in the front seats, the views are amazing and the view on landing is to die for.
Once we landed on the Island I cannot describe the feeling – I was amazed, speechless, excited and overwhelmed at seeing the island for the first time. One word only came to mind, Paradise!
We were greeted by some of the friendliest staff (there are over 300 on the island) that I had the pleasure of meeting and were welcomed with complimentary cold towels, drinks and some wonderful canapes within the islands arrival lounge, Bodu Beru. All arriving guests receive this very special welcome. The views are stunning and the Lounge also plays host to movie nights on the island too.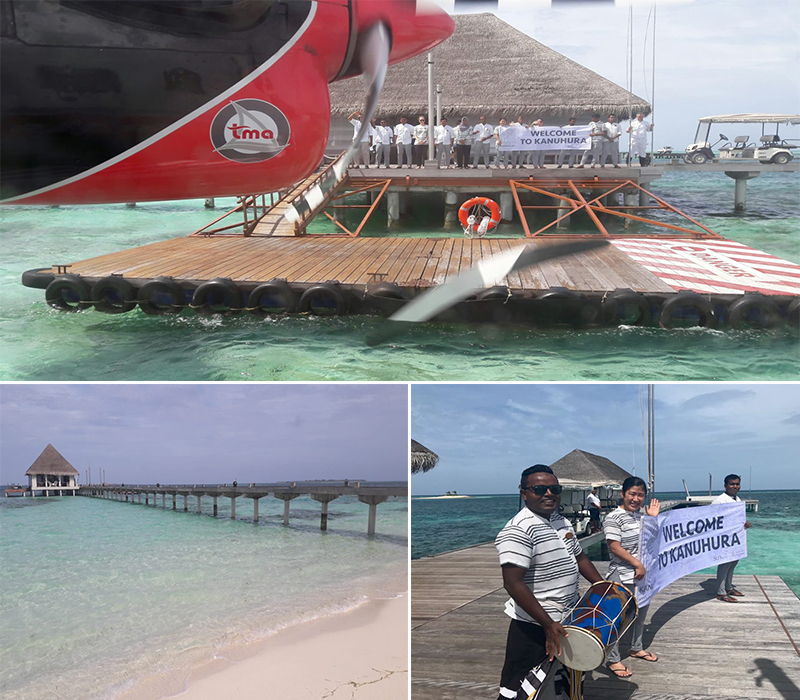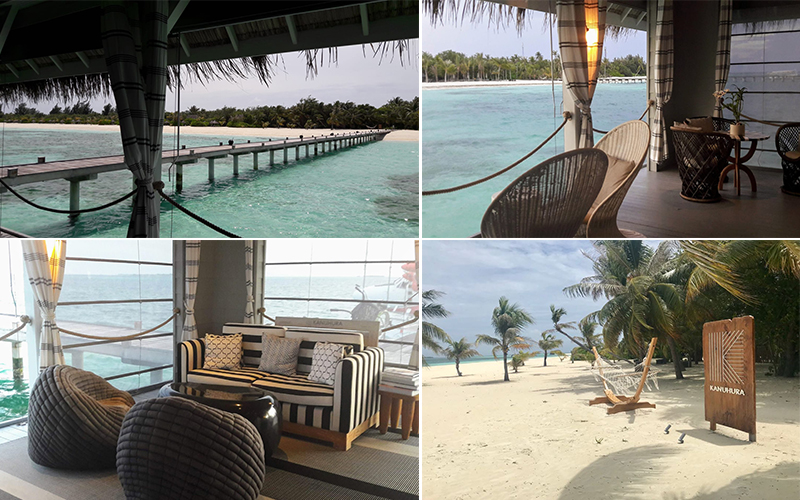 Kanuhura is located in the Lhaviyani Atoll, around 150km north of Male and is described as a unique and 'timeless castaway chic experience'. Kanuhura is a small island of 1400 meters long and 350 meters wide, with only 80 villas and it takes around 20 minutes, maybe longer with a stop off for a few cocktails to walk the island.
The luxury retreat also offers a variety of facilities on site like a great Games Room, Bio Marine Centre, Water Sports Centre, Gym, Tennis Courts, Squash Court and Diving Centre, which runs snorkelling excursions. Also, if you have always wanted to know how to mix the perfect cocktail then Kanuhura can arrange Cocktail Making Classes and you can also indulge in Wine and Cheese tasting sessions. The Island also offers Yoga practice.
#TopTip: If you wish to indulge in a spot of Yoga a sunrise or sunset Yoga experience from the Yoga Pavilion is a must.
With check in already completed, I was taken to my accommodation in a buggy, where I would be staying for the few nights while I was at Kanuhura. I stayed in a Beach Villa with Pool, these villas are located on the Sunset Beach side of the island. There are 11 Villa Categories on the island, ours was the fourth category room type following the Beach Bungalow, Beach Villa and Water Villa. There is also a Water Villa with Pool on the island and I would advise these are the main four villa categories for Honeymooners, couples or special occasions.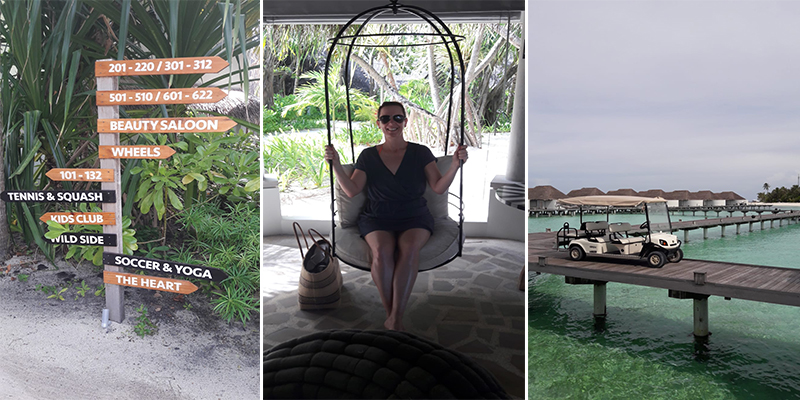 The Beach Villa with pool offers outdoor plunge pool, semi-open bathroom (the shower is out in the open) with a sea view, covered deck with chairs, sunbeds and gazebo, bathtub and walk in dressing area. The rooms have hairdryers and the toiletries are fabulous and luxurious so I'd leave yours at home to save on packing. The Villa is huge and offers a mini-bar (at extra costs) however, offers complimentary 2 bottles of water, tea and coffee making facilities. The bed was huge and very comfortable and upon waking you were greeted with ocean and beach views. The spacious bathroom opens to the outdoor with an open-air shower.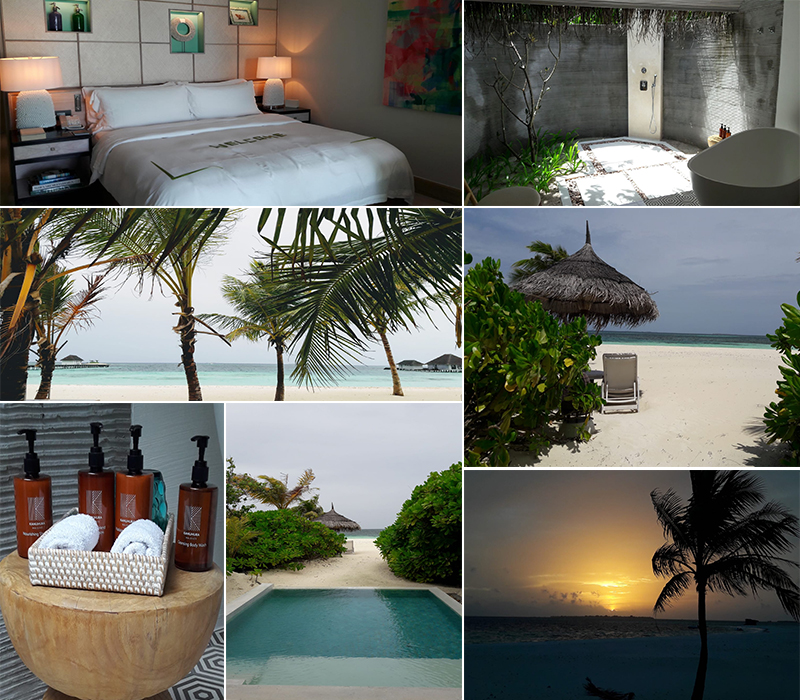 Each villa on the island comes with Complimentary Privileges such as Villa Host Service (butler) and a bike. The bike is for you not your butler? Both are excellent touches, the butler to make you feel like VIP's and the bike offers the fun aspect and a great way of seeing the whole island when you are feeling a bit energetic.
Each villa also had it's own hand crafted, personalised Villa plaque complete with your name to welcome you, which I thought was a lovely personal touch. You also receive a beach bag, slippers and bathrobes plus beach towels on arrival. Each evening, there is a little treat left for you to enjoy before bed. You are welcome to keep the plaque and bring it home as a memento from your stay on Kanuhura.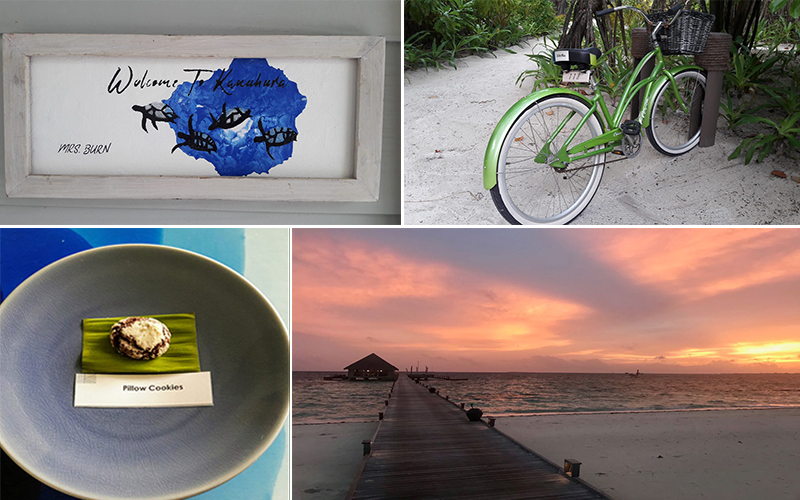 I had the experience of seeing a Beach Bungalow (located on Sunset or Sunrise side) and a Water Villa (located on the Sunrise side) during my site inspection visit. Both were beautifully decorated and in keeping with islands 'chic' experience. The Beach Bungalow was of a decent size and had beautiful views over looking the ocean and a covered deck with table and chairs.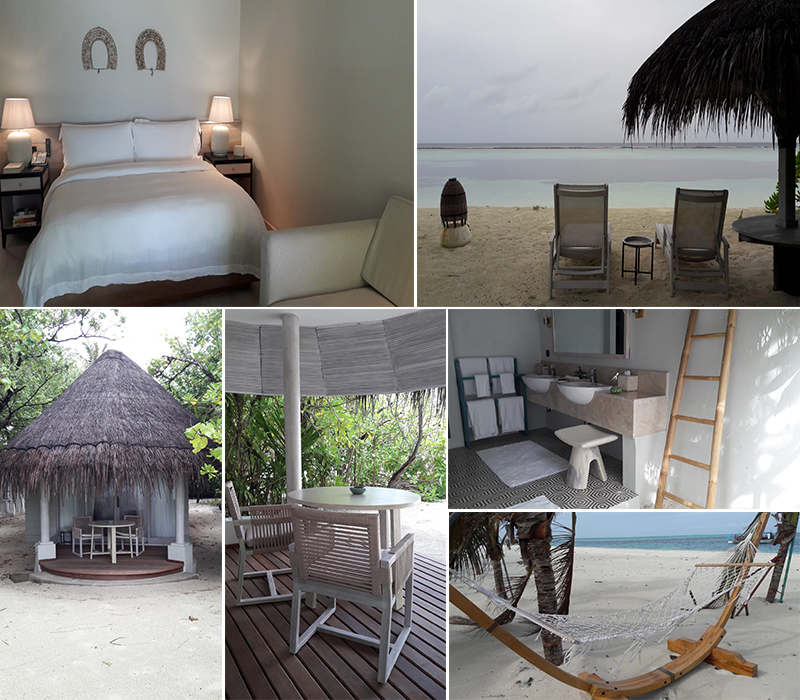 The Water Villas were amazing with uninterrupted stunning views and fabulous overwater hammocks.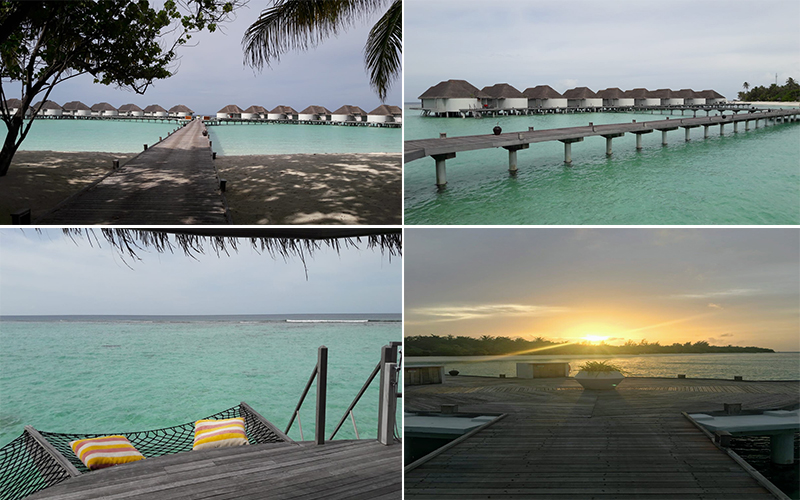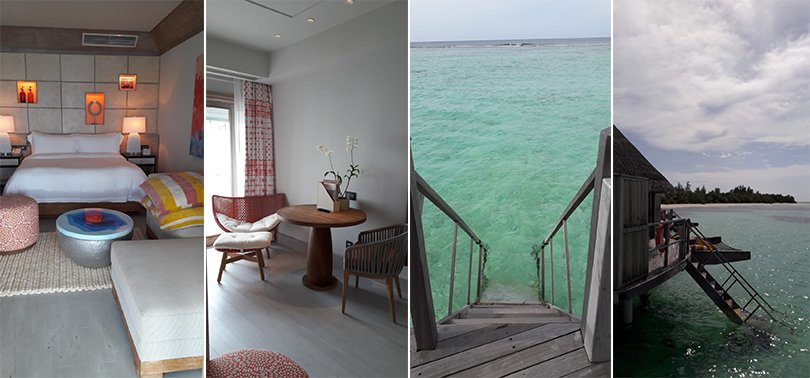 I loved my room as you had the best of both worlds, a pool, the beach, the ocean which was a few steps away and the stunning sunset in the evening. However, for honeymooners I can highly recommend the overwater experience for a few nights, followed by the Beach Villa with Pool.
#TopTip: If you want to experience the breathtaking sunset book a Beach Villa with Pool as these Villas are the only ones with a guaranteed location on Sunset Beach. The Sunset is the most spectacular experience to share as newlyweds or to share that special moment with your special someone. However, if staying in a Water Villa set your alarm early to watch the beautiful sunrise.
#TopTip: Kanuhura allows you an alternative to the traditional check out procedure by arranging the complete process in your Villa. You just need to let our butler know you wish to take this option and they will be happy to arrange this for you.
We enjoyed a Guests Sundowner Cocktail Evening at The Cowry Club, a contemporary lounge bar, located on the Sunset side of the beach with a beautiful infinity pool and plays host to Sundowner Happy Hour between 17.00pm-19.00pm each evening. A wonderful themed Beach Seafood BBQ Dinner is run on one evening every week for guests from the main restaurant A Mano and is included in all meal plans. The food was out of this world, freshly caught lobster, which is included and fresh fish and salads all enjoyed on an amazing beach location for our evening.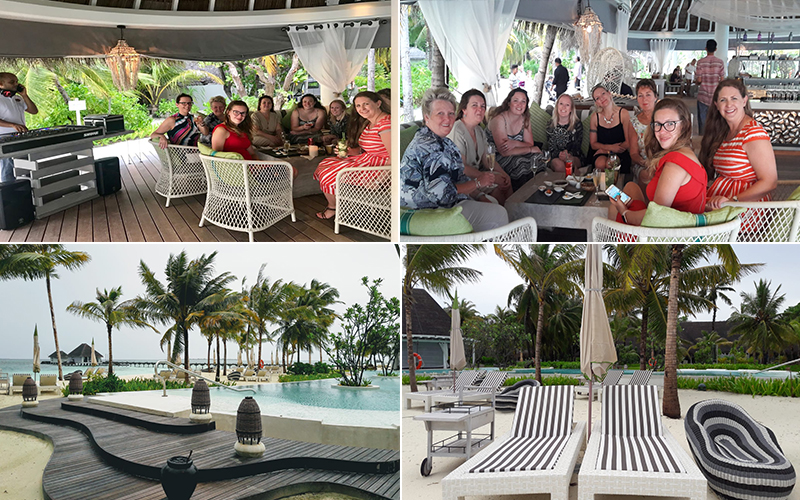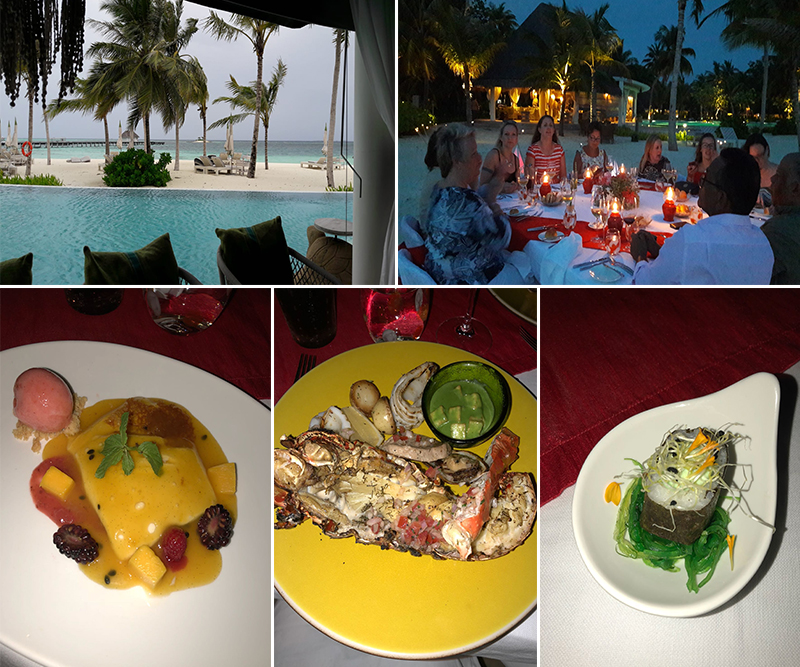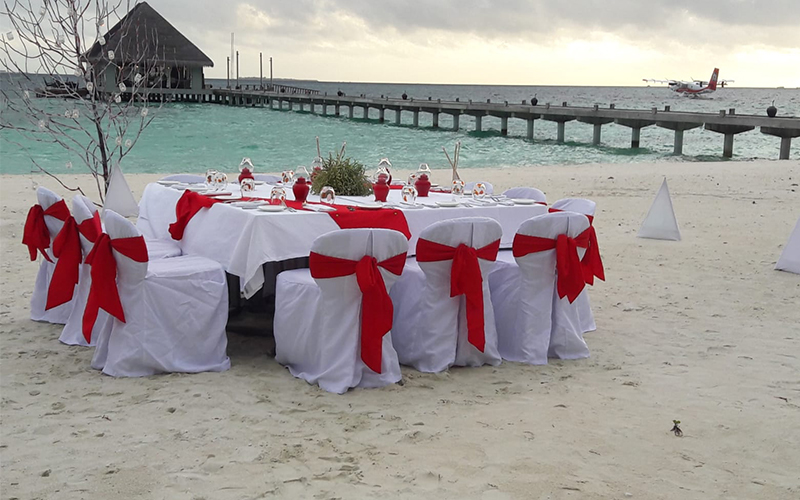 The Cowry Club is open from 10.00am – 00.00 with lunch being 12.00-15.00pm. Lunch is included at The Cowry for clients on Full Board Meal Plans.
#TopTip: If you fancy listening and relaxing to a blend of sultry jazz beats and up to date lounge music from the local DJ along with the sounds and sights of the ocean, with a fabulous cocktail then The Cowry Bar is the place to be.
Day Three
 I can highly recommend for at least one morning of your Honeymoon ordering Private Dining for breakfast so you can eat the most delicious breakfast in your villa with breathtaking views of the beach and ocean. You can arrange time and food requests with your Butler the day before and you will be greeted with waiters who will lay out your breakfast as per your wishes and give you ample time to enjoy your breakfasts.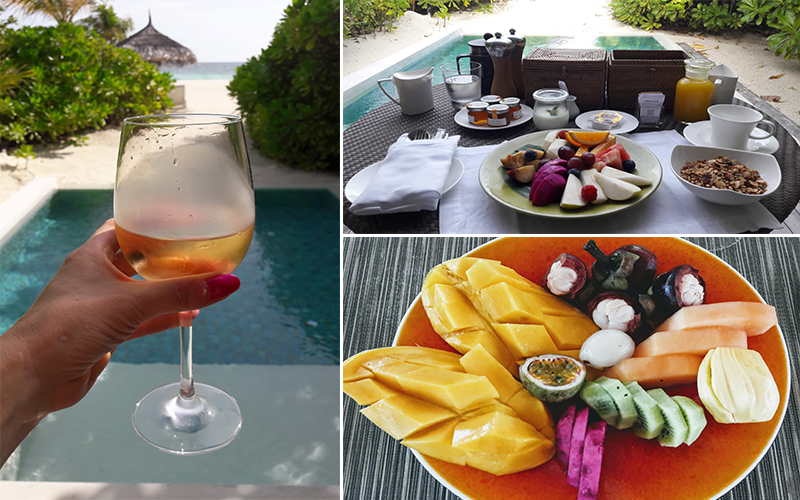 Alternatively, you can dine at A Mano for breakfast which is the main dedicated restaurant for breakfast and dinner and designed to look like authentic local market food stalls. You can enjoy an array of breakfast foods, such as delicious fruits and freshly made omelettes, waffles, yogurts and fresh honey. The restaurant is at the heart of the island and is located on the sunset side of the island.
A Mano is open for breakfast from 06.30am-10.30am and for dinner 19.00pm-22.30pm and is included on the Breakfast, Half Board and Full Board meal plan.
#TopTip: There is no better way to enjoy a glass of Bucks Fizz along with breakfast taking in the amazing views of the Indian Ocean whilst on your Honeymoon.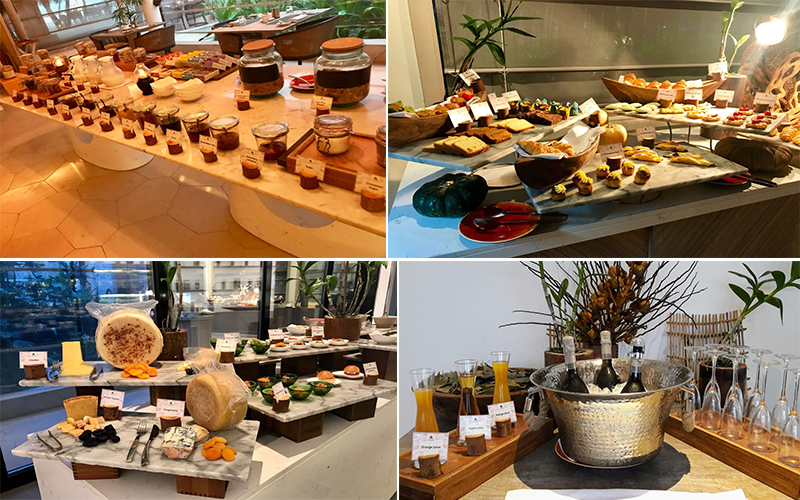 #TopTip: Why not plan your loved one an unforgettable Private Dining Experience? Ideal for a special occasion you can choose to dine under the stars in your villa or in a private location of your choice on the beautiful island.
The Island runs snorkeling excursions which are a must if you wish to see the diverse marine life of the Maldives. The equipment is available from the center and is yours to keep for the rest of your stay as there is an area where you can snorkel close to the island, without taking an excursion. A boat will take you to a local snorkeling sight around 30 minutes from the island. Grab your mask and flippers and try to spot the many fish that swim within the reef. We were lucky to spot turtles on our excursion.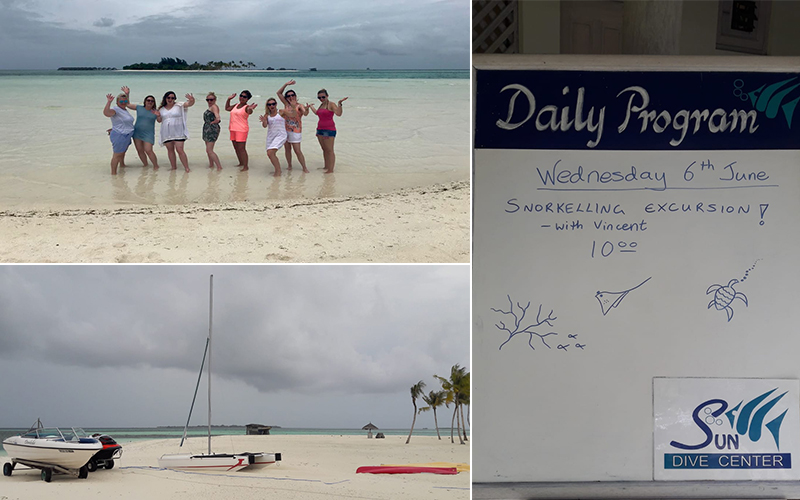 #TopTip: Watch out for dolphins on the boat journey as we were lucky enough to spot a pod in the distance, playing in the ocean.
A couple of minutes via boat transfer will find you on Jehunuhura, Kanuhura's own exclusive and private island. We had the most delicious A La Carte lunch at Drift restaurant here and were able to enjoy the spectacular white sands and turquoise blue seas on this secluded getaway gem. Lunch is served on the island from midday to 15.00pm and does not have to be pre-booked, however this restaurant is not included on any meal plans.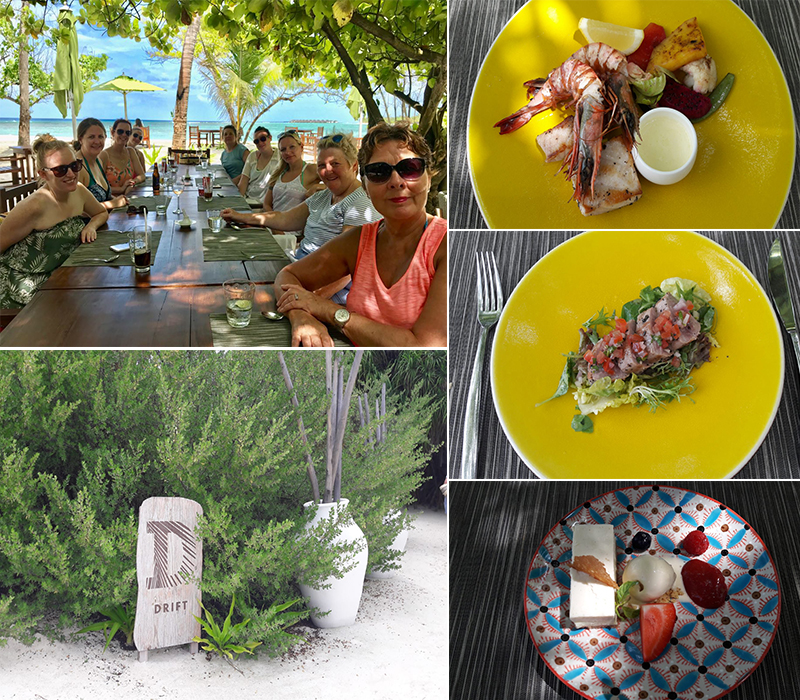 On a walk around the island we spotted a local reef shark just going about it's day.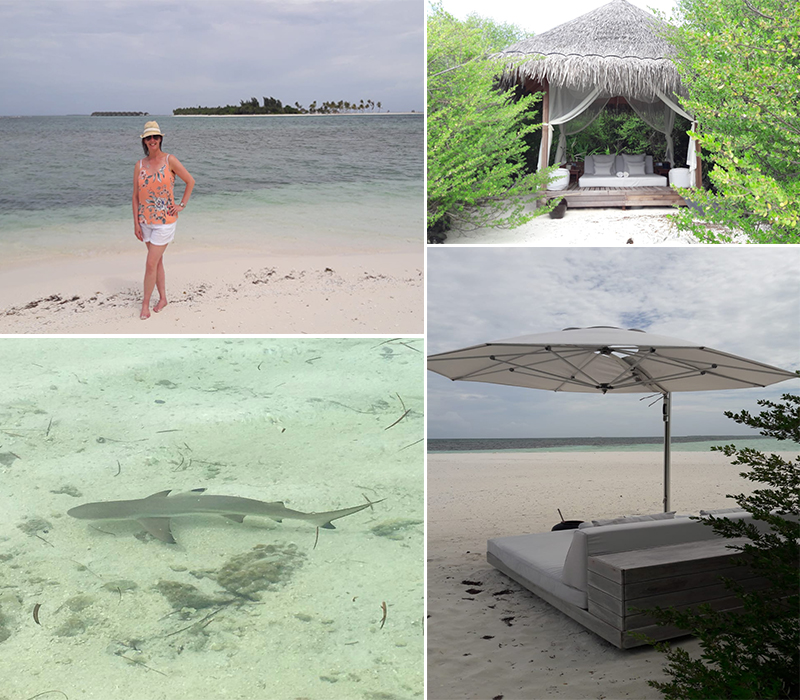 #TopTip: Private Cabanas are dotted around the island and are available to hire on the island and come with waiter service. A very indulgent way to spend a day on your honeymoon but one that will be a lasting memory. They also come with a day bed should you wish to catch some sun and be in awe of the amazing views.
The Kokaa Spa (Kokka meaning Butterfly in Dhivehi) on Kanuhura is complimentary for guests and has a fabulous Jacuzzi, steam room and sauna area. The largely organic treatment list is one of the most comprehensive in the Maldives and it has been Voted 'The World's Best Spa' by National Geographic Traveller magazine.  A visit to the Spa is a must and I was fortunate enough to be treated to a relaxing 90 minute massage. I chose the luxurious African Body Massage with an oil chosen by myself and it was utter bliss. I felt like I was floating in the nearby Indian Ocean.
#TopTip: If you wish to indulge in a spot of Yoga a sunrise or sunset Yoga experience from the Yoga Pavilion is a must!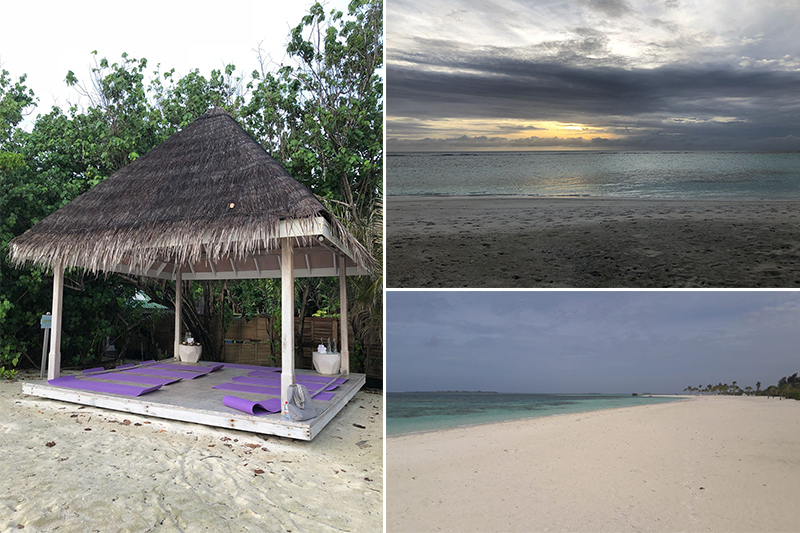 The evening was enjoyed by a few drinks at Iru Bar which is a wonderful place to watch the sun go down and experience the mesmerising views of the Maldivian Sunset. The bar is open from 11.00am-23.00pm so is also a perfect place to chill and relax during the day. Either take a seat on the fun swings chairs at the bar or relax on one of the many cosy seating areas on the beach. The views over to Jehunuhura are to die for. The drinks at this bar are not included on any of the meal plans.
We ate at Veli in the evening which offers a modern Asian Fusion twist on the many rich cultures of the Maldives. The restaurant is set on the pristine stretch of the powder white beach and the food is grilled from an open kitchen in front of the guests and tables are set directly on the beach so you can feel the sand between your toes whilst eating the most delicious food. I chose a beautiful King Red Prawn Curry and was not disappointed. Veli is open for dinner only between 19.00pm – 22.30pm each evening and is included on Half Board and Full Board meal plans.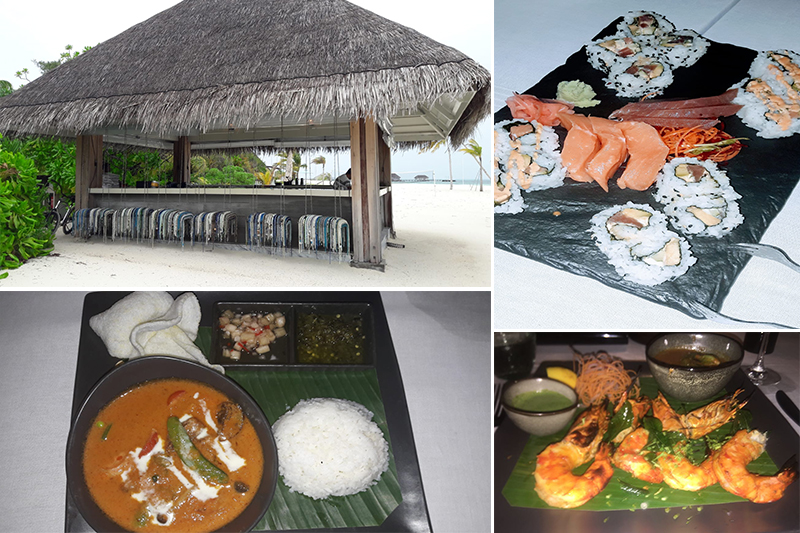 Day Four
We had the day mainly free to discover the island so after an indulgent breakfast I decided to take my villa bike for a ride around the island a fun way to discover hidden paths and to see what the island has to offer. Deli is at the heart of Kanuhura and if you fancy stopping off to sample exotic teas, freshly brewed coffee along with a freshly baked pastry then this is the place to do it. You can sit and watch the world go by. Deli also makes delicious smoothies and wonderful homemade ice-cream. The Deli is open from 10.00am-18.00pm each day and is not included on any meal plans.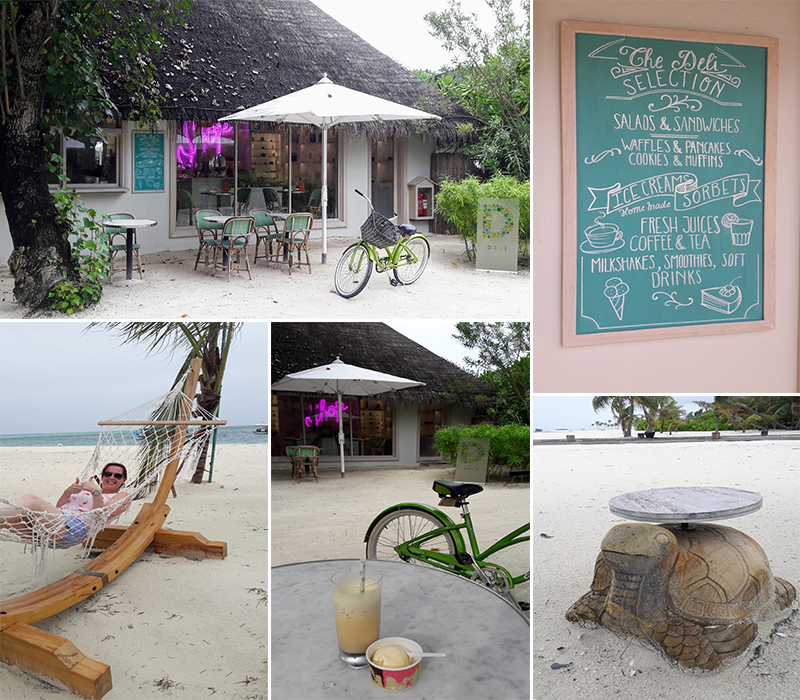 #TopTip: If you are wanting to explore the island, picnic baskets can be prepared upon request to eat wherever you stop. Why not arrange for a picnic to be taken across to Masleggihura, another deserted island, which is for the exclusive use of Kanuhura guests. This island can be booked for private use for the ultimate Robinson Crusoe style escape.
We enjoyed an authentic Italian lunch at Bottega with plenty of meats, cheeses, wonderful pizzas, crusty breads and olives. The restaurant offers a beautiful tropical setting with garden views, outdoor eating deck and a Private Dining room for more special occasions. The restaurant also houses the islands own Wine Cellar. Bottega is open for lunch from 12.00-15.00 and Dinner 19.00-22.30 and is included on the Half Board and Full Board meal plans.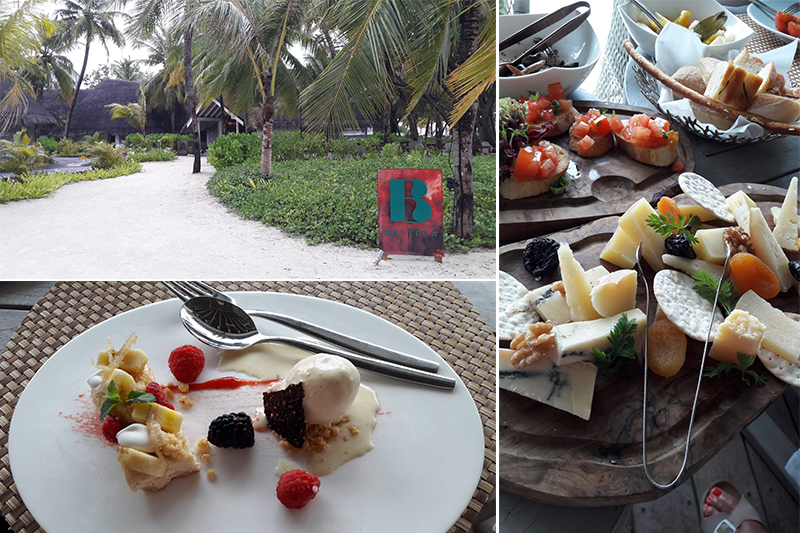 We enjoyed a Maldivian Dinner evening with drinks and buffet to end our stay on Kanuhura. We were treated to a traditional Maldivian Dance and enjoyed a buffet seafood, meats, breads and delicious desserts and some of the best cocktails. This was held at The Sanctuary Pool Villa which has its own swimming pool, gazebo, double day bed all with a surrounding private wall. It all felt very celeb-like for our last night.
#TopTip: If the Sanctuary Pool Villa is not occupied you can hire the Villa for your own private use. An ideal way to feel like a celebrity for an evening.
Day Five
Our departure was just as special as our arrival from a farewell towel, an animal shape on the bed on the final night to members of staff waving us off on from the lounge on our return seaplane transfers.

I can highly recommend Kanuhura as an outstanding and luxurious island, for the most laid back and romantic honeymoon or any other special occasion.
My overall favourite part of the trip is quite simple, being able to have a Bucks Fizz breakfast on the beach, feeling the sand between your toes whilst eating delicious fruit and freshly cooked waffles to taking in the beautiful views of the Indian ocean feeling like you are in your own little piece of Paradise.
Inspired by Estelle's trip to Kanuhura Maldives? Why not contact us today and start planning your amazing honeymoon!