12 Honeymoon Resorts with Private Plunge Pools
Private plunge pools are a blissful addition to any luxury honeymoon in a hot country. They add seclusion and intimacy as well having the convenience of being able to cool off as you laze in the heat. A private pool and a sun-deck allows you and your partner to peacefully bask in the sunshine all day with complete privacy. Have a read below to read about a selection of our favourite resorts and they're spectacular private pool options.
By picking a Hillside Pool Villa at this 5-star sanctuary, you will be entitled to a private plunge pool and sun-deck that is fenced off with foliage and flower climbers for optimum privacy, giving you stunning views of the glistening Caribbean Ocean. You can also make use of a sofa and day bed in a shaded area for when you need to get out of the sunshine.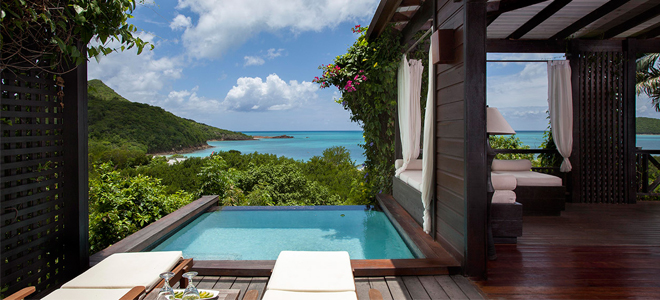 Choose a Galaxy, Sun, Moon or Star Sanctuary at this honeymoon haven and make use of the innovatively designed infinity pools that sit under an open wall, offering you breathtaking views of the Pitons and the Caribbean Sea. Aspects of layout and size vary from suite to suite, but whichever you choose to stay in you can expect a sweeping layout with 15ft high ceilings for an open, airy feel.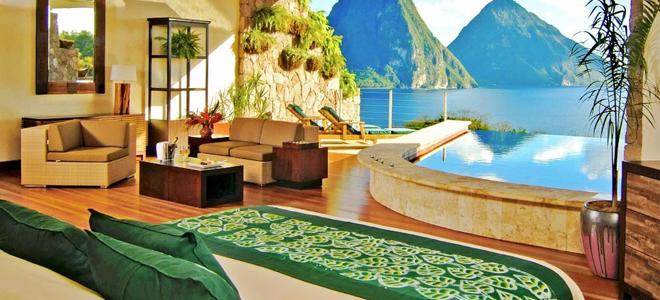 Whether you choose a Villa Suite, Panoramic Villa or Riverside Villa at this peaceful oasis, you can enjoy using your very own private terrace and infinity pool overlooking the densely forested valley that surround the Hanging Gardens. The main pool is probably the focal point of this secluded resort, with its 3 platforms over-hanging the hill that it sits on (hence the name Hanging Gardens).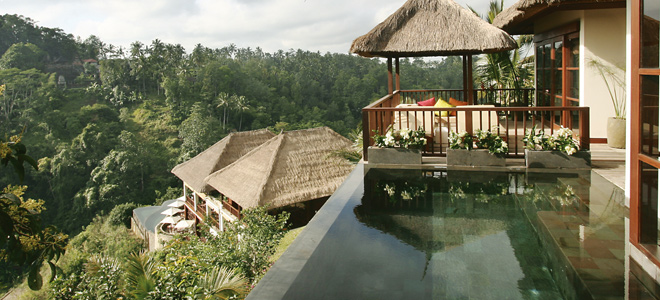 Pick a Terrace Villa at the Viceroy to claim your outdoor, heated private pool, characterised by a Balinese pavilion perched gracefully next to it for ultimate romance and so you can witness the stunning views of the Petanu River gorge. Stay in a Vice Villa for a large pool and sweeping views of the valley.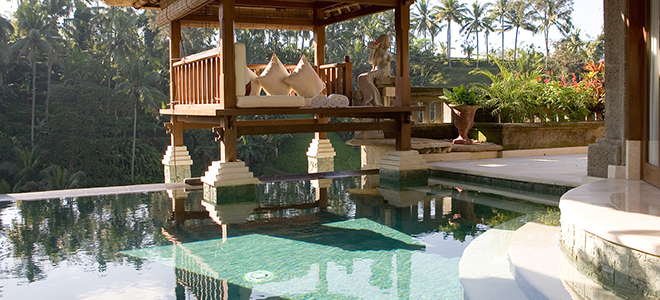 Every type of villa at this utopia for honeymooners comes complete with a private plunge pool. Some offer stunning sunrise or sunset views from a veranda, others allow 180 degree views of the ocean. Song Saa is for couples seeking to escape to the hustle and bustle of everyday life and become completely at one with themselves and nature.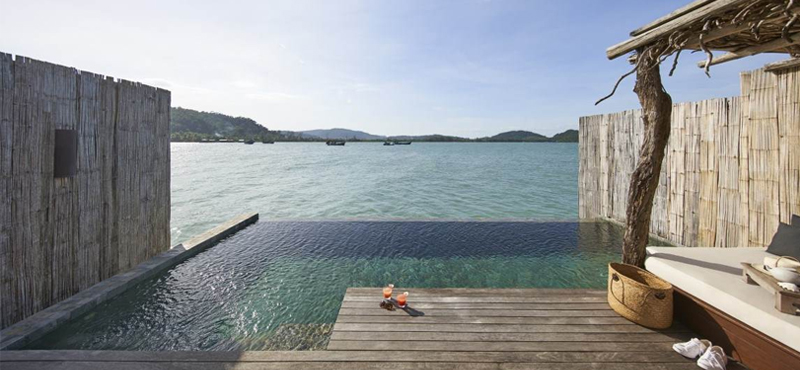 This honeymooner's paradise has pool villas with their very own garden containing a handful of amenities to make your honeymoon more special than ever. Not only can you take a refreshing dip in your own private plunge pool, but you will also have an oversized, outdoor bathtub and a large, shaded daybed for maximum relaxation.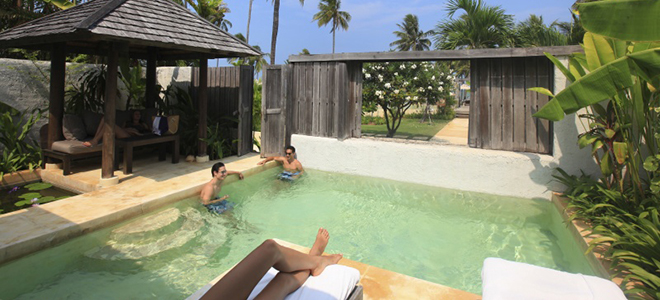 This island is one of our most sought after honeymoon destinations here at Honeymoon Dreams. Pick an Ocean Villa for stunning views of the Maldivian sunset from your sun-deck and a ladder taking you down from the platform into the azure Indian Ocean. Choose a Pool Villa for your very own decking, daybed and private plunge pool, or pick a Duplex Pool Villa for two-storey accommodation with a larger pool.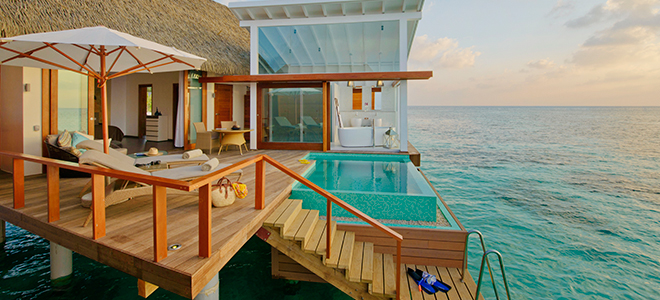 For a living area that leads out to an expansive private veranda followed by a rippling infinity pool that merges with the Aegean sea, make sure you pick a Sun Rocks Suite for your Santorini honeymoon.

Your Omani courtyard provides a sand garden with high walls for seclusion, a private plunge pool, outdoor dining suite and a day bed so you can spend lazy afternoons in the sunshine while only being a few steps away from the beach should you want to venture away from your sanctuary. Some villas also come with a summer house.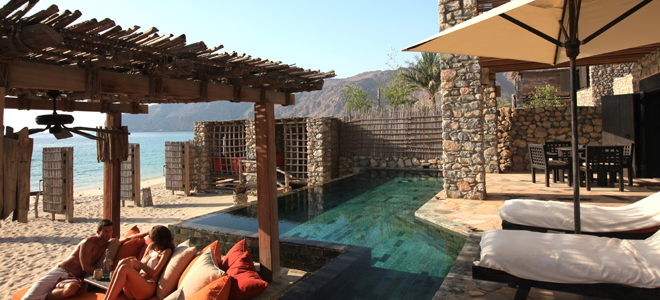 The Serega Retreat offers villas each with their own sun-deck with a private outdoor hot tub and swinging beds for an intimate escape with your partner on your honeymoon. Stay in the Villa Segera for larger accommodation with a private veranda with a pool and lounge area as well as a private garden with a salt-water pool. This makes it the perfect base from which to explore the Kenyan scrub and bush on your safari honeymoon.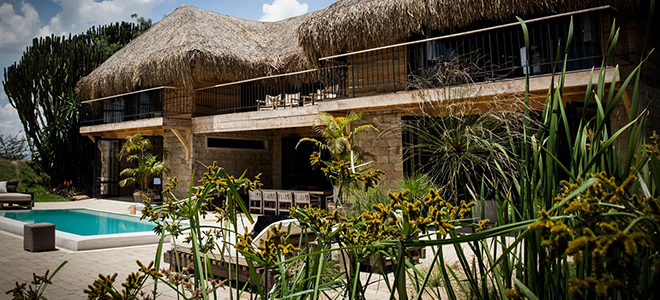 A Luxury Pool Villa will entitle you to your very own private pool and landscaped garden, while a Sanctuary Pool Villa offers you a heated swimming pool as well as a outdoor whirl-pool tub. These gardens provide the perfect spot to spend some one-to-one time with your partner in the hot Mexican sunshine, where you are tucked away from the rest of the world.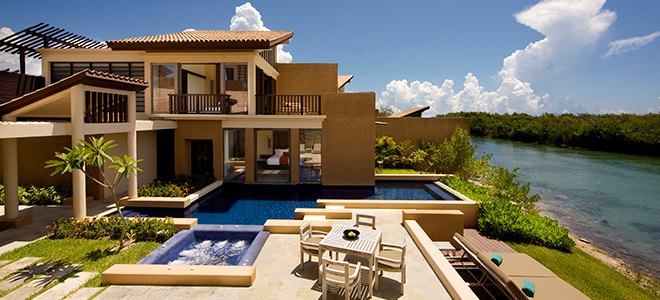 To get exclusive deals with any of these beautiful resorts, call us today on 0121 440 6268 or send us an enquiry at quote@honeymoondreams.co.uk