10 best places to see the sunset around the world
Sunsets are undoubtedly romantic. From the gentle glow of a rose-pink sky to the heart-swelling moment when the horizon swallows a blazing terracotta orb, there's something truly intimate about this end-of-day event. While sunsets are special wherever you witness them, some locations add to the magic and mystique of the whole experience. Here are 10 of our favourite sunset spots to inspire your honeymoon dreams and add an extra touch of romance to your trip.
1) Sydney Harbour, Australia
Sydney Harbour is an iconic destination at any time of the day, yet catch it at sunset and you'll see this waterside beauty at its best. Meander along Circular Quay and take a table beneath the magnificent white sails of the Opera House at the aptly named Opera Bar. Sip bubbling glasses of champagne as you watch the sky streak indigo over the shimmering structure of Sydney Harbour Bridge.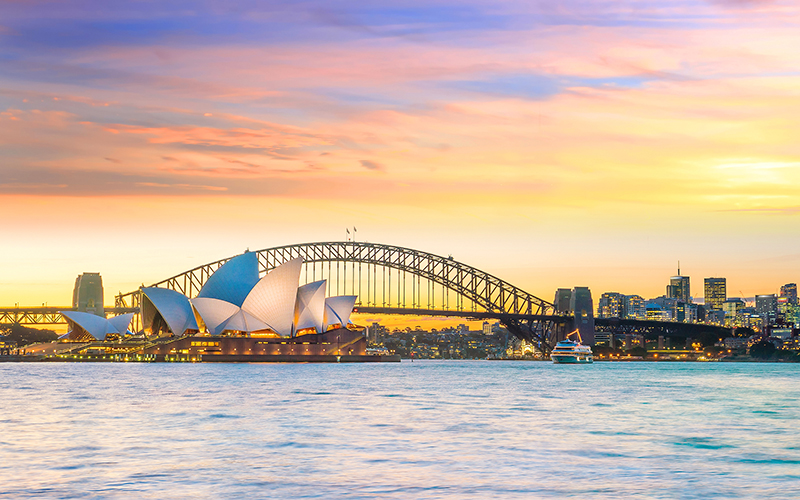 2) Bora Bora, Tahiti
Beach sunsets are always delightful and Bora Bora isn't short of pristine coastline. You'll likely be spoilt for choice here as to where to end your day – spend an evening on Matira Beach and watch the sun slip slowly towards a fiery horizon; alternatively, jump on a sunset dinner cruise and feast on local delights as day gives way to night.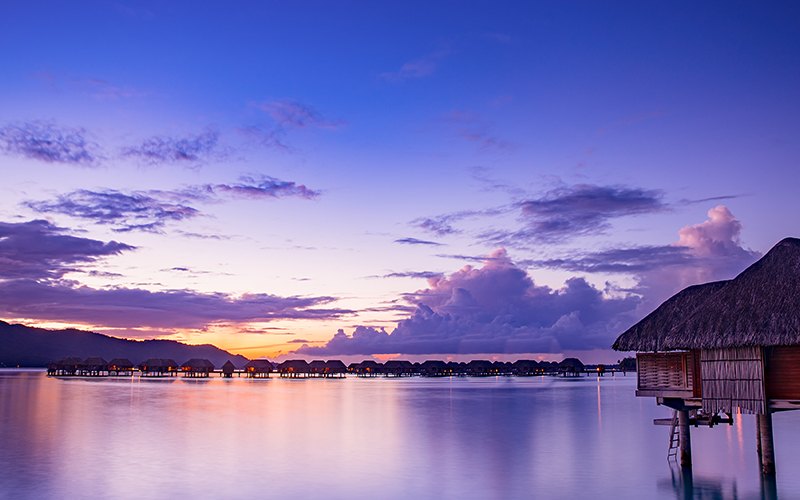 3) Ubud, Bali 
Sunsets are astounding from any Balinese location, however you might head inland to Ubud for an extra special treat. Settle yourself among the tropical greenery and watch the sun bid its final farewell over the undulating rice paddies. Afterwards, meander through the twilight to one of the local restaurants and celebrate the approaching night with steaming platters of satay.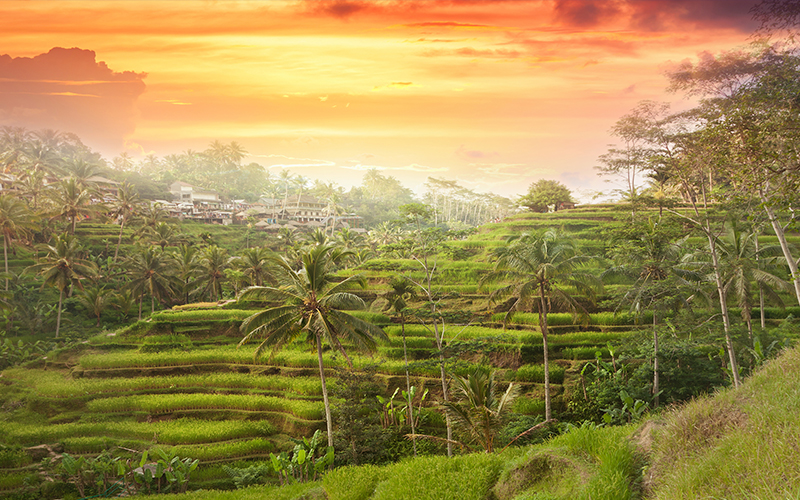 4) Machu Picchu, Peru
Machu Picchu is Peru's most iconic sight and a true delight to visit – especially as the sun begins to drift towards the horizon. The park that houses this Incan wonder closes at 5pm, so you won't catch a full sunset here, yet a late afternoon trip is more than worth the effort for the gentle amber lighting and long shadows produced by an approaching dusk.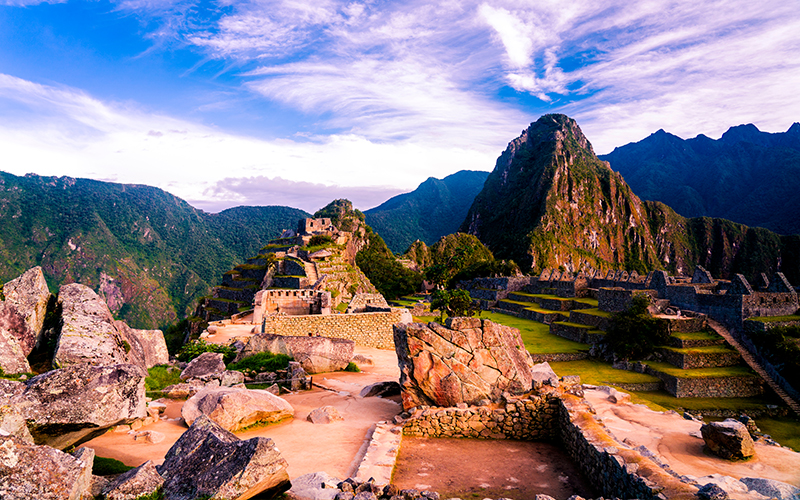 5) Kandolhu, Maldives
While every moment on the dreamy isle of Kandolhu is tinged with romance, sunsets here are perhaps the most soul-stirring experience. Select a cosy nook at Vilu Bar and order a round of fruit-laden cocktails, clapping along to the live music beats as the sun drifts down towards a glimmering horizon.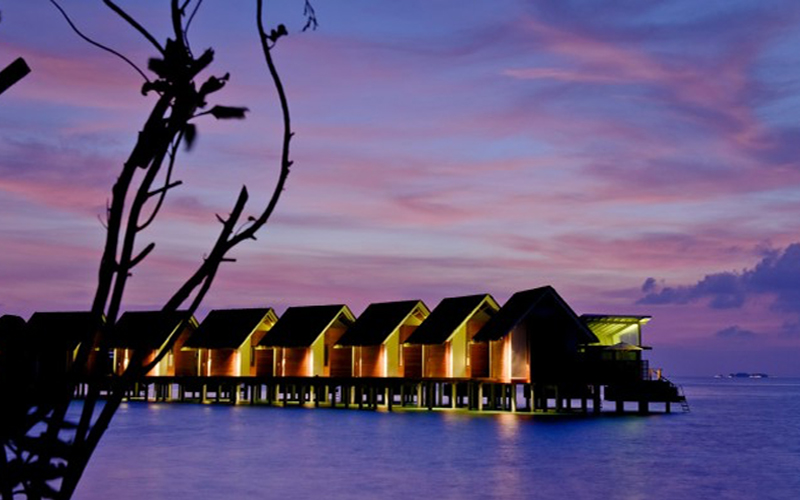 6) Santorini, Greece
Santorini is renowned for its exquisite sunsets. You might be concerned about overcrowding – and you'll likely share sunsets here with a fair few others – yet the end-of-day vistas on offer over this whitewashed Greek beauty will make you feel as though you're the only one on earth who is witnessing such a marvel. Find a hillside nook outside of the town of Oia or take to the water on a dinner cruise to get the very best views.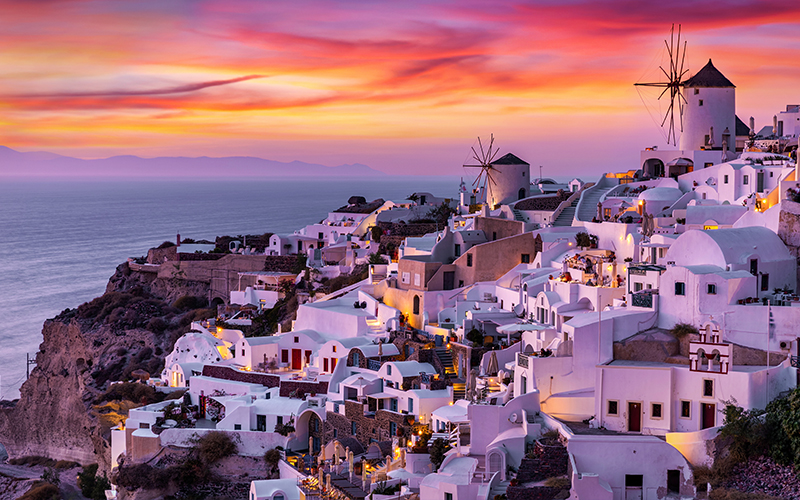 7) Waikiki Beach, Hawaii
It's one of North America's most famous beaches and with good reason. Waikiki is utterly stunning and never more so than at sunset. Make a romantic evening of it by starting with a walk along the shoreline. Dip your toes in the gently lapping Pacific Ocean, then seek out a space in one of the many bars that dot the waterfront and settle down for a Mai Tai as nature begins its nightly show.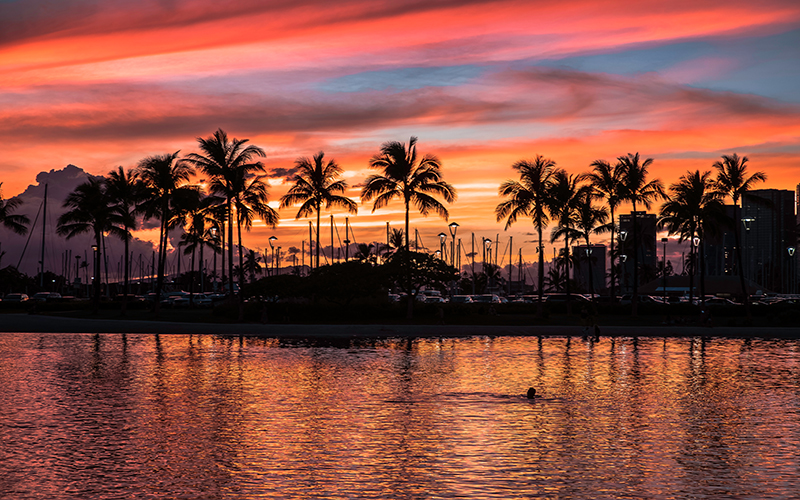 8) Marina Bay, Singapore
The behemoth hotel and entertainment complex of Marina Bay Sands offers unparalleled views over the glittering city of Singapore. As a result, it is undoubtedly one of the best places to watch the sun set over this island nation. If you're a guest at the Marina Bay Sands Hotel then you might catch the sunset from the breathtaking infinity pool. Otherwise, migrate to the rooftop bar and sip an ice-cold Tiger beer as the day departs.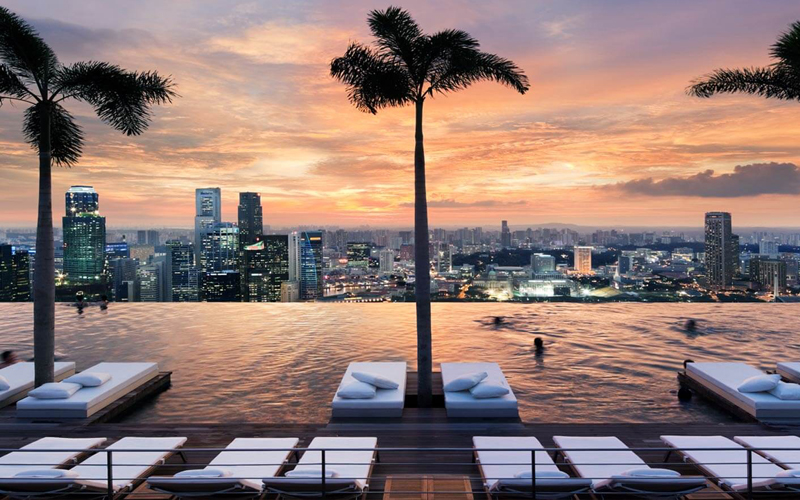 9) Paris, France
Nothing says romance like a weekend in Paris, and a sunset meander beneath the lofty Eiffel Tower is a surefire way to make lifelong memories. Arrive late afternoon and take your time exploring the surrounding area of this world-famous structure. As evening approaches, redeem pre-purchased tickets and head up to the very top to gaze out over the city as the setting sun casts a romantic rosy glow.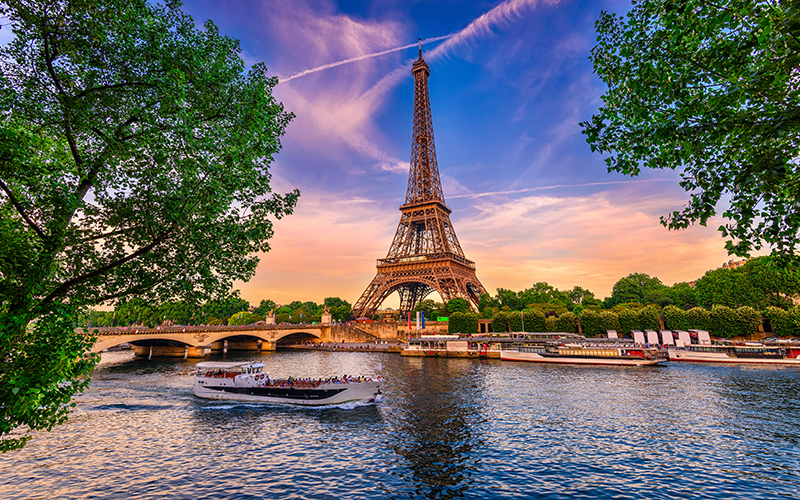 10) San Francisco, USA
The Golden Gate Bridge is one of California's most impressive sights. Catching a sunset here is one of the most memorable experiences you can have in San Francisco, with the fading light illuminating this man-made structure in a truly mesmerising way. There are various places you can witness this special event – take to the water's edge at Fort Point or hike the Eagle's Point trailhead to catch the spectacle from Lands End.