Tour Overview
Montego Bay is the capital of St. James Parish on Jamaica's north coast, with white sandy beaches, golf courses and an impressive Marine Park. Montego Bay is also home to the world famous Dunn's River Falls, one of Jamaica's national treasures and popular tourist attraction.
Enjoy a fun and exhilarating journey as you ascend 600 feet of natural limestone steps and cobbles as the cascading waters brush against your feet. Challenge yourself in the Dunn's River Falls Tour as you climb the majestic Falls.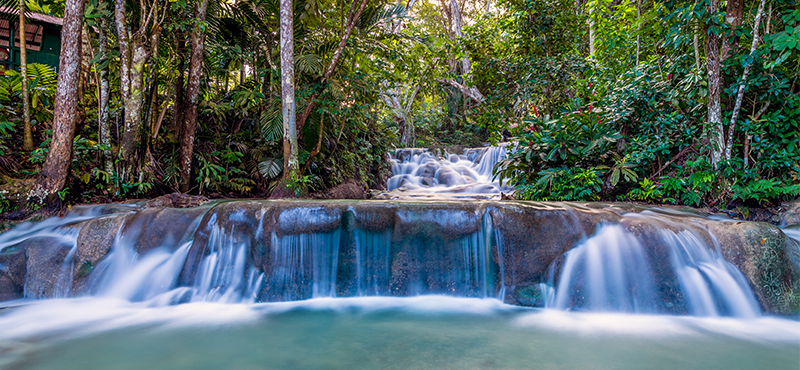 About Dunn's River Falls
The terrace-like waterfalls look like gigantic stairs, with small lagoons that fall into the lush Caribbean Sea at the western end of a white sandy beach. The perfect place to cool off on your Jamaica honeymoon, climbing the Dunn's River Falls is one of the top things to do here. Your tour guide will help you both climb the natural beauty falls, which takes around 1.5 hours with stops along the way to capture the beauty of the falls and snap up honeymoon selfies along the way.
Alongside the waterfalls, there are stairs, so you can enjoy the beauty of the falls without getting wet if you prefer. The Dunn's River Falls has been used in many Hollywood blockbuster films including Tom Cruise's 1988 film 'Cocktail' and in the first James Bond film Dr. No in 1962!
There are many things to do whilst enjoying your honeymoon at the Dunn's River Falls. After you've climbed the falls, spend an afternoon of relaxation together at the Dunn's River Fall Beach, which the waterfalls fall into. The views are spectacular, especially of the falls that you can see cascading down to the beach. The entry to the beach is included in your falls entry fee. There's also a craft market to buy souvenirs to take back home with you to remember the amazing experience you both shared together of the Dunn's River Falls.
Further Information
This photogenic tour is a great way to show off your adventurous side with lovely memories that you share together with your loved ones as you complete this journey together.
When does this tour take place?
The Dunn's River Falls tour takes place daily, at 11.00am, with hotel pick-ups commencing around 60 minutes before this time.
What is the duration of the tour? 
The tour duration is 2 hours, excluding transfer times
What is the dress code for this tour? 
The dress code is casual, however, it is recommended that you bring a swimming costume, sunscreen, sunhat, towel, cash and water shoes.
Back to Jamaica