Tour Overview
Take a day out of your Bali honeymoon to appreciate the spectacular mountains and the black sand of Lavinia beach with this Bedugul and Singaraja North Coast Mountain Tour.
Explore Bali's rural countryside on this fascinating tour through Bali's beautiful landscapes. You will begin your tour by leaving the plat rice fields behind and heading to the steep Pacung Mountains. The mountain's vegetation features cabbages, maize and potatoes, while higher up yo will discover mosses, creepers and ferns. A visit to Candi Kuning Fruit and Flower Market along the way will have you yearning to try the local produce, or maybe spoil your newlywed with a bunch of assorted flowers.
After your amazing adventure through the majestic mountains you will each the resort of Bedugul, which is located 850 meters above sea level and is surrounded by a soothing lake, which fills a crater within Mount Batukaru. On the shores of the lake lies the Temples of Ulun Danu, which was built in honour of the Goddess of Water.
The Bedugul and Singaraja North Coast Mountain Tour continues north where you will visit one of the greatest golf courses in the world. Bali Handara Kosaido Country Club surrounds majestic mountains and tropical vegetation, giving great views and a tranquil ambience. You will also get to see the magnificent jungle waterfall of Gitgit, a wonderful hiking trail with a big pool underneath the waterfall.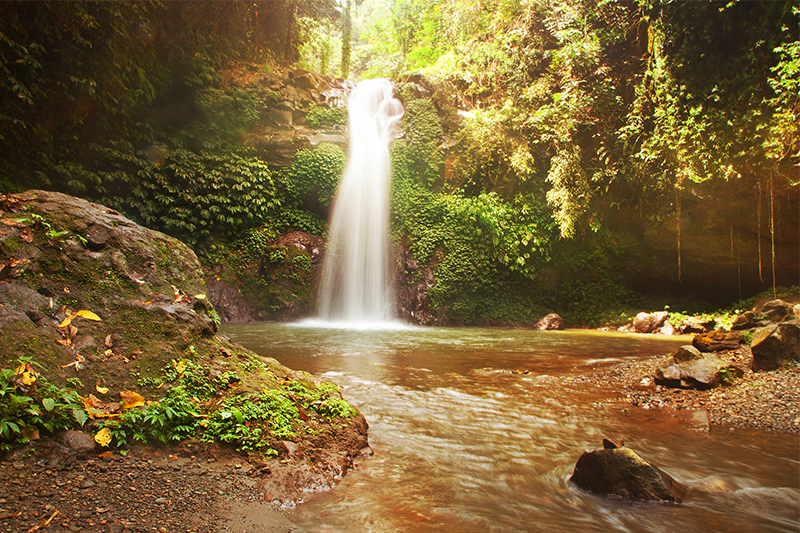 Your final stop takes you to the north coast as you travel to the old town of Singaraja, a former capital of Bali. Here you will visit the amazing black sand beach of Livina where you will get some free time to explore at your leisure.
Further Information
The Bedugul and Singaraja North Cost Mountain Tour operates Mondays, Wednesdays and Fridays starting at 8 am – 8.30 am. This tour lasts around 10.5 hours. The dress code is casual according to the weather on the day.
Are you interested in adding the Bedugul and Singaraja North Cost Mountain Tour into your Bali honeymoon itinerary? Contact us today to learn more!
Back to Bali, Lombok & Islands