Tour Overview
Take in the sublime landscapes of Kaui from the skies, as you navigate through the sweeping skies on an incredible helicopter ride.
Begin the Kauai Eco Adventure Helicopter Tour through Hanapepe Valley; you will be treated to verdant green hills, with spectacular waterfalls and rugged cliffs. Next point of view takes you to Mana Waliapuna, also known as Jurassic Parks Falls, which gained its name from the hit movie Jurassic Park. Here you will see dense green cliffs, home to an incredible waterfall that drops   in the center of an enormous pool enveloped by green cliffs. This region is privately owned, and the only way to see this part of Jurassic Park Falls is by helicopter.
After taking in the mesmerizing views of the Jurassic Park Falls, you will head to Grand Canyon of the Pacific. The earthly rainbow covered cliffs are an impressive sight to see from above, where you get to see a bird's eye view of the dramatic drops of the canyons and the charming waterfalls that cascade between them. The canyons lead your around to the coast of the island where you can really take in the awe-inspiring vistas of Kauai's mesmerizing geological forms of the Bali Hai Cliffs and the glistening waters of Hanalei Bay.
Dependent on weather conditions, the last stop on the Kauai Eco Adventure Helicopter Tour is the Mount Waialeale, known for its average rainfall of 450-500 inches of rain yearly, making this the wettest spot on earth. If you're lucky enough to watch the Mountain on a good day, you will get the opportunity to fly into the center of the crater with its 5000-foot waterfalls. After this truly magnificent flyover the tour will finish with a visit over the Garden Isle.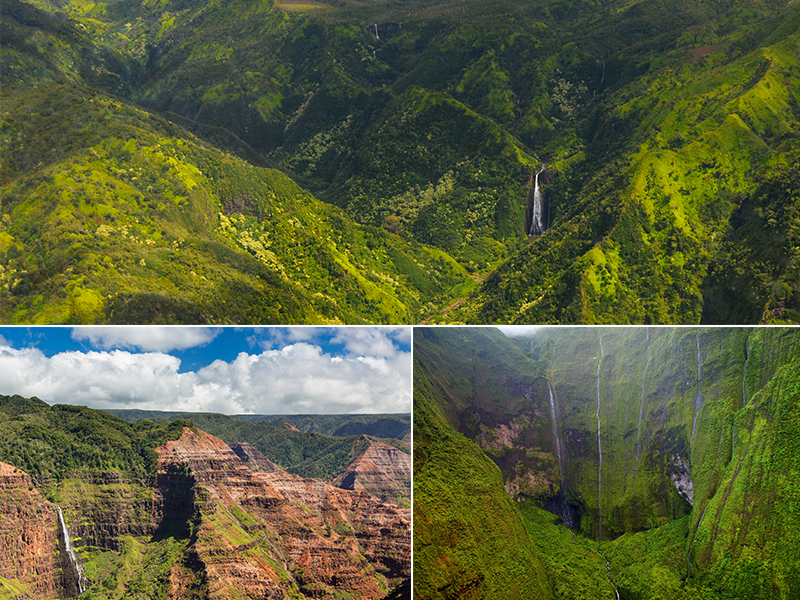 Further Information
The helicopter is optimized for your viewing pleasure, with over 65 sq. ft. of glass for unobstructed 180-degree views. The cabin space offer 23% more room than a standard A-star helicopter and is 25% quieter. The seating is also optimized with raised rear seats allowing for increased visibility and designed like business-class-style seats.
The Kauai Eco Adventure Helicopter Tour operates daily except for Christmas Day and runs from 8 am until 4 pm. The tour lasts around 50-55 minutes.
Are you interested in adding the Kauai Eco Adventure Helicopter Tour into your Hawaii honeymoon itinerary? Contact us today!
Back to Hawaii